RCMP Regimental Ball donates thousands to Food Bank and Victim Services
From Red Deer RCMP
Red Deer RCMP present cheques to local charities after Regimental Ball
At a small gathering at the Red Deer RCMP detachment this afternoon, Superintendent Ken Foster and Inspector Dean LaGrange presented cheques for $7,500 each to Red Deer Victim Services and the Red Deer Food Bank; the funds were raised through community support of and donations to the September 15 Red Deer RCMP Regimental Ball.
"A Regimental Ball is primarily an opportunity for members, invited guests and friends to come together to socialize, and, in this case, to celebrate our 75th anniversary as Red Deer's municipal police force," explains Superintendent Ken Foster, officer in charge of Red Deer RCMP. "Over the years, these events have evolved to include a charity component, and we were proud to see the amount of money raised that night for Red Deer Victim Services and the Red Deer Food Bank, who each provide vital services and supports to our citizens."
Funds were raised during the Regimental Ball through silent and live auctions and through the sale of raffle and 50/50 tickets. The ball was generously supported by a wide array of businesses, organizations and individuals, and the 320-seat event was sold out.
"It feels fitting to see $7,500 directed to each charity to parallel our 75th anniversary celebration," says Foster. "I think I speak for all Red Deer RCMP members when I say how much we appreciate the significant support we receive from the community, every day when we're out there doing our jobs, and on special occasions such as the Regimental Ball when that support is shown overwhelmingly through donations supporting the community organizations we were highlighting."
The Regimental Ball was held on Saturday, September 15 at the Holiday Inn on Petrolia Avenue. The evening's program looked to the past and to the future of policing, highlighting a new robot that will soon be used by Red Deer Victim Services in their work with children, honouring those who gave their lives in service to their communities through the Fallen Comrade Ceremony, and celebrating the tradition of having the most senior officer present serve dinner to the most junior officer present.
Chamber partners with the Outreach Centre to launch Red Deer branded clothing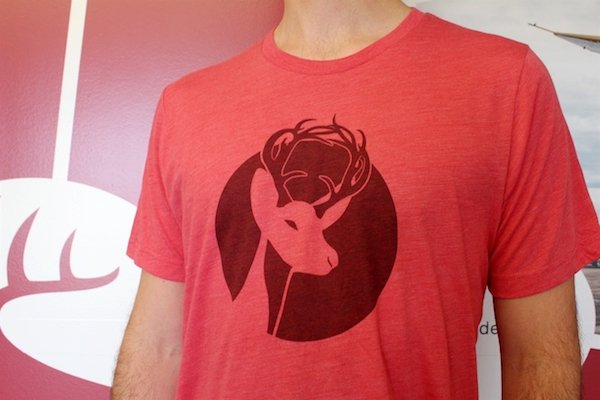 News Release from The Red Deer & District Chamber of Commerce
The Red Deer & District Chamber of Commerce is excited to announce the release of a series of Red Deer branded t-shirts and ball caps with two dollars from each hat and three dollars from each t-shirt going to support the Outreach Centre Adopt-A-Family program. For the month of December, the Chamber will also be matching these proceeds.
Last year the Chamber ran a design contest inviting entries from community members. Winners were then determined by an independent judging panel comprised of local artists. The Chamber then worked with a local apparel company to develop the clothing.
"There has always been an incredible amount of pride in our community and we regularly receive inquiries from groups looking for Red Deer branded clothing and accessories. The designs really embody the character and essence of our city and we're thrilled to give Red Deerians an opportunity to show their love in a stylish and comfortable way all while supporting a great cause." Reg Warkentin, Red Deer & District Chamber of Commerce.
"The proceeds from this imitative will go towards The Outreach Centre's Adopt-A-Family program. For over 20 years sponsors in the community and The Outreach Centre have shared the spirit of Christmas with families in Central Alberta by providing gifts under the tree, special treats and a holiday meal to share. This program provides assistance throughout the year to families when they are most in need. With a focus on the Christmas season, it focuses on single parent families who are struggling and require extra help to provide for their family." Myles Peake, Director of Fund Development, The Outreach Centre.
The Outreach Centre helps people address domestic violence, suicide, homelessness and overcome the effects of poverty through effective partnerships, education and programming.
The clothing is available in limited quantities and sizes at the Chamber office or through the website at www.reddeerchamber.com/store. You can also follow the Chamber on social media for a chance to win the apparel.
The Red Deer & District Chamber of Commerce is a non-partisan, collaborative leader in building a vibrant community and fosters an environment where businesses can lead, be innovative, sustainable, and grow.
The Lending Cupboard staff announces hours for the holiday season
Red Deer, Alberta – Dec. 3, 2021 – In order to make sure that clients can pick up any needed medical equipment prior to the Christmas season, staff at The Lending Cupboard would like to announce hours of operation for over the holidays.
"This year, we at The Lending Cupboard really feel that it's important to allow our staff to spend time with their families over the holiday season. Because of that, and because Christmas falls over a weekend, we've decided that we will be closed between Christmas and New Year's this year," said Dawna Morey, executive director.
"Because of that, we want residents to be prepared so that if they are going to have surgeries, they can come in and see us before we leave on the 24th of December at 2 p.m.," she said.
The Lending Cupboard will re-open for regular hours on Jan. 3rd.
Morey did emphasize that even with the holiday hours, there is no need for anyone to be concerned about accessing equipment in the event of an emergency.
"We all have emergencies in our lives, and in the case of emergencies people can still call us, and those calls will be monitored for emergencies only," she said, adding they can call the regular office number of 403-356-1678.
"In those cases, we will be here to provide equipment."
For inquiries, please feel free to reach out to us.
Dawna Morey – Executive Director
Phone: 403-356-1678 ext. 202
Email: [email protected]