Are You Attracting Thieves To Your Valuables? Tips To Protect Yourself
By Sheldon Spackman
(originally published August 9, 2017)
Here are some interesting… well maybe some disturbing facts RCMP and Citizens On Patrol discovered in Red Deer this summer.
During Westerner Days last month, over the period of two days, Mounties and volunteers with Citizens on Patrol checked vehicles in the Westerner Park parking lot to see which vehicle owners were leaving themselves vulnerable to smash and grab crimes.
Although members and volunteers did not try to open any doors or touch the vehicles other than leaving a flyer under the wiper blade, a significant portion were found to be attractive targets for criminals.
Two hundred vehicles were checked on July 22nd and 81 more on July 23rd.
More thank half passed!  56 percent were found to be free of any visible temptations for criminals such as cash, electronics or other valuables in plain site.
But that means nearly half did not pass!  44 percent were found to be vulnerable to a smash and grab crime.
36 vehicles had possessions or cash in plain view
19 had visible electronics
55 had garage door openers in plain site
9 had the keys left inside!
Constable Sean Morris with the Red Deer RCMP says "Citizens continue to express their concern about property crimes, but many also continue to make choices that create attractive targets for smash and grab thefts. Criminals prowl parking lots looking for easy targets – why would you tempt them to smash your windows or steal your vehicle?"
We found some tips to consider every time you leave your vehicle.  Here are the top ten tips to protect your vehicle and its contents while unattended from the Insurance Bureau of Canada…
Ensure your doors are always locked and the key is in your pocket
Always park in well-lit areas
Always roll up your car windows
Never leave money in plain sight
Put shopping bags and other parcels in the trunk
Ensure your GPS and other electronic devices are out of sight
Keep your vehicle registration certificate and proof of insurance on you
Take your cellphone with you
Never leave your vehicle running when unattended
If you frequently park in the same parking lot, park in a different spot each day.
For more info, tips and to rate your vehicle, go to the Insurance Bureau of Canada web site.
And here's some explanation from the Calgary Police Service.
Lock it up. Close the windows, lock the doors and the trunk, and take your keys with you – never leave your vehicle unlocked, even for the few minutes it takes to duck into a store or run back into the house. And don't hide a key on the vehicle – criminals know ALL the hiding spots.
Turn it off. Never leave your vehicle idling alone, even if you lock the doors. It costs the environment in emissions, and it could cost you when a criminal bypasses the door lock in seconds.
Hide your valuables. Wherever and whenever you park, remove your valuables – including any removable stereos. If that's not practical (you're in the middle of a shopping day, for example), hide the valuables in the trunk, out of sight, and then move the vehicle to a different place in the parking lot. Thieves watch parking lots to see who's stashing shopping bags and then heading back into the mall.
Stow it right. If you have a garage, use it and lock it. If you don't, choose a parking spot that's as well lit and well travelled as possible, within sight of your windows.
Think security. If your vehicle has an alarm, use it. If it doesn't, consider installing one, or at least using an anti-theft device such as a steering-wheel locking bar. These items can deter some criminals, and can delay others. If your vehicle is especially attractive to criminals, consider installing a security system such as an electronic vehicle disabling device, a hood-locking device or a location tracking system.
Protect yourself. Never leave any identifying information, such as your name, address, phone number or vehicle registration/insurance in the vehicle. Carry it in your wallet or purse instead, and never leave these items in the vehicle. You'll also need the registration and insurance details in case the vehicle is stolen, so it's a great idea to make an extra copy of these documents, to keep at home.
Report it! If you see suspicious people in or around vehicles, call the Police Service at 403-343-5575.  And if your vehicle is broken into or stolen, report it to police right away, regardless of loss or insurance coverage.  Break-ins are rarely isolated – reporting them immediately with as much detail as possible can help police in their investigation.
CP NewsAlert: Michael Kovrig, Michael Spavor back in Canada after detention in China
Two Canadians who were imprisoned in China for nearly three years are home.
Video from CTV shows Prime Minister Justin Trudeau greeting Michael Kovrig and Michael Spavor on the tarmac at the airport in Calgary early this morning.
More coming.
The Canadian Press
Last-minute Fajardo TD gives Roughriders 31-24 victory over B.C. Lions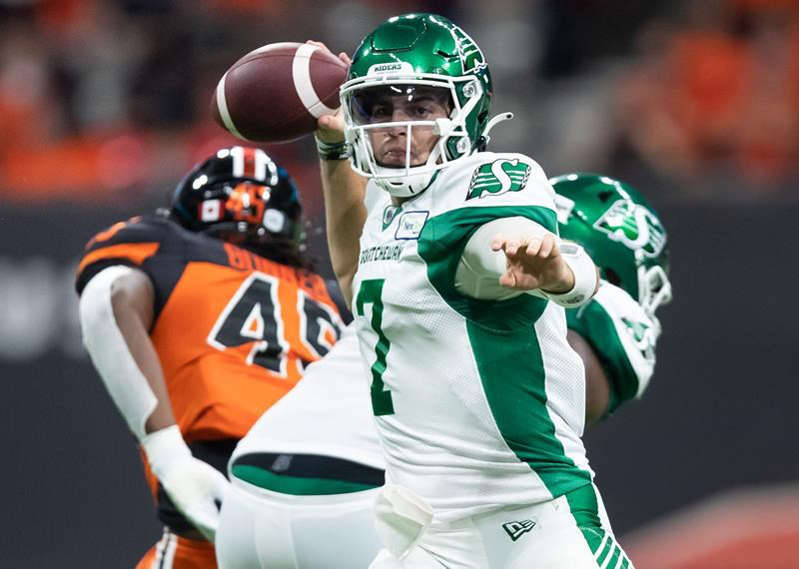 VANCOUVER — A last-minute touchdown by quarterback Cody Fajardo gave the Saskatchewan Roughriders a 31-24 road victory over the B.C. Lions on Friday.
Fajardo scored on a quarterback sneak on third down with two seconds left on the clock, clinching a back-and-forth game between the two sides.
Damon Webb poured salt in the Lions' wounds, recovering a fumble by B.C. wide receiver Lucky Whitehead and darting into the end zone for a touchdown as time expired.
Fajardo threw for 279 yards, one touchdown and one interception on the night, completing 24-of-31 attempts. Kicker Brett Lauther had four field goals for Saskatchewan, including a 49-yard bomb in the first quarter.
Lions quarterback Michael Reilly had 259 passing yards, and made good on 23-of-34 attempts, including a pair of touchdown passes to Whitehead.
The win gives Saskatchewan (5-2) sole possession of second place in the West Division and snapped a three-game win streak for the Lions (4-3).
The Riders were first on the scoreboard when Lauther made a 38-yard field goal 5:52 into the game.
B.C. was quick to respond. Reilly connected with wide receiver Bryan Burnham on a 28-yard pass on the next play, then followed it with a short toss to Whitehead.
The speedy Florida Atlantic product evaded several Saskatchewan defenders and streaked 47 yards down the sideline for his first touchdown of the night.
Whitehead leads the CFL in receiving this season with 665 yards in seven games.
A solid Lions defence kept the Riders frustrated and pinned in their own territory for much of the first half.
Lauther kept Saskatchewan within striking distance, booting a 49-yard field goal to close out the first quarter and a 28-yard kick early in the second.
Reilly struggled at times to connect with his receivers across the first half.
But with less than a minute to go in the second frame, the veteran QB narrowly avoided a sack, then got a running pass off to Jevon Cottoy for a 26-yard gain. He then sent an 11-yard dish to Whitehead to set up a first-and-goal, then once again found Whitehead in the end zone for B.C.'s second major of the night.
Jimmy Camacho made the converts on both plays and the Lions took a 14-9 lead into halftime.
A 21-yard pass from Fajardo to Kyran Moore put the Riders in good position early in the third, but B.C.'s Jalon Edwards-Cooper spoiled the ensuing touchdown attempt, knocking down a pass before it reached the hands of Mitchell Picton as he waited in the end zone.
Saskatchewan settled for yet another Lauther field goal, this time from 30-yards out.
B.C. responded with a field goal of its own, a 32-yard kick by Camacho.
Saskatchewan caught a big break in the final minutes of the third when Whitehead fumbled a punt return, giving the Riders the ball at the Lions 48-yard line.
Minutes later, Fajardo blasted a 23-yard pass to Ricardo Louis in the end zone, giving the Riders their first touchdown of the night 13:16 into the quarter. Saskatchewan was stymied on the two-point conversion attempt, though, keeping the score 18-17.
The strike was Louis' first in the CFL. The 27-year-old wide receiver is playing his first season in the league after spending three years with the NFL's Cleveland Browns.
Down a point heading into the final frame, the Lions refused to relent.
About four minutes into the quarter, Reilly made an 11-yard run to give his side a first down at Saskatchewan's 31-yard line. Ed Gainey tripped Burnham in the end zone on the next play and the pass interference created a first-and-goal opportunity for the Lions.
Reilly handed the ball off to Shaq Cooper and the running back snuck across the goal line for the touchdown. B.C. went up 24-18 after Camacho made the convert.
Camacho later missed a 43-yard field goal attempt.
Edwards-Cooper came up big once again with three minutes left in the game, intercepting a long pass from Fajardo along the sidelines, but the Lions couldn't whether the Riders' final push.
The Lions will face a tough test on Oct. 1 when they host the league-leading Winnipeg Blue Bombers. Saskatchewan will visit the Calgary Stampeders the following night.
NOTES: Saskatchewan defensive back Ed Gainey returned to the lineup after missing two games with an injured toe. … The Lions gave out 10,000 orange shirts with a reimagined logo by Kwakwaka'wakw/Tlingit artist Corrine Hunt to mark the first-ever National Day for Truth and Reconciliation.
This report by The Canadian Press was first published Sept. 24, 2021.
Gemma Karstens-Smith, The Canadian Press