Province trumpets $105 million in new health spending for Rural Health Facilities Revitalization Program
Strengthening rural health care
Budget 2023 expands rural health supports so Albertans can have additional access to modern health facilities and the care they need where and when they need it.
Alberta's government is committed to expanding and modernizing rural hospitals and other health facilities across the province to protect quality health care, grow system capacity and support the best front-line health care workers in the world.
Having access to quality health care when and where Albertans need it includes expanding capacity to provide better access for Albertans living in rural and remote areas of the province.
"We are making sure we have the necessary funding in place to build and strengthen health care in our rural communities and address barriers to care for those looking for support and treatment close to home and family. This work includes programs that focus on how to recruit, retain and even train more physicians, nurses and other professionals in areas outside of the cities."
Budget 2023 provides $105 million over three years for the Rural Health Facilities Revitalization Program, including $75 million in additional funding for capital projects in rural Alberta.
The program supports strategic renovations and developments in health facilities throughout the province, with an emphasis on emergency departments, EMS stations, surgical and dialysis clinics, and other clinical services to improve access to health care in rural Alberta.
Expanding capacity in the health care system also means having health care workers to fill those spots. In response, Alberta's government launched the Health Workforce Strategy to attract and retain the health care workers needed now and create more training opportunities for local students and internationally trained medical graduates.
"All Albertans, no matter where they live, need and deserve access to our health system. Physicians are a critical part of that system, especially in rural areas where we are trusted to support the needs of neighbours, friends and colleagues during all phases of life. It is a special calling to work in rural health care, but it can be tremendously rewarding for those who pursue it."
Rural Albertans are especially affected by the nationwide shortage of health care workers. To address this growing need, the Health Workforce Strategy provides $113 million to add 100 residency training spaces for newly graduated doctors, particularly in rural areas and specialist fields. Creating these new training spaces will provide more opportunities for Alberta students to learn, train and practise in their home communities.
In addition to this investment, a further $1 million will go toward exploring ways that regional post-secondary institutions, such as the University of Lethbridge and Northwestern Polytechnic in Grande Prairie, can help deliver medical education outside of Edmonton and Calgary.
"Whether it's emergency care or surgeries, primary care or continuing care, Albertans deserve equitable health care services in their communities. I am proud of the investments government is making through Budget 2023, both with infrastructure funding and workforce planning strategies, to help support the future of rural health care in our province."
This year's budget also funds the new agreement with the Alberta Medical Association, further stabilizing the health system and focusing on Alberta's rural communities. Under the agreement, more than $250 million over four years will go to addressing pressures, including recruitment and retention programs so more Albertans can access family doctors, and supporting physicians so their practices remain viable.
Budget 2023 secures Alberta's future by transforming the health care system to meet people's needs, supporting Albertans with the high cost of living, keeping our communities safe and driving the economy with more jobs, quality education and continued diversification.
Quick facts
The Rural Health Revitalization Program provides capital funding for revitalizing select rural health facilities throughout the province.

Budget 2023 invests $105 million over three years for the Rural Health Facilities Revitalization Program. This includes $75 million in additional funding for new capital projects in rural Alberta.
To date, about $65 million has been committed to 22 projects across the province, including emergency department renovations, upgrades to EMS stations and new dialysis spaces.

An investment of $237 million over three years towards the Alberta Surgical Initiative Capital Program will help reduce surgical wait times and help Albertans receive the surgeries they need.

This includes $120 million in new funding for projects in 15 communities across the province to expand and modernize operating rooms in public hospitals.

Budget 2023 includes $64 million over three years to continue the La Crete Community Health Centre capital project to provide increased access to maternity health services.
$11 million over three years is part of a $23.5-million commitment to expand the renal dialysis program at the Chinook Regional Hospital in Lethbridge.

This project will relocate the dialysis unit to provide additional treatment spaces and address patient and staff safety concerns with the current site.

$3 million over three years in planning dollars is committed to the North Calgary/Airdrie Regional Health Centre.
$3 million over three years in planning dollars is committed to expanding the Strathcona Community Hospital.
Planning dollars are also committed for new or upgraded facilities in Bassano, Cardston and Whitecourt.
United Conservatives jump out to early lead in tight Alberta election
By Dean Bennett
Alberta's United Conservative Party jumped out to a lead over the NDP in early returns Monday in what was forecast to be a tight race in the provincial election.
Danielle Smith's UCP was holding strong in its traditional rural strongholds while Rachel Notley's NDP was faring well in Edmonton, where it won all but one seat in 2019.
Early results were still mixed in the key battleground of Calgary.
The UCP is seeking a second mandate while the NDP is fighting to regain the majority government it lost to the UCP in 2019.
Polling have suggested a close contest between the two parties, with support for smaller parties falling off.
Advance polls set a record of 758,540 votes cast, eclipsing the previous record of more than 700,000 in 2019.
The campaign has taken place alongside a record-breaking spring for wildfires in Alberta. Ten communities were under evacuation orders Monday.
Elections Alberta set up alternate voting locations for those displaced. Evacuation was added as an eligible reason to vote by special ballot and mobile voting stations were placed in evacuation centres.
Calgary has been seen as the campaign's battleground and half of the top 10 advance polling stations were in that city. Two were in Edmonton suburbs.
To win, the NDP would have to continue its dominance in Edmonton, flip the majority in Calgary and hope for some help in smaller cities, while defeating scores of UCP incumbents including cabinet ministers.
The NDP needs to swing 20 seats in the 87-seat legislature.
The UCP won 63 seats under then-leader Jason Kenney in 2019 to 24 for Notley's NDP.
Polls suggest the UCP should continue its near total domination in rural areas and smaller centres, giving it a cushion of up to 40 or so seats to reach the 44 needed to form a majority government.
The month-long campaign has been dominated by the economy and health care.
Albertans are struggling with high costs for consumer goods, a shortage of family doctors and long waits in emergency rooms.
Smith has promised to keep Alberta the lowest-tax regime in Canada.
Her government, she says, would introduce a law to mandate a referendum before any personal or corporate income tax hikes. There would also be tax changes to benefit those making more than $60,000 a year, at a cost of $1 billion annually to the treasury.
The NDP promised to maintain Alberta's status as Canada's lowest tax regime. It pledged to end the tax on small businesses and raise the corporate income tax to 11 per cent from eight per cent, which it says would help pay for investments in health and education while keeping the books balanced and maintaining the lowest corporate rate in Canada.
The NDP also promised legislation to counteract UCP policies that hiked the cost of utilities, auto insurance, a range of fees and tuition.
Both leaders promised to preserve the publicly funded health system while creating more primary care teams — physicians accompanied by related specialists such as nurses and therapists — so more Albertans are able to access a family doctor and not clog emergency wards for care.
Polls showed trust was a key issue, with Notley viewed more favourably than her party and vice versa for Smith.
Smith was dogged during the campaign by past comments she made comparing those who took the COVID-19 vaccine to credulous followers of Adolf Hitler. A report also came out mid-campaign from the province's ethics commissioner that concluded Smith undermined the rule of law by pressuring her justice minister to end the criminal court case of a COVID-19 protester.
This report by The Canadian Press was first published May 29, 2023.
Police looking for these 3 suspects after Super 8 Motel in Innisfail robbed early Monday morning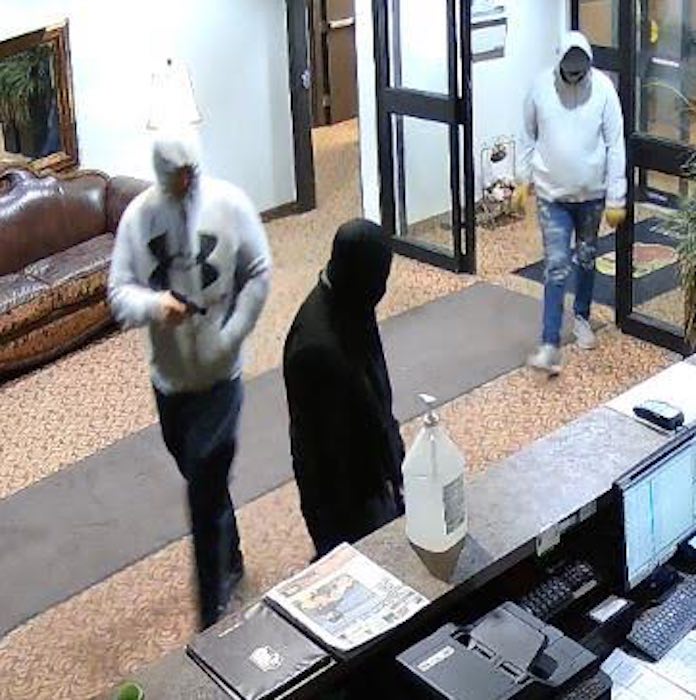 Innisfail RCMP investigate robbery
Innisfail Ala. – On May 29, 2023, at approximately 4:10 a.m., the Super 8 motel in Innisfail was the victim of an armed robbery. Three male suspects entered the hotel, two of which had firearms. Money was demanded from the manager. All three left the motel in a vehicle which is described as:
Chevrolet Dura Max truck
Sliver
Lifted
The suspects are described as:
Suspect #1: Caucasian male, tall and muscular. Wearing jeans and a grey Under Armour hoody. He was carrying a pistol.
Suspect #2: Caucasian male, short. Wearing all black. He was carrying a sawed off shotgun
Suspect #3: Caucasian male tall with a chubby belly. He was wearing a grey hoody, jeans and a black ball hat.
If you have information about this incident, please call the Innisfail RCMP at 403-227-3341 or call your local police. If you want to remain anonymous, you can contact Crime Stoppers by phone at 1-800-222-8477 (TIPS), by internet atwww.tipsubmit.com, or by SMS (check your local Crime Stoppers www.crimestoppers.ab.ca for instructions).