Prime Minister Trudeau called 'dictator' to his face in blistering speech in European Parliament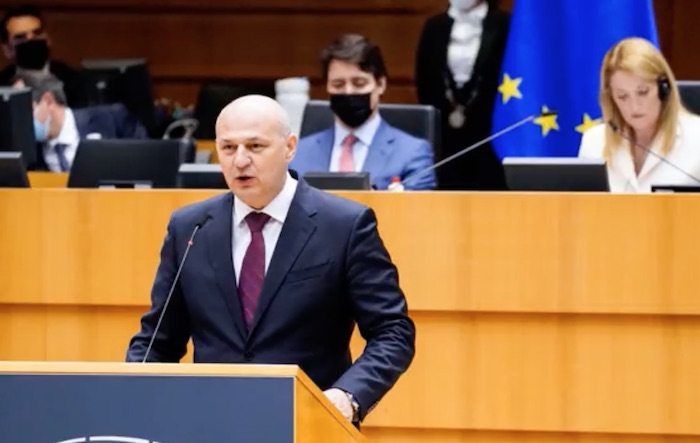 It wasn't the response Prime Minister Trudeau was hoping for. In fact in a career filled with humiliations on various international trips, Wednesday's speech at the EU in Brussels has to be the worst experience of all for Canada's PM.
As part of a longer speech in which Trudeau called on the EU for more support for Ukraine, Canada's Prime Minister blamed the leaders of the Freedom Convoy for threatening democracy. That assertion did not go over very well.
Croatian MP Mislav Kolakusic responded by calling out Trudeau for violating the civil rights of Canadians participating in the Freedom Convoy protests. In a blistering speech to fellow EU Parliamentarians, Kolakusic turned to Trudeau and called his actions in crushing the Ottawa protest "dictatorship of the worst kind". Trudeau sat quietly and listened as the MP from Croatia informed him many Europeans watched as he "trampled women with horses," and blocked "the bank accounts of single parents."
Click on the video below to see the humiliating tongue-lashing.
PM Trudeau, in recent months, under your quasi-liberal boot, Canada 🇨🇦 has become a symbol of civil rights violations. The methods we have witnessed may be liberal to you, but to many citizens around the🌎it seemed like a dictatorship of the worst kind. pic.twitter.com/FZuc6aDZ1I

— Mislav Kolakusic MEP 🇭🇷🇪🇺 (@mislavkolakusic) March 23, 2022
Kolakusic wasn't the only European Union to express outrage with Prime Minister Trudeau today. Here's German MEP Christine Anderson.
German MEP Christine Anderson to Justin Trudeau at European Parliament: "You are a disgrace to democracy. Please spare us your presence." https://t.co/rbs5IoKRbG

— Don Wilson, LLB 🇨🇦 (@DNSWilson) March 24, 2022
Meanwhile, Romanian MEP Christian Terhes outright refused to attend Trudeau's speech. Probably a good thing for Trudeau judging by the tone of this social media post from Terhes today.
The following is from the Facebook page of Christian Terhes MEP from Romania.
I refused to validate the imposition of Canadian Prime Minister Justin Trudeau, who gave a speech in front of the Plenary of the European Parliament on 23.03.2022, the reason why I was not in the hall when he spoke.
You can't come to teach Putin's democracy lessons from the European Parliament, when you pass with horse hoofs over your own citizens who demand that their fundamental rights be respected.
The difference between democracy and tyranny is not given by the geographical location of political leaders, but by the values that this promotes.
The "West" is not a space of freedom as a geographical place, but as a civilization, developed as a result of the fact that, based on Jewish-Christian values (respectful that man was created in the image and likeness of God and was exposed, with a price of d it's the blood, of the Son of God), he built a society and a state system that has put in the center of HUMAN, which is/served by the state.
The opposite of the "west" is not the "east" as a geographical place, but as a social and state order, which, based on Marxist philosophy, puts the state and its bureaucrats at the center, who are served by people.
Or, when you, a political man from the "west", implement at home methods of repression and violations of the rights of your own citizens, what do you ask for respected rights, as Putin does it at home, you are nothing better than him. Instead, to the tyranny you implement, you add deceit and hypocrisy, destroying the freedom and values of the "west".
These impostor leaders of the west today brought the world into the chaos we find ourselves in today, specifically because they moved away from the values that made the "west" a free and prosperous world.
The "Cold War" was won not with weapons, but with the values of the free world. In short, freedom to break tyranny!
The removal of western leaders from these values (individual freedom, respect for rights and freedoms, etc), but, not only did they make them lose their moral ascent, but they allowed the rise of tyrants like Putin.
Putin's imperialist plans are not new. However, the leaders of the West ignored the obvious, continuing to do business with Russia, which was selling them cheap gas, petron and coal, while on the money of the West, Putin was against his army.
Between the Russian imperialist tyranny, promoted by Putin, and the neomarxist tyranny claimed to be progressive promoted also by Trudeau, in which people are deprived of their rights and freedoms, becoming the objects of the state, I do not choose any.
I choose, instead, to promote and fight for the same conservative values that brought peace through prosperity in Europe: national sovereignty, individual freedom and respect for human rights, which are a gift I received from Du God because we are created in His image and likeness.
———-
Finally, thanks to Montreal based communicator Viva Frei for this compilation.
WHO's Global Digital Health Certification Network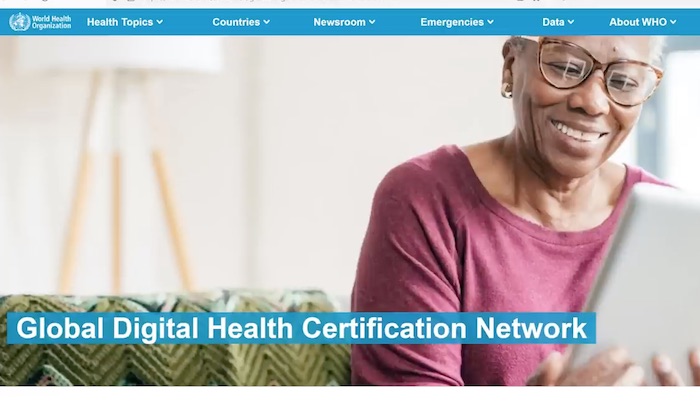 In order to prepare for a future pandemic, the WHO is looking to acquire your personal health information. This week, the World Health Organization and the European Union announced plans for the Global Digital Health Certification Network.
As British Health Researcher Dr. John Campbell explains, the plan is for the Global Digital Health Certificate to monitor the health status of everyone on the planet, and use this information to "facilitate global mobility". In other words there are plans to use your health status to determine your ability to travel, and to participate in other aspects of regular life.
With notes from the World Health Organization website, Dr. John Campbell explains the WHO's Global Digital Health Certification Network.
Dr. John Campbell's Presentation notes:
WHO's Global Digital Health Certification Network https://www.who.int/initiatives/globa…
WHO has established the Global Digital Health Certification Network (GDHCN). Open-source platform, built on robust & transparent standards, that establishes the first building block of digital public health infrastructure, for developing a wide range of digital products, for strengthening pandemic preparedness
Background Member States used digital COVID-19 test and vaccine certificates As the directing and coordinating authority on international health work, at the onset of the pandemic, WHO engaged with all WHO Regions to define overall guidance for such certificates and published the Digital Documentation of COVID-19 Certificates
https://www.who.int/publications/i/it… https://www.who.int/publications/i/it… there is a recognition of an existing gap, and continued need for a global mechanism, that can support bilateral verification of the provenance of health documents
The GDHCN may include Digitisation of the International Certificate of Vaccination or Prophylaxis, verification of prescriptions across borders
International Patient Summary Verification of vaccination certificates within and across borders Certification of public health professionals (through WHO Academy) Expanding such digital solutions will be essential to deliver better health for people across the globe.
The GDHCN has been designed to be interoperable with other existing regional networks EU-WHO digital partnership https://www.who.int/news/item/05-06-2…
• LIVE: WHO and @EU… https://commission.europa.eu/strategy… WHO and the European Commission have agreed to partner in digital health.
This partnership will work to technically develop the WHO system with a staged approach to cover additional use cases, In June 2023, WHO will take up the European Union (EU) system of digital COVID-19 certification to establish a global system, that will help facilitate global mobility
This is the first building block of the WHO Global Digital Health Certification Network (GDHCN)
Dr Tedros Adhanom Ghebreyesus WHO aims to offer all WHO Member States access, On the principles of equity, innovation, transparency and data protection and privacy Stella Kyriakides, Commissioner for Health and Food Safety
This partnership is an important step for the digital action plan of the EU Global Health Strategy, we contribute to digital health standards and interoperability globally
Thierry Breton, Commissioner for Internal Market The EU certificate … has also facilitated international travel and tourism I am pleased that the WHO will build on …. cutting-edge technology … to create a global tool against future pandemics
One of the key elements in the European Union's work against the COVID-19 pandemic has been digital COVID-19 certificates. WHO will facilitate this process globally under its own structure … allow the world to benefit from convergence of digital certificates. Expanding such digital solutions will be essential to deliver better health for citizens across the globe.
The WHO and the European Commission will work together to encourage maximum global uptake and participation.
New York City goes after Hyundai, Kia after security flaw leads to wave of social media fueled theft
A line of 2022 Santa Fe SUV's sit outside a Hyundai dealership Sunday, Sept. 12, 2021, in Littleton, Colo. Nearly three months after Hyundai and Kia rolled out new software designed to thwart rampant auto thefts, crooks are still driving off with the vehicles at an alarming rate. (AP Photo/David Zalubowski)
By Michelle Chapman
New York City has filed a lawsuit against Hyundai and Kia, joining a host of other cities beset by a social media fueled wave of car thefts due to a flaw that made some car models highly susceptible to theft.
Viral how-to videos on TikTok and other sites show how to start the cars using only USB cables and a screwdriver. The reason is that some models sold by Hyundai and Kia in the U.S. came without engine immobilizers, a standard feature on most cars since the 1990s that prevent the engine from starting unless the key is present.
The lawsuit, which was filed with the U.S. District Court in the Southern District of New York late Tuesday, alleges that Hyundai Motor America and Kia America Inc. failed to keep up with other automakers by not adopting immobilizer technology that ensured cars could not be started without their keys.
"Hyundai's and Kia's business decisions to reduce costs, and thereby boost profits, by foregoing common anti-theft technology have resulted in an epidemic of thefts," the lawsuit states.
The city claims the vehicle thefts are straining the resources of its police department, as well as negatively impacting public safety and emergency services.
The New York City police department reports that about 287 Kias were stolen last year, compared with approximately 119 in 2021. Approximately 415 Hyundais were reported stolen in 2022, compared with 232 a year earlier. And the problem has continued, with an estimated 977 Hyundai and Kia vehicles reported stolen in the first four months of this year. There were only 148 such thefts in the same months last year.
New York, the nation's biggest city by population, joins a growing list of cities going after the carmakers following a raft of thefts, including Baltimore, Cincinnati, Cleveland, Milwaukee, San Diego and Seattle.
New York City, which is seeking a trial by jury, is requesting an order providing for abatement of the public nuisance Hyundai and Kia have created or contributed to, compensation for the economic losses suffered as a result of the nuisance and injunctive relief.
Hyundai says it's committed to ensuring the quality and integrity of its products.
"A subset of Hyundai vehicles on the road in the U.S. today – primarily "base trim" or entry-level models – are not equipped with push-button ignitions and immobilizing anti-theft devices. It is important to clarify that an engine immobilizer is an anti-theft device and these vehicles are fully compliant with federal anti-theft requirements," the automaker said in a written statement.
Hyundai made engine immobilizers standard on all of its vehicles made from November 2021 onward. The company also said that it's speaking with the National Highway Traffic Safety Administration on the actions it is taking to assist its customers.
Kia did not immediately respond to a request seeking comment.
Last month Hyundai and Kia reached a settlement to resolve a class-action lawsuit prompted by a surge in vehicle thefts.
The settlement could be valued at $200 million and covers about 9 million 2011-2022 model year Hyundai and Kia vehicles in the U.S., the companies said at the time.
The settlement will provide cash compensation to customers who suffered theft-related losses or damage not covered by insurance — as well as reimbursement for insurance deductibles, increased insurance premiums and other losses, Kia and Hyundai said.
A software upgrade will also be provided to eligible owners. For customers with vehicles that cannot accommodate the software upgrade, the agreement will provide a reimbursement of up to $300 for anti-theft devices.
Kia and Hyundai have also given impacted customers tens of thousands of free steering wheel locks through local law enforcement and direct shipments, the companies said.
That proposed settlement is expected to be reviewed in court for preliminary approval in July.