Prime Minister Trudeau called 'dictator' to his face in blistering speech in European Parliament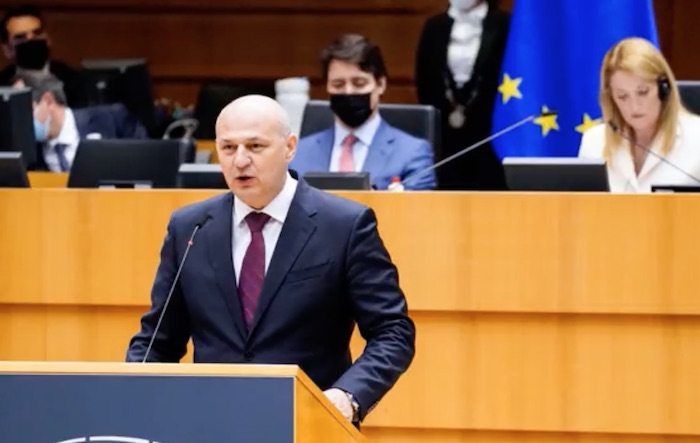 It wasn't the response Prime Minister Trudeau was hoping for. In fact in a career filled with humiliations on various international trips, Wednesday's speech at the EU in Brussels has to be the worst experience of all for Canada's PM.
As part of a longer speech in which Trudeau called on the EU for more support for Ukraine, Canada's Prime Minister blamed the leaders of the Freedom Convoy for threatening democracy. That assertion did not go over very well.
Croatian MP Mislav Kolakusic responded by calling out Trudeau for violating the civil rights of Canadians participating in the Freedom Convoy protests. In a blistering speech to fellow EU Parliamentarians, Kolakusic turned to Trudeau and called his actions in crushing the Ottawa protest "dictatorship of the worst kind". Trudeau sat quietly and listened as the MP from Croatia informed him many Europeans watched as he "trampled women with horses," and blocked "the bank accounts of single parents."
Click on the video below to see the humiliating tongue-lashing.
PM Trudeau, in recent months, under your quasi-liberal boot, Canada 🇨🇦 has become a symbol of civil rights violations. The methods we have witnessed may be liberal to you, but to many citizens around the🌎it seemed like a dictatorship of the worst kind. pic.twitter.com/FZuc6aDZ1I

— Mislav Kolakusic MEP 🇭🇷🇪🇺 (@mislavkolakusic) March 23, 2022
Kolakusic wasn't the only European Union to express outrage with Prime Minister Trudeau today. Here's German MEP Christine Anderson.
German MEP Christine Anderson to Justin Trudeau at European Parliament: "You are a disgrace to democracy. Please spare us your presence." https://t.co/rbs5IoKRbG

— Don Wilson, LLB 🇨🇦 (@DNSWilson) March 24, 2022
Meanwhile, Romanian MEP Christian Terhes outright refused to attend Trudeau's speech. Probably a good thing for Trudeau judging by the tone of this social media post from Terhes today.
The following is from the Facebook page of Christian Terhes MEP from Romania.
I refused to validate the imposition of Canadian Prime Minister Justin Trudeau, who gave a speech in front of the Plenary of the European Parliament on 23.03.2022, the reason why I was not in the hall when he spoke.
You can't come to teach Putin's democracy lessons from the European Parliament, when you pass with horse hoofs over your own citizens who demand that their fundamental rights be respected.
The difference between democracy and tyranny is not given by the geographical location of political leaders, but by the values that this promotes.
The "West" is not a space of freedom as a geographical place, but as a civilization, developed as a result of the fact that, based on Jewish-Christian values (respectful that man was created in the image and likeness of God and was exposed, with a price of d it's the blood, of the Son of God), he built a society and a state system that has put in the center of HUMAN, which is/served by the state.
The opposite of the "west" is not the "east" as a geographical place, but as a social and state order, which, based on Marxist philosophy, puts the state and its bureaucrats at the center, who are served by people.
Or, when you, a political man from the "west", implement at home methods of repression and violations of the rights of your own citizens, what do you ask for respected rights, as Putin does it at home, you are nothing better than him. Instead, to the tyranny you implement, you add deceit and hypocrisy, destroying the freedom and values of the "west".
These impostor leaders of the west today brought the world into the chaos we find ourselves in today, specifically because they moved away from the values that made the "west" a free and prosperous world.
The "Cold War" was won not with weapons, but with the values of the free world. In short, freedom to break tyranny!
The removal of western leaders from these values (individual freedom, respect for rights and freedoms, etc), but, not only did they make them lose their moral ascent, but they allowed the rise of tyrants like Putin.
Putin's imperialist plans are not new. However, the leaders of the West ignored the obvious, continuing to do business with Russia, which was selling them cheap gas, petron and coal, while on the money of the West, Putin was against his army.
Between the Russian imperialist tyranny, promoted by Putin, and the neomarxist tyranny claimed to be progressive promoted also by Trudeau, in which people are deprived of their rights and freedoms, becoming the objects of the state, I do not choose any.
I choose, instead, to promote and fight for the same conservative values that brought peace through prosperity in Europe: national sovereignty, individual freedom and respect for human rights, which are a gift I received from Du God because we are created in His image and likeness.
———-
Finally, thanks to Montreal based communicator Viva Frei for this compilation.
North American stock markets wrap up brutal quarter and first half of 2022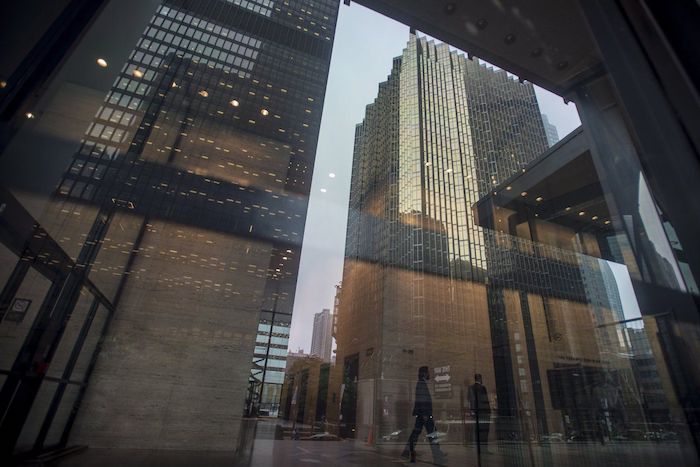 By Ross Marowits in Toronto
Allan Small said the first half of 2022 has proven to be the worst run of his 25-year investment career.
Canada's main stock index concluded its weakest quarter since before the pandemic while U.S. markets endured their worst six-months runs in decades on fears that rising interest rates will throw the economy into recession.
"As we hit the mid-point of the year, when you look back I think the first part of the year will be known for just a bloodbath in the markets," the senior investment adviser at IA Private Wealth said in an interview.
The S&P/TSX composite index closed down 217.28 points to 18,861.36 to end the quarter off nearly 14 per cent for the biggest decrease since December 2019. The TSX is closed Friday for Canada Day while U.S. markets will be closed Monday for Independence Day.
In New York, the Dow Jones industrial average was down 253.88 points at 30,775.43. The S&P 500 index was down 33.45 points at 3,785.38, while the Nasdaq composite was down 149.15 points at 11,028.74.
The TSX is down 11 per cent so far this year, while the Dow is down 15 per cent, the S&P 500 is off 20.6 per cent for the worst six months in 50 years and Nasdaq fell a record 29.5 per cent.
"I don't remember a year that started off the six months this poorly," said Small.
Soaring inflation has been stoked by Russia's invasion of Ukraine while supply chain bottlenecks have been accentuated by China's COVID-19 lockdowns.
While markets endured steep declines in the past due to COVID-19 and the financial crisis, they were always followed by people buying the dip. This time, many investors remain on the sidelines after getting hammered and unsure about when markets will bottom out.
Economic data out of the U.S. on Thursday said core inflation numbers, the Fed's preferred inflation measure, rose 4.7 per cent in May. That's 0.2 of a per cent lower than April but still around 40-year highs.
In Canada, economic growth slowed in April to 0.3 per cent, while a preliminary estimate for May suggests it likely contracted 0.2 per cent. The U.S. previously said its economy slipped 1.6 per cent in the first quarter.
A negative number in the second quarter will mean the U.S. economy is technically in recession. But Small said many people think the economy is already there and that Canada is either in recession or about to go into one.
Small said he wouldn't be surprised to see markets rise during a recession in anticipation of things getting better, with inflation moving down after peaking.
Real estate and utilities were the lone sectors in positive territory Thursday in a broad-based slump with six of nine sectors falling by more than one per cent.
Health care led the declines, losing 4.1 per cent with Canopy Growth Corp. plunging 18.5 per cent after the pot producer announced a convertible notes exchange.
Materials lost 3.6 per cent on a drop in metals prices, particularly copper.
The August gold contract was down US$10.20 at US$1,807.30 an ounce and the September copper contract was down 7.1 cents at US$3.71 a pound.
"Whenever you have fear of a recession, those types of metals which are used to build homes and build things, the fear is that you're not going to need to use as much of these building materials," Small said.
Energy lost 1.7 per cent on lower prices with crude oil dropping as Advantage Oil & Gas Ltd. shares were down six per cent.
The August crude contract was down US$4.02 at US$105.76 per barrel and the August natural gas contract was down US$1.07 at US$5.42 per mmBTU.
The Canadian dollar traded for 77.60 cents US compared with 77.65 cents US on Wednesday.
Shopify Inc. decreased 5.6 per cent to push technology lower while Laurentian Bank fell 2.5 per cent to lead a drop in the heavyweight financial sector.
Small is hoping for a better second half of the year after central banks conclude their aggressive interest rate hikes to tame soaring inflation.
"I don't know if we're going to make back enough to get us in the green for the year, but I'm hopeful that we'll see a positive second half and we'll make back some of the losses."
This report by The Canadian Press was first published June 30, 2022.
Companies in this story: (TSX:AAV, TSX:WEED, TSX:LB, TSX:SHOP, TSX:GSPTSE, TSX:CADUSD=X)
Supreme Court limits EPA in curbing power plant emissions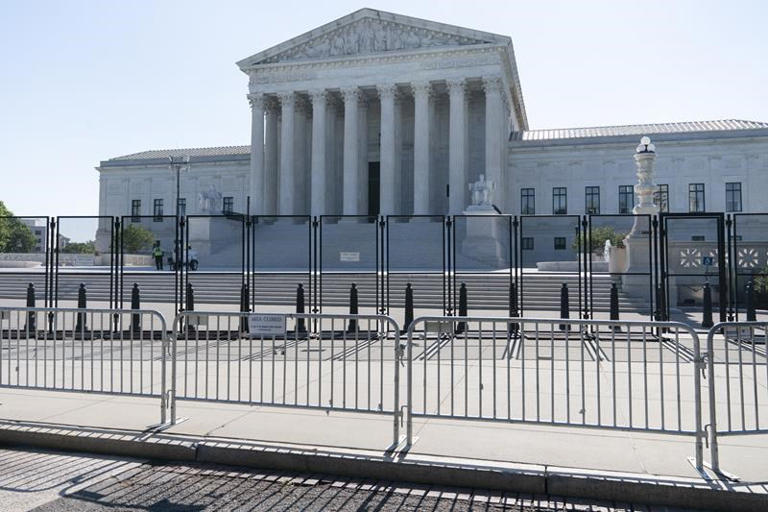 WASHINGTON (AP) — In a blow to the fight against climate change, the Supreme Court on Thursday limited how the nation's main anti-air pollution law can be used to reduce carbon dioxide emissions from power plants.
By a 6-3 vote, with conservatives in the majority, the court said that the Clean Air Act does not give the Environmental Protection Agency broad authority to regulate greenhouse gas emissions from power plants that contribute to global warming.
The court's ruling could complicate the administration's plans to combat climate change. Its proposal to regulate power plant emissions is expected by the end of the year.
President Joe Biden aims to cut the nation's greenhouse gas emissions in half by the end of the decade and to have an emissions-free power sector by 2035. Power plants account for roughly 30% of carbon dioxide output.
The Associated Press