Premier Kenney says Alberta is "Open Forever!"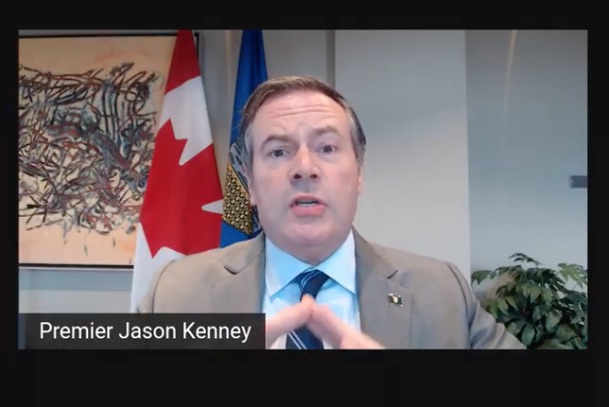 Premier Jason Kenney joined Danielle Smith of the Alberta Enterprise Group for a live interview Thursday at noon.  Right off the top of the interview the pair established the fact that Thursday, June 10 is the first day every single business in Alberta has been allowed to open in some capacity since the beginning of the pandemic back in March 2020.   Then Jason Kenney made a bold announcement.  Alberta's Premier says Alberta is not only opening up, but due to the success they're seeing with the vaccines, Alberta will stay open.
Enjoy Danielle Smith's interview with Premier Jason Kenney.
From the Alberta Enterprise Group
Yamamoto among four players to receive qualifying offers from the Edmonton Oilers
EDMONTON — The Edmonton Oilers extended qualifying offers to forwards Tyler Benson, Cooper Marody and Kailer Yamamoto as well as goalie Stuart Skinner on Sunday.
Benson, 23, has one assist in seven career NHL games. He was selected in the second round. No. 23 overall, in 2016.
Marody, 24,was originally drafted by the Philadelphia Flyers in 2015 and has appeared in six career NHL contests.
The 22-year-old Yamamoto had eight goals and 13 assists in 52 games with Edmonton last season. The '17 draft pick has 20 goals and 32 assists in 105 career NHL contests.
Skinner, 22, played in one game with Edmonton last year. He was drafted by the Oilers in 2017.
This report by The Canadian Press was first published July 25, 2021.
The Canadian Press
Veteran Canadian RB McCarty comes out of retirement to sign with Calgary Stampeders
CALGARY — Veteran Canadian running back Calvin McCarty came out of retirement Sunday to sign with the Calgary Stampeders.
McCarty, 36, retired in March following 13 seasons with Edmonton. McCarty appeared in over 200 regular-season games with the franchise and helped it win a Grey Cup title in 2015.
The five-foot-10, 215-pound McCarty ran for 1,615 career yards and 17 TDs while registering 263 catches for 2,005 yards and 143 touchdowns in 203 games with Edmonton. In 2019, McCarty became just the fourth running back in CFL history to achieve the 200-game milestone.
The Stampeders also announced they've released receiver Dorian Baker, defensive back Josh Nurse and defensive linemen Dadi Nicolas, Qaadir Sheppard and Mbi Tanyi. All are Americans.
This report by The Canadian Press was first published July 25, 2021.
The Canadian Press