Premier Kenney demands PM Trudeau retaliate against President Biden in defence of Keystone XL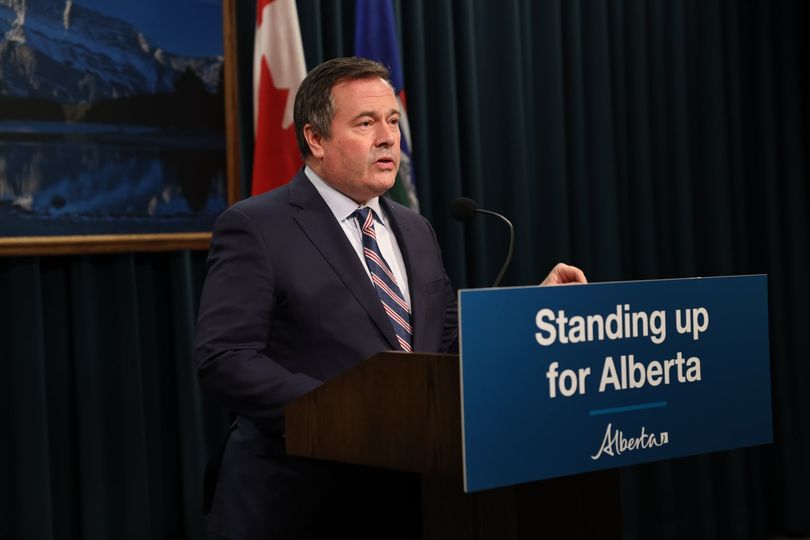 The day before President Biden's inauguration, the incoming government announced the President would rescind the Presidential permit for the Keystone XL Pipeline.  True to his word, one of the first actions of the new President was to retroactively cancel the pipeline which is partially owned by the Canadian Government.
Considering the massive investment by the Province of Alberta which would leave Alberta taxpayers also on the hook for about a billion dollars, Premier Jason Kenney has been speaking out loudly and aggressively.   Premier Kenney has used strong language including "This is not now you treat a friend and ally."
Regarding Canada's response (The federal government is a part owner of the pipeline) Kenney is also calling on Prime Minister Trudeau and the federal government to stand up and retaliate with statements such as. "When the former Trump administration slapped punitive tariffs on Ontario and Quebec steel and aluminum in 2018, the Trudeau government imposed $16 billion worth of countervailing tariffs on U.S. goods the very same day.  By contrast, when Alberta oil was attacked on Wednesday: nothing."
Here are statements Premier Kenney has released over the last three days in full:
January 19
"Canada should be President Biden's first priority in re-establishing U.S. energy security. Canada is the environmental, social and governance (ESG) leader among global energy powers.
Alberta's oilsands, once a source of carbon intensive barrels, has reduced carbon intensity by over 20 per cent in the past nine years. The average barrel produced in Canada is now cleaner than one produced in California.
Canada leads the world in key environmental categories like methane regulation, water use, and innovations like carbon capture and sequestration; and individual Canadian firms hold the top ESG scores in the industry.
TC Energy, the builder of KXL, has also committed to being net zero by 2030, ahead of its US peers, and hire a U.S. union workforce.
You won't get those commitments from Venezuelan shippers.
Canada's oil reserves are vast at 170 billion barrels, making Alberta's oilsands the third largest supply in the world, holding more oil than Russia, China and the USA combined. Keystone XL secures access to this strategic supply for purpose-built U.S. refining capacity in the Gulf.
On environmental and strategic grounds this should be far preferable to carbon-intensive rail transit — or alternate supply from Venezuelan tankers."
January 20
The United States is our most important ally and trading partner. Amongst all of the Canadian provinces, Alberta has the deepest economic ties to the United States with $100 billion worth of exports, and strong social connections that go back over a century.
As friends and allies of the United States, we are deeply disturbed that one of President Biden's first actions in office has been to rescind the Presidential permit for the Keystone XL Pipeline border crossing.
My thoughts are with the 2000 people who lost their jobs today, and all those who are coping with the devastating consequences of this decision.
The US State Department's own exhaustive analysis conducted under President Obama's administration concluded that Keystone XL would actually reduce emissions, as the alternative will be to move this energy by higher emitting and less secure rail transport.
The Government of Canada has more ambitious emissions goals than the new US Administration, and our provincial government is investing billions of dollars in the development of emissions reductions technology.
This means that Alberta, Canada, and the Keystone XL pipeline are part of the solution in the energy transition.
For months we've been told that the Biden transition team would not communicate with foreign governments on this or other issues. And now a decision has been made without even giving Canada a chance to communicate formally with the new administration.
That's not how you treat a friend and ally.
We will continue to fight for Alberta's responsible energy industry, and for the 59,000 jobs that this project would create.
Alberta's government calls for the federal government and Prime Minister Trudeau to immediately enter into talks with the Biden administration on their cancellation of the Keystone XL pipeline in the context of a broader agreement on energy supply and climate action.
Failing an agreement with the American government, we call on the Government of Canada to respond with consequences for this attack on Canada's largest industry. We are not asking for special treatment, simply the same response that Canada's government had when other areas of our national economy were under threat from the US government.
January 21
"He has been so anti-oil himself during his five-plus years in office (including not objecting loudly to the Obama administration's first cancellation of Keystone in 2015), that the incoming Biden administration must have known our Liberals wouldn't put up much of a stink if it killed Keystone.
When the former Trump administration slapped punitive tariffs on Ontario and Quebec steel and aluminum in 2018, the Trudeau government imposed $16 billion worth of countervailing tariffs on U.S. goods the very same day.
By contrast, when Alberta oil was attacked on Wednesday: nothing.
Also, Trudeau can be blamed for making the death of Keystone matter so much. Had Trudeau not killed two other all-Canadian pipelines — Energy East and Northern Gateway — the end of Keystone wouldn't be such a crippling blow."
From January 20
Retired TC Energy CEO Russ Girling aiming to join Suncor's board of directors
CALGARY — Suncor Energy says former TC Energy CEO Russ Girling is returning to the energy producer and will stand for election to its board of directors in May.
The Calgary-based energy giant says Girling is well-known in the North American energy industry following a 35-year career.
Girling recently retired after 26 years at TC Energy, including a decade as president and chief executive.
He previously worked at Suncor Energy, Northridge Energy Marketing and Dome Petroleum.
Girling also sits on the board of fertilizer company Nutrien Ltd. as well as some private boards and non-profits.
He holds a commerce degree and a master of business administration degree from the University of Calgary.
"In addition to his deep understanding of issues directly affecting the industry, Russ brings exceptional commercial and financial acumen. His commitment to strong governance aligns with Suncor's values and we believe he will be a valuable addition to the board," stated Suncor chairman Michael Wilson.
This report by The Canadian Press was first published Feb. 24, 2021.
Companies in this story: (TSX:SU, TSX:TRP)
The Canadian Press
Alberta eyes recall legislation, focuses on COVID-19 aid in spring sitting
EDMONTON — Alberta politicians return to the legislature Thursday for a sitting that includes a new budget and a politician recall bill.
"Our primary focus as a government in the legislature for the next several weeks will be to get that budget tabled," government house leader Jason Nixon said Wednesday.
"We see that absolutely as critical, the most important thing the legislature can do right now to help, as we face the COVID-19 pandemic as well as an unprecedented economic situation in our province."
The sitting is to begin with Finance Minister Travis Toews introducing the budget for the upcoming 2021-22 fiscal year. The province already faces a deficit this year that has ballooned threefold to a projected $21 billion, although Premier Jason Kenney said this week it will be lower.
The sitting is expected to see 18 or 19 bills, said Nixon.
One will propose citizen-initiated referendums. Another will outline how disgruntled residents would be able to recall elected officials — including legislature members, mayors and school board trustees — between elections.
Kenney's United Conservative government promised during the 2019 election campaign to bring in such legislation. Public interest was renewed after Christmas when several members of the premier's UCP caucus took vacations to tropical hot spots. The government was urging Albertans to stay home and avoid family holiday gatherings to prevent the spread of COVID-19.
Nixon said the bill would allow for recalls in the government's current term, but noted the logistics would have to be worked out with elections officials.
"We will work with the chief electoral officer to accommodate that, but the intention will be to fulfil that platform commitment, that it be put into place all the way this term," said Nixon.
The sitting will not have a throne speech, normally a tradition to symbolically reset the legislature and give the government a chance to declare goals and plans for the coming year.
Kenney said Tuesday that a throne speech, with its pomp and ceremony, would be challenging in physically distanced times. He said the focus right now is to make sure the pandemic is handled and to revive Alberta's economy.
Kenney's government has been pummeled in public opinion polls following a series of gaffes: the Christmas travel, a controversial and now-abandoned plan to pursue coal-mining in the Rocky Mountains, and a shelved plan to off-load some provincial parks.
Calgary-based pollster Janet Brown said erosion of support for Kenney's UCP is not as dire as some surveys suggest, but she added the government needs to stick to the basics and rebuild trust.
"They just need to regain people's confidence in their competence" said Brown in an interview. "Nobody voted for Jason Kenney because they liked him or they wanted to have a beer with him, things that were attractive in previous premiers.
"They picked him because they thought he was competent. They thought he had the answers for Alberta."
The Opposition says Kenney's government has too often been a step behind on the pandemic. The NDP says the province has failed to provide supports to keep workers and care-home residents safe, and its aid for businesses has been too narrow, too little and too late.
"The health-care system must be central to our recovery," said finance critic Shannon Phillips.
"I will be looking for a real investment in health care to get us through the pandemic and address the terrible backlog in surgeries and primary health needs.
"Getting through to the other side of the pandemic also means helping small business by offering support for rent, utilities and insurance."
This report by The Canadian Press was first published Feb. 24, 2021
Dean Bennett, The Canadian Press