Premier Kenney demands PM Trudeau retaliate against President Biden in defence of Keystone XL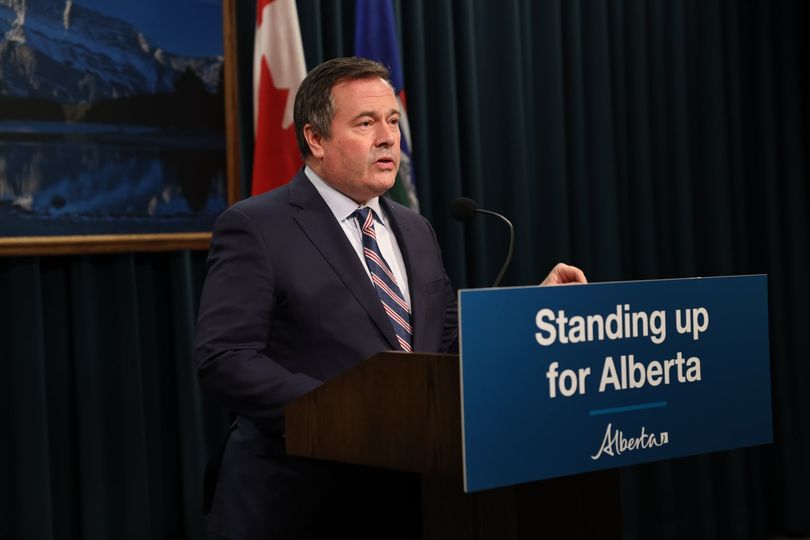 The day before President Biden's inauguration, the incoming government announced the President would rescind the Presidential permit for the Keystone XL Pipeline.  True to his word, one of the first actions of the new President was to retroactively cancel the pipeline which is partially owned by the Canadian Government.
Considering the massive investment by the Province of Alberta which would leave Alberta taxpayers also on the hook for about a billion dollars, Premier Jason Kenney has been speaking out loudly and aggressively.   Premier Kenney has used strong language including "This is not now you treat a friend and ally."
Regarding Canada's response (The federal government is a part owner of the pipeline) Kenney is also calling on Prime Minister Trudeau and the federal government to stand up and retaliate with statements such as. "When the former Trump administration slapped punitive tariffs on Ontario and Quebec steel and aluminum in 2018, the Trudeau government imposed $16 billion worth of countervailing tariffs on U.S. goods the very same day.  By contrast, when Alberta oil was attacked on Wednesday: nothing."
Here are statements Premier Kenney has released over the last three days in full:
January 19
"Canada should be President Biden's first priority in re-establishing U.S. energy security. Canada is the environmental, social and governance (ESG) leader among global energy powers.
Alberta's oilsands, once a source of carbon intensive barrels, has reduced carbon intensity by over 20 per cent in the past nine years. The average barrel produced in Canada is now cleaner than one produced in California.
Canada leads the world in key environmental categories like methane regulation, water use, and innovations like carbon capture and sequestration; and individual Canadian firms hold the top ESG scores in the industry.
TC Energy, the builder of KXL, has also committed to being net zero by 2030, ahead of its US peers, and hire a U.S. union workforce.
You won't get those commitments from Venezuelan shippers.
Canada's oil reserves are vast at 170 billion barrels, making Alberta's oilsands the third largest supply in the world, holding more oil than Russia, China and the USA combined. Keystone XL secures access to this strategic supply for purpose-built U.S. refining capacity in the Gulf.
On environmental and strategic grounds this should be far preferable to carbon-intensive rail transit — or alternate supply from Venezuelan tankers."
January 20
The United States is our most important ally and trading partner. Amongst all of the Canadian provinces, Alberta has the deepest economic ties to the United States with $100 billion worth of exports, and strong social connections that go back over a century.
As friends and allies of the United States, we are deeply disturbed that one of President Biden's first actions in office has been to rescind the Presidential permit for the Keystone XL Pipeline border crossing.
My thoughts are with the 2000 people who lost their jobs today, and all those who are coping with the devastating consequences of this decision.
The US State Department's own exhaustive analysis conducted under President Obama's administration concluded that Keystone XL would actually reduce emissions, as the alternative will be to move this energy by higher emitting and less secure rail transport.
The Government of Canada has more ambitious emissions goals than the new US Administration, and our provincial government is investing billions of dollars in the development of emissions reductions technology.
This means that Alberta, Canada, and the Keystone XL pipeline are part of the solution in the energy transition.
For months we've been told that the Biden transition team would not communicate with foreign governments on this or other issues. And now a decision has been made without even giving Canada a chance to communicate formally with the new administration.
That's not how you treat a friend and ally.
We will continue to fight for Alberta's responsible energy industry, and for the 59,000 jobs that this project would create.
Alberta's government calls for the federal government and Prime Minister Trudeau to immediately enter into talks with the Biden administration on their cancellation of the Keystone XL pipeline in the context of a broader agreement on energy supply and climate action.
Failing an agreement with the American government, we call on the Government of Canada to respond with consequences for this attack on Canada's largest industry. We are not asking for special treatment, simply the same response that Canada's government had when other areas of our national economy were under threat from the US government.
January 21
"He has been so anti-oil himself during his five-plus years in office (including not objecting loudly to the Obama administration's first cancellation of Keystone in 2015), that the incoming Biden administration must have known our Liberals wouldn't put up much of a stink if it killed Keystone.
When the former Trump administration slapped punitive tariffs on Ontario and Quebec steel and aluminum in 2018, the Trudeau government imposed $16 billion worth of countervailing tariffs on U.S. goods the very same day.
By contrast, when Alberta oil was attacked on Wednesday: nothing.
Also, Trudeau can be blamed for making the death of Keystone matter so much. Had Trudeau not killed two other all-Canadian pipelines — Energy East and Northern Gateway — the end of Keystone wouldn't be such a crippling blow."
From January 20
A for Quebec, F for Alberta: Study rates Canadian governments on conservation
A new report grades Canadian governments in how they responded to the country's international promise to conserve at least 17 per cent of its land mass and 10 per cent of its oceans by 2020. 
The report, released today by the Canadian Parks and Wilderness Society, says Quebec and the federal government are the only jurisdictions to come close to meeting the 17 per cent conservation target.
The society says Alberta performed the worst, cancelling previously planned protections, delisting parks and attempting to open the Rocky Mountains for open-pit coal mining. 
"A lot of it has to do with political will," said society spokeswoman Alison Woodley.
The group chose to examine how close different Canadian jurisdictions came to meeting its Aichi targets, an international agreement signed by Canada in 2010. The idea, said Woodley, was to learn how to better meet the next set of conservation goals — 30 per cent of land and oceans by 2030.
The report used internationally recognized standards of what constitutes protection and federal data on the amount of land covered. 
Nationally, Canada met and exceeded its 2020 ocean goals, but fell short by more than three percentage points on land. That was good enough for a B-plus and an A-minus respectively, the report says.
The report credits funding — the 2021 federal budget included $2.3 billion for conservation — as well as a willingness to work with Indigenous groups for Ottawa's progress.
Quebec nearly met its land conservation goals, conserving 16.7 per cent of its territory.
"The province worked with communities and First Nations to identify and deliver on new protected areas," said Woodley.
Alberta, not so much. Although the province has more than 15 per cent of its land mass protected, the report points out Alberta has attempted to delist parks, open its Rocky Mountains to coal mining and walked away from plans that would have created some of the biggest new protected areas in the country. 
"It's not just about areas of protections," said report author Anna Pidgorna. "Alberta's going backwards in many ways."
Alberta Environment did not immediately respond to a request to outline conservation measures taken by the United Conservative government. 
Ontario and Newfoundland share Alberta's F grade. Ontario has protected less than one per cent of its lands over the last decade, with a similar story in Newfoundland and Labrador, where the percentage of protected land is among the lowest in Canada. 
The rest of the country is a mix, said Woodley. 
Saskatchewan is criticized for having protected less than 10 per cent of its land and weakening protections on native grasslands, but praised for working with Indigenous groups and granting interim protection to one new area. Manitoba made early progress, the report says, but has lately discussed selling off park land.  
British Columbia has almost 20 per cent of its land under protection. But the province is criticized for no recent progress and underfunding the parks it does have. 
The Northwest Territories get a B-plus for creating large new protected areas and working with Indigenous groups to define and manage them. 
Woodley said the study shows that funding makes a big difference to creating protected areas. So does time and patience.
"Conservation takes time," she said. 
"A major barrier to delivering on the 17-per-cent target was a lack of time. If we're going to meet the 30-per-cent target, we need to start now."  
Woodley said conserving land is the best way to address the loss of species and shrinking biodiversity around the world.
"Habitat loss is the primary driver of nature's decline. Protecting habitat has to be a core part of the solution."
 This report by The Canadian Press was first published June 22, 2021. 
— Follow Bob Weber on Twitter at @row1960
Bob Weber, The Canadian Press
Details released on fatal hunt for suspect in Alberta where police dog also died
HIGH PRAIRIE, Alta. — Alberta's police oversight agency has released new details about last week's death of a man whose pursuit, arrest and death near a provincial park also resulted in the death of a police service dog.
The Alberta Serious Incident Response Team says in a news release the 29-year-old suspect was involved in a shootout with RCMP on Thursday after officers had tracked him for several kilometres through thick bush around High Prairie, Alta.
During the gunfire exchange, ASIRT says a police service dog was shot and killed, and the officers were told to disengage and were airlifted out in a helicopter.
ASIRT says backup was brought in and officers fired their guns when they encountered the suspect again, and this time they believed they'd hit him, but attempts to find him failed.
The agency says officers later made contact with the suspect two more times but it appeared he hadn't been injured after all.
The release says on Friday morning, two officers who were assigned to contain the area spotted the suspect in a ditch, a confrontation occurred, and both officers opened fire. The suspect was later pronounced dead.
"The man fell to the ground in the tall grass, and additional police officers and … medical officers responded to the area. Medical officers attempted to treat the man, but ultimately he died at the scene," the ASIRT release said of the final confrontation.
"A loaded semi-automatic .22-calibre rifle, as well as a range finder, were recovered from the incident scene and have been seized as exhibits."
RCMP identified the suspect last week as Lionel Ernest Grey of the Gift Lake Metis Settlement. Police had said that he'd died from injuries following his arrest, but they hadn't say what injuries he'd had or how he died.
They said a police service dog named Jago was shot during the pursuit.
ASIRT said its investigation will examine the actions of police, while the RCMP will maintain responsibility for the investigation of the suspect and his actions.
The agency said that since investigation is underway, it won't be releasing any further information.
ASIRT is investigating another shooting in northern Alberta on Sunday night that also ended with a suspect dead and a police dog injured.
Mounties said they were looking for a suspect who fled on foot after a dispute in a vehicle near the community of Ardmore, southwest of Cold Lake. They said officers and a police dog found the suspect, there was a confrontation and an officer fired a gun.
The man died at the scene and the dog was taken to a veterinarian and treated for a non life-threatening injury.
This report by The Canadian Press was first published June 21, 2021.
The Canadian Press