Premier Kenney demands PM Trudeau retaliate against President Biden in defence of Keystone XL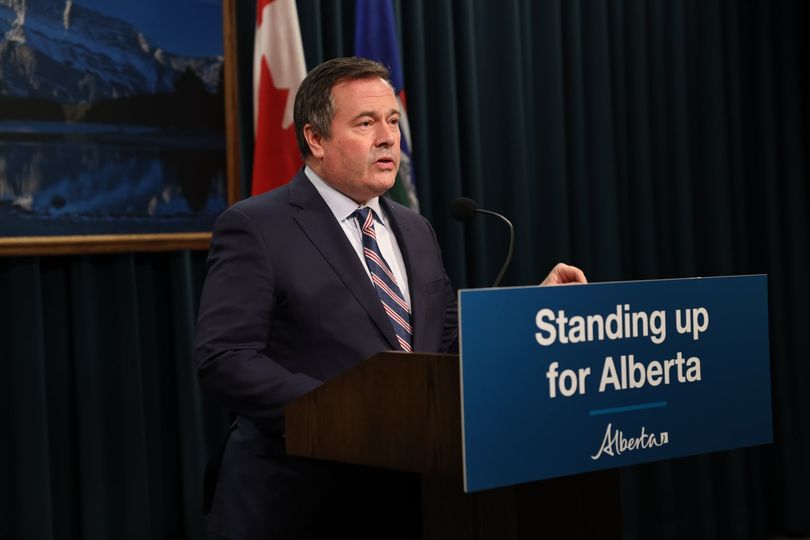 The day before President Biden's inauguration, the incoming government announced the President would rescind the Presidential permit for the Keystone XL Pipeline.  True to his word, one of the first actions of the new President was to retroactively cancel the pipeline which is partially owned by the Canadian Government.
Considering the massive investment by the Province of Alberta which would leave Alberta taxpayers also on the hook for about a billion dollars, Premier Jason Kenney has been speaking out loudly and aggressively.   Premier Kenney has used strong language including "This is not now you treat a friend and ally."
Regarding Canada's response (The federal government is a part owner of the pipeline) Kenney is also calling on Prime Minister Trudeau and the federal government to stand up and retaliate with statements such as. "When the former Trump administration slapped punitive tariffs on Ontario and Quebec steel and aluminum in 2018, the Trudeau government imposed $16 billion worth of countervailing tariffs on U.S. goods the very same day.  By contrast, when Alberta oil was attacked on Wednesday: nothing."
Here are statements Premier Kenney has released over the last three days in full:
January 19
"Canada should be President Biden's first priority in re-establishing U.S. energy security. Canada is the environmental, social and governance (ESG) leader among global energy powers.
Alberta's oilsands, once a source of carbon intensive barrels, has reduced carbon intensity by over 20 per cent in the past nine years. The average barrel produced in Canada is now cleaner than one produced in California.
Canada leads the world in key environmental categories like methane regulation, water use, and innovations like carbon capture and sequestration; and individual Canadian firms hold the top ESG scores in the industry.
TC Energy, the builder of KXL, has also committed to being net zero by 2030, ahead of its US peers, and hire a U.S. union workforce.
You won't get those commitments from Venezuelan shippers.
Canada's oil reserves are vast at 170 billion barrels, making Alberta's oilsands the third largest supply in the world, holding more oil than Russia, China and the USA combined. Keystone XL secures access to this strategic supply for purpose-built U.S. refining capacity in the Gulf.
On environmental and strategic grounds this should be far preferable to carbon-intensive rail transit — or alternate supply from Venezuelan tankers."
January 20
The United States is our most important ally and trading partner. Amongst all of the Canadian provinces, Alberta has the deepest economic ties to the United States with $100 billion worth of exports, and strong social connections that go back over a century.
As friends and allies of the United States, we are deeply disturbed that one of President Biden's first actions in office has been to rescind the Presidential permit for the Keystone XL Pipeline border crossing.
My thoughts are with the 2000 people who lost their jobs today, and all those who are coping with the devastating consequences of this decision.
The US State Department's own exhaustive analysis conducted under President Obama's administration concluded that Keystone XL would actually reduce emissions, as the alternative will be to move this energy by higher emitting and less secure rail transport.
The Government of Canada has more ambitious emissions goals than the new US Administration, and our provincial government is investing billions of dollars in the development of emissions reductions technology.
This means that Alberta, Canada, and the Keystone XL pipeline are part of the solution in the energy transition.
For months we've been told that the Biden transition team would not communicate with foreign governments on this or other issues. And now a decision has been made without even giving Canada a chance to communicate formally with the new administration.
That's not how you treat a friend and ally.
We will continue to fight for Alberta's responsible energy industry, and for the 59,000 jobs that this project would create.
Alberta's government calls for the federal government and Prime Minister Trudeau to immediately enter into talks with the Biden administration on their cancellation of the Keystone XL pipeline in the context of a broader agreement on energy supply and climate action.
Failing an agreement with the American government, we call on the Government of Canada to respond with consequences for this attack on Canada's largest industry. We are not asking for special treatment, simply the same response that Canada's government had when other areas of our national economy were under threat from the US government.
January 21
"He has been so anti-oil himself during his five-plus years in office (including not objecting loudly to the Obama administration's first cancellation of Keystone in 2015), that the incoming Biden administration must have known our Liberals wouldn't put up much of a stink if it killed Keystone.
When the former Trump administration slapped punitive tariffs on Ontario and Quebec steel and aluminum in 2018, the Trudeau government imposed $16 billion worth of countervailing tariffs on U.S. goods the very same day.
By contrast, when Alberta oil was attacked on Wednesday: nothing.
Also, Trudeau can be blamed for making the death of Keystone matter so much. Had Trudeau not killed two other all-Canadian pipelines — Energy East and Northern Gateway — the end of Keystone wouldn't be such a crippling blow."
From January 20
Alberta's Walker into Hearts semifinal with 9-8 win over Manitoba's Jones
CALGARY — Alberta's Laura Walker advanced to the semifinal of the Canadian women's curling championship with a 9-8 win over Manitoba's Jennifer Jones in Sunday's tiebreaker game.
Walker faces defending champion Kerri Einarson in an afternoon semifinal with the winner taking on Ontario's Rachel Homan for the championship at night.
Jones missed an attempted double takeout in the 10th end, which left Walker an open draw to score three for the win in the tiebreaker.
Manitoba and Alberta were tied for third at 9-3 after the championship round, which required a tiebreaker game to solve.
Jones, a six-time champion at the Scotties Tournament of Hearts, was chasing a record seventh title.
This report by The Canadian Press was first published Feb. 28, 2021.
The Canadian Press
Let 'er buck: Study suggests horses learn from rodeo experience, grow calmer
CALGARY — Rodeo fans love the thrill of a bronc exploding into the ring, cowboy temporarily aboard. How the horse feels about it hasn't been so clear.
Newly published research out of the University of Calgary looks at three years of roughstock events from that city's Stampede in an attempt to peer inside the mind of an animal about to let 'er buck.
"I try to understand the animal's perspective," said Ed Pajor, a professor of veterinary medicine. "We asked the question whether or not horses find participating in the rodeo to be an adversive experience or not."
Pajor and his co-authors — Christy Goldhawk from the University of Calgary and well-known animal behaviourist Temple Grandin — studied 116 horses in bareback, novice bareback, saddle bronc and novice saddle bronc events. They looked at animals about to be loaded into a trailer and taken to the ring. They also observed how the horses behaved while in the chute waiting to be unleashed.
Horses have all kinds of ways of showing they're unhappy, Pajor said. They might move back and forth, chew their lips, swish their tail, defecate, roll their eyes, paw the ground, toss their head, or rear up in protest.
The researchers found that the more people were around them, the more likely the horses were to show unease. That's probably because they spend most of their time in fields and pastures and aren't used to the bustle, Pajor said.
The other factor that affected behaviour was experience. If it wasn't their first rodeo, the horses were much less likely to act up.
"We didn't see a lot of attempts to escape. We didn't see a lot of fear-related behaviours at all," Pajor said. "The animals were pretty calm.
"The animals that had little experience were much more reactive than the animals that had lots of experience."
There could be different reasons for that, he suggested.
"We don't know if that's because they're used to the situation or whether that's because of learned helplessness — they realize there's nothing they can do and just give up."
Pajor suspects the former.
"When the cowboys came near the horses, they would certainly react and you wouldn't really see that if it was learned helplessness."
The researchers also noted that the horses' bucking performance, as revealed in the score from the rodeo judges, didn't seem to be reduced by repeated appearances as it might be if the animals had become apathetic.
That doesn't necessarily mean the horses are having a good time, said Pajor, who's also on the Stampede's animal welfare advisory board. There are a couple of ways of interpreting active behaviour in the chute, he said.
"An animal might be getting excited to perform. Or an animal might be having a fear response."
"Understanding if animals like to do something is a tricky thing to do."
Pajor knows there are different camps when it comes to rodeos and animals.
"People have very strong opinions on the use of animals for all kinds of reasons. I think no matter what we're going to use animals for, we really need to make sure that we treat them humanely.
"My job is to do the research to understand the animals' perspective."
This report by The Canadian Press was first published Feb. 28, 2021.
— By Bob Weber in Edmonton. Follow @row1960 on Twitter
The Canadian Press