Politicians focus too much on the wallets of the few.
We welcome opinions from our readers like this one from Garfield Marks of Red Deer, AB.
According to the Ethics Commissioner, Trudeau broke ethical guidelines on behalf of a big corporate entity, SNC-Lavalin, and as expected, it appears, everyone is calling for his resignation. I am confused, but hasn't almost every politician of a major political party, for the last few decades, been advocating breaks for big corporations and the top 1%.
Didn't Alberta elect a Premier who had to pay an ethics violation fine when he was a federal cabinet minister? Does he not lead a party who had issues with electoral fraud, kamikaze candidate and members issued $75,000 in fines by the ethics commissioner, due to actions during their leadership race?
Was it not a conservative government that supposedly just gave a $4.5 billion tax break to businesses? Was it not a conservative government that was supposedly lowering taxes for the top 1%? Was it not a conservative government(s) that was cutting services to everyone else to pay for these tax breaks?
Here in Alberta was there not lots of promises of jobs to rationalize billions in tax breaks for corporations only to find out that Alberta then subsequently lost 14,000 jobs in July alone?
I am not saying that Trudeau's actions pressuring the Attorney General to give a deal to a big company is okay, but don't they all do special deals for big corporations? Don't we as tax payers subsidize the oil industry, cow tail to unions, pay homage to gun manufacturers, serve the auto industry, and placate the wealthy? The average voter just pays for them.
My wallet sure feels those political fingers. My costs keep going up, while my income hasn't kept pace.
My mind has tuned out the politicians, and their desire to woo the rich and big corporations, and my heart is focused on the future, and my family.
Scientists and engineers have made great discoveries and given me some great things like cars, computers, cell phones and medical break-throughs but these same non-partisan intellectuals have also made huge unsettling discoveries, and given me causes for concern.
Issues like climate change, reminiscent of second hand smoke, are concerns to our health and our lives but are not given the same level of regard as tax breaks for the big corporations.
Second hand smoke was a major health care cost but tax breaks for cigarette companies and tobacco growers were the demands.
There is an election this fall and here in my riding there is no contest, as the conservatives will win, then become a seat warmer no one hears about, till the next election. My concerns will be ignored, my wallet will get thinner to placate the more well to do.
I do think it is about time to move on from focusing on the wallets of the few and focus on the health of the whole community. The person or party that can convince me that their focus is on the whole, for the future and not on big corporations and the wealthiest in a realistic manner, will get my support and vote.
Will my wallet survive the next election? I hope so, but I cannot be certain. I am worried we might get a Trump-like Prime Minister out of protest and the climate crisis will be pushed back and my wallet will be front and centre for political fingers for another few decades.
Is there another option?
The Fraying of the Liberal International Order
BY
RAMESH THAKUR
International politics is the struggle for the dominant normative architecture of world order based on the interplay of power, economic weight and ideas for imagining, designing and constructing the good international society. For several years now many analysts have commented on the looming demise of the liberal international order established at the end of the Second World War under US leadership.
Over the last several decades, wealth and power have been shifting inexorably from the West to the East and has produced a rebalancing of the world order. As the centre of gravity of world affairs shifted to the Asia-Pacific with China's dramatic climb up the ladder of great power status, many uncomfortable questions were raised about the capacity and willingness of Western powers to adapt to a Sinocentric order.
For the first time in centuries, it seemed, the global hegemon would not be Western, would not be a free market economy, would not be liberal democratic, and would not be part of the Anglosphere.
More recently, the Asia-Pacific conceptual framework has been reformulated into the Indo-Pacific as the Indian elephant finally joined the dance. Since 2014 and then again especially after the Russian invasion of Ukraine in February last year, the question of European security, political and economic architecture has reemerged as a frontline topic of discussion.
The return of the Russia question as a geopolitical priority has also been accompanied by the crumbling of almost all the main pillars of the global arms control complex of treaties, agreements, understandings and practices that had underpinned stability and brought predictability to major power relations in the nuclear age.
The AUKUS security pact linking Australia, the UK, and the US in a new security alliance, with the planned development of AUKUS-class nuclear-powered attack submarines, is both a reflection of changed geopolitical realities and, some argue, itself a threat to the global nonproliferation regime and a stimulus to fresh tensions in relations with China. British Prime Minister (PM) Rishi Sunak said at the announcement of the submarines deal in San Diego on March 13 that the growing security challenges confronting the world—"Russia's illegal invasion of Ukraine, China's growing assertiveness, the destabilising behaviour of Iran and North Korea"—"threaten to create a world codefined by danger, disorder and division."
For his part, President Xi Jinping accused the US of leading Western countries to engage in an "all-around containment, encirclement and suppression of China."
The Australian government described the AUKUS submarine project as "the single biggest investment in our defence capability in our history" that "represents a transformational moment for our nation." However, it could yet be sunk by six minefields lurking underwater: China's countermeasures, the time lag between the alleged imminence of the threat and the acquisition of the capability, the costs, the complexities of operating two different classes of submarines, the technological obsolescence of submarines that rely on undersea concealment, and domestic politics in the US and Australia.
Regional and global governance institutions can never be quarantined from the underlying structure of international geopolitical and economic orders. Nor have they proven themselves to be fully fit for the purpose of managing pressing global challenges and crises like wars, and potentially existential threats from nuclear weapons, climate-related disasters and pandemics.
To no one's surprise, the rising and revisionist powers wish to redesign the international governance institutions to inject their own interests, governing philosophies, and preferences. They also wish to relocate the control mechanisms from the major Western capitals to some of their own capitals. China's role in the Iran–Saudi rapprochement might be a harbinger of things to come.
The "Rest" Look for Their Place in the Emerging New Order
The developments out there in "the real world," testifying to an inflection point in history, pose profound challenges to institutions to rethink their agenda of research and policy advocacy over the coming decades.
On 22–23 May, the Toda Peace Institute convened a brainstorming retreat at its Tokyo office with more than a dozen high-level international participants. One of the key themes was the changing global power structure and normative architecture and the resulting implications for world order, the Indo-Pacific and the three US regional allies Australia, Japan, and South Korea. The two background factors that dominated the conversation, not surprisingly, were China–US relations and the Ukraine war.
The Ukraine war has shown the sharp limits of Russia as a military power. Both Russia and the US badly underestimated Ukraine's determination and ability to resist ("I need ammunition, not a ride," President Volodymyr Zelensky famously said when offered safe evacuation by the Americans early in the war), absorb the initial shock, and then reorganise to launch counter-offensives to regain lost territory. Russia is finished as a military threat in Europe. No Russian leader, including President Vladimir Putin, will think again for a very long time indeed of attacking an allied nation in Europe.
That said, the war has also demonstrated the stark reality of the limits to US global influence in organising a coalition of countries willing to censure and sanction Russia. If anything, the US-led West finds itself more disconnected from the concerns and priorities of the rest of the world than at any other time since 1945. A study published in October from Cambridge University's Bennett Institute for Public Policy provides details on the extent to which the West has become isolated from opinion in the rest of the world on perceptions of China and Russia. This was broadly replicated in a February 2023 study from the European Council on Foreign Relations (ECFR).
The global South in particular has been vocal in saying firstly that Europe's problems are no longer automatically the world's problems, and secondly that while they condemn Russia's aggression, they also sympathise quite heavily with the Russian complaint about NATO provocations in expanding to Russia's borders. In the ECFR report, Timothy Garton-Ash, Ivan Krastev, and Mark Leonard cautioned Western decision-makers to recognise that "in an increasingly divided post-Western world," emerging powers "will act on their own terms and resist being caught in a battle between America and China."
US global leadership is hobbled also by rampant domestic dysfunctionality. A bitterly divided and fractured America lacks the necessary common purpose and principle, and the requisite national pride and strategic direction to execute a robust foreign policy. Much of the world is bemused too that a great power could once again present a choice between Joe Biden and Donald Trump for president.
The war has solidified NATO unity but also highlighted internal European divisions and European dependence on the US military for its security.
The big strategic victor is China. Russia has become more dependent on it and the two have formed an effective axis to resist US hegemony. China's meteoric rise continues apace. Having climbed past Germany last year, China has just overtaken Japan as the world's top car exporter, 1.07 to 0.95 million vehicles. Its diplomatic footprint has also been seen in the honest brokerage of a rapprochement between Iran and Saudi Arabia and in promotion of a peace plan for Ukraine.
Even more tellingly, according to data published by the UK-based economic research firm Acorn Macro Consulting in April, the BRICS grouping of emerging market economies (Brazil, Russia, India, China, South Africa) now accounts for a larger share of the world's economic output in PPP dollars than the G7 group of industrialised countries (Canada, France, Germany, Italy, Japan, UK, USA). Their respective shares of global output have fallen and risen between 1982 and 2022 from 50.4 percent and 10.7 percent, to 30.7 percent and 31.5 percent. No wonder another dozen countries are eager to join the BRICS, prompting Alec Russell to proclaim recently in The Financial Times: "This is the hour of the global south."
The Ukraine war might also mark India's long overdue arrival on the global stage as a consequential power. For all the criticisms of fence-sitting levelled at India since the start of the war, this has arguably been the most successful exercise of an independent foreign policy on a major global crisis in decades by India. Foreign Minister S. Jaishankar even neatly turned the fence-sitting criticism on its head by retorting a year ago that "I am sitting on my ground" and feeling quite comfortable there. His dexterity in explaining India's policy firmly and unapologetically but without stridency and criticism of other countries has drawn widespread praise, even from Chinese netizens.
On his return after the G7 summit in Hiroshima, the South Pacific and Australia, PM Narendra Modi commented on 25 May: "Today, the world wants to know what India is thinking." In his 100th birthday interview with The Economist, Henry Kissinger said he is "very enthusiastic" about US close relations with India. He paid tribute to its pragmatism, basing foreign policy on non-permanent alliances built around issues rather than tying up the country in big multilateral alliances. He singled out Jaishankar as the current political leader who "is quite close to my views."
In a complementary interview with The Wall Street Journal, Kissinger also foresees, without necessarily recommending such a course of action, Japan acquiring its own nuclear weapons in 3-5 years.
In a blog published on 18 May, Michael Klare argues that the emerging order is likely to be a G3 world with the US, China, and India as the three major nodes, based on attributes of population, economic weight and military power (with India heading into being a major military force to be reckoned with, even if not quite there yet). He is more optimistic about India than I am but still, it's an interesting comment on the way the global winds are blowing. Few pressing world problems can be solved today without the active cooperation of all three.
The changed balance of forces between China and the US also affects the three Pacific allies, namely Australia, Japan, and South Korea. If any of them starts with a presumption of permanent hostility with China, then of course it will fall into the security dilemma trap. That assumption will drive all its policies on every issue in contention, and will provoke and deepen the very hostility it is meant to be opposing.
Rather than seeking world domination by overthrowing the present order, says Rohan Mukherjee in Foreign Affairs, China follows a three-pronged strategy. It works with institutions it considers both fair and open (UN Security Council, WTO, G20) and tries to reform others that are partly fair and open (IMF, World Bank), having derived many benefits from both these groups. But it is challenging a third group which, it believes, are closed and unfair: the human rights regime.
In the process, China has come to the conclusion that being a great power like the US means never having to say you're sorry for hypocrisy in world affairs: entrenching your privileges in a club like the UN Security Council that can be used to regulate the conduct of all others.
Instead of self-fulfilling hostility, former Australian foreign secretary Peter Varghese recommends a China policy of constrainment-cum-engagement. Washington may have set itself the goal of maintaining global primacy and denying Indo-Pacific primacy to China, but this will only provoke a sullen and resentful Beijing into efforts to snatch regional primacy from the US. The challenge is not to thwart but to manage China's rise—from which many other countries have gained enormous benefits, with China becoming their biggest trading partner—by imagining and constructing a regional balance in which US leadership is crucial to a strategic counterpoint.
In his words, "The US will inevitably be at the centre of such an arrangement, but that does not mean that US primacy must sit at its fulcrum." Wise words that should be heeded most of all in Washington but will likely be ignored.
Should Poilievre Go Around The Legacy Media With His Message?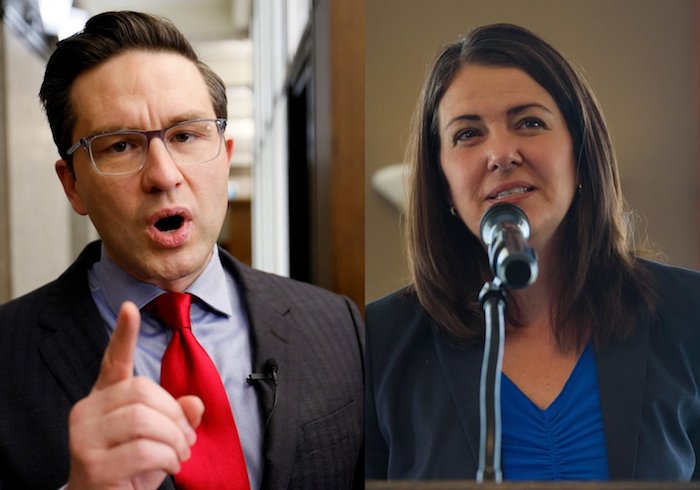 "It's amazing that we have an entire industry dedicated to making sure voters don't know what the government is up to. It's called Legacy Media."— Scott Adams
Is Pierre Poilievre's lesson from the 2023 Alberta election campaign that he simply go around the Media Party when he finally faces off against Justin Trudeau and/or the Liberals? To pass on their debates and town halls, sticking to his own carefully scripted events? The Alberta vote says maybe.
Despite 18 months of intense, bitter strafing from the chattering class, premier Danielle Smith emerged with a majority government on Monday. With 52.4 percent of the vote, she has an eleven-seat buffer in which to operate. (Although in Alberta politics that's still a narrow gangplank.)
Certainly it would be hard to get worse press than Smith got from the provincial and national media. Like Hansel and Gretel, the arbiters of #samethink laid a trail for the voters to follow. Using every flip and flop in Smith's tumultuous political journey they sought to create a narrative path. As happened when they conflated the Trucker Convoy into Three Weeks That Shook The World, the Media Party expected dutiful adherence to the taste makers with pleas like this.
"Dr. Lynora Saxinger MD FRCPC Infectious Diseases @AntibioticDoc May 27 I'm in a social media group with 1000s of AB doctors discussing exit plans if there's a Smith UCP win…"
Of course, none of them are going anywhere, because, contrary to media, every province in Canada (and many U.S. states) are afflicted the same way. Even when Smith staved off NDP lifer Notley in the televised debate the believers stayed fixed on this trail. One of their most beloved notions is that every group disparity can be explained by some form of bigotry. So Smith's backers had to be far-right, gun-toting, God-obsessed goobers that you wouldn't want at your Scotch nosing.
Bolstered by some polls that showed a dead heat, those ridings that want tunas with good taste, not tunas that taste good, knocked off Calgary-based UPC cabinet members and others without tattoos and nose rings.
Yet, with everything going for them— a photogenic NDP leader in Notley an unpredictable UPC leader, the Covid hangover— the media couldn't get their woman over the finish line. The (spare me) "donut ridings", smaller communities and the farming country checked out months before when the NDP started hinting at a 38 percent rise in corporate taxes ("still lowest run the nation") and adopting Justin Trudeau's Transition Program for gas and oil.
They weren't buying the absurd notion of the NDP and its unionized pals as the voice of the common person the in the province. They passed on people who believe men can have babies, who believe government controls the weather, who believe politicians create jobs? All this passed without comment from media slappies. Not so for the people who don't spend 18 hours a day on Twitter and Tik Tok.
You wouldn't have seen this demographic by watching CBC, CTV, Global and the predictable media snobs. Earnestly trying to play the results down the middle (sure) on Monday they served up disaffected UPC ex-cabinet whingers, "unbiased" professors wearing NDP buttons and reporters 10 minutes out of J School to craft the narrative.
Sample a) Hapless @CBCNews talking head announced a UPC candidate winning his riding by over 5,000 votes. "Clearly a big win by NDP there," she bubbled. (Some habits die hard at the Corp). Sample b): After the vote CBC's The National seemed to boast that Notley had finished a close second while Smith had finished second from the bottom.
The over/under on the word "unions" being mentioned by "independent" panelists in a sentence with NDP was about 1. And the under cashed. Odd, seeing as how so many producing the broadcasts and writing for legacy papers are union members. The best news for @Alberta_UCP was lifer socialist Notley vowing to defend the rights of Alberta's unions for another four years. Andrea Horvath, here she comes!
So how should Poilievre handle the lurking beast that awaits his campaign with open notebooks and closed minds? Put a different way, what would he and the Conservatives have to lose by doing what Governor Glenn Youngkin did in the state of Virginia when he upset the Democratic machine in 2021?
Faced with the overwhelming Democratic financial pump next door in DC and the Trump Noise Machine on his other flank, Youngkin decided it was better to use social media to find his voters and craft his message. Wielding a family-based conservative message on education he knew he'd be wasting his time doing the dog-and-pony farce of legacy media with its union shills and their gotcha' questions.
So the Virginia state GOP avoided the Media Party as much as possible, submitting only to limited exposure. "Experts" predicted doom by going the social-media route. Youngkin was accused of banning books. But on election night the multi millionaire scored a massive win over "those who must be obeyed". The triumph carried from the governor's chair down to the school-board level. (Youngkin is now being mentioned as a GOP presidential candidate.)
Poilievre îs going to change zero minds in sit-downs with the Toronto Star editorial board. Worse, they'll contort his message, further convincing the Wine Moms of Toronto that PP is a Trump disciple (the ultimate Family Compact sneer). CBC and CTV panels will furrow their brows about right-wing extremism. The Toronto media community will dig up fundamentalist Christians— as if they're more extreme than full-term abortion supporters.
It's a loser's game to always play in then other team's end of the field. Maybe Poilievre and his comms team can come up with something that changes the game. Like going directly to the electorate with their message. And leaving the bought-and-paid-for national media outside the door.
Sign up today for Not The Public Broadcaster newsletters. Hot takes/ cool slants on sports and current affairs. Have the latest columns delivered to your mail box. Tell your friends to join, too. Always provocative, always independent. https://share.hsforms.com/16edbhhC3TTKg6jAaRyP7rActsj5
Bruce Dowbiggin @dowbboy is the editor of Not The Public Broadcaster A two-time winner of the Gemini Award as Canada's top television sports broadcaster, he's a regular contributor to Sirius XM Canada Talks Ch. 167. Inexact Science: The Six Most Compelling Draft Years In NHL History, his new book with his son Evan, was voted the seventh-best professional hockey book of all time by bookauthority.org . His 2004 book Money Players was voted sixth best on the same list, and is available via http://brucedowbigginbooks.ca/book-personalaccount.aspx