Political Football: Damar Hamlin & The Heart Of The Matter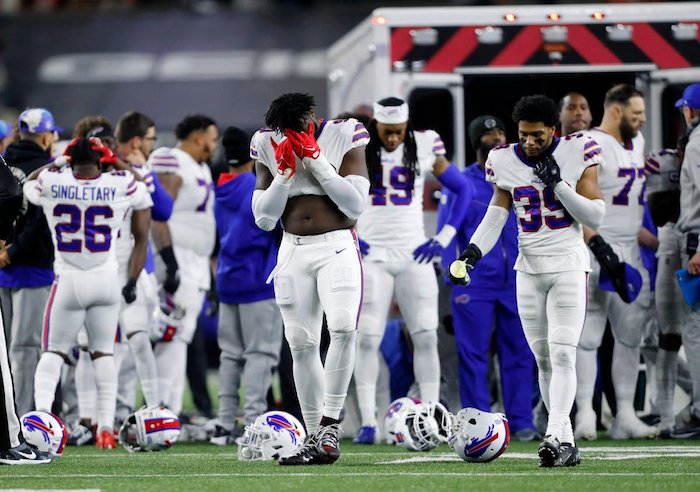 It's a scene few who witnessed it live or on TV will forget anytime soon. Buffalo Bills DB Damon Hamlin made a jarring tackle on Cincinnati's Tee Higgins. They fell to the turf. The two men quickly resumed their feet to get back in position. It seemed like a routine play.
Then Hamlin wavered and collapsed to the turf.
For football fans, seeing a player on the ground is, unfortunately, not unique. Injury occurs in a violent game. (In the Purdue/LSU game earlier in the day a Purdue player had been taken from the field in an ambulance for a neck injury.) Some in the crowd thought Hamlin might be faking to slow down the Bengals. But this moment was unlike almost any others. Players on both teams began urgently waving to medical staffs to attend to Hamlin.
As we know now, Hamlin was technically dead on the field. He was in the same crisis as Danish soccer star Christian Eriksen, who fell dead on the pitch at the 2021 Euro championships. Both men were in a frantic race for EMS help. Luckily the first responders reached both men in time to restart their hearts. Eriksen was able to resume his career after eight months following a diagnosis of cardiac arrest.
In his case, Hamlin was quickly transported to the ICU at a local hospital. While signs are cautiously positive— there appears to be no neurological damage— Hamlin's prognosis remains uncertain. The very best hope is he bounces back as quickly as did Eriksen. The outpouring of sympathy for the Bills defensive back was touching and life-affirming. The debate about how he came to crumple to the ground was anything but.
Almost immediately the opposing sides in the debate over vaccine injuries leapt to social media to stake their sides in the argument— despite having no firsthand knowledge of his case. Some cited the diagnosis of commotio cordis , blunt-force trauma.
"As a physician I believe Damar Hamlin was likely suffering from commotio cordis where a blow to the chest at a precise moment in the electrical cycle stops the heart." Haddock then added "Those trying to tie this to vaccine status to project their unscientific beliefs are terrible, horrible people."
Others took up the terrible, horrible people theme. Colts writer Gregg Doyel harkened back to the hysteria that prevailed over those who refused to be vaccinated. @GreggDoyelStar Anti-vaxxers using Buffalo safety Damar Hamlin to promote their deadly agenda are evil, and need to be exposed for what they are. Those who believe them are gullible, and need to understand they've been told lies."
The denials flew fast and furious here and here . But those who reject instant shaming of vaccine absolutists refused to be hushed. Dr. Peter McCullough, a respected skeptic of the suffocating COVID catechism, conceded the cardiac arrest diagnosis, but the cadioligist added this: " If Damar Hamlin indeed took one of the COVID-19 vaccines, then subclinical vaccine-induced myocarditis must be considered in the differential diagnosis."
Researcher John Leake says that a commotio cordis diagnosis is statistically improbable. "So far, I have been unable to find any documented cases that have occurred in the NFL. This suggests that the age of NFL players and the protective padding over their hearts result in a lower incidence of commotio cordis than the incidence documented in sports such as baseball, in which players' chests are exposed to a projectile."
EMS professionals insist that had Hamlin suffered commotio cordis he could not have gotten up off the turf. He'd have been clinically dead on the ground.
Whatever. The medical tests now being done on Hamlin will reveal the true story of what happened to the 24-year-old. We'll know if it was blunt-force trauma or underlying weakness in his heart from the vaccine that caused the problems.
Or not, Anyone who thinks that the people who've used intimidation to repress vaccine information since 2021 (Health Canada, CDC, FDA, Fauci, Birx etc.) are now suddenly going to reveal, from the goodness of their hearts, anything that might show their duplicity since February 2020 doesn't understand the links between the NFL, the government and Big Pharma.
As Leake explains, "the NFL is a member of the COVID-19 Community Corps—a Biden Administration & HHS program for transferring money to participating organizations in exchange for promoting COVID-19 vaccination among their members. This may explain why Green Bay Packers quarterback, Aaron Rodgers, came under such immense pressure to receive the vaccine in spite of his known severe allergy to one of its ingredients…"
The vaccine enthusiasts are assisted by the elite commentariat that bit hard on the 15 days to flatten the curve narrative to crush Donald Trump. And who've whitewashed dissent since— at the behest of government officials in Canada and the U.S. (see the current Twitter files "The FBI Belly Button" reveal that shows politicians using the media to ban reporters/ columnists whose vaccine takes they don't like. )
But for the sake of argument, let's suppose that the Hamlin injury is relatively straight forward. A genetic disposition to heart problems, A heart damaged long ago. Or, as some have guessed, blunt-force trauma. The sceptics are forced to modify their initial suspicions and correct the record.
Yet, after all that has transpired about PCR deception, vaccine inadequacy and lockdowns, how can anyone fault COVID-panic public scepticism? With reversals of policy by CDC, WHO, Health Canada et al. why should anyone believe a sentence that comes out of the mouths of Big Pharma politicians, health officials, media and corporate shills these days? We needn't list the misrepresentations they made while accusing others of misrepresenting the facts but you can see but a few here.
From Day One of the Covid panic the establishment side has insisted there's only been one side to truth— even when, as revealed by Covid Task Force member Deborah Birx— they knew their policy was unsupported by data. Now, via Twitter reveals and determined scientists, we see how the population was intimidated into accepting a policy pushed by Big Pharma.
Damar Hamlin's restored health will be one positive outcome of this frightening incident. The second might be the restoration of active public debate on healthcare. Both are to be celebrated.
Sign up today for Not The Public Broadcaster newsletters. Hot takes/ cool slants on sports and current affairs. Have the latest columns delivered to your mail box. Tell your friends to join, too. Always provocative, always independent. https://share.hsforms.com/16edbhhC3TTKg6jAaRyP7rActsj5
Bruce Dowbiggin @dowbboy is the editor of Not The Public Broadcaster A two-time winner of the Gemini Award as Canada's top television sports broadcaster, he's a regular contributor to Sirius XM Canada Talks Ch. 167. Inexact Science: The Six Most Compelling Draft Years In NHL History, his new book with his son Evan, was voted the seventh-best professional hockey book of all time by bookauthority.org . His 2004 book Money Players was voted sixth best on the same list, and is available via http://brucedowbigginbooks.ca/book-personalaccount.aspx
Cutting Remarks: The Scourge of Hate Speech Censors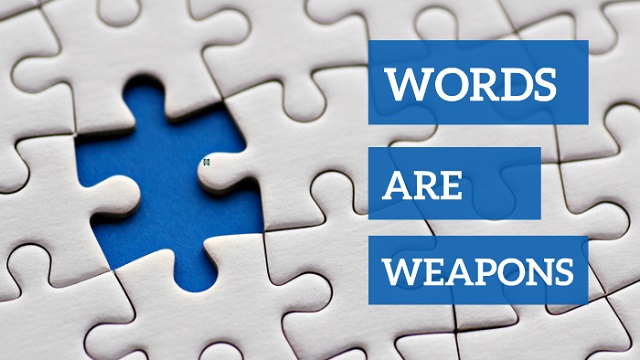 "When plunder becomes a way of life for a group… in a society, over the course of time they create for themselves a legal system that authorizes it and a moral code that glorifies it." Frédéric Bastiat
We take you now to a day in the not-too-distant future. Citizens are lined up at the registry office to renew their license to speak. Since governments weaponized speech and then criminalized words in the mid 2020s, citizens must register their speech the same way they register guns or cars.
For their convenience the government agencies provide a list of words or insinuations that qualify as criminal speech. Here's a CBC guide to correct speech on climate, giving you the appropriate words to describe weather-as-the-Apocalypse. Don't forget, every climate faux pas is a micro aggression!
Should you have made it through the previous 12 months without tripping the language laser beam you'll be permitted to again speak publicly— albeit very carefully. Pretty soon everyone will speak like Uterus Man, also known as cisgendered NDP MLA Brooks Arcand-Paul, who talks as though his mouth was a Woke minefield.
Media outlets, too, will be required to renew their speech licenses or lose the annual slush-fund monies that come with government Good Speak. Here, Trudeau wind therapist Patty Hajdu demonstrates Good Speak, decrying the cyber-violence of Adolph Hitler… er, Pierre Poilievre… over a "reckless use of the pejorative 'crazy'" to describe her cabinet colleague Stephane Guilbeault. PP's "slander" was, she assured us, yet another page out of the infamous Donald Trump American playbook that will rule Canada if Patty & Friends lose the next election.
To keep your talk license you'll need to speak more like Liberal MP Ken Hardie when he says damn the facts, let's throw a little dirt over a multiple murder on the bad side of Winnipeg: "Might it be the anti-social 'burn everything down' far-right attitude we're seeing creeping in from the U.S.? And the 'creep' on the Canadian side? Pierre Poilievre?" (The tone-deaf Liberal has since sorta' backtracked after being buried on social media.)
If this all sounds absurd, you haven't been paying attention. In Canada the government of Justin Trudeau is well on its way to creating an apparatus for regulating both public and private speech. The past week it announced that it was extending its grant money though 2029 to failing media outlets, up to about $30,000 per employee. Not to be outdone, Heritage Canada is putting $40,000 per journalist as a target to promote "diversity". No wonder so many CDN media legends rushed to defend a hapless CP reporter who was verbally upbraided by Poillievre.
Hey, money is money. Who in the collapsed media empires is not going to like that, huh? Sure you'll have to sing for your supper, but you'll still have the cottage in the Muskokas or Kawartha Lakes to soothe any qualms about selling out your journalistic birthright.
Here's former-progressive author and blogger Michael Shellenberger: "Liberal Left governments have sought to use every new crisis as an opportunity to scapegoat their political opponents and, when that stops working, demand censorship, since the legitimacy and continued existence of the liberal Left hegemony in the West comes from control over information."
Speaking of U.S. politics, where Joe Biden is polling below herpes, his administration is setting up a disinformation bureau to help the average voter divine something as "information" (Biden policy) or "disinformation" (Trump policy). Stubbornly hanging on to un-truths about The Biden Family's shakedown of foreign governments could land you in a jail next to the Jan. 6 traitors.
To goose public fear, Team Biden has a new series of Adolph Hitler… er, Donald Trump… revenge memes. From Bill Maher ("I'm afraid of him on a personal level" ) to former Obama spokes-bugle Jen Psaki, the ruling class is pumping the accelerator: "There is an old quote that goes, 'For my friend everything. For my enemies the law.' That is how Trump has operated and that is how he will continue to operate if ever given the levers of government again." Irony alert.
Need More? Here . Here And here is a CDN fainting goat. (Clarification: DEMs jailed for political crimes or charged for same during Trump presidency: 0. Non-DEMs jailed for political crimes or accused of same during Biden presidency: more than 600, perhaps as many as a thousand.)
In Ireland, the recent riots over an immigrant stabbing five adults and children have inspired the EU puppets of Leo Valadkar's government to suggest similar limits on speech must be codified after UFC star Connor MacGregor suggested that perhaps immigration was behind the anger of protesters. Here's Taioseach fart catcher Pauline O'Connell: "If your views on other people's identities go to make their lives unsafe, insecure, and cause them such deep discomfort that they cannot live in peace, then I believe that it is our job as legislators to restrict those freedoms for the common good."
In Britain, the parsing of language has produced "UK police : We will no longer accept the statement 're-housing of illegal immigrants" as a hate crime." Across the European Union, the "restrict those freedoms for the common good" drumbeat is the same, as quaking bureaucrats and entitled statists seek to silence their critics using hate-language laws that would make even Orwell blush. Result: In Germany, the right-wing AFD party is rising in the polls. In France, Marine Le Pen is more popular than Emmanuel Macron. The recent election of right-wing governments in Italy, the Netherlands and Brexit in Britain has only hastened their panic to punish speech.
Says economist and blogger Tyler Cowen "if your main theory here is 'racism,' your contribution to the discourse probably is negative."
Next speech regulation is silence. Or non-speech. Under the new rules, silence will be no defence when the mob orders you to "wear the ribbon". UC Berkeley Law Professor Savala Trepczynski gave away the game saying that "White silence is incredibly powerful … It's not neutral. It acts like a weapon." Writes legal specialist Jonathan Turley, "In a world where silence is violence and civility is complicity, there is little room for true free speech."
In this vein nearly 2,000 people signed a petition to fire Marymount Manhattan theatre arts associate professor Patricia Simon after she appeared to fall asleep briefly during an anti-racist Zoom meeting. Complained one colleague, Simon was "ignoring … racist and sizeist actions and words of the vocal coaches under her jurisdiction."
Just sayin'. Better get your license now. Before it's too….. (click).
Sign up today for Not The Public Broadcaster newsletters. Hot takes/ cool slants on sports and current affairs. Have the latest columns delivered to your mail box. Tell your friends to join, too. Always provocative, always independent. https://share.hsforms.com/16edbhhC3TTKg6jAaRyP7rActsj5
Bruce Dowbiggin @dowbboy is the editor of Not The Public Broadcaster A two-time winner of the Gemini Award as Canada's top television sports broadcaster, he's a regular contributor to Sirius XM Canada Talks Ch. 167. Inexact Science: The Six Most Compelling Draft Years In NHL History, his new book with his son Evan, was voted the seventh-best professional hockey book of all time by bookauthority.org . His 2004 book Money Players was voted sixth best on the same list, and is available via http://brucedowbigginbooks.ca/book-personalaccount.aspx
Taylor Made: Time 's 2023 Person With A Uterus Is A Cultural Swiftie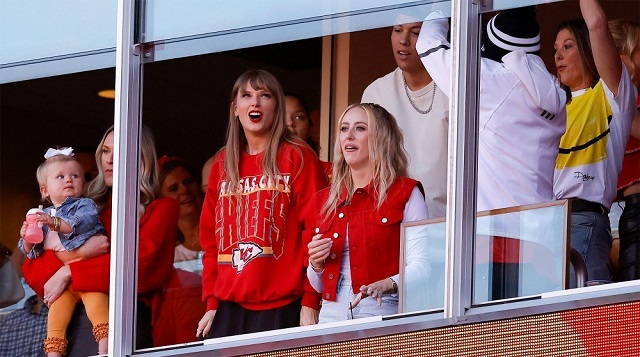 It's a sitcom worthy of Norman Lear. Young woman aspires to be a country singer. Winds up instead— oh, the laffs— becoming a cultural icon for other young women with her confessional songs ("Look What You Made Me Do"), sold-out concerts and distinctive fashion choices.
She has a lunkhead football boyfriend with heart of gold (he pushes Covid vaccines). She flies in to watch him play his games. She writes songs like "We Are Never Ever Getting Back Together". And she's a Victim! "(The fight with Kim Kardashian) took me down psychologically to a place I've never been before. I moved to a foreign country. I didn't leave a rental house for a year. I was afraid to get on phone calls. I pushed away most people in my life, because I didn't trust anyone anymore. I went down really, really hard."
Naturally, Time Magazine votes her 2023 Person The Year. Taylor Swift was (pun alert) tailor-made for the legendary TV producer of All In The Family, Maude and The Jeffersons. Just as Swift defined 2023, Lear defined white urban liberal sensitivities in the late 1960s and onward. His cutting portrait of redneck Archie Bunker was the template for today's lecture-in-30-minutes TV culture.
The Jeffersons was the epitome of Great Society pandering for white 1960s progressives. Maude was Bea Arthur chewing on the scenery in aid of first-generation feminism, when burning a bra was the funniest thing anyone had ever heard of.
So it's kismet that the news of Lear's death and Swift being anointed as Time's 2023 Person With A Uterus align on the same day. For the crumbling legacy media the empowerment of Swift encapsulates all that they stand for in their opposition to the boor Donald Trump. Waif-ish, cute, fashion-trendsetting— Swift rules the world of their favourite voting demos. "You go, girl!"
The death of Lear at 101, meanwhile, is a nostalgic reminder of the days when three major TV networks and a handful of NYC-based newspapers and magazines determined the culture. When Walter Cronkite declared Viet Nam over on CBS, Lyndon Johnson had no FOX News channel to defend his policies.
(Which inadvertently opened the door for Richard Nixon. Meanwhile, the heavy-handed Bunker parody politicized many rednecks, leading to Ronald Reagan's accession to POTUS in 1980. But we digress.)
The complacency of the Clever Culture— in the person of Lear protegé Rob Reiner—has been stultifying and self-reinforcing. Eventually most of those captured by it fell wordlessly into the coma of non-binary, cisgendered, trans-accepting, Hamas-has-a-point acceptance that Trump threatens.
It was the same in Canada where for decades CBC dictated the progressive sensibilities to a nation that not only accepted the dogma but paid for it. The appearance this week of their magenta-haired, Brooklyn-based president and CEO perfectly captured that bubble in the 2020s.
Even as Catherine Tait announced that the failing broadcaster was punting ten percent of its workforce, she sniffed when asked by her own National anchor Adrienne Arsenault if Tait and her fellow executives would forgo bonuses as others hit the sidewalk. No comment, replied Tait.
Back in the day when Don Cherry was a thing at @CBC a haughty snob like Tait could brag about the CBC's inclusivity to justify the Corporation's billion-dollar grants. "See! We have redneck losers on our channel! We're diversified." We wrote about this loss-leader funding strategy in our 2000 book The Meaning Of Puck.
But CBC lost the blue-collar demo when they canned Cherry in 2019 for comments about "you people". The triumphalism of Cherry's firing was like the Munchkins in Wizard of Oz celebrating the nasty death of The Wicked Witch. Freed from the bombastic Cherry the Corp was now free to lecture its viewers without interruption.
But that's not quite how it worked out. Now when Tait and her Woke sensibilities show up it's just a Brooklyn toff with a $5.4 million home pretending to understand Canada with her hand out. There's no ornery guy left espousing Remembrance Day poppies and fighting in hockey to prove her Canadian bonafides.
It shows in the TV ratings for The National where audiences of two million are now in the low hundred-thousands (on a good night). Abandoned by traditional viewers uncomfortable with the NDP sensibilities of the news and current affairs departments, CBC has furiously sought to ensnare the younger demographics in its social media operation, (funded by starving its traditional services).
"@jkay Even in my left wing neighborhood, it's hard to find anybody who watches the CBC. To the extent they still defend it, it's the CBC they remember from 25 yrs ago, when Peter Gzowski was still around, instead of Carol Off hectoring us about how we're all racists & garbage feminists."
Good luck with that, especially if Pierre Poilievre wins a predicted crushing majority and acts on his stated goal of defenestrating the home of announcers who think the Truckers Convoy was a Putin plot. Again, Tait was at her most tone-deaf, calling Poilievre out publicly for his plans for the Corp.
She then doubled down on her gaffe, telling journalist Paul Wells— who'd been hand-selected for a media exclusive—"I understand that my remarks may have caused trouble for some of the journalists who have struggled to get access to this leader and others in the party, and I regret that, of course… Do I regret calling out the wrong of defunding the public broadcaster campaign? Absolutely not."
She then reinforced her commitment to producing more of the hectoring, ESG/ Woke crap that no one wants already. While Tait seems oblivious to losing her sinecure as the commuter CEO, most of the employees remaining after this latest cut will be updating their resumés and escape tapes.
No one expects that Poilievre will completely gut the Corp. There's talk of a buffet of current services— local radio, weather, children's programming and especially social media— surviving.
But the days when the Corp— like Norman Lear— could force its politics on an inert population are done. Maybe Taylor Swift can write a sing about the CBC's plight. Wait, she already did: "Is It Over Now?".
Sign up today for Not The Public Broadcaster newsletters. Hot takes/ cool slants on sports and current affairs. Have the latest columns delivered to your mail box. Tell your friends to join, too. Always provocative, always independent. https://share.hsforms.com/16edbhhC3TTKg6jAaRyP7rActsj5
Bruce Dowbiggin @dowbboy is the editor of Not The Public Broadcaster A two-time winner of the Gemini Award as Canada's top television sports broadcaster, he's a regular contributor to Sirius XM Canada Talks Ch. 167. Inexact Science: The Six Most Compelling Draft Years In NHL History, his new book with his son Evan, was voted the seventh-best professional hockey book of all time by bookauthority.org . His 2004 book Money Players was voted sixth best on the same list, and is available via http://brucedowbigginbooks.ca/book-personalaccount.aspx