Permanent Shelter What We Heard Report released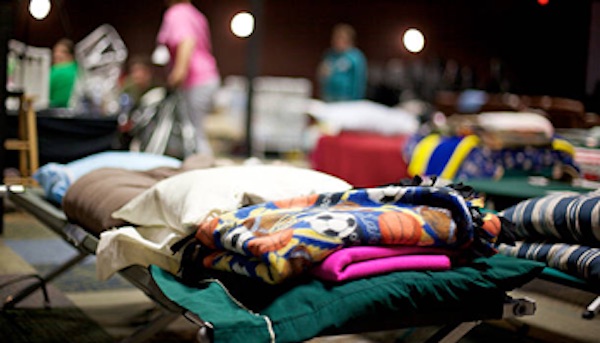 Input on the permanent shelter collected from May 10 to June 13 was analyzed and compiled into a community report and posted to The City's website today.
During the input process, information was shared about previously used site criteria and participants were asked whether they agree with each, and why or why not. They were also asked if there were other criteria to consider, and additional input on areas outside the site criteria. Input was gathered through an online survey, in-person sessions, and/or email:
 Between May 25 and June 10, 2022, an online survey was conducted with 723 participants sharing their input.
 Seven in-person input opportunities, which were held on June 8, 9 and 10, saw 101 participants.
 More than 80 emails were received from citizens and stakeholders sharing their input about the future permanent shelter in Red Deer. Emails received up to 8 a.m. on June 13 were included in report.
In summary, the top broad themes we heard across all input activities were as follows:
 Impact to surrounding neighbourhoods
 Improved integrated services
 Move forward with long-term approach (consideration of location and financial impacts)
 Continued community involvement through input opportunities, information sharing and opportunity for community to support in long-term success.
The top site-based themes we heard across all input activities were as follows:
 Impacts to surrounding land use is the most important consideration when making a decision about the location for a future permanent shelter in Red Deer.
 Impacts to people, specifically as it relates to "citizen safety" for everyone in the community, must be considered.
 Residential neighbourhoods should not be considered.
 Protection of recreational spaces and natural habitats
 Financial compensation should be considered for those who are directly impacted by the location of the future permanent shelter.
 Accountability must be a priority.
Council will review the report and consider next steps in the site selection process. Administration will recommend a Council Ah Hoc Committee to decide site criteria based on Council and community input and technical expertise, then develop a site criteria evaluation matrix which will guide the site selection process. The full report to Council can be found on Council's meeting site.
Thank you to all citizens and community partners who provided input on the permanent shelter. The full What We Heard report can be found within the Council report and on all the Permanent Shelter webpages under resources. The direct link to the What We Heard report is here.
Pop-up Spray Parks – City bringing family fun to your neighbourhood this summer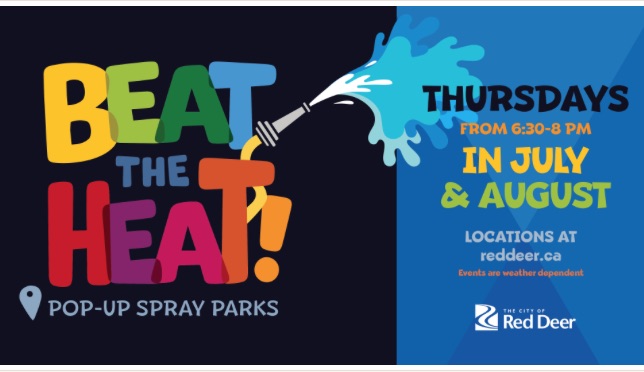 Pop-up spray parks are back this summer
Pop-up spray parks are gearing up again in Red Deer, set to visit eight neighbourhoods across the city this summer. The first pop up is set for this Thursday, July 7 at Barry Wilson Elementary School.

Families and friends are invited to join Red Deer Emergency Services, Municipal Policing Services and the Red Deer RCMP to beat the heat at pop-up spray parks every Thursday this July and August.

Each spray park will run every Thursday from 6:30 – 8 p.m., visiting neighbourhoods across the city as follows:
| | | |
| --- | --- | --- |
| Date | Location | Address |
| July 7 | Barry Wilson Elementary School | 300 Timothy Drive |
| July 14 | G.H. Dawe School | Holt Street & 59 Avenue |
| July 21 | St. Francis of Assisi School | 321 Lindsay Avenue |
| July 28 | Anders Park | Ayers Avenue & Anders Street |
| August 4 | Kentwood Park | Kendrew Drive & Kent Street |
| August 11 | Don Campbell Elementary School | 99 Irving Crescent |
| August 18 | Joseph Welsh Elementary School | 4401 – 37 Avenue |
| August 25 | Johnstone Park | Jordan Parkway & Jennings Crescent |
Events are weather dependant and will be cancelled if weather warnings are in place. The City will provide updates on social media each week if events are in question due to weather.
Information and schedule are available online at www.reddeer.ca/PopUpSprayParks.
For more information, please contact:
Corporate Communications
The City of Red Deer
City Council grinding out a solution for the site of a permanent homeless shelter
Council approves Shelter Site Evaluation Matrix
A site criteria evaluation matrix will help guide the site selection process for the future shelter in Red Deer after being approved by City Council today. During Council meetings held on June 24, 27 and July 4, Council worked through multiple exercises to determine five criteria, 22 sub-criteria and the weighting assigned to each – making up the Shelter Site Evaluation Matrix as follows:
SITE CRITERIA
SUB-CRITERIA
POINTS
PERCENTAGES
Ability to acquire site
20
Cost
40%
Zoning
15%
Timing
40%
General
5%
Adequate size
20
Adequate land size (outside/inside)
30%
Can accommodate purpose built/dignified spaces
20%
Can accommodate on-site/integrated services
30%
Future flexible/expansion opportunity
10%
General
10%
Broad community impact
24
Operational and Budgetary Impacts
17%
Alignment with Community Vision (Strategic Plan/Downtown Vision/Vision 2040)
25%
Impact to City Reputation
13%
Economic Impact
25%
Safety Impacts
17%
General
4%
Impacts to surrounding area
26
Impacts to businesses
23%
Impacts to downtown
19%
Impacts to Parks, Trails and Greenspaces
19%
Proximity to Schools
12%
Impacts to Residential Neighbourhoods
23%
General
4%
Access to services & supports
10
Access to transit and transportation
10%
Distance/proximity to supports/services
20%
Foot Traffic Patterns
20%
Enables delivery of 24/7 integrated service
20%
Enables delivery of basic amenities/services
20%
General
10%
Council approves Shelter Site Evaluation Matrix
In the above matrix, the sub-category identified as general under each criteria represents the remaining points allocated to the overarching site criteria.
"The site criteria evaluation matrix approved today will be utilized by administration and City Council to inform decisions about the future site of an integrated shelter in Red Deer," said Lisa Perkins, Acting City Manager. "The process of developing this matrix has been all about our commitment to consider what we heard from the public, honouring the voice of the City Council in the development of the matrix and selecting a site for the future integrated shelter."
Along with the criteria and weighting, Council adopted a resolution outlining conditions upon which City Council developed site criteria for the Shelter Site Evaluation Matrix. Ultimately, the site criteria within the matrix are the right criteria "if" the following are true:
Shelter is for those who need short stay emergency housing. There are other services/facilities along the housing spectrum.
Shelter is one site.
Funding may limit scope.
New services have potential to change outcomes.
The permanent shelter will be a housing focused delivery model [(Per Council resolution Nov – 21) – GOA confirmed Jan 22]
Shelter with wrap around services may not necessarily eliminate the need for those requiring shelter to access external services, to connect with community.
There are innovative alternative delivery/service and systems that need to address the diversity of clients and impact on community.
The shelter will operate 24/7
The shelter will be designed to provide adequate spaces for short time stays that honour the dignity of each person
There is a recognition and advocacy for the ongoing housing (eg. PSH & Affordable Housing) needs.
Council will continue to have discussions with the Provincial Government on future Overdose Prevention Services/Supervised Consumption Services.
A good neighbour policy will be developed.
Community agencies are supportive of an integrated model and willing to work collaboratively towards this.
The shelter would integrate or operate as many related services on site as reasonably possible.
These statements will be utilized to inform City Council's advocacy position around the integrated shelter going forward.
"While the decision in front of City Council in the immediate future pertains specifically to site, we also know there are many conversations to be had with the Province of Alberta about other aspects of shelter including, but not limited to, shelter design, operations and service delivery," said Mayor Ken Johnston. "We look forward to continued collaboration with our provincial colleagues as we work in partnership to ensure a safe place for our vulnerable citizens to access required services on their journey to permanent housing, which is beneficial for the whole community."
In addition to the resolutions about the shelter evaluation matrix criteria, City Council resolved that administration will begin preparing a list of possible sites alongside a commercial realtor with Mayor Johnston and the Deputy Mayor providing Council perspective.
Administration will come back to City Council on July 18 to share an update with City Council about the site selection process.
For more information on the shelter project process, please visit www.reddeer.ca/shelter. Citizens and community partners wanting to receive updates on the shelter project by email can subscribe here.