Pastor James Coates in jail for one more Sunday. Erin Coates releases statement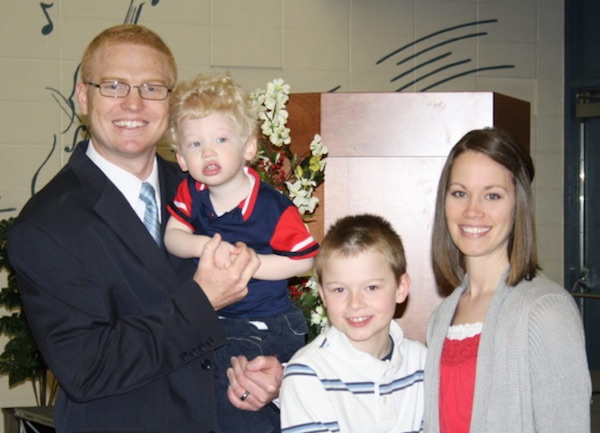 A week ago Edmonton Pastor James Coates marked a sobering anniversary.  March 16 was the one month anniversary of his incarceration.  Albertans weren't sure just how long Pastor James Coates would remain in prison.  Coates was taken into custody back on February 16 after the Pastor of Edmonton's GraceLife Church refused to sign a bail condition which would have required him to promise to stop holding services that violate public health rules on the size of gatherings.
Then on Wednesday Alberta Crown Prosecutors agreed to withdraw all but one of the Public Health Act offences Coates was charged with and it looked like the pastor might be released as early as Friday.  The Provincial Court of Alberta quickly sent out a press release stating there would be no proceedings on Friday.
Family and friends are now expecting Coates to be released following procedures on Monday at Stony Plain Provincial Court.  Pastor Coates' wife Erin Coates released a statement on her instagram feed recognizing the delay.
From the Instagram account of Erin Coates
Hi friends, so we weren't able to get the Friday hearing we hoped for. James' hearing is Monday morning. This breaks my heart that he has to wait and be away from our family and GLC when he was so excited to potentially get out. He is trusting the Lord with it. He said his work for the Lord must not be done yet. Please remember that even his release is not set in stone…the JCCF article stated they EXPECT the release of James in the upcoming days. The judge has to agree to the terms of the deal. We have high hopes but ultimately our hope is in the Lord. This has been an emotional roller coaster for my children. We have been praying for the last couple days that our hope would not be in the timing of James' release but in the perfect sovereign will of God. I'm not going to lie, every day without him is a little harder especially with the prospect of his release. I'm trying to subject my emotions to the Lord and trust in His timing alone. Please pray for James, this is the fifth Sunday without GLC, he misses the body. Please pray that he would use the most of his time and that God would continue to protect him. Please pray he would have the words to speak with his statement before the judge and that he will glorify the great name of Christ Jesus. Thank you everyone. I'm so thankful that you all pray so fervently for us, how we need it!
Last Sunday at GraceLife Church Associate Pastor JACOB SPENST read out this letter of encouragement to the congregation written by Pastor Coates from his jail cell.
Gustavsson leads AHL Senators in 4-2 win over Heat
CALGARY — Filip Gustavsson stopped 30 shots as the Belleville Senators doubled up the Stockton Heat 4-2 on Wednesday in American Hockey League play.
Lassi Thomson, Egor Sokolov, Mark Kastelic and Parker Kelly scored to help the Senators (8-12-1) halt a three-game slide.
Matthew Phillips and Zac Leslie replied for the Heat (10-12-1).
Garret Sparks stopped 28-of-31 shots for Stockton.
—
This report by The Canadian Press was first published April 14, 2021.
The Canadian Press
Calgary schools to shift to at-home learning for grades 7 to 12 due to COVID-19
CALGARY — The Alberta government says schools in Calgary will move to at-home learning starting Monday for students in grades 7 to 12.
The change, due to COVID-19, is to last for two weeks.
Alberta Education said Wednesday that it approved requests from public and Catholic schools in the city to make the move to online learning.
Education Minister Adriana LaGrange said in a release that some school boards are dealing with operational pressures due to rising COVID-19 cases.
"The safety of students and staff is my top priority, which is why I am responding to the boards' requests and respecting their autonomy," she said.
"By having a clear process in place, we are giving them flexibility to move to at-home learning when necessary."
The province said it has not closed any schools for health reasons, and any decision to move a portion of a school to at-home learning is at the discretion of each school board.
About 19 per cent of schools have COVID-19 alerts or outbreaks. Nine schools are currently doing online learning.
Marilyn Dennis, board chair with the Calgary Board of Education, said in the release that the greatest impacts of COVID-19 have been in schools with higher grades.
Alberta's chief medical health officer, Dr. Deena Hinshaw, also said there has been a sharp rise in cases among school-aged Albertans.
The province, with 15,569 active infections, currently has the highest rate of active cases in Canada.
On Wednesday, the province reported 1,412 new cases of COVID-19 and eight additional deaths due to the virus. There were 420 people in hospital due to COVID-19, with 92 in intensive care.
This report by The Canadian Press was first published April 14, 2021.
The Canadian Press