Pastor James Coates in jail for one more Sunday. Erin Coates releases statement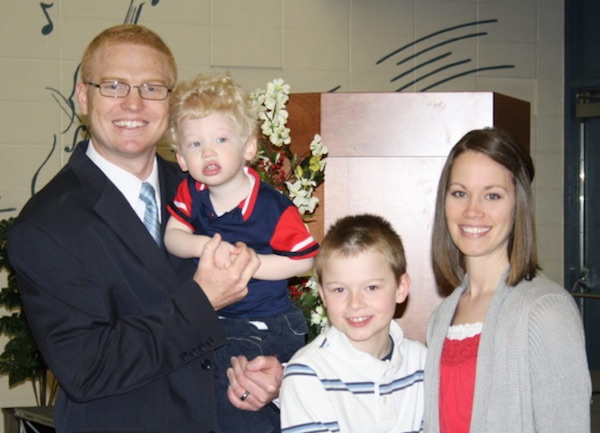 A week ago Edmonton Pastor James Coates marked a sobering anniversary.  March 16 was the one month anniversary of his incarceration.  Albertans weren't sure just how long Pastor James Coates would remain in prison.  Coates was taken into custody back on February 16 after the Pastor of Edmonton's GraceLife Church refused to sign a bail condition which would have required him to promise to stop holding services that violate public health rules on the size of gatherings.
Then on Wednesday Alberta Crown Prosecutors agreed to withdraw all but one of the Public Health Act offences Coates was charged with and it looked like the pastor might be released as early as Friday.  The Provincial Court of Alberta quickly sent out a press release stating there would be no proceedings on Friday.
Family and friends are now expecting Coates to be released following procedures on Monday at Stony Plain Provincial Court.  Pastor Coates' wife Erin Coates released a statement on her instagram feed recognizing the delay.
From the Instagram account of Erin Coates
Hi friends, so we weren't able to get the Friday hearing we hoped for. James' hearing is Monday morning. This breaks my heart that he has to wait and be away from our family and GLC when he was so excited to potentially get out. He is trusting the Lord with it. He said his work for the Lord must not be done yet. Please remember that even his release is not set in stone…the JCCF article stated they EXPECT the release of James in the upcoming days. The judge has to agree to the terms of the deal. We have high hopes but ultimately our hope is in the Lord. This has been an emotional roller coaster for my children. We have been praying for the last couple days that our hope would not be in the timing of James' release but in the perfect sovereign will of God. I'm not going to lie, every day without him is a little harder especially with the prospect of his release. I'm trying to subject my emotions to the Lord and trust in His timing alone. Please pray for James, this is the fifth Sunday without GLC, he misses the body. Please pray that he would use the most of his time and that God would continue to protect him. Please pray he would have the words to speak with his statement before the judge and that he will glorify the great name of Christ Jesus. Thank you everyone. I'm so thankful that you all pray so fervently for us, how we need it!
Last Sunday at GraceLife Church Associate Pastor JACOB SPENST read out this letter of encouragement to the congregation written by Pastor Coates from his jail cell.
Wildfire forces evacuation of an area in Yellowhead County west of Edmonton
EDMONTON — A wildfire has forced the evacuation of an area in Yellowhead County west of Edmonton.
An Alberta Emergency Alert message says the evacuation order affects people along Highway 16 between Evansburg and Wildwood.
It says the order also applies to people who are in the Lobstick resort area.
The order says all people in this zone must leave immediately.
The province says an evacuation centre is being set up at the Evansburg Arena in Evansburg.
The wildfire danger in the area is listed as very high and there are six airtankers, four helicopters, six pieces of heavy equipment and 30 firefighters working on containing the blaze.
This report by The Canadian Press was first published June 22, 2021
The Canadian Press
Edmonton school to be named after legendary locker room attendant Joey Moss
EDMONTON — A school in Edmonton that will open next year has been named after Joey Moss, a legendary locker-room attendant for the city's national hockey and football teams.
Moss, who was born with Down syndrome, became the Edmonton Oilers' locker-room attendant in 1984, when superstar Wayne Gretzky was dating his older sister.
In 1986, Moss joined Edmonton's football team, now called the Elks, and held roles with both organizations for more than 30 years.
He captured the hearts of sports fans along the way, particularly with his enthusiastic participation in the national anthem before the start of every hockey game.
Edmonton Public Schools says Joey Moss School in the southwestern part of the city will be for students from kindergarten to Grade 9 and will open in the fall of 2022.
In a statement, board chairwoman Trisha Estabrooks says it was an honour to name a school after "an excellent role model" for students.
"Joey has left a profound legacy in the hearts and minds of many Edmontonians and through this school naming, that legacy will continue to live on for generations," Estabrooks said. 
"Our students can learn a great deal from Joey and his spirit of acceptance, inclusion and most importantly his unwavering dedication to his community."
At the time of Moss's death in October, Gretzky said he "brought a ray of sunshine and a lot of fond memories to all of us."
Gretzky said he and his teammates used to joke that Moss would be a staple with the Oilers long after their playing careers were finished.
"(The Oilers) traded me, (but) Joey was a lifer," he said. 
"It was sure always a breath of fresh air when you'd walk into the locker room and he'd be sitting there."
This report by The Canadian Press was first published June 22, 2021.
The Canadian Press