Pastor James Coates in jail for one more Sunday. Erin Coates releases statement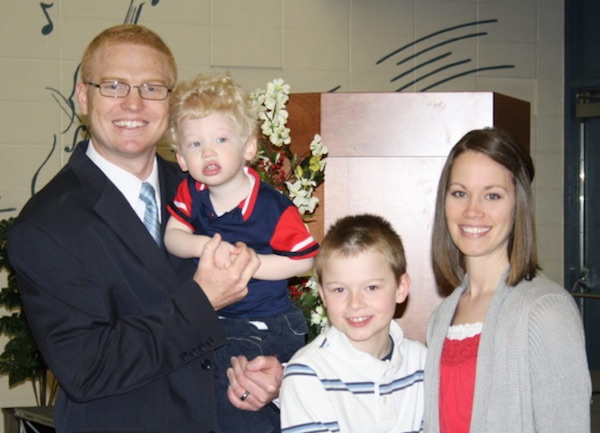 A week ago Edmonton Pastor James Coates marked a sobering anniversary. March 16 was the one month anniversary of his incarceration. Albertans weren't sure just how long Pastor James Coates would remain in prison. Coates was taken into custody back on February 16 after the Pastor of Edmonton's GraceLife Church refused to sign a bail condition which would have required him to promise to stop holding services that violate public health rules on the size of gatherings.
Then on Wednesday Alberta Crown Prosecutors agreed to withdraw all but one of the Public Health Act offences Coates was charged with and it looked like the pastor might be released as early as Friday. The Provincial Court of Alberta quickly sent out a press release stating there would be no proceedings on Friday.
Family and friends are now expecting Coates to be released following procedures on Monday at Stony Plain Provincial Court. Pastor Coates' wife Erin Coates released a statement on her instagram feed recognizing the delay.
From the Instagram account of Erin Coates
Hi friends, so we weren't able to get the Friday hearing we hoped for. James' hearing is Monday morning. This breaks my heart that he has to wait and be away from our family and GLC when he was so excited to potentially get out. He is trusting the Lord with it. He said his work for the Lord must not be done yet. Please remember that even his release is not set in stone…the JCCF article stated they EXPECT the release of James in the upcoming days. The judge has to agree to the terms of the deal. We have high hopes but ultimately our hope is in the Lord. This has been an emotional roller coaster for my children. We have been praying for the last couple days that our hope would not be in the timing of James' release but in the perfect sovereign will of God. I'm not going to lie, every day without him is a little harder especially with the prospect of his release. I'm trying to subject my emotions to the Lord and trust in His timing alone. Please pray for James, this is the fifth Sunday without GLC, he misses the body. Please pray that he would use the most of his time and that God would continue to protect him. Please pray he would have the words to speak with his statement before the judge and that he will glorify the great name of Christ Jesus. Thank you everyone. I'm so thankful that you all pray so fervently for us, how we need it!
Last Sunday at GraceLife Church Associate Pastor JACOB SPENST read out this letter of encouragement to the congregation written by Pastor Coates from his jail cell.
Alliances shift to Danielle Smith in final days to sign up for UCP leadership vote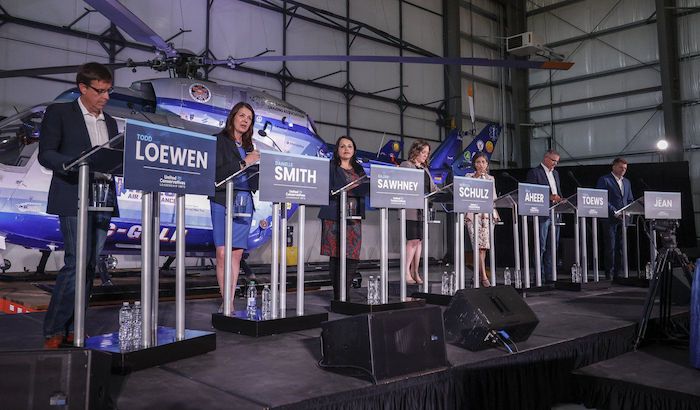 By Dean Bennett in Edmonton
Seven candidates scrambled Friday to sign up last-minute memberships in Alberta's United Conservative Party leadership race while political observers say that without hard data on which contender has a leg up, follow the feet.
Danielle Smith, who started out with a handful of supporters in the United Conservative caucus and cabinet, has seen more in-house support in recent days, including some who had initially pledged to back rival Travis Toews.
"Sometimes when you see people starting to shift allegiances, it sort of gives you a sense of where the momentum is going," political scientist Lori Williams, with Mount Royal University, said Friday in an interview.
"It's those people who want to be in cabinet or in a position where they can work with whoever the new premier is. They think things are moving in that direction and they're moving with them."
Labour Minister Kaycee Madu was the latest convert, announcing his support for Smith at rally in Edmonton on Thursday.
Earlier Thursday, former cabinet minister Devin Dreeshen said he would support Smith. Earlier in the week, Service Alberta Minister Nate Glubish switched his support from Toews to Smith.
Before that, Toews supporter Pat Rehn switched his support to Smith, joining fellow backbenchers Devinder Toor, Peter Guthrie and Nathan Neudorf.
Toews, who quit as finance minister to run in the contest, still has the lion's share of support, with about two dozen cabinet and caucus members openly in his camp.
Political scientist Duane Bratt said even so, by any metric from crowd sizes to polling to the fact Smith is the focus of attacks by her opponents, she is clearly the one to beat as party members being voting next month, with results to be announced Oct. 6.
"She's drawing the biggest crowds, we've got (MLA) endorsements that are now coming her way because they see her as the front-runner," said Bratt, also with Mount Royal University.
"All the other candidates are responding to her in some fashion (and) some are adopting the same policies.
"I wonder after midnight, (when membership sales end) if there is some soul searching among the other candidates and whether they drop out or not."
The party says hand-delivered-memberships were due by 5 p.m. Friday, with the cutoff for online memberships by midnight. These are to be the only memberships allowed to vote in the race.
Final count totals on memberships aren't expected from the party for about two weeks.
Smith, a former Wildrose party leader, grabbed headlines out of the starting gate in the contest with her proposed Alberta sovereignty act. The act, as pitched by Smith, would seek to give Alberta the right to ignore federal laws and court rulings deemed not in its interest.
Legal scholars and most of the other candidates in the race have labelled it an outrageously inflammatory, bizarre and illegal scheme that would create a domino effect of economic and investment uncertainty bordering on chaos.
But Bratt noted the other two main contenders have excoriated Smith's plan while adopting versions of it.
Toews has promised his government would seek to levy tariffs on goods and services or imports from specific regions to counter rules and policies deemed unfair to Alberta. Brian Jean has pledged to affirm that the Alberta Bill of Rights is paramount over Section 1 of the Constitution.
"It's an attempt by the sovereignty act by a different name," Bratt said.
Candidates Rajan Sawhney and Rebecca Schulz have been equally critical of Smith's sovereignty act, but have in recent days adopted more combative policies when it comes to federal relations.
Schulz has promised a protecting provincial rights summit within two months of winning, while Sawhney is pledging to pursue go-it-alone initiatives such as a provincial pension plan and police force.
Both Bratt and Williams said Smith has done a better job capturing and harnessing latent anger within the party's base when it comes to Prime Minister Justin Trudeau and the federal government
And they note Alberta's 4.5 million people could, come Oct. 6, be propelled in a new direction dictated by 40,000 or so UCP voters.
"To me, it looks like it's only the really animated, diehard, engaged and largely angry folks that are driving the narrative right now," said Williams.
"They're angry and they want to see change not just provincially but federally, and they want someone who is going to fight."
This report by The Canadian Press was first published Aug. 12, 2022.
From Cafe Owner to Political Activist at the heart of the Alberta Prosperity Project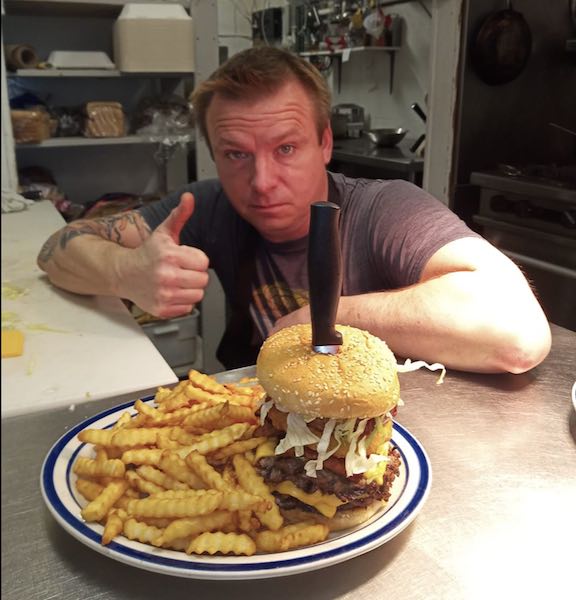 The COVID pandemic has turned Central Alberta Cafe Owner Chris Scott into nothing short of a lightning rod.
Many business owners grumbled and suffered through a couple years of mayhem due to wave after wave of COVID and the various restrictions affecting day to day operations. Where most business owners zigged, Scott, as they say… zagged.
Chances are you know something about his story as he's been in the news and seemingly on a never ending speaking tour ever since this all started.
You likely won't be surprised to know Chis Scott is still operating his cafe, still facing court charges, and heavily involved in trying to influence Alberta politicians.
No matter what side of this discussion you fall on, no matter what you think of the business owners, doctors, and religious leaders who stood in defiance of covid restrictions, this conversation will help you understand where those who have emerged as leaders of those who stood up to the health restrictions are putting their attention in the summer of 2022.
If you're interesting in learning more about the Alberta Prosperity Project.
If you're interested in WS Full Steam Ahead