Open House Friday to celebrate Red Deer's new Culture Services facility and gallery space
From The City of Red Deer
Join us downtown for a special First Friday event featuring the official reopening of Culture Services in a new location, 5205 48 Ave (former Central Intermediate School).
Culture Services Open House & First Friday Celebration
5205 48 Avenue, Red Deer (former Central Intermediate School)
Friday, July 5, 2019
5 – 8 p.m.
There are many activities to participate in! You can:
Take a tour of the new facility and check out all the program and rental spaces.
Experience locally made, original art work at the Official Re-Opening of the Viewpoint Gallery. Local artists include the Viewpoint Gallery Collective and Teena Dickerson.
Take a free arts & culture sample class from 5:30 – 6:30 p.m. and learn about upcoming program opportunities and First Friday activities
From 5 – 8 p.m., enjoy live music by local musicians, Art Samuel Barker and Old Man Marley on the Gary W. Harris Celebration Plaza.
Enter for a chance to win one of two $100 "Culture Bucks" certificates, which may be redeemed for arts & culture program registration. The winners will be announced Monday, July 8.
It's free to attend and fun for all ages!
The facility includes an art gallery, multi-purpose room, visual arts studios, performing arts studio, a flexible-use activity space in the former gym, administrative offices and meeting spaces as well as a large outdoor plaza suitable for special events. The new location will host visual and performing arts programs, including summer camps, and will offer a larger space for the Viewpoint Gallery, which features a variety of art exhibits, including those of local artists.
"We are excited to invite the community to come downtown and see our new space," said Tara O'Donnell, Culture Superintendent. "Though we will continue to offer similar programs and services asin our previous location, the new studio and gallery spaces are sure to inspire instructors, participants and guests alike. The proximity of the Gary W. Harris Celebration Plaza allows us to expand this eventoutdoors and host live music performers right outside our doors."
The open house event will feature a reception for the official re-opening of the Viewpoint Gallery, with artists in attendance. Two exhibits are on display, including A New View by members of the Viewpoint Gallery Collective and a guest exhibit from the Harris-Warke Gallery, Biophiles by Teena Dickerson.
Guests can also enjoy tours of the facility, free sample classes in ceramics and dance, and live music on the Gary W. Harris Celebration Plaza featuring Art Samuel Barker and Old Man Marley.
More information on Culture Services can be found at www.reddeer.ca/culture.
Kirstie Alley, Emmy-winning 'Cheers' star, dies at 71
LOS ANGELES (AP) — Kirstie Alley, a two-time Emmy winner whose roles on the TV megahit "Cheers" and in the "Look Who's Talking" films made her one of the biggest stars in American comedy in the late 1980s and early 1990s, died Monday. She was 71.
Alley died of cancer that was only recently discovered, her children True and Lillie Parker said in a post on Twitter. Alley's manager Donovan Daughtry confirmed the death in an email to The Associated Press.
"As iconic as she was on screen, she was an even more amazing mother and grandmother," her children's statement said.
She starred opposite Ted Danson as Rebecca Howe on "Cheers," the beloved NBC sitcom about a Boston bar, from 1987 to 1993. She joined the show at the height of its popularity after the departure of original star Shelley Long.
Alley would win an Emmy for best lead actress in a comedy series for the role in 1991.
"I only thank God I didn't have to wait as long as Ted," Alley said in her acceptance, gently ribbing Danson, who had finally won an Emmy for his "Cheers" role as Sam Malone in his eighth nomination the previous year.
She would take a second Emmy for best lead actress in a miniseries or television movie in 1993 for playing the title role in the CBS TV movie "David's Mother."
She had her own sitcom on the network, "Veronica's Closet," from 1997 to 2000.
In the 1989 comedy "Look Who's Talking," which gave her a major career boost, she played the mother of a baby who's inner thoughts were voiced by Bruce Willis. She would also appear in a 1990 sequel "Look Who's Talking Too," and another in 1993, "Look Who's Talking Now."
John Travolta, her co-star in the trilogy, paid her tribute in an Instagram post.
"Kirstie was one of the most special relationships I've ever had," Travolta said, along with a photo of Alley. "I love you Kirstie. I know we will see each other again."
She would play a fictionalized version of herself in the 2005 Showtime series "Fat Actress," a show that drew comedy from her public and media treatment over her weight gain and loss.
She dealt with the same subject matter in the 2010 A&E reality series "Kirstie Alley's Big Life," which chronicled her attempt to lose weight and launch a weight-loss program while working as a single mother in an unconventional household that included pet lemurs.
Alley said she agreed to do the show in part because of the misinformation about her that had become a tabloid staple.
"Anything bad you can say about me, they say," Alley told the AP at the time. "I've never collapsed, fainted, passed out. Basically, anything they've said, I never. The only true thing is I got fat."
In recent years she appeared on several other reality shows, including a second-place finish on "Dancing With the Stars" in 2011. She appeared on the competition series "The Masked Singer" wearing a baby mammoth costume earlier this year.
She appeared in the Ryan Murphy black comedy series "Scream Queens" on Fox in 2015 and 2016.
One of her co-stars on the show, Jamie Lee Curtis, said on Instagram Monday that Alley was "a great comic foil" on the show and "a beautiful mama bear in her very real life."
Alley's "Cheers" co-star Kelsey Grammer said in a statement that "I always believed grief for a public figure is a private matter, but I will say I loved her."
Another "Cheers" co-star, Rhea Pearlman, recounted how she and Alley became friends almost instantly after she joined the show. She said Alley organized large Easter and Halloween parties and invited everyone. "She wanted everyone to feel included. She loved her children deeply. I've never met anyone remotely like her. I feel so thankful to have known her."
A native of Wichita, Kansas, Alley attended Kansas State University before dropping out and moving to Los Angeles.
Like Travolta, she would become a longtime member of the Church of Scientology.
Her first television appearances were as a game show contestant, on "The Match Game" in 1979 and "Password" in 1980.
She made her film debut in 1982's "Star Trek: The Wrath of Khan."
Other film roles included 1987's "Summer School," 1995's "Village of the Damned" and 1999's "Drop Dead Gorgeous."
Alley was married to her high school sweetheart from 1970 to 1977, and to actor Parker Stevenson from 1983 until 1997.
She told the AP in 2010 if she married again, "I'd leave the guy within 24 hours because I'm sure he'd tell me not to do something."
___
Rancilio reported from Detroit. Follow AP Entertainment Writer Andrew Dalton on Twitter: https://twitter.com/andyjamesdalton
Andrew Dalton And Alicia Rancilio, The Associated Press
A celebration of writing styles and cultures, Poetry Party brings writers from around the world together in Red Deer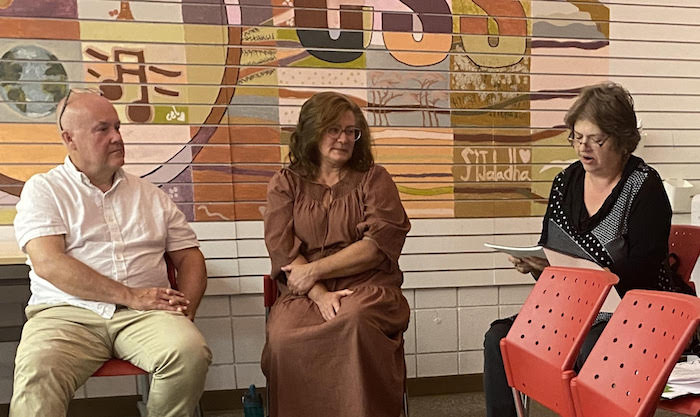 Left to right: Raymond Byiers (feature reader) with wife Rochelle Byiers, and Elena Rousseau (feature reader)
Submitted by Sabrina Samuel
Poetry Party Showcases Diverse Voices in Growing Literary Arts Community
There's an undeniable surge in arts and culture in the city of Red Deer that will carry on long after we say goodbye to Culture Days. From mural art adorning nearly every street in downtown, extensive musical programming, to theatre arts and new festivals exploding, Red Deer is flourishing and becoming a choice destination for working artists and arts purveyors.
Local poets and writers see more opportunities to gather and showcase their potential. Red Deer Writer's Ink celebrated thirty years as an organization this month, and now poets, curated by activist, advocate and community builder Jan Underwood from Care for Newcomers are committing to gathering regularly to share and celebrate their artform, after a successful inaugural Poetry Party.
Asdolah Khierandish, a global citizen who called Afghanistan home, also lived in Syria, before finding safety in Canada. He hesitated to share his poetry in Farsi. The lyrical language sounds like a song. Influenced by Sufi mystics such as Rumi and Hafiz, Khierandish explains the profound philosophical nature of their work, "A single poem can explain an entire book. The meaning is so deep."
While he was the only Farsi speaker of the group, the poem shared in his mother tongue about the Taliban overtaking his city moved others to tears. Asdolah's work penetrates the subconscious mind of the listener.
The honours English student from University of Alberta and multi-disciplinary artist, Elena Rousseau, brought levity and polish to the gathering, with poems playing into stereotypes of her Eastern European roots, "People think of vampires and Transylvania. I also love the culture of gypsies. That's something else people think of when I say I'm from Romania."
Her animated reading style drew in the audience.
All of art is a reaction to something. Beverly Beckley, known online as @beverleypithypoet takes her social media handle from her concise signature style of short and impactful poems. Her timeless work about Canadian Truth and Reconciliation from her chapbook The Little Bones, a fundraiser for The Remembering the Children Society, fit the season of Orange Shirts and Canadian historical awareness. The poet presented questions and posited opinions about the death of the queen, collective shame, and is a self confessed, "lover of personal darkness". She alluded to genius minds of mentally unwell writers including Sylvia Plath. The evening's discourse born from the poetry seemed equally interesting.
Another current event covered in my own reading was the death of Masah Amini from Iran while in custody of the morality police. A healthy twenty two year old, Masah's arrest came from not wearing a head covering (hijab) properly. The reported cause of death was a heart attack. Much of the poems I produce are to advance women and create equity. Social reality is often stark and hard to hear. The format of inclusion in the poetry circle asked all to share, though it was not required. The Poetry Party called on others to share their work in an open format as time permits after the featured readers were finished.
The most approached topic with mass appeal for poets is still love. Raymond Byiers rhyming works heaved with sentiment and personal homage to family. His first poem affirmed that the universality of grief can be captured. It lives in words, not always going beyond them. His final poem, a personal testament of deep love to his wife who was present from Didsbury renewed hope, "I wrote this just before my heart surgery. You can hear the Irish in me coming out when I read my poems aloud."
Since the Poetry Party was successful, another gathering will be held October 28, 6:00pm – 8:30 pm in the Maple Room of CARE for Newcomers (5000 Gaetz Avenue, Red Deer). All are welcome and this time, artists from all disciplines are welcome to bring their creations.