On The Streets of Red Deer…
We welcome stories from our readers.  Here's a thought-provoking submission from local writer Tim Lasiuta
On The Streets of Red Deer…
By Tim Lasiuta
The streets of Red Deer are teeming with life…
There are the sounds of children running with their parents to school and activities.  Parents and grandparents' homes echo with the joy that can only come with the sounds of a newborns first cry, first roll over, first steps and first words.
Gathering places resound with the sometime deafening volumes of cheers for athletic contests, the sounds of applause as the musicians among us gift us their talent, there are sounds of silence as we mourn the lost among us at funerals and remembrances of life.  Songs of praise fill local places of worship as well as words of truth.
Our administrative houses can be filled with discussions on greater good, or lesser evils.
However, the streets of our city, or any city, can often be places of deadly silence!  Cries for help echo through the streets and can be read in the eyes and heard in the voices of our lost youth and homeless.
With the legalization of marijuana products such as vape, pot sales and edibles and the establishment of 'safe injection clinics' for harder drugs, our society has acknowledged the problem that has existed for decades.  Yet in that admission of a problem, we often deal with the symptom of a greater issue.
Close to 50 years ago, comic book writer Denny O'Neil and artists Neal Adams and Dick Giordano (above) dealt with the issue of drug addiction as did Stan Lee and Gil Kane (below).  No other panel of comic book art expresses the sorrow of social issues better than the cover of issue 86…and a corresponding panel from another classic issue.
The truth is that while our streets and homes often do reflect the sounds of joy, they often do not and with that the dark side of our society's obsession with pleasure and selfishness hides a moral issue that is at the core of addiction that leads to destruction at so many levels.
There is no moral high ground in our pursuit of pleasure.  We are all guilty of selfish behaviours; some call it sin and a relationship with God is the answer, while others accept our weakness as part of who we are and dance on the edge of the sharp sword hoping we do not fall across the blade that can separate bone from marrow.  Some escape from their self imposed hell yet may never experience true freedom without seeing death first hand.
The result of addictions are many.  If we are addicted to food, we gain weight.  If we are addicted to alcohol, we live unhealthy lives with major health complications and damaged personal lives.  If we are addicted to smoking, we may often experience respiratory issues.   Addiction to pornography will destroy personal relationships relentlessly. Drug addiction at any level, as well documented leads to fractured lives that may include homelessness, criminal activities, broken family relationships and sometimes 'accidental' death.
The cost to society is incalculable.
What is the value of a human being?  What is the value of a positive future in present day dollars?  What is the price of joy and fulfillment?  What is the cost of the criminal activities perpetrated by addicts in pursuit of their fix to their victims in terms of insurance increases and peace of mind?
Why do we allow 'entertainment' into our lives that glorifies the very behaviours we know to be destructive to healthy lives?  Why do we accept behaviours in our own lives, often justifying it with utterances that decry responsibility for our poor choices?
There are so many variables that a simple solution is never available, save one…
Good choices..
They are never easy, but the more you make good decisions consistently, the easier the positive path becomes.
If you make a bad choice, next time, make a good one…
Every time we make a decision to go left, or to go right, there are consequences.  If we decide to take that first drink, cigarette, or toke or hit of acid, engage in sex or sex related activities in a dangerous environment, crystal meth or fentanyl we set ourselves on a path that may lead to where we don't want to go.  Often, all it takes is ONE bad decision to end our lives or to start a downward spiral that drags our families down with us.
No good decision is ever regretted while poor decisions compound very quickly.  Every decision we make impacts everyone around us; our present and future families, those we work with, those we interact with as we drive to and from our activities, team-mates.  There is no such thing as a decision that affects no-one else.
We are all human and born with a selfish heart.
As a society, we cannot expect roses from a Caragana bush so we should not expect good results from allowing and legalizing substances that are proven to lead down a path marked with damaged and dying users.
However, once the garden path is made, we often cannot go back and re-do our past.  We must pursue personal choices and government policies that reward the better road that may or may not include those sewn with desperation in the past.  Making decisions based on economic factors for behaviours with human consequences is not a sound process.  You can only solve economic problems with economic solutions, spiritual problems require divine intervention and human problems demand human solutions no matter the cost.
Decide well, the future is waiting…Your choice which one.
Tim Lasiuta
Tim Lasiuta is a local writer with interests in history preservation, from environmental to pre-contact native archaeology, faith and telling stories that matter in Central Alberta.  His work has appeared in Canadian Cowboy Country, True West Magazine, Mad Magazine, Alberta Venture, in published anthologies and Comic Buyers Guide.
You can contact Tim at [email protected].
Here is another of Tim's recent stories:
Judy's story: I'm on the healthy road!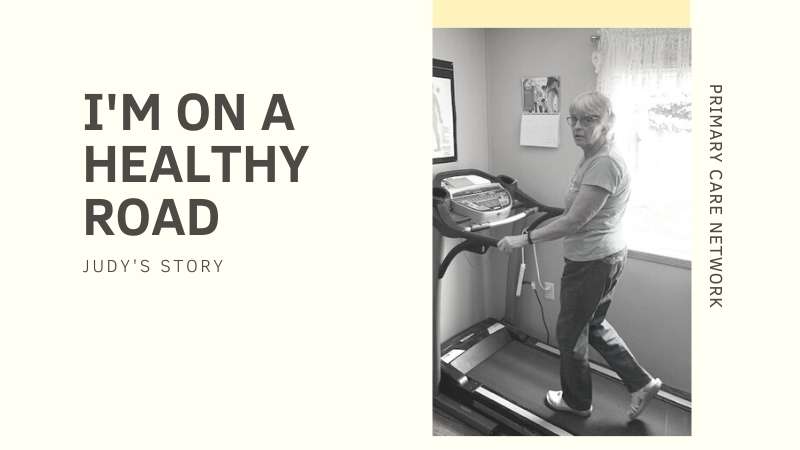 On the Healthy Road!
My journey to better health starting when my doctor told me my blood sugar was at pre-diabetes levels, my blood pressure continued to require medication and I had weight to lose.  He sent me to see the RDPCN nurse. After some appointments there, the nurse referred me to the Health Basics program.
Exercise was my downfall. Working from home, I always found something else to do rather than exercise.  Health Basics increased my awareness. I tracked what I was eating and became more aware of what I ate, when I ate and why I ate. I also realized things that would make me healthier that I wasn't doing.  I realized being healthy is a process and I took one healthy step at a time. I also became aware of the wider variety of options for healthy lifestyle.
My husband and I visited friends over the summer and noted they had lost weight.  This stimulated us to pay even more attention to our food intake. As a result of our overall efforts, I have lost about 32 pounds and my husband has lost 37. My blood sugar is now in the normal range. I have had significant decrease in my blood pressure medication. I have more energy. I enjoy exercising more as it is easier to move around and I have less arthritis pain. Health Basics is an excellent class- it started me on the healthy road. I also have much more confidence in my future health.
Click to learn more about the Red Deer Primary Care Network.
Read more success stories from the Primary Care Network.
Smiles Thru Lindsey reaching out with a new video message and urging Albertans to look out for each other at this challenging time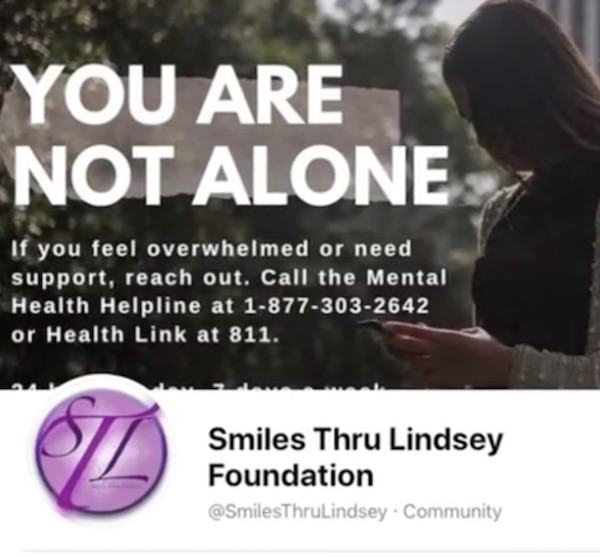 The holiday season is well behind us, we're heading into the coldest part of the winter, and although the days are starting to grow longer there's still a definite lack of daylight in our lives.  The winter blues are a real thing and this year we have COVID, a whole new serious problem to add to our mental health issues.
COVID is also the reason the Smiles Thru Lindsey team has not been able do public events for many months.  Unable to reach out physically through school visits and fund raisers, Smiles Thru Lindsey is reminding Central Albertans to check in on each other.  Also, please follow the Smiles Thru Lindsey Facebook page .  They'll lead you to the resources you or your loved ones need right away.
Meet Lindsey and the Smiles Thru Lindsey team in this powerful video.  …And remember to check in on the people in your life.
If you'd like to help Smiles Thru Lindsey with a donation please click here.