On The Streets of Red Deer…
We welcome stories from our readers. Here's a thought-provoking submission from local writer Tim Lasiuta
On The Streets of Red Deer…
By Tim Lasiuta
The streets of Red Deer are teeming with life…
There are the sounds of children running with their parents to school and activities. Parents and grandparents' homes echo with the joy that can only come with the sounds of a newborns first cry, first roll over, first steps and first words.
Gathering places resound with the sometime deafening volumes of cheers for athletic contests, the sounds of applause as the musicians among us gift us their talent, there are sounds of silence as we mourn the lost among us at funerals and remembrances of life. Songs of praise fill local places of worship as well as words of truth.
Our administrative houses can be filled with discussions on greater good, or lesser evils.
However, the streets of our city, or any city, can often be places of deadly silence! Cries for help echo through the streets and can be read in the eyes and heard in the voices of our lost youth and homeless.
With the legalization of marijuana products such as vape, pot sales and edibles and the establishment of 'safe injection clinics' for harder drugs, our society has acknowledged the problem that has existed for decades. Yet in that admission of a problem, we often deal with the symptom of a greater issue.
Close to 50 years ago, comic book writer Denny O'Neil and artists Neal Adams and Dick Giordano (above) dealt with the issue of drug addiction as did Stan Lee and Gil Kane (below). No other panel of comic book art expresses the sorrow of social issues better than the cover of issue 86…and a corresponding panel from another classic issue.
The truth is that while our streets and homes often do reflect the sounds of joy, they often do not and with that the dark side of our society's obsession with pleasure and selfishness hides a moral issue that is at the core of addiction that leads to destruction at so many levels.
There is no moral high ground in our pursuit of pleasure. We are all guilty of selfish behaviours; some call it sin and a relationship with God is the answer, while others accept our weakness as part of who we are and dance on the edge of the sharp sword hoping we do not fall across the blade that can separate bone from marrow. Some escape from their self imposed hell yet may never experience true freedom without seeing death first hand.
The result of addictions are many. If we are addicted to food, we gain weight. If we are addicted to alcohol, we live unhealthy lives with major health complications and damaged personal lives. If we are addicted to smoking, we may often experience respiratory issues. Addiction to pornography will destroy personal relationships relentlessly. Drug addiction at any level, as well documented leads to fractured lives that may include homelessness, criminal activities, broken family relationships and sometimes 'accidental' death.
The cost to society is incalculable.
What is the value of a human being? What is the value of a positive future in present day dollars? What is the price of joy and fulfillment? What is the cost of the criminal activities perpetrated by addicts in pursuit of their fix to their victims in terms of insurance increases and peace of mind?
Why do we allow 'entertainment' into our lives that glorifies the very behaviours we know to be destructive to healthy lives? Why do we accept behaviours in our own lives, often justifying it with utterances that decry responsibility for our poor choices?
There are so many variables that a simple solution is never available, save one…
Good choices..
They are never easy, but the more you make good decisions consistently, the easier the positive path becomes.
If you make a bad choice, next time, make a good one…
Every time we make a decision to go left, or to go right, there are consequences. If we decide to take that first drink, cigarette, or toke or hit of acid, engage in sex or sex related activities in a dangerous environment, crystal meth or fentanyl we set ourselves on a path that may lead to where we don't want to go. Often, all it takes is ONE bad decision to end our lives or to start a downward spiral that drags our families down with us.
No good decision is ever regretted while poor decisions compound very quickly. Every decision we make impacts everyone around us; our present and future families, those we work with, those we interact with as we drive to and from our activities, team-mates. There is no such thing as a decision that affects no-one else.
We are all human and born with a selfish heart.
As a society, we cannot expect roses from a Caragana bush so we should not expect good results from allowing and legalizing substances that are proven to lead down a path marked with damaged and dying users.
However, once the garden path is made, we often cannot go back and re-do our past. We must pursue personal choices and government policies that reward the better road that may or may not include those sewn with desperation in the past. Making decisions based on economic factors for behaviours with human consequences is not a sound process. You can only solve economic problems with economic solutions, spiritual problems require divine intervention and human problems demand human solutions no matter the cost.
Decide well, the future is waiting…Your choice which one.
Tim Lasiuta
Tim Lasiuta is a local writer with interests in history preservation, from environmental to pre-contact native archaeology, faith and telling stories that matter in Central Alberta. His work has appeared in Canadian Cowboy Country, True West Magazine, Mad Magazine, Alberta Venture, in published anthologies and Comic Buyers Guide.
You can contact Tim at [email protected].
Here is another of Tim's recent stories:
Tim Hortons Smile Cookie campaign continues to Sunday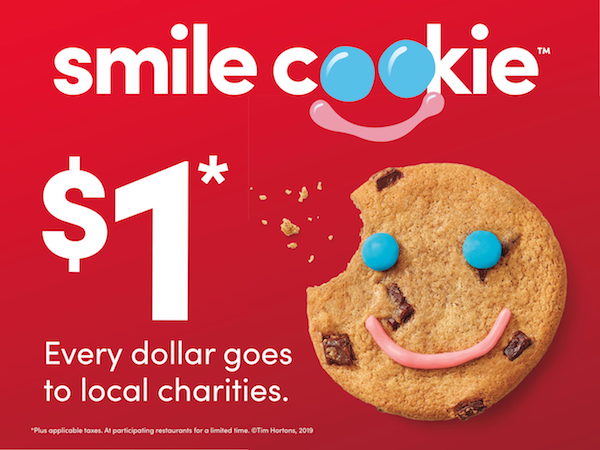 Inspiring kids to read, write and succeed through Smile Cookies!
Who doesn't love a delicious chocolate chip cookie? They taste even sweeter when you are making a difference in a child's life!
Helping struggling students become readers of potential is exactly what local Tim Hortons stores want as proceeds for this week's Smile Cookie campaign will be directed to Reading College, a project of the Foundation for Red Deer Public Schools.
"We set up this amazing and fun summer program for kids in Grade 2 where they learn to love reading, and gain the skills to continue their growth as learners. Reading is the foundation for success in school and life. If we can help further develop their skills and instil a love for reading, it creates a lifetime of difference for that child. It will make a difference for them, make a difference for their families and make a difference in their life experiences. That's the beauty of
Reading College," said Superintendent of Schools, Chad Erickson. "This year, we had 64 graduates of the Reading College program who were incredibly engaged and able to excel and improve their reading abilities over the month of July, setting them up for further success."
"The Smile Cookie Campaign is a great opportunity to raise awareness on the importance of literacy, it really does create life chances for students. Reading College is made possible through great support from our community and Tim Hortons – we could not operate it without this support," said Kristine Plastow, Foundation Board Chair. "I encourage the community to get out there and buy their cookies next week!"
From September 19-25, Tim Hortons restaurant owners in Red Deer will generously donate all proceeds from sales of a special smiling chocolate chunk cookie to support the Reading College program through The Foundation for Red Deer Public Schools. The $1 treat helps community programs across Canada in the cities where they are sold.
"On behalf of all Tim Hortons' restaurant owners and team members in Red Deer, I would like to thank our fantastic guests for their loyalty, generosity and support of the Smile Cookie campaign," said Tanya Doucette, Tim Hortons Restaurant Owner in Red Deer. "We are thrilled to support The Foundation for Red Deer Public Schools and their Reading College program. With funds raised we are helping students learn to read, which will ultimately help set them up for a lifetime of success. During Smile Cookie Week, we welcome all Red Deerians to buy a delicious freshly-baked Smile Cookie in support of a great cause, which helps benefit children in our community."
Help us promote the campaign by 'liking' Red Deer Public Schools on Facebook and 'following' us on Twitter, both under @rdpschools. You can also find us on Instagram @reddeerpublicschools.
Red Deer Polytechnic alum expresses creativity through downtown mural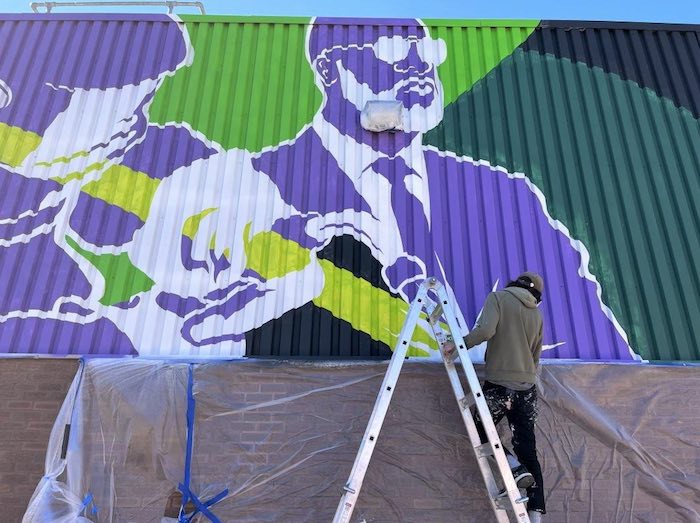 Art on Welikoklad Event Centre's exterior wall celebrates institution's brand and history
An exterior wall of Red Deer Polytechnic's Welikoklad Event Centre is undergoing a creative refresh with a mural painted by talented alum Kat Simmers.
"The blank canvas of the long, exposed wall of the Welikoklad Event Centre is a fantastic medium for communicating what Red Deer Polytechnic is all about," says Dr. Jonathon Penny, Dean of Arts and Culture. "Dr. Alison Jeppesen and others, who imagined this use and garnered support for it, determined to hire an alum in order to capture the spirit of RDP, and we are fortunate to have Kat work on the project. Their vision represents RDP's history and its spectrum of program offerings beautifully."
Simmers, a former Red Deer Polytechnic Visual Art student, began painting the mural in early September, highlighting a variety of programs and learners at the Polytechnic.
"With Flying Colours depicts a diverse body of students engaged in their respective crafts. It was an interesting challenge to create a work representing the experiences of so many people – students past, present and future," says Simmers. "I wanted to pay respect to the value of athletics as well as the diverse mix of creative arts learning and trades programming that students experience at the Polytechnic."
The mural features students, a health care professional, several skilled trades workers, a member of the Indigenous community, and athletes playing hockey and volleyball.
"I thought of the welder as an artist crafting a sculpture as much as a tradesperson earning a wage. I made my way through six years of art school by working various labour jobs," adds Simmers. "It was the creativity and passion for learning I developed at RDP that led to success in those environments as well. I wanted to capture the spark of innovation and joyful work environment that I experienced at the Polytechnic."
The education and training Simmers received at Red Deer Polytechnic helped with the creation of the mural and set the groundwork for future artistic endeavors.
"At the Polytechnic, I spent a lot of time working with colour and figurative painting. As my education continued into design, that sense of light and life stayed a core part of the worlds I like to create. RDP's Visual Art program is incredibly inspiring and supportive," says Simmers. "Having 24-hour access to gorgeous studios created a wonderful sense of community and fostered some amazing friendships I still cherish to this day. The years I spent at the institution also laid the foundation for future learning."
As Simmers plans to complete the mural in late September, their brother Derek, who is also an alum of Red Deer Polytechnic, will assist with the finishing touches during the final week.
"Red Deer Polytechnic's alumni are incredibly talented and are leaders in their communities and professions, as demonstrated by Kat and Derek," says Richard Longtin, Vice President, External Relations. "With over 80,000 alumni, we are extremely proud of their impact and contributions to the intellectual, economic, cultural and social development of the region, province, and beyond."
As the mural creatively represents the Red Deer Polytechnic brand, including the many benefits of a polytechnic model, it will also connect the institution to the community.
"The artwork complements the city of Red Deer's commitment to revitalize the downtown core with murals, creating welcoming spaces and signaling Red Deer Polytechnic's connection to the community in vibrant and creative ways," says Stuart Cullum, President of Red Deer Polytechnic. "I am extremely proud of the Polytechnic's presence in the heart of Red Deer, which increases the ability to collaborate with community members and business partners in the area."
Simmers hopes the mural will provide inspiration.
"This work is to remind people to take joy in their craft, to care for their community and to share the fruits of their labour," says Simmers. "I'm grateful for the opportunity to build on my experience at RDP and it's exciting to be able to return those gifts in some way."
More information about Red Deer Polytechnic's Creative Arts programming is available online.