O Chi-Nada: The People's Republic Of Dunder Mifflin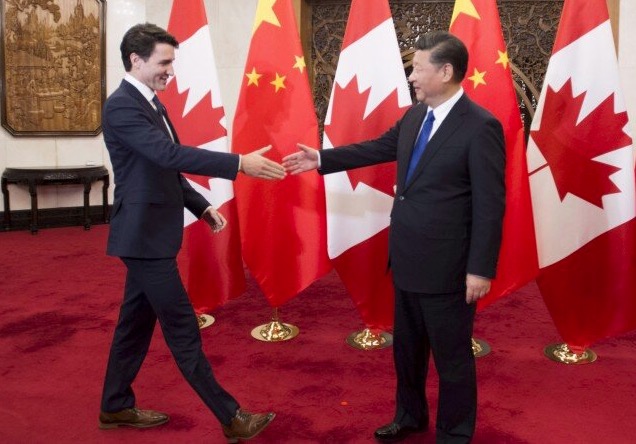 Former PM Lester Pearson once fashioned Canada as "honest broker" to the world. With its long history of showing up for the toughest fights, Canada had the credibility to referee between America and the world's other nations from its perch in the U.N., NATO, the Five Eyes Group and more. Pearson's crowning moment was negotiating an end to the Suez Canal crisis in 1956-57.
Today's PM, Justin Trudeau, has turned Canada into the Dunder Mifflin Paper Company with him as Michael Scott, the vain, ridiculous manager of the outfit. As the recent Two Michaels hostage drama demonstrates, no one takes Canada seriously anymore. They even create new security groups (the recent AUKUS) just so Trudeau's Woke frat party can be left out.
But in the best comic tradition, Trudeau and his coterie of activists and climate freaks don't get that they're laughed at. Like Michael Scott they believe that they're in charge, the situation is not hopeless. Like Scott, who claimed to be "two-fifteenths" Native American, Trudeau pretends to be simpatico with the indigenous people and a supporter of women whom he molests.
If you were looking to sum up just how hollowed-out the Canadian dream has become under Trudeau and previous Liberal governments, the China file might suffice. The brazen kidnapping of Michael Spavor and Michael Korvig– after Canada put Huawei executive Meng Wanzhou under house arrest pending extradition to the U.S.— is the most public sign of how Canada is now a non-entity globally.
Trudeau made cautious statements about repatriating the men, but it was always timid, don't-get-them-mad word salads. No one was fooled. NBA players show more gumption faced with the Chinese politburo— and they have none. While the rest of the Western alliance was rejecting Huawei to build 5G networks, Canada was an easy mark. No wonder China rejected Trudeau and his ambitious Sino-Canadian dreams package in December of 2017.
The Huawei/ Two Michaels pantomime is a small speck of an iceberg that has resulted from the Chinese infatuation established by Liberal PM Jean Chretien and son-in-law André Desmarais who planted their flag in China following leaving the PMO. Seduced by China's abundant markets and "easy" profits, they created a China cult in Canada of business and political leaders drawn in by Communist Party "efficiency".
The signpost that Liberals had it bad for the Chinese came in Trudeau's infamous 2013 fanboy quote: "You know, there's a level of admiration I actually have for China …. Because their basic dictatorship is allowing them to actually turn their economy around on a dime and say 'we need to go green fastest…we need to start investing in solar.'" (How about that one-child policy, eh Justin?)
He wasn't alone. In the 2019 federal election, John McCallum, the former Liberal cabinet minister and Canadian ambassador to China who took $73,000 in free trips to China, was free with advice on how the Chinese might manipulate that election. "Anything that is more negative against Canada will help the Conservatives, (who) are much less friendly to China than the Liberals," McCallum told the South China News. ".. it would be nice if things will get better between now and (Canada's federal) election (in October)."
Over the past generation (the majority of it under Liberal governments) Canada has become a dumping ground for Chinese Communists looking to launder money, steal copyrights and control Canada's economy. With little pushback from Trudeau's government. Anthony Campbell, the former head of the Intelligence Assessment Secretariat of the Privy Council Office, noted Beijing was spreading around so much money— and the federal government was so inattentive to the implications— "that nobody at the centre of power in Canada was capable of articulating what the words "national security" even meant anymore."
The current panic over foreign ownership of Canada's residential housing stock is symptomatic of the passive takeover of its economy.
It's why Trudeau was happy to have foreign affairs left out of the Leaders Debates in 2021 in favour of the climate politics of 2050. Otherwise he might have had to reveal how People's Liberation Army scientists managed to obtain high-level security clearances to undertake research at the National Microbiology Lab in Winnipeg. And why they were spirited out of the country.
Such is Canada's supine relationship with China that it is no longer trusted by its former allies. In one of his coherent moments, U.S. president Joe Biden said his country has no better ally than Australia, which has been insubordinate to the Chinese while Canada's elite rolled over. Trudeau, dazzled by climate fantasies, doesn't seem to notice when G7 leaders mocked him for claiming he was the "dean" of the group with Angela Merkel's departure.
Or when a secret vaccine-development agreement with China's CanSino Biologics ended when Beijing reneged on the deal and blocked shipments to Canada.
If he were paying attention Trudeau might have been alert to the growing influence China exerts in Canada's politics. The CPP think nothing of reaching across the Pacific to smack Chinese Canadians who veer from the party line on the economy, trade, Taiwan, Hong Kong and more. When the Tories' platform said they would "stand up" to China on a list of issues by banning Huawei Technologies Co. from 5G networks and withdrawing Canada from the Chinese-led Asian Infrastructure Investment Bank you knew there'd be pushback.
Sure enough, Conservative candidates In the just-concluded election saw votes hold steady in almost all constituencies across the country. But in ridings with a heavily Chinese-Canadian vote CPC candidates were bombarded by third-party claims they were disloyal Chinese for attacking the CPP. China's ambassador, Cong Peiwu, said Beijing opposed politicians who were "smearing" China. Chinese state-run newspaper the Global Times described CPC policy as "toxic" and "hostile" to China.
On election night, Liberal preference in Ontario dropped 2.7 percentage points and the Conservative vote went up 2 percentage points. But not in ridings with heavy Chinese concentrations. In 2019, Conservative Joe Chiu won his seat over Liberal Joe Peschisolido, 41.7 per cent to 35.1 per cent. On Monday, he lost to Liberal Parm Bains, 42.8 per cent to 33.4 per cent.
In BC Richmond Centre, Alice Wong won in 2019 with a 20.5 point margin. In 2021 he was defeated by Liberal Wilson Miao, who led her by 39.4 per cent to 37.1 per cent. The drops were consistent in other heavily Chinese ridings across the country. The CPP had apparently won Trudeau re-election.
Not that Canadians are crying out for greater ties to China. Terry Galvin points out in The National Post: " A poll carried out in August showed that two-thirds of Canadians want Ottawa to take a harder line with China. An Angus Reid poll released in March showed that only one in 10 Canadians agrees that Canada should pursue closer trade ties with China."
For all intents and purposes the modern Liberal Party's image of China remains lost in the gauzy Norman Bethune days of plucky Mao and the People's Party. The damage to its sovereignty is incalculable— and getting worse. Not that the PM knows. As Michael Scott said, "I love inside jokes. I hope to be a part of one someday."
Bruce Dowbiggin @dowbboy is the editor of Not The Public Broadcaster (http://www.notthepublicbroadcaster.com). The best-selling author of Cap In Hand is also a regular contributor to Sirius XM Canada Talks Ch. 167. A two-time winner of the Gemini Award as Canada's top television sports broadcaster, his new book with his son Evan is called InExact Science: The Six Most Compelling Draft Years In NHL History is now available on http://brucedowbigginbooks.ca/book-personalaccount.aspx
We Have Met The Goalies, And The Goalies Have Won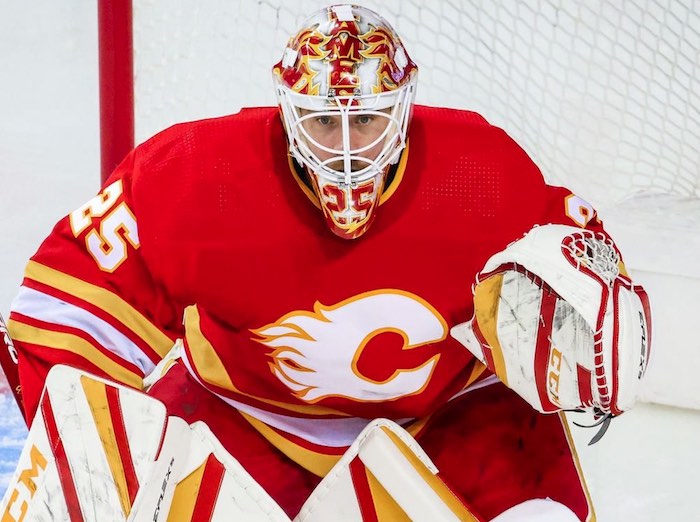 The NHL's problem, Boston Bruins GM legend Harry Sinden told us years ago, is that there are 30 teams. But just one Stanley Cup. That makes for a lot of disappointment.
As Toronto fans can now attest, that disappointment stings worst when you have a team with a likely Hart Trophy winner and an impressive regular season. By rights a healthy Leafs squad should have disposed of the defending champions from Tampa Bay, who finished five points below them in the standings.
But the NHL is no place for favourites. Analytics have found that, generally, you'd have to play a best-of-51 series before the higher-seeded NHL team would have the advantage. (The NBA is much more favourable to the chalk.) So, given enough time Toronto would have outlasted the Lightning. It could/ would have taken till August to do so, however.
Why? Because the NHL— despite fitful attempts to redress this discrepancy— has created a Frankenstein playoff model that allows lesser teams to clog the ice, funnel shots from bad angles and get away with fouls that wouldn't stand in the regular season. Using the rules today, a defensive-minded team can clog the front of the net, blocking as many shots as does their goalie.
In Toronto's Game 7 loss to Tampa, the Leafs directed 57 shots at impenetrable goalie Andrei Vasilevsky. He stopped 30 of 31 that reached him. His defence almost matched him, blocking 26 shots. (Toronto blocked 13 shots while goalie Campbell stopped 20 of 22 shots that rewashed him.)
Toronto buzzed the scoring zone, dominating puck possession. They dominated faceoffs, winning 61.8 percent. In the end it meant zilch, be cause Vasilevsky was a brick wall.
It was the same for the Pacific Conference champion Calgary Flames against 23-year-old goalie Jake Oettinger and the Dallas Stars— who only snuck over .500 on the final day of the season. In Game 7 Calgary sent 129 shots toward the net, with Oettinger making 64 saves into OT. And his defence blocked 32 Calgary shots on Sunday.
On average the Flames outshot the Stars (272 shots) by over 20 shots in each of the seven games. Yet the lower-rated Dallas almost escaped with the series win, because Oettinger was otherworldly. It took a bad-angle goal from Johnny Gaudreau in OT to propel the favoured Flames to a Round 2 Battle of Alberta with Edmonton.
The NHL shows no inclination to reward hight-ranked teams, preferring to lionize the grinders and bangers by letting them hit opponents late and charging guys along the boards. If there were a goal that epitomized this credo it has to be Gm.4 of the Kings/ Oilers series when Carl Grundstrom slid on his belly into goalie Mike Smith, pushing the puck under the Oilers goalie with a two-handed shove. Ugly? Yes, but effective against the massive goalies.
Of course, what are scorers to do when faced with 6-foot-5 goalies like Smith and his towering peers blotting out the sun? The epidemic of skilled giants wearing huge equipment has led to teams not shooting till they can screen the goalie or knock in a rebound. It was something we wrote about in February of 2021 following publication of an article by Ken Dryden in The Atlantic entitled "Hockey Has a Gigantic-Goalie Problem".
"The problem isn't the game. The problem is the goalie, who is changing the game", declared Dryden. "This game, one that allows for such speed and grace, one that has so much open ice, is now utterly congested… Never in hockey's history has a tail so wagged the dog."
Dryden reviews the evolution of the position from goalies' bodies protruding above the cross bar to having their entire body below it. "Pads that had been made of heavy leather, deer hair, and felt were replaced with nylon, plastic, and foam rubber. These lighter materials, which made the pads less awkward to move around in and less tiring to wear, could then also be made bigger. And bigger equipment, covering a body now in position below the bar, filled even more space."
Dryden explains how a properly positioned 6-foot-3 or taller goalie can now block all avenues for the puck— from his knees. "But really, in that equipment, with those body strategies, why get up? Why move? What better puck-blocking position could he take?"
The response from coaches and shooters? "Rush the net with multiple offensive players, multiple defensive players will go with them, multiple arms, legs, and bodies will jostle in front of the goalie, and the remaining shooters, distant from the net, will fire away hoping to thread the needle, hoping the goalie doesn't see the needle being threaded, because if he does, he'll stop it
It's not a formula Dryden likes. "All the players' amazing skills, developed in hours of practice, visualizing and dreaming in basements, on roads and local rinks, in drills with coaches and expert teachers, their minds and hands now able to move as fast as their feet, to find and use all the open ice that is there. But with so little open ice where open ice matters, for what?"
He contrasts how basketball solved its size problem: introducing the three-point line to open up scoring in what was becoming a stalemate beneath the hoop. "If a big guy can't pass and shoot, there's no place for him. With big guys dispersed and away from the basket, little guys now even get rebounds. All 10 players are involved. All 10 players can have a role. All 10 players, on the best teams, and on even better teams in the future, need to have a role to win. This NBA game, played on a much smaller surface than a hockey rink, is now far more open, much less congested."
Dryden's solution is a reluctant one. "The clever cat-and-mouse game between goalies and shooters has run its constructive course. The goalies, by winning, have changed the game." So the net must be made bigger. "Maybe only six inches or a foot wider, maybe only six inches higher. And only for those in junior and college leagues and above."
Whether the NHL can see beyond its cherished myths of grinders and role players to admit it has a problem is the question. A question that, as long as Gary Bettman is commissioner, will never be answered.
Bruce Dowbiggin @dowbboy is the editor of Not The Public Broadcaster (http://www.notthepublicbroadcaster.com). The best-selling author was nominated for the BBN Business Book award of 2020 for Personal Account with Tony Comper. A two-time winner of the Gemini Award as Canada's top television sports broadcaster, he's also a regular contributor to Sirius XM Canada Talks Ch. 167. His new book with his son Evan Inexact Science: The Six Most Compelling Draft Years In NHL History is now available on http://brucedowbigginbooks.ca/book-personalaccount.aspx
Pierre Poilievre: No More Mister Nice Guy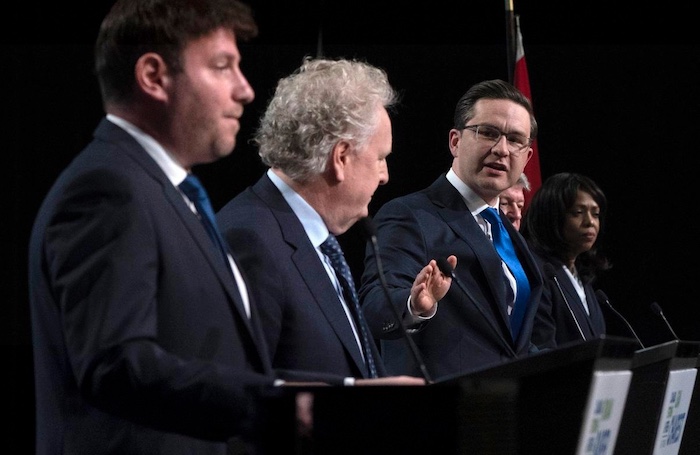 "What is the difference between a cactus and a conservative caucus? On a cactus, the pricks are on the outside." John Diefenbaker
The Conservative Party of Canada has had more wardrobe changes than Elton John. "Do you like me in this? How about this? Does this make me look fat?" In its never-ending quest to win elections and still be loved by the media the party keeps missing the party. It's the Candle In The Wind movement.
And it's now repeating itself again. Stephen Harper. Andrew Scheer. Erin O'Toole. They came. They saw. They changed their policies to satisfy people who hated them. While Harper's act managed to survive the years after the Quebec Sponsorship Scandal— when Liberals kept electing fashionable academics— it was swing-and—a-miss with Scheer and O'Toole.
Even facing the vainglorious fop pretender Justin Trudeau they ended up shut out of the key vote troves of urban Canada. And shut out of the PM's job. Running as Liberal Lite friendlies Scheer and O'Toole finished up the track— all while being flailed by the Media Party as right-wing extremists.
Now the party of Sir John A. is trying again to find a leader. The favourite as debates commence is Pierre Poilievre the Rottweiler of the CPC front bench. Poilievre has channelled the voters' disgust with Trudeau and the Ottawa status quo epitomized by the Trucker Convoy. That disgust includes the grandees of his own party who foisted Scheer and O'Toole on the nation .
Their 2022 candidate is the well-worn place holder Jean Charest, failed Conservative and tainted Liberal premier of Québec from 2003 to 2012. Charest's policy chest sounds like a throwback to the days when language battles and Québec sovereignty were the burning issues. He's pro-choice, and he knocks PP for supporting the Truckers.
In the debate, Poilievre did not spare Charest. "Now, Mr. Charest learned about the trucker convoy on CBC like other Liberals… He believes I should be cancelled from this leadership race, and disqualified, his words, because I don't share his Liberal viewpoint."
"That is the kind of cancel culture and censorship that you would expect from Justin Trudeau, but instead we're getting it from this liberal on this stage." He then slammed Charest on his Quebec Liberal party's alleged acceptance of illegal donations during his time as Québec premier. And his ties to Huawei. "The average trucker has more integrity in his pinky finger than you had in your entire scandal-plagued Liberal cabinet,"
It was red meat for frustrated Conservatives who finally see a champion in the manner of Florida governor Ron DeSantis, a tiger who won't back up in the face of Andrew Coyne huffing and puffing about nasty truckers. It resounds with Conservatives who refuse to accommodate themselves to a Liberal reality.
Naturally this brought out the Conservatives version of Charlie the Tuna. They want Tories with good taste, not Tories who taste good. They're appropriating all the Donald Trump derangement beloved by Canadian pack Media.
"Yesterday's debate was embarrassing for our party," said CPC leadership candidate Scott Aitchison. "The fighting, yelling and screaming. The partisan cheap shots at fellow Conservatives. We will never win another election if this is how we talk to each other and Canadians."
Yeah. Because all the "fighting, yelling and screaming" is why Canadians refused to vote for Scheer and O'Toole. Erstwhile Ontario leader Patrick Brown, who took a powder in the debate, also played the Stop Shouting card. "After watching the debate, I can't help but wonder: how can any of these candidates expect to unite our party and expand our Conservative coalition if they're already adopting a scorched-earth approach?"
Reform Party founder Preston Manning also demurred. "Stay away from the personal attacks that only poison the party well and reinforce the public's negative perception of party politics."
Have these people noticed that, while the CPC plays rock/paper/scissors, the Liberals are waging drone war on them? Like Republicans— who talk tough and then support Democrats sending g $40 B in untraceable money to Ukraine— the CPC has a credibility problem.
They want to win the government. To do so they need to penetrate southern Ontario and urban areas of Montreal and the Lower Mainland B.C. The leaders of the party— prompted by the Hill press corps— insist that you can beat Trudeau by using a feather duster on him.
Poilievre— a bilingual Alberta product who represents an Ottawa riding— dares to disagree. (He says he would fire the Bank of Canada governor if elected prime minister).He's willing to go over the heads of the CBC chattering class and Liberals pollsters who offer unwanted advice such as: "Conservatives must ask themselves if they are falling victim to the ease of stoking and selling the politics of anger," says pollster Tim Powers.
The outcome of a Poilievre leadership may be another schism between Reform elements and establishment Ottawa TV panel figures. Poilievre's attitude in the face of Trump phobia will remain much like the irascible John Diefenbaker who blew out of the West in 1957, defying the status quo, to win the PMO twice. In the face of blowback from those quivering at Liberal omnipotency Dief opined, "You can't stand up for Canada with a banana for a backbone."
Bruce Dowbiggin @dowbboy is the editor of Not The Public Broadcaster (http://www.notthepublicbroadcaster.com). The best-selling author was nominated for the BBN Business Book award of 2020 for Personal Account with Tony Comper. A two-time winner of the Gemini Award as Canada's top television sports broadcaster, he's also a regular contributor to Sirius XM Canada Talks Ch. 167. His new book with his son Evan Inexact Science: The Six Most Compelling Draft Years In NHL History is now available on http://brucedowbigginbooks.ca/book-personalaccount.aspx