Notre Dame students hoping to raise $40,000 for the Smiles Thru Lindsey Foundation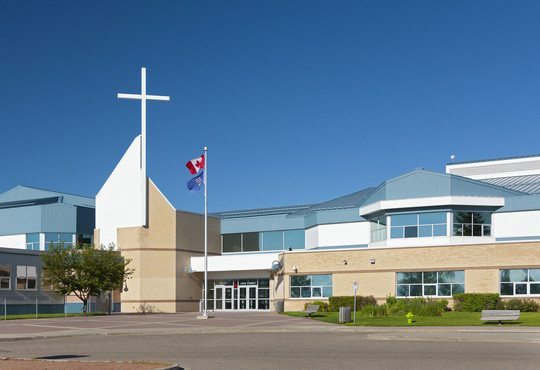 From Red Deer Catholic Regional Schools
This is service project week at École Secondaire Notre Dame High School. Students are hoping to raise $40,000 for their chosen charity, The Smiles Thru Lindsey Foundation. Lindsey is alumni of Notre Dame who graduated 10 years ago and tragically took her life five years ago.
Our hope is to support Lindsey's dream to raise money and much-needed awareness to help break the stigma for children, teens and young adults who are fighting mental health issues.
Each day, teams of six students, a team teacher and team parent worked together to compete in challenges and earn points. Prizes were awarded to the teams that earned the most points and raised the most money.
During this week, students will be involved in a series of challenges to help raise funds that includes:
Monday – Teams had to design a banner cut into eight puzzle pieces.

Tuesday – Team members were given a blank canvas and have until the end of the week to complete an art therapy challenge. These art pieces will be auctioned off at the end of March.

Wednesday- Each team member completes five intentional acts of kindness.

Thursday- Each team creates a public service announcement on mental health support

Friday & Saturday – Annual scavenger hunt virtually this year.
Each year the graduating class from École Secondaire Notre Dame High School chooses a charity to raise funds for through their Grade Service Project. For the past 13 years, students have raised almost $700,000 for student-chosen charities.
"Our service project is a tradition of school pride and giving back. It is a great opportunity to make a difference and learn about a charity that the students choose. This week impacts our students just as much as our community," said Shannon Nivens at École Secondaire Notre Dame High School.
"Mental health awareness has been a central focus at our school for several years. We are honoured to partner and join resources with the Smiles Thru Lindsey Foundation; this partnership will support our theme to keep talking, listening and connecting with students who struggle with mental health issues. Lindsey was a vibrant part of Notre Dame and we are pleased to be able to keep her memory and message alive through this incredible service project," said Principal Rose McQuay at École Secondaire Notre Dame High School.
For more information about the École Secondaire Notre Dame High School grad service project, please visit notredamehigh.ca.
Run/Hike for Red Deer Hospice Takes Place This Sunday at Bower Ponds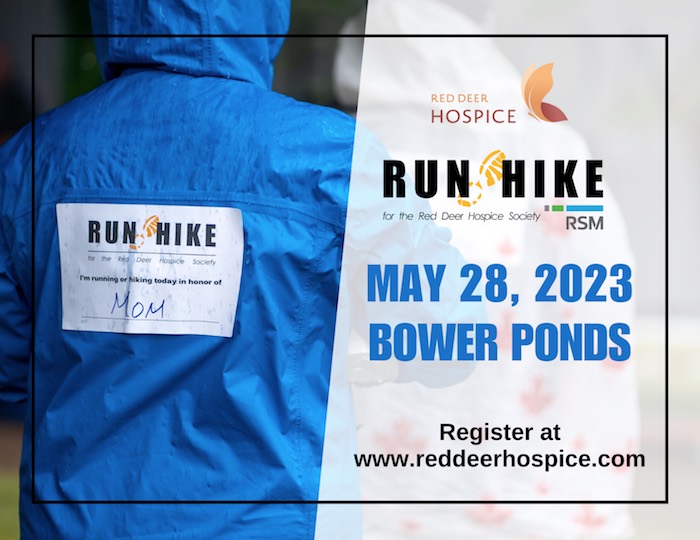 News release from Red Deer Hospice
Red Deer Hospice's 16th Annual Run/Hike event, presented by RSM Red Deer, will take place at Bower Ponds this Sunday.
Registration will open at 9:00am and those wishing to run, walk or stroll the 1km, 3kms or 5 kms will start at 10:00am. A light breakfast and hot, post-race lunch, provided by Mr. Mikes, will be available to participants and live entertainment will be provided by the band Fun House in the amphitheater.
"This will be a day to remember and reflect, while taking in the natural beauty of the trails in and around Bower Ponds," said Jerri Taylor, Executive Director of Red Deer Hospice. "As our main fundraiser for the year, our goal is to raise $38,000." Proceeds and donations will go towards Red Deer Hospice's mission of supporting a peaceful and compassionate end-of-life journey.
Online registration on the Red Deer Hospice website will close at 3:00pm on Friday, May 26, 2023. Those interested in participating in this year's Run/Hike event who have not registered can do so in person on Sunday morning at Bower Ponds.
For more information, visit www.reddeerhospice.com.
Glendale Skatepark now includes on-site mentors from the YMCA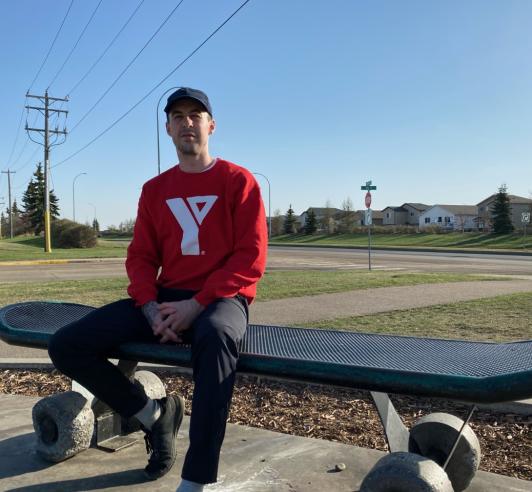 With consistent fair weather and summer right around the corner, skateboarders, BMXers and scooter-riders are excited to return to Red Deer's skateparks. Glendale Skatepark in Red Deer's north side is a popular choice, and has the added benefit of being staffed by Northside Community Centre YMCA's skatepark mentors.
The Y's skatepark mentors are experienced skaters and BMX bikers who want to help make sure the skatepark remains a safe and inclusive space for kids and youth of all skill levels and backgrounds to enjoy. They hang out at the park every day after school and on weekends, offering encouragement, teaching skills and providing water and snacks to anyone who wants it.
"The biggest part [for me] is just creating community engagement and connections," one skatepark mentor explained in a video on the YMCA's social media channels, adding, "engaging with the kids, teaching what you love to do… just being a positive influence on everyone and trying to make this place a better community."
The YMCA Skatepark Mentorship program was piloted in 2021, and after a successful season Border Paving Ltd. stepped up with a generous donation to make it possible for the Y to staff the park all summer long in 2022 and 2023. The Y has since expanded the program, and will have skatepark mentors and youth workers at the Red Deer Skatepark downtown in addition to Glendale, starting in July.
Youth can find YMCA skatepark mentors at the Glendale Skatepark Monday to Friday from 2:30 to 7:30pm, and noon–4pm on Saturdays and Sundays until the end of June. Starting in July, their weekday hours will expand to 12:30 to 8:30pm and they can be found at the Red Deer Skatepark downtown from 10am to 1pm every Tuesday, Wednesday and Thursday.
Visit ymcanab.ca/skatepark to meet Northside Community Centre YMCA's skatepark mentors for 2023 and learn more about youth programs at the Y.