Notre Dame students hoping to raise $40,000 for the Smiles Thru Lindsey Foundation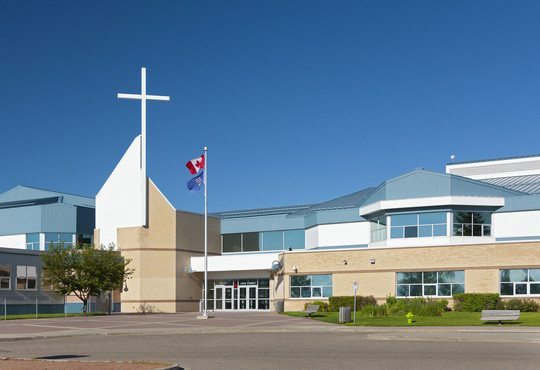 From Red Deer Catholic Regional Schools
This is service project week at École Secondaire Notre Dame High School.  Students are hoping to raise $40,000 for their chosen charity, The Smiles Thru Lindsey Foundation. Lindsey is alumni of Notre Dame who graduated 10 years ago and tragically took her life five years ago. 
Our hope is to support Lindsey's dream to raise money and much-needed awareness to help break the stigma for children, teens and young adults who are fighting mental health issues.
Each day, teams of six students, a team teacher and team parent worked together to compete in challenges and earn points. Prizes were awarded to the teams that earned the most points and raised the most money.
During this week, students will be involved in a series of challenges to help raise funds that includes:
Monday – Teams had to design a banner cut into eight puzzle pieces.

Tuesday – Team members were given a blank canvas and have until the end of the week to complete an art therapy challenge. These art pieces will be auctioned off at the end of March.

Wednesday- Each team member completes five intentional acts of kindness.

Thursday- Each team creates a public service announcement on mental health support

Friday & Saturday – Annual scavenger hunt virtually this year.
Each year the graduating class from École Secondaire Notre Dame High School chooses a charity to raise funds for through their Grade Service Project. For the past 13 years, students have raised almost $700,000 for student-chosen charities.
"Our service project is a tradition of school pride and giving back. It is a great opportunity to make a difference and learn about a charity that the students choose. This week impacts our students just as much as our community," said Shannon Nivens at École Secondaire Notre Dame High School.
"Mental health awareness has been a central focus at our school for several years. We are honoured to partner and join resources with the Smiles Thru Lindsey Foundation; this partnership will support our theme to keep talking, listening and connecting with students who struggle with mental health issues. Lindsey was a vibrant part of Notre Dame and we are pleased to be able to keep her memory and message alive through this incredible service project," said Principal Rose McQuay at École Secondaire Notre Dame High School.
For more information about the École Secondaire Notre Dame High School grad service project, please visit notredamehigh.ca.
Michener North lands selected as location for future multi-use aquatic facility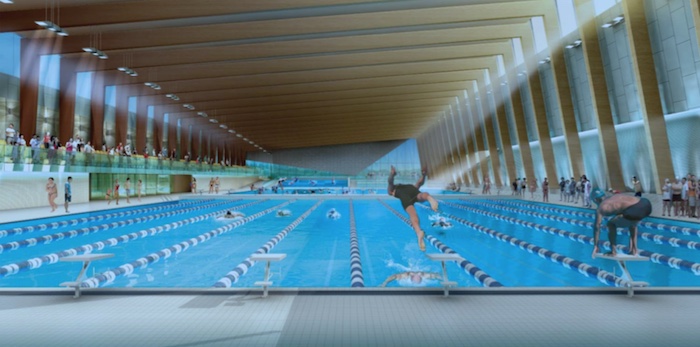 Monday, Red Deer City Council approved Michener North lands as the site for a future multi-use aquatic facility in Red Deer.
"Confirming the location for the future multi-use aquatic centre is an important milestone in bringing the vision for a new aquatics centre to life for our community," said Mayor Tara Veer. "Both Rotary Recreation Park and Michener North lands were viable options for the facility; however, selecting Michener North lands offers us the opportunity to re-imagine a future for this significant piece of Red Deer's history and create a legacy for future generations. Today's decision also signals Council's desire to move forward with this long anticipated project when economic conditions are more favourable in the future, as well as our commitment to re-purpose Michener North for public purposes and park expansion. One of the challenges for funding a new aquatic centre was the many pragmatic financial uncertainties of the project. We have now determined location and scope, which will help us to plan more definitively for funding of future construction."

In December, Council directed administration to consider two possible locations for the multi-use aquatic facility: Michener North lands and Rotary Recreation Park. In addition to an in-depth evaluation of both sites, several factors were considered in selecting Michener North lands:
The City is purchasing the Michener North lands from the Province, with funds approved in the 2021 Capital Budget.
Solidifying this location allows the multi-use aquatic facility to be included in the visioning for Michener North. This visioning will help develop ideas around what this site could for the community and will begin in early 2022.
The multi-use aquatic facility serves as an anchor to this future major park node.
Scoping, design and cost were also determined in December as part of Phase 1 of this project. At this time, the facility includes a 53M x 25M pool with 10 lanes, ranging in depth from 2.5M to 3.8M with diving platforms at the deep end and two 1.5M movable bulkheads. This competition pool is compliant with FINA standards and Swim Alberta recommendations. The facility also includes a 25M x 20.6M pool with eight lanes, ranging in depth from 1.2M to 2.2M to accommodate swim competitions, warm up for aquatic sport competitions, and floor based depths serving local community programming needs. Two hot tubs, steam and sauna amenities, universal change rooms, spectator seating for up to 750 people, storage, sport group dryland training area, and staff supports are accounted for in the design.
The facility construction costs are estimated at $51,600,000, and by selecting Michener, The City is in a better position to quantify the variable site development costs as plans are solidified to place the item in the capital plan.
We now know that Michener North lands will be used for municipal purposes and become a major park node for community use," said Sarah Tittemore, Community Services General Manager. "Major park nodes need indoor facilities to serve the needs of park users, and deciding on the multi-use aquatic facility at this site allows the visioning for the Michener North lands to include this anchor and the community. We look forward to working with the community to enrich the vision through planned future consultation."
Last day to buy tickets – Buy and share to support your hospital!
Today at 11pm it's all over but the winning in the 2021 Red Deer Hospital Lottery.
No extensions will be made.
Buy now – it's your last chance! 
The Grand Prize Dream Home package is valued at $880,619 and includes furnishings from The Brick
and $10,000 Dream Home CASH!
CHECK OUT OUR GREAT TICKET PACKAGES
$25 EACH | 5 FOR $75 | 10 FOR $125 | 25 FOR $250
And remember, your purchase of a Red Deer Hospital Lottery ticket will directly benefit Central Alberta's tiniest patients.  
The Mega Bucks 50 jackpot is the highest ever!
Some ticket packages are still available.
1 for $10   ·   10 for $25
25 for $50   ·   50 for $75
Win half of the current jackpot of: