Notre Dame students hoping to raise $40,000 for the Smiles Thru Lindsey Foundation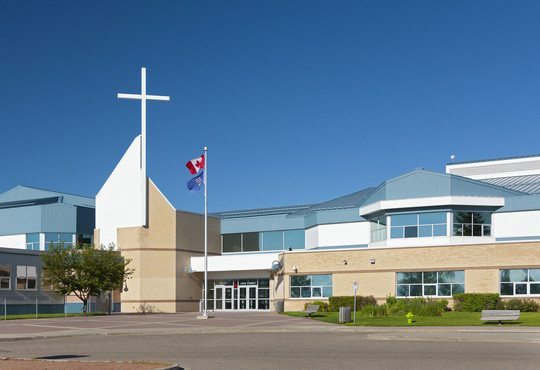 From Red Deer Catholic Regional Schools
This is service project week at École Secondaire Notre Dame High School. Students are hoping to raise $40,000 for their chosen charity, The Smiles Thru Lindsey Foundation. Lindsey is alumni of Notre Dame who graduated 10 years ago and tragically took her life five years ago.
Our hope is to support Lindsey's dream to raise money and much-needed awareness to help break the stigma for children, teens and young adults who are fighting mental health issues.
Each day, teams of six students, a team teacher and team parent worked together to compete in challenges and earn points. Prizes were awarded to the teams that earned the most points and raised the most money.
During this week, students will be involved in a series of challenges to help raise funds that includes:
Monday – Teams had to design a banner cut into eight puzzle pieces.

Tuesday – Team members were given a blank canvas and have until the end of the week to complete an art therapy challenge. These art pieces will be auctioned off at the end of March.

Wednesday- Each team member completes five intentional acts of kindness.

Thursday- Each team creates a public service announcement on mental health support

Friday & Saturday – Annual scavenger hunt virtually this year.
Each year the graduating class from École Secondaire Notre Dame High School chooses a charity to raise funds for through their Grade Service Project. For the past 13 years, students have raised almost $700,000 for student-chosen charities.
"Our service project is a tradition of school pride and giving back. It is a great opportunity to make a difference and learn about a charity that the students choose. This week impacts our students just as much as our community," said Shannon Nivens at École Secondaire Notre Dame High School.
"Mental health awareness has been a central focus at our school for several years. We are honoured to partner and join resources with the Smiles Thru Lindsey Foundation; this partnership will support our theme to keep talking, listening and connecting with students who struggle with mental health issues. Lindsey was a vibrant part of Notre Dame and we are pleased to be able to keep her memory and message alive through this incredible service project," said Principal Rose McQuay at École Secondaire Notre Dame High School.
For more information about the École Secondaire Notre Dame High School grad service project, please visit notredamehigh.ca.
Skills that maintain healthy relationships
Learn ways to improve your relationship skills using the acronym DEARMAN and GIVE, from the DBT therapy perspective, presented by a PCN Mental Health Counselor, Lana.
Interpersonal Effectiveness Skills
Learning to get along with others while also asserting your own needs is essential to healthy relationships. It can be difficult to balance your own needs and the needs of others. How can you get what you need without being aggressive or neglecting of the needs of others? There are three sets of skills you will learn to help achieve this goal: objective effectiveness, relationship effectiveness, and self-respect effectiveness.
Judy's story: I'm on the healthy road!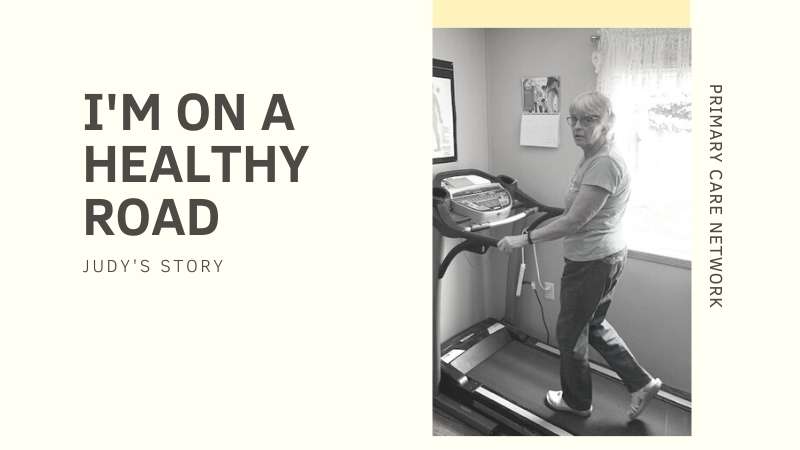 On the Healthy Road!
My journey to better health starting when my doctor told me my blood sugar was at pre-diabetes levels, my blood pressure continued to require medication and I had weight to lose. He sent me to see the RDPCN nurse. After some appointments there, the nurse referred me to the Health Basics program.
Exercise was my downfall. Working from home, I always found something else to do rather than exercise. Health Basics increased my awareness. I tracked what I was eating and became more aware of what I ate, when I ate and why I ate. I also realized things that would make me healthier that I wasn't doing. I realized being healthy is a process and I took one healthy step at a time. I also became aware of the wider variety of options for healthy lifestyle.
My husband and I visited friends over the summer and noted they had lost weight. This stimulated us to pay even more attention to our food intake. As a result of our overall efforts, I have lost about 32 pounds and my husband has lost 37. My blood sugar is now in the normal range. I have had significant decrease in my blood pressure medication. I have more energy. I enjoy exercising more as it is easier to move around and I have less arthritis pain. Health Basics is an excellent class- it started me on the healthy road. I also have much more confidence in my future health.
Click to learn more about the Red Deer Primary Care Network.
Read more success stories from the Primary Care Network.