Notre Dame design studies students offering this incredible raffle prize!
From Red Deer Catholic Regional Schools
Are you interested in supporting École Secondaire Notre Dame High School and winning a tiny home? Get your tickets today! There are only 1520 tickets available.
The school will be raffling off their tiny home (40' x 8.5 x 8') on June 10, 2020. Tickets are $20 each or three for $50. You can purchase your ticket by visiting the school's front office.
You must be 18 years or older to purchase a ticket. The winner is responsible for all foundational, utility hook-ups and legal documentation needs for the destination site prior to August 31, 2020.
This tiny home is designed and constructed by students at École Secondaire Notre Dame High School. The Design Studies, Building Opportunities and Landscape Design classes have been working together for the past two years to design and construct this home.
Working with professionals in the industry, the Design Studies students have been drafting layouts and building models of the tiny (sea-can) house, while learning the requirements of residential construction.
The Building Opportunities students will start on construction in the second semester and continue to receive hands-on training working on the construction of the sea-can house, alongside a ticketed tradesman.
The Landscape Design students are working with professionals in the areas of architecture, skills and project management to create a living roof for the sea-can house.
"The sea-can conversion brings an innovative project-based learning opportunity. It facilitates cross-curricular and inquiry-based learning by encouraging students in the pursuit of design and trade skills," said Janna Vandermeer, teacher at École Secondaire Notre Dame High School.
The money raised from the raffle will be put towards a future tiny home project and $200 will go to this year's grad service project.
The Laft Hus celebrates 35 years in Red Deer
The Laft Hus is a replica of an 18th-century farmhouse in the Numedal district in Norway. It was created through the efforts of volunteers, and it officially opened to the public in 1987.
The museum contains many old artifacts and examples of Norwegian arts and crafts and a small butikk of Norwegian items and the house itself is of note due to its traditional sod roof.
The museum and gift shop are open to visitors every day (except Mondays) from June 1 through to August 31, 9:00 am to 3 pm. For the remainder of the year, the Norwegian Laft Hus is open each Wednesday when a group of ladies meet to work on Norwegian arts and crafts.
This year, the Laft Hus celebrates its 35th year in Red Deer. The annual festival will take place on June 18, 2022 and will have many activities, entertainment, Norwegian food and vendors for the visitors to enjoy. Help us celebrate!
For more information, visit their website.
Children's Fest is back in the park in 2022!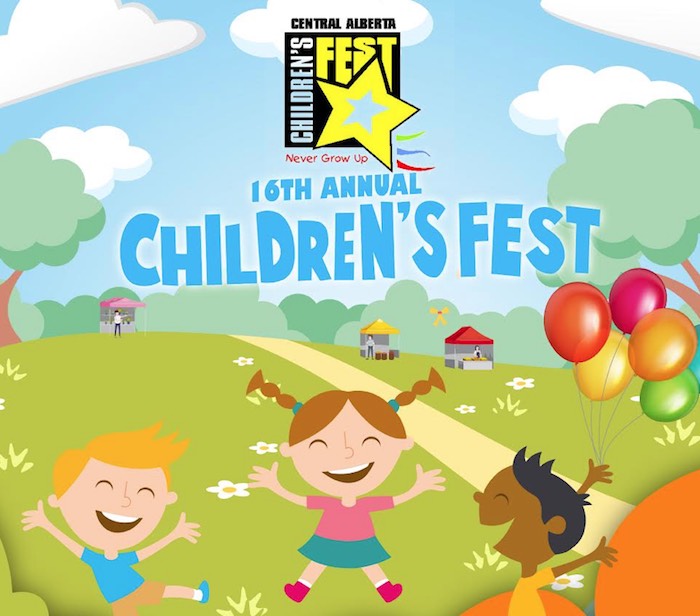 Groups and organizations come together to host the 16th Annual Central Alberta Children's Festival
Never Grow Up!
After 2 years of re-imagined festivals we are excited to be hosting the 16 th Annual Central Alberta Children's Festival back in the park. This family-friendly event is held over two days the first weekend of June. The festival is an opportunity for children and their families to get first-hand knowledge and exposure to the arts, to allow their creativity and imaginations to blossom.
June 3rd and 4th Rotary Recreation Park 4501 47A Ave, Red Deer will come to life with music, dancing, children running and laughing enjoying tons of interactive fun!
The community planning committee has been busy putting together a great two days that will enchant and engage children of all ages. With support from various community partners, the festival brings affordable, culturally diverse, and exciting entertainment through featured artists and interactive fun. We strive to allow families to actively engage in learning and playtime by fostering their imagination and creativity. From dancing, ultimate fort building, Laser Chase, Imaginate where you will learn from local artists, glitter tattoos, and performances this children's festival has it all.
Live shows include:
 Beppie a JUNO nominated recording artist and an award winning music educator based out of Edmonton,
 LANCE CARDINAL ᐊᐧᒐᐢᐠ First Nations artist, designer, and entrepreneur. Lance recently began a new role as Indigenous consultant and designer for the Edmonton Oilers, writing the new pre-game land acknowledgement video and designing the new Turtle Island Logo.
 The Joe Show – Start with a little magic. Add some breathtaking illusions. Stir in appearances from an amazing collection of animal friends with ventriloquism, Sprinkle in a healthy dose of jokes, laughter and fun, and you have the recipe for an amazing show known as the Joe Show
With our admission fee of only $7 per person, or $25 per family or anytime pass $40.00 for a family, every family can enjoy the world-class entertainment and all activities. Included with the admission, families will also have access to free
snacks and water (bring a bottle!), The Central Alberta Children's Festival welcomes kids ages 0 – 99!
For more information on the festival visit www.centralalbertachildrensfestival.ca