Noise complaint leads to assault on police officers in Jasper
August 10, 2019
Jasper RCMP respond to noise complaint; police officers assaulted
Jasper, Alberta – On August 10, 2019 at approximately midnight, Jasper RCMP officers were called to Pine Bungalows for a noise complaint.
On scene, RCMP officers made contact with a 31 year old female from White Rock, British-Columbia. Police checks revealed that she had a warrant for her arrest out of Edmonton so she was taken into custody for same.
The husband of the female then came out of a cabin and interfered with officers as they were taking his wife away. The 29 year old male also from White Rock, British-Columbia was being very disruptive and belligerent which caused multiple guests to come out of their cabins wondering what was the cause of such disturbance. He was arrested for obstructing the enjoyment of a property. During his arrest, the male physically resisted officers and uttered threats against them.
While Jasper RCMP officers were attempting to take the 29 year old male into custody, a friend of his physically interfered with the arresting officers and was arrested for obstructing a police officer. His wife ran up to he scene and assaulted one of the officers. She was placed under arrest but a significant altercation ensued which resulted in police deploying a Conducted Energy Weapon (Taser) on her. While officers were taking her into custody, her handcuffed husband kicked one of the officers who was on the ground.
Additional police officers along with a Parks Canada Law Enforcement Warden were called to the scene and safely took all the involved parties into custody.
This investigation resulted in the following Criminal Code charges:
29 year old male from White Rock, British-Columbia:
– Mischief under $5000
– Resisting arrest
– Uttering threats
– Breach of a recognizance
28 year old male from Edmonton, Alberta:
– Obstructing a police officer
– Assaulting a police officer
28 year old female from Edmonton, Alberta:
– Assaulting a police officer
– Assaulting a police officer
– Resisting arrest
No charges were brought forward against the 31 year old female from White Rock, British-Columbia. She was taken into custody on her arrest warrant.
All suspects are scheduled to appear in Jasper Provincial Court on September 12th, 2019.
As charges have not been sworn yet, no names will be released.
Arrest made and child rescued in cross-border investigation
February 19, 2021
Child rescued in cross-border investigation

Calgary… A 37-year-old Fort St. John man has been arrested by ALERT's Internet Child Exploitation unit for allegedly offending upon his daughter.
Following up on a tip, that was initially submitted to the Internet Child Exploitation (ICE) team based in Calgary, investigators were able to identify a B.C. suspect allegedly uploading child sexual abuse materials online. Further investigation revealed the photos were of the suspect's young daughter.
ICE alleges that the suspect had been distributing the photos to another user online. The suspect was arrested on February 8, 2021.
"Our primary concern was the health and well-being of that child. Once we received that tip, our investigators sprang into action and made an arrest as quickly as possible," said Sgt. Randy Poon, ALERT ICE.
"These types of crimes don't respect borders or boundaries. The cooperation and enforcement between partners needs to be seamless and this file is an example of the efforts underway to detect, deter and investigate child exploitation files," said Cpl. Madonna Saunderson, RCMP B.C. North District.
Law enforcement from across Canada, including ICE, the Calgary Police Service, Fort St. John RCMP, RCMP's National Child Exploitation Coordination Centre, and United States' National Centre for Missing and Exploited Children, collaborated on the investigation.
The suspect's name is not being released in order to protect the identity of the victim. The victim and family members are receiving help from a variety of specialized support services, and children's services is involved.
A number of computer and electronic devices were seized for forensic analysis. ICE's investigation is ongoing.
The 37-year-old man has been charged with:
Making child pornography;
Distributing child pornography;
Possessing child pornography;
Accessing child pornography; and
Several firearms offences.
Anyone with information about this case or any child exploitation situation is asked to contact their local police or to report their concern anonymously at www.cybertip.ca.
ALERT was established and is funded by the Alberta Government and is a compilation of the province's most sophisticated law enforcement resources committed to tackling serious and organized crime.
­
­­
RCMP crack firearms trafficking operation based in Blackfalds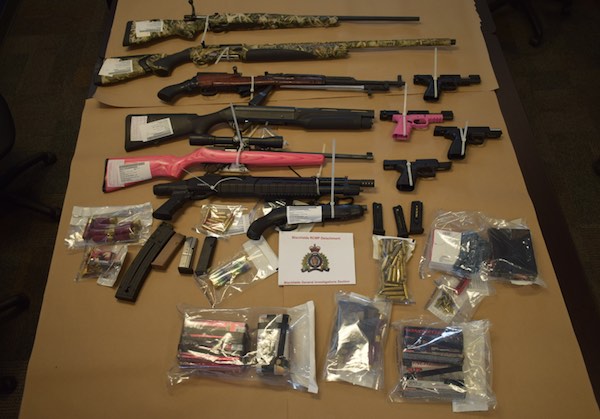 From the Blackfalds RCMP
Blackfalds RCMP – Multi agency attack on firearms trafficking
A comprehensive investigation was initiated in January, and saw at least 11 different partnering detachments, units and agencies collaborating to stop an organized firearms straw buying/trafficking operation.
The investigation was launched by Blackfalds RCMP after receiving intelligence about the possibility of the trafficking.  Extensive evidence had to be gathered which included the engagement of firearms partners; the Chief Firearms Officer, NWEST, Red Deer ALERT and Edmonton Police Service's Firearms Investigation Unit. These units were able to provide expertise related to the dynamics of straw purchasing and trafficking.
Three suspects were identified and targeted in the ongoing investigation.  On Feb. 12, search warrants were conducted at residences in both Red Deer and Blackfalds.  Because there were two different locations, and given the nature of the searches, Blackfalds, Red Deer, Sylvan Lake, Innisfail, Ponoka General Investigation Section Units and Red Deer Crime Reduction Team all provided assistance.  The RCMP Police Dog Services and Emergency Response Team were also on hand to ensure police and public safety.
Three adults were taken into custody. During the execution of the search warrant, a loaded Glock .22 pistol was located with the three adults.  10 firearms and ammunition were seized from the residences.  Some of the firearms were loaded, and had serial numbers tampered with. Continuing investigation led the RCMP to determine other firearms were purchased. The Blackfalds RCMP anticipate seizing two more pistols from a Calgary business.
David Jason Masyk (39), Jason Paul Lafferty (48) and Jennifer Lynn McCagherty (29) were all charged criminally on Feb. 13 related to firearms / firearms trafficking offences.
Lafferty is facing 25 charges, including four counts of firearms possession contrary to prohibition order. Masyk is facing 10 charges, including three counts of Weapons Trafficking and four counts of Weapons possession for the purpose of trafficking and McCagherty is facing 19 charges, including 10 counts of unauthorized possession of a firearm.
Judicial Interim Release hearings were held.  Lafferty did not speak to bail and was remanded into custody until Feb. 17, 2021. Masyk and McCagherty were both released and are set to appear in Red Deer Provincial court on March 17, 2021.