Grizzly Bear Attack, Penhold's Annexation Plans, Red Deer Music
10:26 am – Tokens for the RV sanitary dumping station in Innisfail are now available for purchase at the Tourist Information Centre. They can also be purchased at the Town office and campground. Details Here.
10:06 am – Enjoy some sunshine and live tunes on the Ross Street Patio from 11:30 am – 1:00 pm today! Details Here.
For more local news, click here!
9:52 am – The Town of Penhold is proposing to bring 8 additional quarters of land from the north and east into the municipality's current boundaries, essentially doubling the Town's current footprint. Read More.
8:48 am – Alberta Fish and Wildlife officers are investigating a grizzly bear attack in the Harold Creek area, west of Water Valley on Sunday, July 2nd. Read More.
8:36 am – Ponoka RCMP say they have now located 34 year old Joseph Buffalo and they thank the public for their help in finding him.
For more local news, click here!
8:29 am – Ponoka RCMP thank the public for their help in finding 13 year old James Rain who was previously reported missing.
8:23 am – Heading out on the roads today? Find out where the traffic disruptions will be from the road work taking place throughout the City.
8:14 am – Following a nationwide search lasting more than half a year, Innisfail Town Council has hired a new chief administrative officer. Todd Becker, current CAO for the Town of Rocky Mountain House, was announced as the successful candidate on Friday, June 30th. He'll work his first day in Innisfail on Tuesday, August 8th.
Canadian sprinter Andre De Grasse wins bronze in men's 100 metres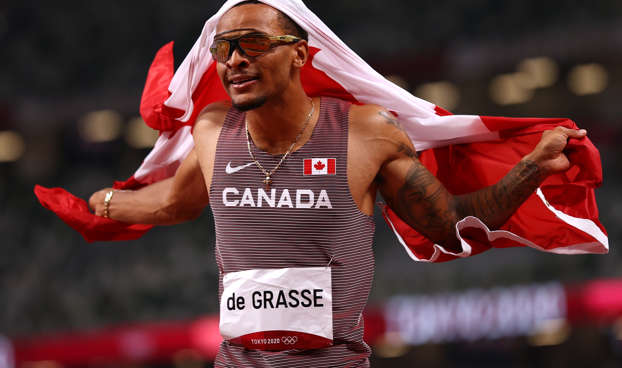 TOKYO — Canada's Andre De Grasse has claimed the bronze medal in the men's 100 metres for the second straight Olympics.
The 26-year-old from Markham, Ont., overcame a rough start and raced to third in a personal-best time of 9.89 seconds.
Italy's Lamont Jacobs took the gold in 9.80 seconds, followed by American Fred Kerley in 9.84 seconds. All three medallists ran personal bests.
It's Canada's first track and field medal at the Tokyo Olympics. It's also the latest piece of hardware in the event for De Grasse, who won bronze in the 100 in both the 2016 Olympics and 2019 world championships.
Two hours earlier, De Grasse ran 9.98 to finish second in his semifinal and seventh overall.
De Grasse is the first Canadian male to climb the medal podium in Tokyo. Led by swimming superstar Penny Oleksiak, women had captured all of Canada's 13 previous medals.
De Grasse will have a day off before he's back on the track for the 200 heats and semifinal on Tuesday. He captured silver in the 200 at both the 2016 Olympics and 2019 world championships.
There was no clear-cut favourite in the men's 100 this year with the retirement of Usain Bolt. The Jamaican superstar and world record-holder (9.58) captured gold and silver in the 100 and 200 in the Beijing, London and Rio, and what the media dubbed his "bromance" with fellow Puma athlete De Grasse was an entertaining storyline in Rio.
American Christian Coleman, the reigning world 100-metre champion and the sprinter considered De Grasse's biggest challenge in Tokyo, is serving a doping suspension through May of next year.
This report by The Canadian Press was first published Aug. 1, 2021.
The Canadian Press
Penny Oleksiak makes history as Canada swims to bronze in medley relay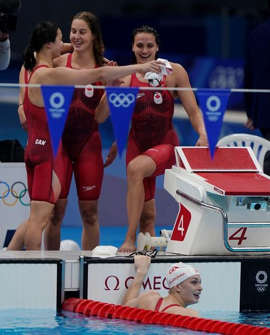 Masse, 25, earned a pair of silver in backstroke. Oleksiak also claimed bronze in the 200-metre freestyle.
The women's swim team amassed six medals in Tokyo to equal its Rio count of five years ago.
Taylor Ruck of Kelowna, B.C., Pickrem, Mac Neil and Toronto's Kayla Sanchez posted the fastest qualification time in Friday's heats to give Canada a middle lane Sunday.
The medley relay medal was Canada's first since 1988 and fourth in the 61-year Olympic history of race. Canadian women were bronze medallists in 1976, 1984 and '88.
Oleksiak won 100-freestyle gold, 100-butterfly silver and anchored Canada to a pair of freestyle relay bronze medals at age 16 in Rio.
Heats, semifinals, finals and relays added up to 10 races over nine days for Oleksiak in Tokyo, where she added a pair of relay medals and the 200 free bronze to her total.
Oleskiak, Mac Neil and Masse claimed their third medals at the Tokyo Aquatic Centre.
This report by The Canadian Press was first published July 31, 2021.
The Canadian Press