Nearly 100 kg suspected cocaine seized at Coutts border crossing
Calgary, Alta. – The Canada Border Services Agency (CBSA) and Royal Canadian Mounted Police (RCMP) announced today a record suspected cocaine seizure and subsequent arrests at the Coutts, Alberta border crossing.
On December 2, CBSA officers at Coutts intercepted a commercial vehicle hauling produce from California that was destined for an Alberta business. While examining the cab of the vehicle, officers found 84 bricks of suspected cocaine with a total weight of 99.5 kilograms. This is the largest suspected cocaine seizure recorded by CBSA officers in Alberta to date.
Two travellers, the driver and a passenger, were arrested and turned over to the RCMP. On December 4, the RCMP charged Gurminder Singh Toor, 31, of California and Kirandeep Kaur Toor, 26, of California on four counts each under the Controlled Drugs and Substances Act. Their next court appearance is scheduled for Friday, December 8, 2017 in Lethbridge Provincial Court.
Quotes
"Had this quantity of illicit narcotics made its way into our communities undetected, the impact could have been devastating. The CBSA is truly Canada's first line of defence, and this record seizure is a prime example of how frontline officers are actively protecting Canadians every day."
Kim R. Scoville, Regional Director General, Prairie Region, CBSA
"The success of this investigation is proof that collaboration and intelligence sharing with our law enforcement partners goes a long way in reducing criminal activity in our communities and keeping Albertans and Canadians safe."
Inspector K.C.A. (Allan) Lai, Operations Officer, RCMP Federal Policing South, Calgary, AB
Quick Facts
· The CBSA is relentlessly focused on keeping illegal narcotics from entering Canada, and works closely with partners such as the RCMP.
· The CBSA and the RCMP work together to prevent illegal drug smuggling that endangers the safety of Canadian communities and generates profits for organized crime.
· Prior to this incident, the largest CBSA cocaine seizure in Alberta was 92.74 kg, also intercepted at Coutts, on October 10, 2016.
· Cocaine is the second-most prevalent street drug in Canada.
Edmonton Police charge 19 year old with trafficking gun used to kill Constables Jordan and Ryan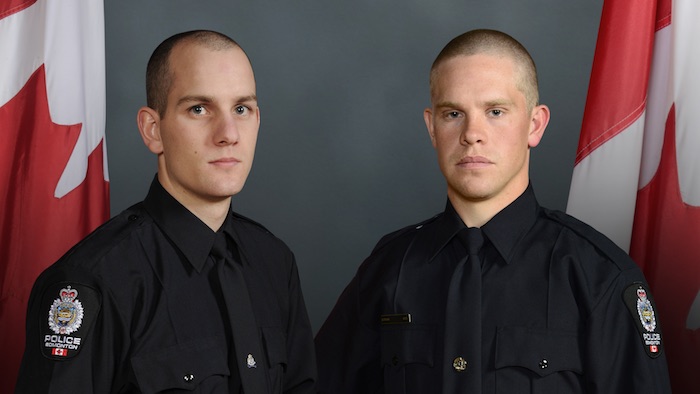 From the Edmonton Police Service
Charges laid in line of duty deaths
The EPS Firearms Investigations Unit (FIU) has completed their investigation into the origins of the firearm used in the Mar. 16, 2023, officer deaths.
Following the shooting deaths of Const. Brett Ryan and Const. Travis Jordan, FIU launched an investigation into the origins of the gun used by the 16-year-old male shooter.
Early in the investigation, detectives determined a bullet cartridge casing recovered from the scene of a Mar. 12, 2023, shooting at a nearby restaurant (133 Street and 114 Avenue) was forensically matched to the firearm that was recovered at the 132 Street and 114 Avenue apartment where both officers were tragically murdered. Investigators have since confirmed that the suspect in both shootings was the same.
Following several months of extensive investigation, FIU determined that Dennis Okeymow, 19, trafficked the firearm used in both shootings directly to the 16-year-old male shooter prior to Mar. 12.
On. Thursday, Nov. 23, 2023, police conducted search warrants on Okeymow's residence, vehicles and cell phone. Okeymow was arrested without incident from the residence and police seized a stolen loaded handgun, ammunition, illegal drugs, $10,000 in cash and other items indicative of drug trafficking.
Okeymow is charged with:
manslaughter (x3) and criminal negligence causing death (x3) in relation to the deaths of Const. Ryan, Const. Jordan and the 16-year-old male shooter
criminal negligence causing bodily harm (x2) in relation to the man injured in the restaurant shooting on Mar. 12 and the youth's mother, who was injured during the Mar. 16 shooting
firearms trafficking
unauthorized possession of a firearm
possession of a restricted firearm with ammunition
·other drug trafficking related charges
"In my 20 years in this career, this is the most complex and tragic file I have worked on," says Staff Sergeant Eric Stewart with the EPS Guns and Gangs Section. "It's heartbreaking that the trafficking of a firearm has led to multiple deaths and life-altering injuries."
"The trauma suffered by the impacted families as a result of this one simple transaction is unthinkable."
FIU would like to thank the RCMP, the Calgary Police Service (CPS) and the Alberta Law Enforcement Response Team (ALERT) and the many dedicated members of the EPS who assisted with this investigation.
Background information
On Sunday, Mar. 12, 2023, at approximately 12:25 a.m., a lone male suspect entered a pizza restaurant in the area of 133 Street and 114 Avenue carrying a firearm. The suspect shot a male employee and then fled the location. EMS attended and transported the injured 55-year-old male to hospital with serious life-threatening injuries.
At approximately 12:47 a.m. on Thursday, Mar. 16, 2023, Const. Travis Jordan and Const. Brett Ryan responded to a family dispute call in an apartment complex near 114 Avenue and 132 Street.
When the two officers arrived, they were met by a 55-year-old female complainant outside of the complex. The two officers then responded to the suite where she resided with her 73-year-old male partner and their 16-year-old son.
Immediately upon arriving at the suite, both constables were shot multiple times by the youth and were immediately incapacitated. The youth then reportedly shot his mother before turning the firearm on himself, taking his own life. The father was not physically injured during the shootings. Neither officer discharged their firearm.
Following 911 calls by multiple reporters, additional police and EMS arrived. One of the injured officers was transported in a police vehicle to hospital, while the other injured officer was taken by ambulance. The female complainant was taken by ambulance to hospital. Soon after arriving at the hospital, both officers were declared deceased.
On Saturday, Mar. 18, 2023, the Office of the Chief Medical Examiner in Edmonton conducted autopsies on both officers. In both cases the cause of death was confirmed to be gunshot wounds with the manner of death being homicide.
On Mar. 22, 2023, the Edmonton Medical Examiner confirmed that the 16-year-old male shooter's cause of death was a single gunshot wound to the head consistent with being self-inflicted.
The 55-year-old man shot in the restaurant on Mar. 12 survived, but suffered life-altering injuries. The youth's mother continues to recover from her injuries.
Trudeau official threatened with contempt for evasive answers over scandal-ridden ArriveCAN app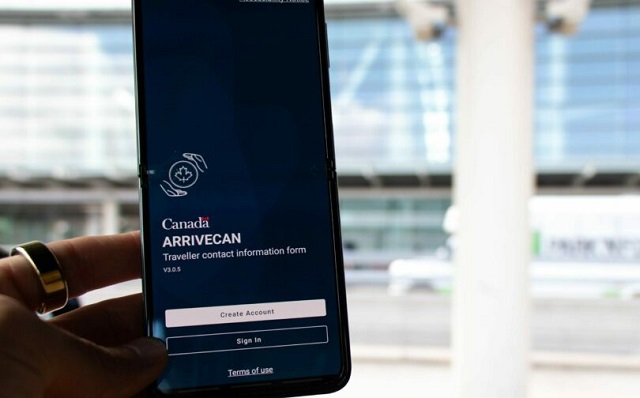 The once-mandatory ArriveCAN app cost taxpayers over $50 million, $8.9 million of which was given to an obscure company called GC Strategies which was operated by a two-man team out of an Ontario home
During a parliamentary investigation into the misuse of funds used to create the federal government's controversial COVID-era ArriveCAN travel app, Canada's chief federal technology officer was threatened with contempt of Parliament charges for refusing to give clear answers to questions from MPs regarding his involvement with the much-maligned app.
On November 14, Minh Doan, Canada's chief federal technology officer, testified before the House of Commons Standing Committee on Government Operations and Estimates (OGGO) regarding his connection with the ArriveCAN travel app. In cross-examination, Doan "struggled to give direct answers to simple questions," said Conservative Party of Canada (CPC) MP Kelly McCauley, who serves as the committee chair.
"Refusal to answer questions or failure to reply may result in a charge of contempt," stressed McCauley, before adding, "This has been repeated to you several times."
The OGGO is investigating how various companies such as Dalian, Coaradix, and GC Strategies received millions in taxpayer dollars to develop the contentious quarantine-tracking ArriveCAN app.
Indeed, recently, LifeSiteNews reported how two tech entrepreneurs testified before the committee that during the development of the ArriveCAN travel app they saw firsthand how federal managers engaged in "extortion," "corruption," and "ghost contracting," all at the expense of taxpayers.
McCauley added that Doan had been asked a lot of "direct questions."
"I normally don't do this but there have been very specific questions and we'd like very specific answers. Taxpayers deserve that. Canadians deserve that. Parliament deserves that," he said.
LifeSiteNews reported earlier this month that the federal government was exposed for hiding a Royal Canadian Mounted Police (RCMP) investigation into the ArriveCAN app from auditors.
Canada Auditor General Karen Hogan announced an investigation of the ArriveCAN app last November after the House of Commons voted 173-149 for a full audit of the controversial app.
The program was once described by a Canadian border agent as "tyranny." It cost taxpayers a whopping $54 million, which MPs pointed out was a suspiciously high expense.
Witnesses named Doan as person who approved contract to GC Strategies
Witnesses have named Doan as the manager who hired GC Strategies, which was awarded an $8.9 million contract without any counter tenders offered. GC Strategies was operated by a two-man team out of a home in Woodlawn, Ontario.
According to evidence relayed to the public by Blacklock's Reporter, GC Strategies was shown to have taken home a commission worth close to 30 percent, or $2.7 million. The company then assigned all the work to subcontractors.
Doan, for his part, justified his dealings with the "relatively small" company by saying "[w]e followed the rules. No rules were broken as far as I'm concerned."
According to an assistant deputy health minister, it was Doan himself who had decided to hire GC Strategies.
He has denied this, however, saying, "I still do not know who picked up the phone and asked them to solicit a bid in the first place."
"I made a technical and strategic decision which led to GC Strategies," he said, adding that, "I am accountable for that decision. I am responsible for that decision."
Doan also gave non-answers to CPC MP Garnett Genuis when asked when he first heard of GC Strategies. According to Doan, he didn't "become aware of the existence of GC Strategies until well into the pandemic."
ArriveCAN was introduced in April 2020 by the Liberal government of Prime Minister Justin Trudeau and made mandatory in November 2020. The app was used by the federal government to track the COVID jab status of those entering the country and enforce quarantines when deemed necessary.
When the app was mandated, all travelers entering Canada had to use it to submit their travel and contact information as well as any COVID vaccination details before crossing the border or boarding a flight.