My First Red Deer Symphony Orchestra
I enjoyed our first-ever Red Deer Symphony Orchestra and celebrated Robbie Burns Day all at once. On a trip to Scotland some years ago, I bought a Mackenzie tartan kilt, sgian-dubh (dirk), socks, sporan, and belt. My wife, Janet, bought a Mackenzie tartan sash and brooch. For this special evening, I rounded out my outfit with a Bonnie Prince Charlie jacket, dress shirt and gillies borrowed from my friend Buck Buchanan.
We were looking about as fine as we possibly could but we didn't shine as brightly as did the members of the RDSO. We were literally blown away by the power and expertise of the more than 40 musicians. Wow! I am not well versed in classical music but the performances were truly memorable.
Guest violinist, Kai Gleusteen, played the entire first half of the program on a violin made in 1781 by J.B. Guadagnini. I had the pleasure of meeting the star performer afterwards and learned the value of this prized violin – over a million dollars. When I asked him if there was a future for budding musicians, he said, "There is always room for young musicians with talent and dedication. What there isn't is audiences. The general public no longer seems to understand or appreciate classical music."
Admittedly, I am one of those people. I've had a bit an education (thank you Noreen Kester, music teacher at Aspen Heights Elementary who played classical music every morning over the intercom prefaced by a short educational script).
Thanks to the quality of the symphony and assisted by Conductor Claude Lapalme's humourous and insightful explanations, I did appreciate and understand more than I thought I would.
Added to the music was the opportunity to see all kinds of Red Deer friends I haven't seen for years. We took advantage of ordering a wee dram in advance so it was waiting for us at the intermission and we maximized our visiting time. Good stuff!
Will we return? Absolutely! We are looking forward to "A Night at the Movies" at the Memorial Centre on March 23. See you there?
Addiction Recovery: City hosting full day information session on "Recovery Oriented Systems of Care"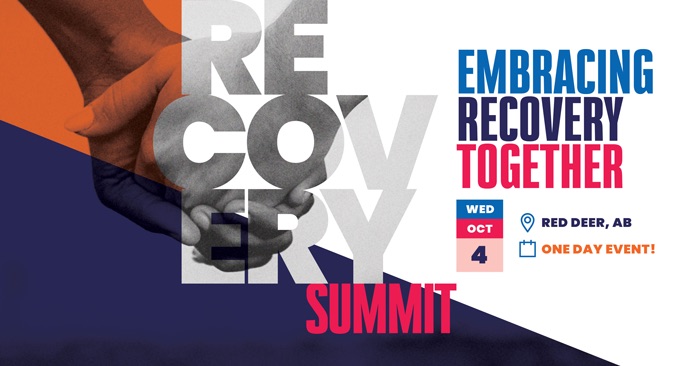 Embracing Recovery Together
Come together in Red Deer for a one-day conference focused on building an understanding of what a Recovery Oriented System of Care is, and what implementation can look like for Red Deer specifically.
Join industry, not-for-profits, government, and interested members of our public to learn, grow, build and start a journey towards recovery.
The word "recovery" can have various meanings in various contexts. For the purposes of an ideal coordinated response, it means helping individuals maintain forward momentum toward better wellness and fulfillment, across all dimensions of their life – physically, mentally, emotionally, spiritually and culturally.
When:
Wednesday, October 4 – 7:30 a.m. until 4 p.m.
Where:
Westerner Park (4847A 19th Street)
Event Details:
7:30 – 8:30 a.m. – Breakfast & Registration
8:30 – 9:15 a.m. – Welcome & Opening Prayer with Mayor Ken Johnston and Elder Lynn Jonasson
9:15 – 10:15 a.m. – Opening Plenary: Let's Get to Work with Alison Jones Webb
10:15 – 10:30 a.m. – Coffee break
10:30 – 11:15 a.m. – Breakout Option #1: What is Recovery, Recovery Capital and Recovery Oriented Systems of Care (ROSC) with Paul W. Sobey, MD
10:30 – 11:15 a.m. – Breakout Option #2: Understanding Trauma and Behaviour with Elicia Miller
11:15 – 11:30 a.m. – Break
11:30 a.m. – 12:15 p.m. – Breakout Option #3: Conversation with Elder Lynn Jonasson
11:30 a.m. – 12:15 p.m. – Breakout Option #4: Panel discussion with Kath Hoffman, Reed Charbonneau, Ben Borger, Samantha Shortneck and Sarah Fleck
12:15 – 1 p.m. – Lunch break
1 – 3:30 p.m. – Afternoon Keynote: "Whole of Society Approach" to Recovery with Dr. Alina Turner
3:30 – 4 p.m. – Closing remarks with the Honourable Dan Williams, Minister of Mental Health and Addiction
More information about the facility, including directions, can be found here: https://westernerpark.ca/
More information about Red Deer, hotels, what to do, and restaurants, please visit Tourism Red Deer
Thank you to the Government of Alberta for providing financial support for this event. For more information about the Provincial Government's approach, please read the report here: Toward an Alberta Model of Wellness
*Note: If the cost of the conference is a barrier to attending, please reach out to [email protected] and we would be happy to work with you to ensure everyone has the opportunity to attend.
Speaker Bios
THE JACKPOT IS OVER $14000 AND THE WINNER WILL TAKE HALF!!!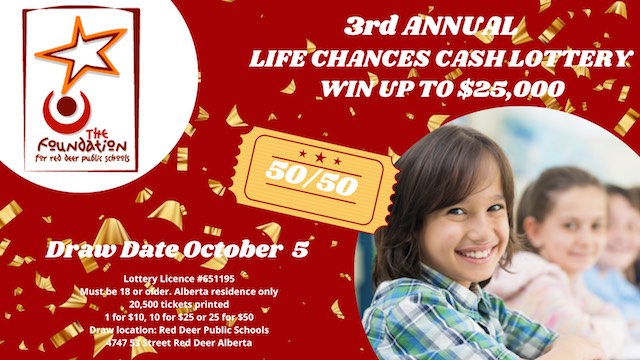 GET YOUR 50/50 TICKETSTODAY!!!! Winner could take home up to $25,000!!!
The Foundation for Red Deer Public Schools supports programs that have a significant impact on the LIFE CHANCES of students across the Division. By purchasing a ticket to support our 50/50 cash lottery you are giving students opportunities to have better life chances.
From giving kids a Bright Start to school to reconnecting with students so they graduate and cross the Finish Line, the Foundation helps students who face challenges in school and makes things better. We motivate struggling students and inspire them to read and write through Reading College. For students who come to school without basic needs, we give them that needed Step Up.
With the support from the Foundations 50/50 Life Chances Raffle, you are providing a student with opportunities that will improve their life. They can't always control the situations they're in but with your help students will continue to have these chances.
Don't miss your chance, CLICK HERE to buy your tickets today – Draw will be held on October 5! Good luck!
NOTE: This raffle is open to all community members in Alberta and over the age of 18.