Minister LaGrange Protected Charter And Home Schools Yet Is Being Targeted For Her Nomination
The performance of a lot of Alberta UCP Cabinet Ministers has left a lot to be desired over the past couple of years, but the one Minister that absolutely does not describe would be Red Deer-North MLA Adriana LaGrange.
LaGrange has been genuinely doing amazing work as Education Minister, helping to reform the public education system, and promoting the growth of the charter and homeschooling systems with more support typically monopolized by the public system.
She has also helped focus classrooms back onto straightforward teaching of mathematics and English in grades K-6, as well as started cutting politics out of the social studies curriculum, which she frequently took note of after being appointed Education Minister in April of 2019.
It is concerning that anybody would think that these were appropriate questions for a Gr. 10 Social Studies test. Alberta has a great story to tell about our responsible energy sector, and educators should not be attacking it. We'll get politics out of the classroom. #abed #ableg pic.twitter.com/GXFMNBxnXO

— Adriana LaGrange (@AdrianaLaGrange) November 28, 2019
After The National Telegraph contacted both Parents For Choice In Education and the Alberta Parents Union both pro-school choice and education reform groups had almost nothing but good things to say about Minster LaGrange.
Frankly, an even bigger endorsement of Minister LaGrange's work is just how much the NDP and left-wing Alberta Teachers Association (ATA) hate her.
Regarding the latter, despite how hostile the ATA has been towards the UCP government and the reforms made to the education system, Minister LaGrange was able to wrangle the ATA into signing a new collective agreement with the province while she simultaneously took away the ATA's arbitrary power to discipline teachers and gave the responsibility back to the province.
This all raises the question of why someone would want to challenge LaGrange for her nomination.
Well, it seems that certain political organizations new to the scene simply want their people in the legislature.
That organization is Take Back Alberta, which originally campaigned to remove Premier Jason Kenney in the leadership review vote has now moved on to trying to take out anyone associated with Kenney's government, or at least anyone who hasn't endorsed their preferred UCP leadership candidate.
Ironically many of the people backing Take Back Alberta are the same political insiders that either helped to install Kenney as UCP leader back in 2017, as well as Erin O'Toole in 2020, and who have contributed to the feeling of alienation within grassroots in conservative politics in Canada.
Take Back Alberta is backing a man named Andrew Clews whose claim to fame is founding an Alberta anti-mandate group called Hold The Line (with only 1,000 followers), and predictably his pitch to UCP members in Red Deer North is that LaGrange is not pro-freedom enough.
In an interview with True North, Clews said:
Even to date, I have not heard (LaGrange) voice any type of support for the rights and freedoms that we once had as Albertans, I'm not impressed with how our government has handled the pandemic, how they have so casually given rights and taken rights away from Albertans…we need to elect leaders to go to the Alberta legislature and stand for freedom.
While most people would agree the UCP government did a poor job standing up for Albertan's civil liberties over the past two years, it would also be wrongheaded to think Minister LaGrange had much to do with it.
Yes, LaGrange did not stand against Kenney in the strong and principled manner that MLA Drew Barnes did, and while what Barnes did was highly commendable and important, LaGrange was not exactly a big supporter of lockdowns and mandates. She mostly just stuck to her ministerial work while Kenney and other members of his cabinet hard-charged on mandates.
Clews himself even tactically admits that LaGrange never publicly supported the lockdowns and mandates by focusing his criticism on the fact she was not publicly against them, not that she was publicly in favour of them.
On the issue of education, Clews basically endorses the job Adriana LaGrange has been doing as Education Minister.
Clews stated that:
We need to reform the funding for our school system so that the funding goes to the child and follows the child as opposed to going automatically into the public school or Catholic school system…
Frankly, unless Andrew Clews believes that LaGrange should be magically reforming the education system overnight, she is doing exactly what he said he wants to be done, but seeing as she is not the premier, she has had to move slower than she would want to.
Part of LaGrange's support for charter schools has been making more funds available to them in order to reflect the increase in the proportion of students attending charter schools.
We need to actually evaluate our elected officials on their overall performance and not nitpick on one specific aspect of their record in order to justify throwing them out of office.
I, (the writer of this article), was strongly against lockdowns and mandates, and the reporting I did here at The National Telegraph contributed significantly to protecting unvaccinated workers, as well as getting Dr. Verna Yiu removed from her position as the CEO of AHS for incompetence in the management of ICU beds.
With that in mind, I don't take much issue with anything LaGrange did or did not say over the last two years. She would be close to the bottom of the list of people I'd hold responsible for the lockdown regime, and on issues regarding education, I'd say her record, for the most part, is unblemished.
Very few politicians could ever be reelected if Adriana LaGrange was someone deemed unworthy of continuing her work in government, but the people behind organizations like Take Back Alberta do not seem to care about any limiting principles. Their goals seem to be more based on political ambition than anything truly connected to the conservative grassroots.
If I was a UCP member in Red Deer North I would be voting to renominate Education Minister Adriana LaGrange.
———
Details on the Red Deer North UCP nomination vote are listed below:
– August 18, 2022
– 11:00am-8:00pm
– The Pines Community Hall
– 141 Pamely Avenue
Concussed: The NFL Needs Its Head Read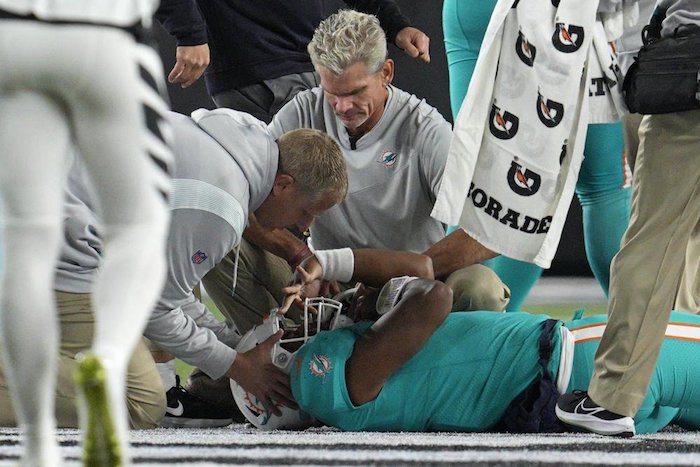 Sign up today for Not The Public Broadcaster newsletters. Hot takes/ cool slants on sports and current affairs. Have the latest columns delivered to your mail box. Tell your friends to join, too. Always provocative, always independent. https://share.hsforms.com/16edbhhC3TTKg6jAaRyP7rActsj5
In 2014 Tipping Point author Malcolm Gladwell commented that, within 25 years, the NFL might become a renegade sport outside the mainstream of culture. "We will go to a middle position where we will disclose the risks and essentially dare people to play …," Gladwell repeated in the recent film United State of Football "That's what the Army does. So we leave the Army for kids who have no other options, for whom the risks are acceptable.
"That's what football is going to become. It's going to become the Army. That's a very, very different situation. That's a ghettoized sport, not a mainstream American sport." Many derided Gladwell at the time, but events this past week have leant credence to his theory.
Perhaps it's the hangover from being lied to about The Science of Covid-19 by the mahatmas of healthcare. But if the NFL medics were hoping the public would give them the benefit of the doubt about their treatment of the gruesome Tua Tagovailoa head injury the past ten days they are sadly mistaken.
For a league that has pounded its chest about its attempts to lessen the danger from head hits, the farce that followed Tagovailoa's injury the past week is a cruel deception. Whatever the facts eventually reveal (the NFL says it's investigating) the PR failure of a system designed to protect employees is irreversible.
Former All Pro and now NBC broadcaster Rodney Harrison summed up the players' reaction to the Tua episode. ""Please take care of yourself. Don't depend on the NFL. Don't depend on anybody. If something's wrong with your head, report it." – @Rodney_Harrison
Tagovailoa exhibited concussion symptoms after hitting his head late in the first half of Miami's Week 3 game against Buffalo. He staggered and weaved before being helped off the field and into the dressing room. He was soon cleared by a team physician and an unaffiliated neurotrauma consultant to return in the second half as Miami beat the favoured Bills. Tagovailoa and the team later said his legs were wobbly because of a back injury.
Dolphins head coach Mike McDaniel said that he was comfortable with his team's processes regarding Tagovailoa's health and clearance to return to play so quickly. "He was evaluated and then cleared by several layers of medical professionals, who – I don't pretend to be one – but those people, the collection of them, cleared him of any head injury whatsoever. He had a back and ankle issue." The team said it was good with sending Tagovailoa to play in Cincinnati. again on Thursday, just four days later.
Bad idea. After the Dophins QB rolled out on a play, 340-pound Bengals defensive tackle Josh Tupou slammed Tagovailoa backward into the turf. In the classic sign of concussion, Tagovailoa's hands froze in an upright position while his fingers splayed awkwardly as he lay still on the ground. After a long delay he was taken away on a stretcher and sent to a local hospital. He was later released from the hospital and flew home with the Dolphins hours later.
The tsunami of outrage from media, fans and players quickly destroyed the NFL's cultivated narrative of a proper protocol. So a scapegoat had to found. Accordingly, the neuro-trauma consultant who let Tagovailoa back into the Bills game in Miami was fired by the NFLPA after it was discovered that the doctor has made 'several mistakes' in his evaluation.
Sure. You go with that. Baltimore head coach John Harbaugh— for one— was not buying., "I couldn't believe what I saw," Harbaugh said about Thursday night's re-injury. "I couldn't believe what I saw last Sunday. It was astonishing to see. I've been coaching for 40 years — college and the NFL — and I've never seen anything like it before."
Players present day and retired chimed in. Chris Long: "Now IF protocol wasn't followed & I'm a coach or executive who greenlit him playing 4 days after a head injury… I have no idea how you're focused on the game… shit is going to get real." Patriots star DB Adrian Phillips: "Dude should not have been playing tonight."
Shannon Sharp: "That's a serious injury . Tua shouldn't have been out there with Sunday Thursday turn around. Sometimes players need protecting from themselves. Dolphins failed Tua"
Ben Watson: "I know what I saw and Tua was concussed last week. The fact that he was able to return to play is everything that's wrong with the game so many of us love. A full investigation is forthcoming. Praying for this young man right now. This is awful to witness."
What even lay people now understand is that one brain injury makes a person more vulnerable to another injury— especially in a short period of time. Meaning the NFL needed to be extra diligent with Tagavailoa. They failed. Now no one can say when— or if— Tagavailoa will return to playing.
While attention is focussed on the NFL's shortcomings it needs to be pointed out that the NHL continues its own nonsense over brain injuries. Knowing what is known now the league still allows fit, powerful players to punch each other in the head over… no one is sure. If Don Cherry were still the measuring stick he'd say it's about honour.
NHL commissioner Gary "The Good Doctor" Bettman somehow can say that the link between punching a man in the head and brain trauma is still unproven. He seems unaware that protecting the NHL's sluggo past may make him popular with his owners, but sponsors and fans are no longer with him.
They are eventually going to follow Gladwell's advice and avoid a lucrative sport that employs only those who have nothing to lose.
Bruce Dowbiggin @dowbboy is the editor of Not The Public Broadcaster (http://www.notthepublicbroadcaster.com). A two-time winner of the Gemini Award as Canada's top television sports broadcaster, he's a regular contributor to Sirius XM Canada Talks Ch. 167. Inexact Science: The Six Most Compelling Draft YearsIn NHL History, , his new book with his son Evan, was voted the eighth best professional hockey book of by bookauthority.org . His 2004 book Money Players was voted seventh best, and is available via http://brucedowbigginbooks.ca/book-personalaccount.aspx
Green On Outside/ Red On Inside: The Great EV Leap Forward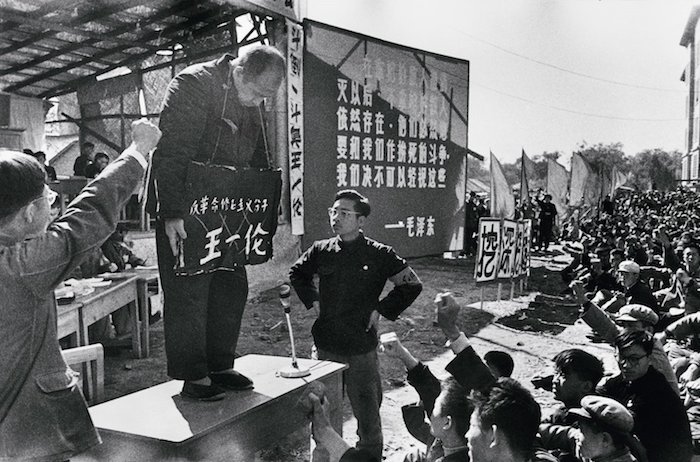 Sign up today for Not The Public Broadcaster newsletters. Hot takes/ cool slants on sports and current affairs. Have the latest columns delivered to your mail box. Tell your friends to join, too. Always provocative, always independent.
"We just did something about climate change for the first time in decades. That's why we have to win this as that hurricane bears down on Florida. We have to win in the midterms."— Minnesota Senator Army Klobuchar
A few years ago here at Usual Suspects we began posting black-and-white pictures of the Red Guard waving Mao's Little Red Book and show trials of capitalist roaders in the mid-60s. It was a jest at the Rob Reiner wing of the Left. The point being that, "Boy, won't these people look dumb in a few years when sanity prevails?"
Take a Great EV Leap Forward to the present day, and the Red Guard photos look less like satire and more like Amy Klobuchar on climate change. Organizations and people once regarded as sane have jumped the tiburon of fashionable narcissism. All the while calling everyone to their right the daughter of Mussolini (Italy's Meloni) follower of Hitler (Hungary's Urban) or a Trump disciple (Canada's Poilievre).
It's been astonishing to watch these liberals and their further-left friends like Reiner and Sarah Silverman still have no idea what happened in 2016. They think Trump led America astray. But #OrangeManBad never had a political philosophy. He just borrowed the issues from his base that mainstream GOP grandees ignored. That gave him the presidency. He followed them, not vice versa.
This seems too much for the Klobuchars to unpack. And so they have gone in search of issues that can be used to punish the 75 million or so who voted for the New York hotelier in 2020. Covid-19 served as a tasty entrée, but now it's a devolved into the disappointing dinner of boosters and bribery.
So the Klobuchar wing has revved up a Climate Change doctrine that promises no resolution for 50 years— but does offer a convenient cudgel with which to pound non-believers today. Proof of their conviction that we are entering a climate blast furnace always lies, in the words of Little Orphan Annie, only a day away.
Witness CNN's true believer Don Lemon's closed-minded haranguing an official from NOAA about Hurricane Ian. It must be climate change!!
NOAA Guy: "I don't think you can link to climate change to any one event …"
LEMON: "Listen, I grew up there. And these storms are intensifying…"
As Lemon shows, the chief media weapon to leveraging climate catastrophe "is surprise… surprise and fear… fear and surprise… Our two weapons are fear and surprise… and ruthless efficiency…. Our three weapons are fear, and surprise, and ruthless efficiency… and an almost fanatical devotion to Climate… ."
Or, as Komrade Klobuchar believes, if we can just drive electric cars the pending hurricane threatening Florida's Gold Coast will turn into a gentle off-shore breeze. There's not a moment to waste. Forget that Hurricane Ian is just South Florida's sixth major storm in the last 57 years versus 16 in the previous 50 years before that. Klobuchar knows best.
So the greens in government have harnessed the population to aggressive agendas. "The European Union is set to cut greenhouse-gas emissions by at least 55% by 2030, and the Biden administration promises to "achieve a 50-52 percent reduction from 2005 levels in economy-wide net greenhouse gas pollution in 2030."
In Canada, our plucky prime minister is not to be outdone. Canada's target is to cut emissions by 2030 to no more than 60 per cent of what they were in 2005. No more fossil-fuelled cars by 2035.
Of course the whole thing is a boat that won't float. Germany's green revolution is in tatters courtesy of Vladimir Putin and renewables that don't renew. Some have noticed. Louisiana congressman Clay Higgins summed up the fantasy fuel agenda when he quizzed Green zealot Raya Salter in a hearing.
"Everything you have, your clothes, your glasses, the car you got here on, your phone, the table you're sitting at, the chair, the carpet under your feet — everything you've got is petrochemical products. What would you do with that? Tell the world."
"If I had that power in the world — actually I don't need that power," Salter responded. "Because what I would do is ask you sir, from Louisiana, to search, to search… search your heart and ask your God what you are doing to the Black and poor people in Louisiana."
Higgins was then pummelled by professional scold Alexandra Occasio Cortez for embarrassing Salter. "Men who treat women like that in public, I fear how they treat them in private." How petro products might be replaced was never answered. That matters little to the Klobuchar Clan. If only we go faster then momentum will carry them over the threshold to a new age.
Which brings us back to why today's zealots want to imitate the China of the Red Guard. When Mao grew impatient with China's inability to become the world's leader in steel production in the late 1950s he mobilized The Great Leap Forward. China's resources would be totally diverted to making steel— even in the back yards of peasants.
The outcome? Writes Helen Raleigh in @WSJ: "The combination of lies, failed experiments, absence of labor and violent requisition practices led to famine. From 1959 through 1961, an estimated 30 million to 40 million Chinese people died from hunger." Mao then purged the leadership that had failed his pipe dream. More millions died. China retreated from the world.
It's worth noting that during those tragic times future Canadian PM Pierre Trudeau wandered China with his friend Jacques Hébert. He was given rare access in exchange for Potemkin approvals of Mao's genius. "The experience of that superb strategist Mao Tse-Tung," gushed Trudeau Sr. "might lead us to conclude that in a vast and heterogeneous country, the possibility of establishing socialist strongholds in certain regions is the very best thing."
Needless to say, the Trudeau apple hasn't fallen far from the tree on China or orchestrated disaster. Green power has no bigger booster than Justin. "One of the essential lessons from China's Great Leap Forward is that catastrophic failures inevitably follow from politicians' insistence on ignoring reason, logic, truth and economics," writes Raleigh. "Europe's current energy crisis, California's continuing power outages and Sri Lanka's food shortages are all warning signs."
Signs that Justin and Klobuchar have dismissed as conspiracies of right-wing nut cases.
Bruce Dowbiggin @dowbboy is the editor of Not The Public Broadcaster (http://www.notthepublicbroadcaster.com). A two-time winner of the Gemini Award as Canada's top television sports broadcaster, he's a regular contributor to Sirius XM Canada Talks Ch. 167. Inexact Science: The Six Most Compelling Draft YearsIn NHL History, , his new book with his son Evan, was voted the eighth best professional hockey book of by bookauthority.org . His 2004 book Money Players was voted seventh best, and is available via http://brucedowbigginbooks.ca/book-personalaccount.aspx