Looking for an event this May Long? Here are a few that might interest you.
Red Deer Polytechnic alum expresses creativity through downtown mural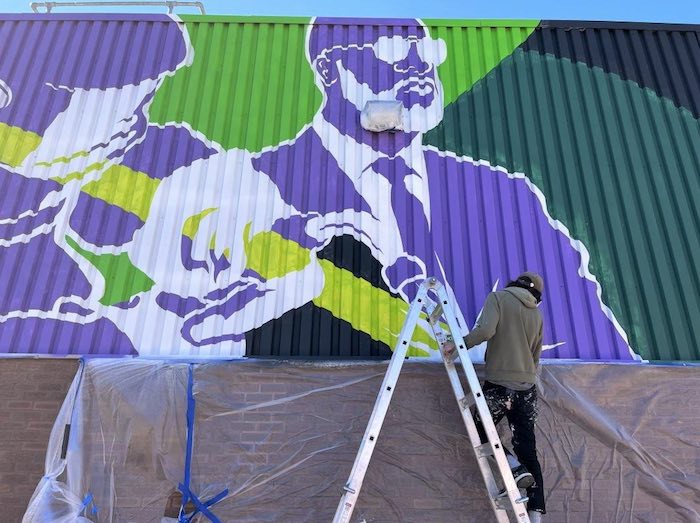 Art on Welikoklad Event Centre's exterior wall celebrates institution's brand and history
An exterior wall of Red Deer Polytechnic's Welikoklad Event Centre is undergoing a creative refresh with a mural painted by talented alum Kat Simmers.
"The blank canvas of the long, exposed wall of the Welikoklad Event Centre is a fantastic medium for communicating what Red Deer Polytechnic is all about," says Dr. Jonathon Penny, Dean of Arts and Culture. "Dr. Alison Jeppesen and others, who imagined this use and garnered support for it, determined to hire an alum in order to capture the spirit of RDP, and we are fortunate to have Kat work on the project. Their vision represents RDP's history and its spectrum of program offerings beautifully."
Simmers, a former Red Deer Polytechnic Visual Art student, began painting the mural in early September, highlighting a variety of programs and learners at the Polytechnic.
"With Flying Colours depicts a diverse body of students engaged in their respective crafts. It was an interesting challenge to create a work representing the experiences of so many people – students past, present and future," says Simmers. "I wanted to pay respect to the value of athletics as well as the diverse mix of creative arts learning and trades programming that students experience at the Polytechnic."
The mural features students, a health care professional, several skilled trades workers, a member of the Indigenous community, and athletes playing hockey and volleyball.
"I thought of the welder as an artist crafting a sculpture as much as a tradesperson earning a wage. I made my way through six years of art school by working various labour jobs," adds Simmers. "It was the creativity and passion for learning I developed at RDP that led to success in those environments as well. I wanted to capture the spark of innovation and joyful work environment that I experienced at the Polytechnic."
The education and training Simmers received at Red Deer Polytechnic helped with the creation of the mural and set the groundwork for future artistic endeavors.
"At the Polytechnic, I spent a lot of time working with colour and figurative painting. As my education continued into design, that sense of light and life stayed a core part of the worlds I like to create. RDP's Visual Art program is incredibly inspiring and supportive," says Simmers. "Having 24-hour access to gorgeous studios created a wonderful sense of community and fostered some amazing friendships I still cherish to this day. The years I spent at the institution also laid the foundation for future learning."
As Simmers plans to complete the mural in late September, their brother Derek, who is also an alum of Red Deer Polytechnic, will assist with the finishing touches during the final week.
"Red Deer Polytechnic's alumni are incredibly talented and are leaders in their communities and professions, as demonstrated by Kat and Derek," says Richard Longtin, Vice President, External Relations. "With over 80,000 alumni, we are extremely proud of their impact and contributions to the intellectual, economic, cultural and social development of the region, province, and beyond."
As the mural creatively represents the Red Deer Polytechnic brand, including the many benefits of a polytechnic model, it will also connect the institution to the community.
"The artwork complements the city of Red Deer's commitment to revitalize the downtown core with murals, creating welcoming spaces and signaling Red Deer Polytechnic's connection to the community in vibrant and creative ways," says Stuart Cullum, President of Red Deer Polytechnic. "I am extremely proud of the Polytechnic's presence in the heart of Red Deer, which increases the ability to collaborate with community members and business partners in the area."
Simmers hopes the mural will provide inspiration.
"This work is to remind people to take joy in their craft, to care for their community and to share the fruits of their labour," says Simmers. "I'm grateful for the opportunity to build on my experience at RDP and it's exciting to be able to return those gifts in some way."
More information about Red Deer Polytechnic's Creative Arts programming is available online.
Graffiti artist completes world's tallest mural in downtown Calgary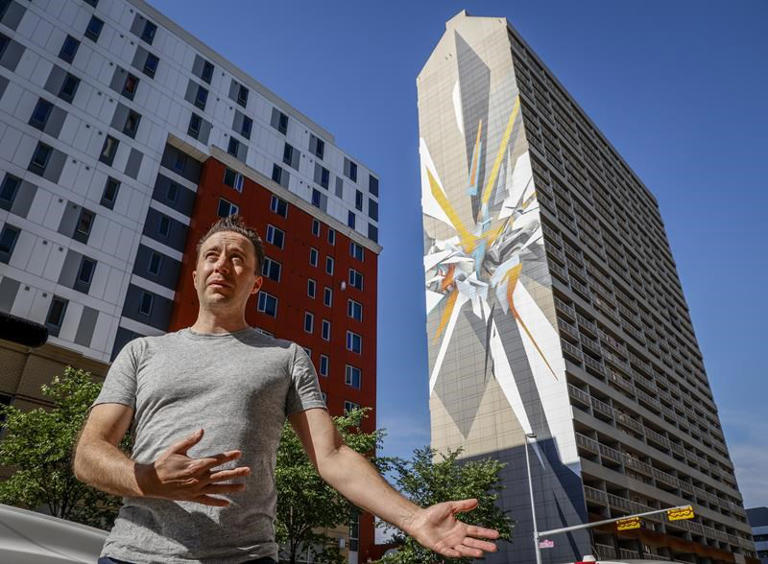 CALGARY — It looms on the edge of downtown a stone's throw from the Calgary Tower, a splash of colour amid aging buildings, railway tracks, parkades and a steady stream of traffic.
It's billed as the world's tallest mural, painted by one of the globe's top graffiti artists, and is part of a project to turn an austere area of downtown into an expansive open-air urban art gallery.
"The brutalism and dystopian look of this area with the giant parkades and the spiral ramps and stuff — it feels like Gotham. So turning this wall from concrete nothing to this is really fun," said Peter Oliver, president of the Beltline Urban Murals Project, or BUMP.
The mural is an abstract painting in various shades of orange, black, grey, blue, white and yellow and is the creation of DAIM, an internationally renowned German artist. DAIM, whose real name is Mirko Reisser, has been creating public artworks for more than 30 years.
"DAIM's work is rooted in graffiti art. It's abstract and he was actually the very first graffiti artist to start exploring three-dimensional works. So his work kind of obeys the laws of light and shadow but defies the laws of gravity," Oliver said.
"I think his work really marries well with the brutalism of this building and it's just a massive flat wall of concrete. It's the very first prefabricated concrete building in Calgary, built in 1980."
The mural is 95 metres high, making it the tallest mural in the world "by a long shot," said Oliver.
He said most cities don't have giant concrete walls available, with the majority being glass, steel or aluminum. So this was a perfect marriage.
DAIM, who was assisted by three local artists, spent over three weeks painting and went through more than 500 cans of spray paint after a base coat was added to the bare concrete. It is to be a permanent addition to the area and, as of last week, was awaiting a coat of UV sealant to make it complete.
Facing toward the east, it can be seen from a long way away.
"If you've got the window seat on the airplane, you can see it on the approach into the airport," Oliver said.
"I think what we're really doing with BUMP is re-architecting the identity of this city."
The project will be unveiling about 60 new murals during its annual festival, which runs from Aug. 1 to 28. Before that, the new art work can be viewed by visitors at the annual Calgary Stampede, which begins this week.
"If you're coming down, I'd check this out over the parade any day," Oliver said with a chuckle.
This report by The Canadian Press was first published July 4, 2022.
Bill Graveland, The Canadian Press