Learning at home? Here's a list of links to take you on a "Virtual Field Trip"
Here's an interesting list of Virtual Field Trips posted by a teacher from Ohio.
San Diego Zoo

The San Diego Zoo has a website just for kids with amazing videos, activities, and games. Enjoy the tour!

Yellowstone National Park Virtual Field Trip

Mud Volcano, Mammoth Hot Springs, and so much more.

MARS!!!

Explore the surface of Mars on the Curiosity Rover.

They are updating from WEBVR to WEBXR now, but 360 Mode offers a digital view!

Animal Cameras

Live Cams at the San Diego Zoo

Virtual Farm

Tour

This Canadian site FarmFood 360 offers

11 Virtual Tours of farms from minks, pigs, and cows, to apples and eggs.

U.S. Space and Rocket Museum in Huntsville, AL

See the Saturn 5 Rocket on YouTube and more on this tour thanks to a real father/son outing.

Discovery Education Virtual Field Trips

A few of the field trip topics include

The Louvre

Travel to Paris, France to see amazing works of art at The Louvre with this virtual field trip.

The Great Wall of China

This Virtual Tour of the Great Wall of China is beautiful and makes history come to life.

Boston Children's Museum

Walk through the Boston Children's Museum thanks to Google Maps!

This virtual tour allows kids to explore 3 floors of fun.
Have fun learning at home!
-Mrs. Fahrney
National awards for two teachers from Glendale Sciences and Technology School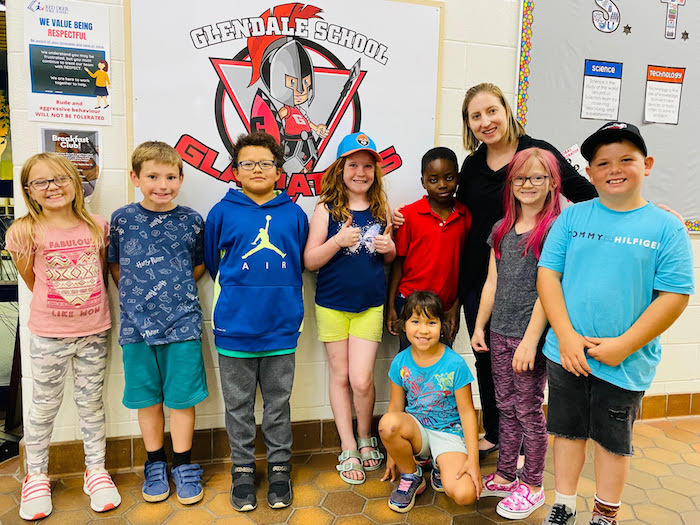 Two teachers at Glendale Sciences and Technology School have been recognized at a national level for their excellence in teaching.
Ashton Lutz, Learning Facilitator, is one of 10 teachers across Canada to be awarded the 2022 Prime Minister's Award for Teaching Excellence, while Amy Mathison, Grade 7/8 Math Teacher, is one of 25 teachers across Canada to be awarded the 2022 Certificate of Achievement for Teaching Excellence.
Both teachers were nominated by the school's Principal Sandre Bevan, and Vice Principal Jeff Plackner.
"I feel very honoured and very grateful that I was nominated and selected for this award and that there is a belief in me by the people around me," said Ashton, after learning she was a recipient. "I have a lot of gratitude and appreciation."
In her new role as a Learning Facilitator, Ashton makes the connection between the Grade 2 curriculum and the daily lives of her students in order to fully engage each and every one of them. "What I really love about my role is that I get to connect with so many people and make a difference in so many lives," she said. "When you come to school and a student has a great day, then you have a great day. I get to be a person in a child's life that gets to make a true difference for them. It's really rewarding."
Amy added she also feels honoured to be recognized.

"I was not expecting this to happen. I was honoured to be nominated out of the many teachers in our Division, and then to receive the recognition feels amazing," she said. "My parents are both teachers, so they were really proud."
Both Ashton and Amy added they enjoy teaching at a school with a focus on Science, Technology, Engineering and Math (STEM).
"The role of science and technology is really important to engage learners and it's really important that kids have that hands-on experience," said Ashton. "With technology, I am able to pace instruction based on each student's needs. For example, if a student is having trouble with a concept, they can get remediation at the same time that other students can move onto higher concepts."
"The biggest thing about STEM learning is how engaged students are," added Amy. "They are getting deeper learning with STEM. They get to do 3D printing and laser cutting – which are some pretty unique learning opportunities, and we have so much fun with it."
Ashton's interest in becoming a teacher stemmed from her time teaching swimming lessons. "I was taking college courses that didn't allow me to teach swimming anymore and I really missed it," she said. "I graduated with my combined Bachelor of Education and History degree from the University of Lethbridge in 2015 and moved to Red Deer, and I have been teaching elementary school ever since."
For Amy, growing up in a household where both parents were teachers was inspiring. "At the dinner table they would always talk about teaching, and I started coaching sports when I was 16 and I loved it," she said. "I went to school at the University of Lethbridge where I made the swim team and I was working on my degree in Kinesiology. A couple of years in, I applied to the Education program and got accepted. I completed a combined degree in Kinesiology and Education, and moved to Red Deer afterwards."
Amy, who is in her ninth year of teaching, said she loves teaching in middle school. "I love the age of middle school kids – they are fun to teach, independent, and I appreciate their sense of humour," she said. "I also love teaching at Glendale. We have some really great, supportive, and knowledgeable staff members. I enjoy the subjects and courses that I teach, as well as coaching volleyball here."
Meanwhile, Ashton will fly to Ottawa next week to present with the other Teaching in Excellence Award recipients from across the country. "The presentation I have chosen is called Meeting Kids Where They Are At," she said. "I have a true belief that everyone gets a seat at the table and it's important that we meet their needs so they can be successful at school. So I'm going to be talking about what I feel my best practices are regarding that."
Sandre added Glendale Sciences and Technology School is incredibly fortunate to have two phenomenal teachers.
"Our students, their parents, and our staff all benefit greatly from their respective efforts," she said. "Ashton works hard to set students up for success in all aspects of their schooling. She has incredible insight about her students and works tirelessly to meet each of their individual needs. And Amy's students truly believe that they can be successful in math, which is no easy task when a lot of people think that you are either good with numbers or you aren't. We are so incredibly proud of them both."
"The Board congratulates both Ashton and Amy on their national recognition," said Board Chair Nicole Buchanan. "It is an honour for Red Deer Public to have dedicated and passionate teachers who go above and beyond every day for our students, ensuring there is excellence in teaching and learning in our classrooms."
Ashton Lutz: Leadership in new learning
Certificate of Excellence Recipient
Glendale Sciences and Technology School
Grade 2, Language Arts, Math, Social Studies, Science, Art, P.E.
Amy Mathison: Leaving no child behind
Certificate of Achievement Recipient
Glendale Sciences and Technology School
Grade 7, Mathematics, Physical Education and Foods
Diploma exams set to 20% for 2022-23 school year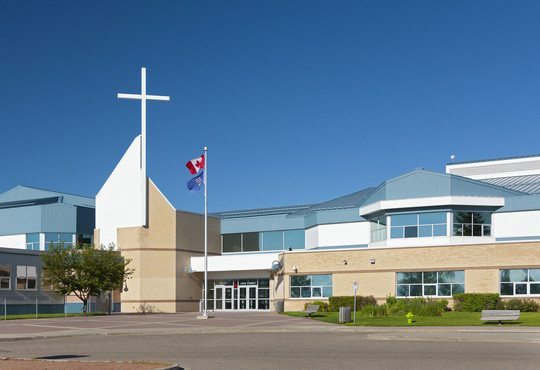 As students continue to address pandemic-related learning challenges, diploma exam weighting will be reduced to 20 per cent this school year.
Over the course of the pandemic, the government has responded to feedback from education system partners and made adjustments to the administration of diploma exams as required.
In response to feedback from students, parents and education partners about learning loss and well-being issues as a result of the pandemic, the government is taking a measured approach in transitioning the weighting of diploma exams over time. The weighting will return to 30 per cent in the 2023-24 school year.
"Since June of this year, I have met with over 40 public, separate and francophone school authorities and many other stakeholders and listened to their perspectives. Changing the weight of diploma exams will reduce the burden on students while still giving them valuable exam writing experience. We're making this temporary change to place less of a burden on students and improve their mental health."
Diploma exams are key to maintaining fairness and high standards for all students, no matter where they learn in Alberta. However, the government also recognizes the unprecedented challenges students faced in the 2020-21 and 2021-22 school years.
While Alberta's government previously announced new literacy and numeracy assessments to support students in grades 1-3 who are struggling, the government also recognizes that senior high students are facing post-pandemic challenges, and the change in diploma exam weighting will benefit those students directly.
This decision also reflects the learnings from the Child and Youth Well-Being Panel Report and the recent findings in an Alberta School Councils Association survey of parents, which both recognized the learning loss students have experienced.
"The CASS board of directors supports the ministry's transitional approach to returning diploma exam weighting to pre-pandemic levels. This decision is reflective of a recommendation an ad hoc committee of CASS made during the pandemic and takes a balanced approach between a return to normal and meeting the social and emotional needs of students."
"The pandemic impacted all students and their learning in many complex ways, requiring a variety of additional supports to ensure their success. The minister's acknowledgement of this, and the desire to reduce the mental health burden on students required to write diploma exams this year, is also important to their success. The Alberta School Councils' Association (ASCA) appreciates the recognition that a transitional return to traditional diploma exam weighting will help to improve students' mental health while giving them valuable exam writing experience."
"ASBA is pleased that the government has reviewed high school diploma exam weighting as boards continue to focus on addressing student learning and mental health challenges. This will assist in relieving additional pressures while boards prioritize success of all students."
Quick facts
Diploma exams are normally administered in November, January, April, June and August.
In 2015, the government reduced diploma exam weighting from 50 to 30 per cent, giving greater value to course work through the year and each teacher's ability to assess a broad range of student knowledge and skills.
In spring 2020, diploma exams were cancelled in April and June because students were learning from home for the last few months of the school year. They were successfully administered in August of that year.
During the 2020-21 school year, all diploma exams were optional.
For the 2021-22 school year, the government cancelled January diploma exams, and all remaining diploma exams for the year were weighted at 10 per cent.
Alberta Education works with experienced teachers to develop diploma exams. The government publishes various resources, including previous diploma exam questions and guides, for students. These resources are available on alberta.ca.