Last Day Of School, High School Grads, Lacombe Afghan Monument
9:00 am – The outdoor tennis courts in Red Deer's Rotary Recreation Park are expected to re-open Saturday, July 1st after resurfacing work this spring. Read More.
8:35 am – After receiving tips from the public, charges have been laid against 23 year old Jared McLeod of Red Deer in relation to an April 23rd vehicle theft at the Best Western Hotel in Rimbey. Read More.
8:21 am – It's a special day in the City of Lacombe today. Dignitaries such as Lacombe MP Blaine Calkins, MLA for Lacombe-Ponoka Ron Orr and Mayor Steve Christie will celebrate the arrival of the LAVIII Monument. It's part of the Lacombe Afghanistan Memorial Project. The event takes place at 1:00 pm at the Lacombe Legion Hall at 5138 49th Street.
For more local news, click here!
8:11 am – Today is the official last day of classes for thousands of Red Deer Catholic Regional School students. However, Graduation ceremonies will take place on Friday, June 30th for students of Ecole Secondaire Notre Dame High School in Red Deer and St. Dominic Catholic High School in Rocky Mountain House. Notre Dame's Grad will be at the Enmax Centrium starting at 10:00 am, while St. Dominic's Grad will be at the Lou Soppit Community Centre in Rocky starting at 5:00 pm.
7:58 am – Students at Red Deer's Gateway Christian School will be celebrating their graduation with family and friends today. Grad ceremonies take place at the First Christian Reformed Church starting at 4:30 pm.
7:53 am – Today marks the last day of school for over ten thousand Red Deer Public School students. This means there will also be an early dismissal this afternoon and report cards will be sent home.
Canadian sprinter Andre De Grasse wins bronze in men's 100 metres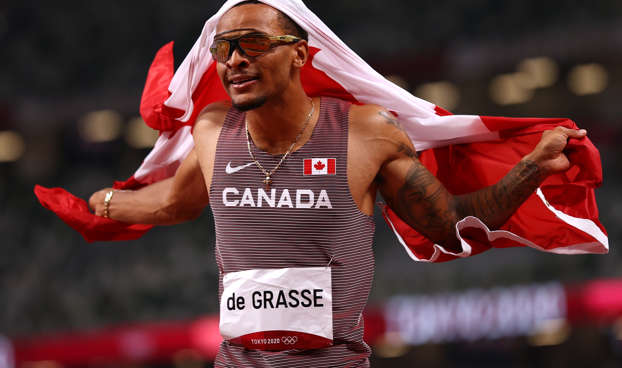 TOKYO — Canada's Andre De Grasse has claimed the bronze medal in the men's 100 metres for the second straight Olympics.
The 26-year-old from Markham, Ont., overcame a rough start and raced to third in a personal-best time of 9.89 seconds.
Italy's Lamont Jacobs took the gold in 9.80 seconds, followed by American Fred Kerley in 9.84 seconds. All three medallists ran personal bests.
It's Canada's first track and field medal at the Tokyo Olympics. It's also the latest piece of hardware in the event for De Grasse, who won bronze in the 100 in both the 2016 Olympics and 2019 world championships.
Two hours earlier, De Grasse ran 9.98 to finish second in his semifinal and seventh overall.
De Grasse is the first Canadian male to climb the medal podium in Tokyo. Led by swimming superstar Penny Oleksiak, women had captured all of Canada's 13 previous medals.
De Grasse will have a day off before he's back on the track for the 200 heats and semifinal on Tuesday. He captured silver in the 200 at both the 2016 Olympics and 2019 world championships.
There was no clear-cut favourite in the men's 100 this year with the retirement of Usain Bolt. The Jamaican superstar and world record-holder (9.58) captured gold and silver in the 100 and 200 in the Beijing, London and Rio, and what the media dubbed his "bromance" with fellow Puma athlete De Grasse was an entertaining storyline in Rio.
American Christian Coleman, the reigning world 100-metre champion and the sprinter considered De Grasse's biggest challenge in Tokyo, is serving a doping suspension through May of next year.
This report by The Canadian Press was first published Aug. 1, 2021.
The Canadian Press
Penny Oleksiak makes history as Canada swims to bronze in medley relay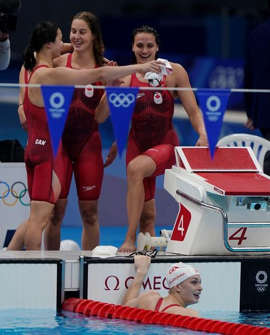 Masse, 25, earned a pair of silver in backstroke. Oleksiak also claimed bronze in the 200-metre freestyle.
The women's swim team amassed six medals in Tokyo to equal its Rio count of five years ago.
Taylor Ruck of Kelowna, B.C., Pickrem, Mac Neil and Toronto's Kayla Sanchez posted the fastest qualification time in Friday's heats to give Canada a middle lane Sunday.
The medley relay medal was Canada's first since 1988 and fourth in the 61-year Olympic history of race. Canadian women were bronze medallists in 1976, 1984 and '88.
Oleksiak won 100-freestyle gold, 100-butterfly silver and anchored Canada to a pair of freestyle relay bronze medals at age 16 in Rio.
Heats, semifinals, finals and relays added up to 10 races over nine days for Oleksiak in Tokyo, where she added a pair of relay medals and the 200 free bronze to her total.
Oleskiak, Mac Neil and Masse claimed their third medals at the Tokyo Aquatic Centre.
This report by The Canadian Press was first published July 31, 2021.
The Canadian Press