Larry Reese and Judy Sutter among five Central Alberta artists featured in OUR West Country exhibition at MAG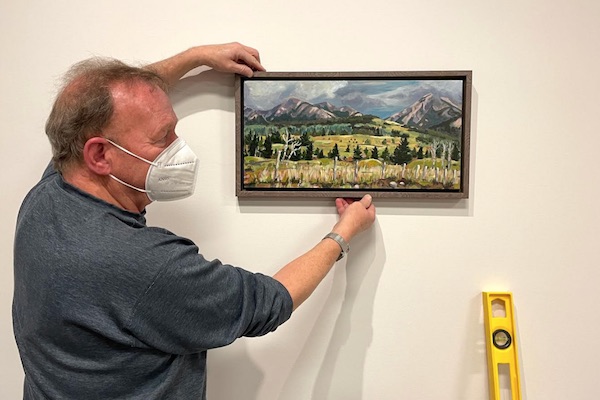 News Release from Red Deer Museum & Art Gallery (MAG)
Five Central Alberta artists worked en plein air, painting the incredible landscape that is the West Country.
The Eastern Slopes of Alberta and prospective coal mining in that area have been the focus of much controversy in the last year. These mountains are more than the resources they hold. They provide the people of Alberta with much of the province's fresh water supply as well as mental and physical connections to nature. In the summer of 2021, central Alberta artists Lynn LeCorre, Kate More, Larry Reese, Judy Sutter, and Susan Woolgar worked en plein air, painting and sketching onsite in the open air. Through their eyes, we experience the incredible landscape that is the West Country along the eastern slopes of Alberta's Rockies. See the exhibit OUR West Country: Plein Air Painting in Alberta's Eastern Slopes on display at the Red Deer Museum + Art Gallery (MAG) December 11, 2021 to March 12, 2022, with an opening reception on Sunday, December 12th from 2-4pm.
Words from Pat Matheson, Curator of Art:
"The MAG is looking forward to seeing this exhibition installed as it touches on a topic near and dear to many Albertans, including myself. With the new awareness most Albertans have with the landscape so close to us to the west, we invited a group of en Plein Air artists to capture the atmosphere, the beauty and the spirit of Alberta's eastern slopes through their eyes."
Opening Reception: Sunday, December 12, 2-4pm
Join us at 2 pm for the opening of the new exhibits OUR West Country: Plein Air Painting in Alberta's Eastern Slopes and Ya Ha Tinda – The Ranch: Photography by Arto Djerdjerian. Artists in attendance.
Talks & Tours:
Open for First Fridays! Guide in the Gallery – January 7, 5-8pm
2 O'CLOCK TOURS – Staff-led informal tours. February 12, 2pm
Edmonton company releases a world first NFT project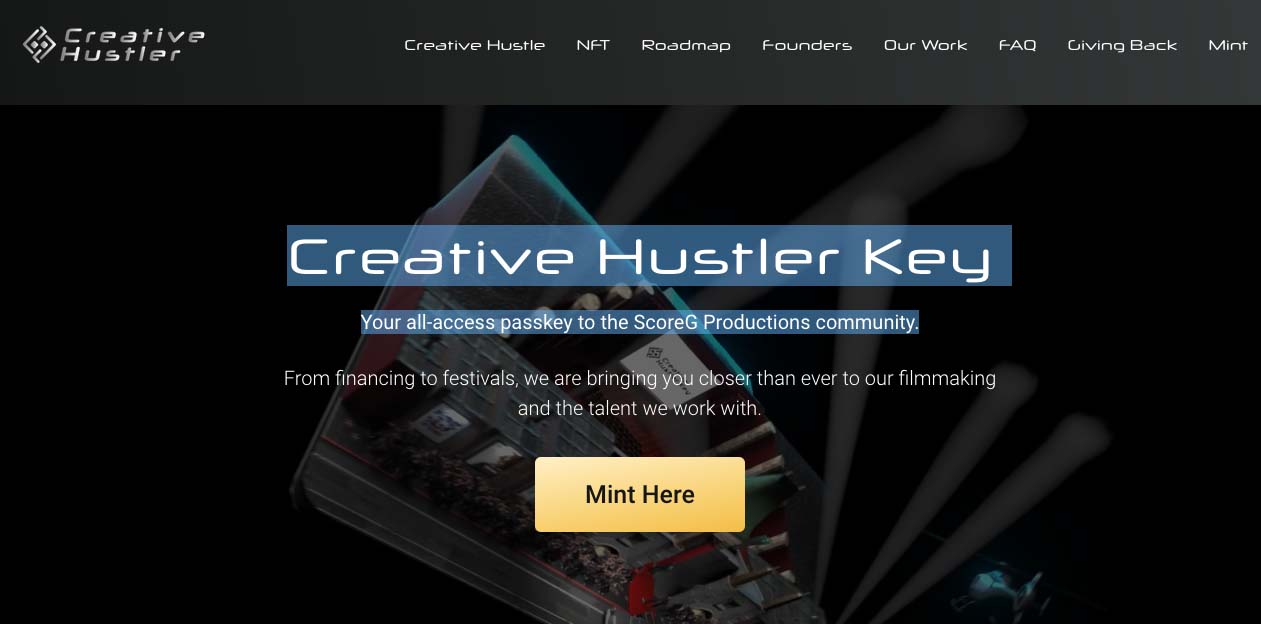 Edmonton based; Score G Productions, launched a first of its kind in the world NFT (non-fungible token) project on April 17th. It's called, Creative Hustler Key. Creative Hustler Key gives buyers through a one-time payment, a lifetime all-access passkey to the Score G Productions. This includes access to a full community of content producers, executive producers, exclusive 3-D NFT artwork, exclusive videos, and even monthly members only access to online workshops featuring creative content producers from around the world. The Creative Hustler Key NFT even offers chances to win access to live in-production sets, access to their studios during editing and post-production, and chances to win tickets and trips to future red-carpet movie premier events. There's more in the works too. Basically, buyers will get access to Score G Productions' impressive Rolodex and industry knowledge.
There are only 999 pass keys for sale, once gone, it will never be expanded, with the promise of no copycat versions of this Creative Hustler Key to ever be started by their team.
We asked Score G Productions founder, father of three, married to his high school sweetheart, Edmonton based Adam Scorgie why he'd take on such a huge undertaking when they are already successful in the film production industry? Scorgie replied, "We get calls, emails and social media posts asking us to help people all the time. People approach us at public events, asking for mentorship, internships, contact access, script readings, it is all kind of overwhelming." Continuing, "I wish I had people I could have called when I was starting out. I knew what I wanted to do, but I knew no one and knew nothing." Explaining, "This is our pay it forward move. I want to help as many people as possible, in any way I can."
A huge personal belief for Scorgie is explained, "I like to do things in and as a team; this will be a world's first team like this. Extremely unique."
The now, world-wide known and highly respect filmmaker with an extensive library of finished and in-production projects never planned on being a film producer, he in fact, never went to film school. He did however, go to acting school in New York and had credits in voice, as dancer, movie and soap opera acting credits. Things were looking up and moving along nicely.
But then his father, Buddy, got sick, very quickly. At 23, he dropped his dreams of Hollywood fame and fortune, moving back to Kelowna where he was born and raised to take over his dad's business, Cheetah's Show Lounge & Bar. Kelowna's only stripper bar. "I went from 23 to 35 in like six months!" the forced adult entertainment entrepreneur said.
His father passed away after a short health battle.
Then things got "really tough". A lawsuit was filed against his father's estate, he had a new partner in the business. While he tried to keep the clothes on his own back and his business afloat; Adam noticed a lot of his patrons, high school friends, same age as himself with cash pouring out of their pockets and stacked high on their tables in the VIP section. They all had 70+ thousand-dollar trucks, 50k Harleys, houses and more. He asked them, what the hell they were all doing to become so rich, so fast? They all said, "We are in the Union, you should join us."
This was in the height of the multi-billion-dollar BC Bud days. The "Union" was code for underground pot grower for organized crime rings being done at arm's length. While Adam admits, he did come close to joining the "Union", he ended up selling his share in the stripper club and put every last cent he had, plus some extra money borrowed from his stepdad into making a full-length documentary movie with his new partner, Vancouver director Brett Harvey. The film was called, The Union: The Business Behind Getting High and it quickly gained a cult following around the world.
And the rest is history! If only it was that easy. Scorgie laughs while reminiscing, "People said I was nuts. I have heard that a lot over the years, especially for just living in Edmonton and not Hollywood."
He fully expects people to say this again about this unique NFT rollout. Being young and ahead of the curve is nothing new for Adam and his team. Scorgie expands, "We didn't have any money for PR marketing firms or to pay agents to promote us. So, we did it all on Facebook and other social media platforms." Continuing, "We had 1.2 million followers on Facebook alone. "Today every production has huge teams of social media specialists, with very expensive detailed marketing plans for social media promotions long before any production even gets close to post-production."
Scorgie remembers one meeting with Hollywood executives when they were shopping a world-wide release of the final cut of the Union. One said, "Oh isn't that cute, you have a Facebook page." Then they saw the Union page had over a million followers for the indie production. Adding, "That got their attention. No one is laughing at us anymore." Finishing, "And years from now, no one will be over this new NFT project."
One of Scorgie's closest friends and partner in Score G Productions, Shane Fennessey, explains more about the Creative Hustler Key project, "There is nothing in the world like what we just launched by offering a real, hands-on community of successful high-quality, award-winning professionals from the film production industry." Adding, "NFT's are known for exclusive digital images and video, yes with us you still get exclusive 3-D images that took months to produce and exclusive videos with the purchase of these keys." Continuing, "What is truly different and very exciting is that this is a utility driven NFT project, a place where professionals will collaborate. It has long-term value too. We are young. As long as we are a business, these keys never expire" Adding, "There are no annual renewal fees, you own the Keys, you can sell them for the going price any time in the future, you can even add them to your estate, they are yours."
Expanding on the added values of the only 999 keys available, Fennessey says, "We know how to apply for grants, we know where the grants are, we know how to fund-raise for the next project." Continuing, "We know all the tax credits and other forms of how to finance projects. We are going to share all of this and even more knowledge that we have about this industry."
In closing Fennessey said, "We love the idea of opening doors for new young Creative Hustlers." Asked if it will it sell out, "Most likely and very quickly we expect, with no outside advertising or media coverage 10% of the 999 keys sold in just the first 2-hours of the Sunday release."
Details for how to get involved can be found here; https://creativehustlerkey.com/
Score G Production's main catalogue;
A breathtaking image of Alberta from a passionate Alberta artist – Bow Lake by Larry Reese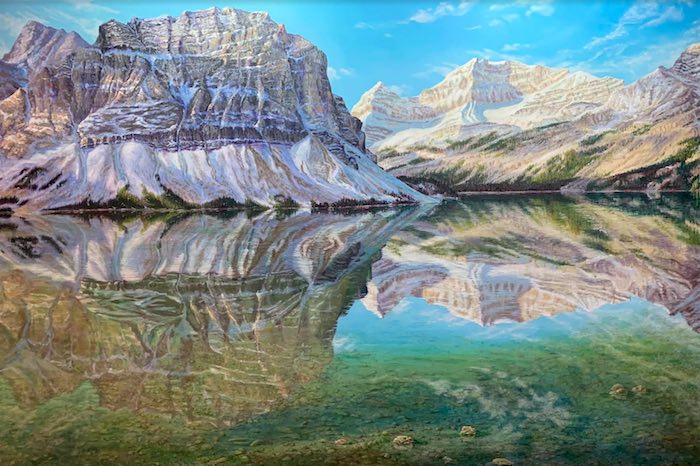 With gratitude, Todayville shares this work from well known Central Alberta artist Larry Reese. Larry has been a fixture in the artistic community for decades.
In this brief article, Larry shares the inspiration behind this recent work "Bow Lake"
In these busy and interesting times, we invite you to take a moment to stop and smell the flowers, or in this case to drink in the overwhelming beauty of Alberta.
From Larry Reese:
The Painting of Bow Lake
Last October my wife and I left our home in Half Moon Bay, Alberta very early in the morning heading out to Summerland B.C. to attend a dedication in her father's name, of the new George Ryga Arts & Culture Centre.
It was a clear, crisp day and around 9:30am we passed by Bow Lake. I have stopped at Bow Lake many times over the years but was so awestruck by the scene on this particular morning that we decided to turn around and go back to have a closer look. The sunlight and reflections on the water were extraordinary. There was just a slight breeze and honestly it made the lake and mountains look incredibly spectacular. In fact more spectacular than usual.
For me it was a profound experience. I quickly got a few photos and mentally did a rough sketch. When we returned home I was somewhat disappointed with the pictures as they didn't capture the emotions I felt at the time. But my mental image was so vivid that I decided to see if I could replicate the feeling in a painting.
I knew I had to go big so the canvas I used was 40"X60". It took me a couple of months to paint but I was in no hurry. Which was a good thing because I used oils and needed to wait for them to dry after each layer of glazing (which there were many) in order to get the water to look believable. I worked hard to get the light just right, the way I remembered the sun's beams nestled amongst the mountain rocks and crags.
As a result I've got to say I am proud of the way it turned out because it comes close to expressing those wonderful sensations I had on the day. I don't paint to make a living so I'm not sure I want to sell it. However if anyone is interested in Bow Lake, they can contact me through my website:
larryreese.ca
P.S. Bow Lake is situated along the Banff/Jasper Highway 93 just south of the Saskatchewan Crossing turnoff to Highway 11. This area is one of my favourite places to go plein air painting. I have painted in this region for decades and will continue to do so for as long as I can.
Larry Reese
Born in Wisconsin in 1951 and immigrating to Edmonton, Alberta, Canada ten years later, Larry made his first impact on the art scene by winning a city wide contest to attend art classes at the Edmonton Art Gallery. There he was taught by the renowned Alberta artist, Sylvain Voyer. In 1966 his family moved to Dacca, East Pakistan where Larry learned to play the sitar, meeting Ravi Shankar in 1967 in Calcutta. Two years later Larry returned to Edmonton to pursue his music studies earning a degree in music composition at the University of Alberta. In 1971 Larry opened for British rock group, Procol Harum the night they recorded their platinum selling LP, Procol Harum – Live with the Edmonton Symphony. He toured North America with the Canadian Rock Opera's production of Jesus Christ Superstar, and took UofA extension art classes with another famous Alberta artist, Harry Savage and family friend artist Harry Wolfarth.
Larry was off to Brandeis University near Boston Massachusetts to get a Master's Degree in Acting in 1976 culminating in a stint at the famous off-off Broadway theatre, Café LaMama, NYC, in 1978. Larry's first major role was in the Canadian classic film, The Hounds of Notre Dame, which over the years was followed by roles in Academy Award winning films including Clint Eastwood's, Unforgiven and Ang Lee's, Brokeback Mountain. Most recently Larry had a role in the Ridley Scott produced TV mini series, Klondike.
In 1983 Larry and wife Tanya Ryga went to Mexico and various places throughout South America, where Larry met and worked with German Expressionist artist Georg Rauch.