Larger Heliport Now Open At Rocky Health Centre
Residents in the Rocky Mountain House Region now have improved access to critical care, thanks to the new, larger heliport now being operational. Officials with Alberta Health Services have shared the following news release outlining those details:
The new and bigger heliport at the Rocky Mountain House Health Centre is now operational.
Transport Canada has issued a flight certificate confirming air ambulance helicopters, including STARS, can now land at the Alberta Health Services (AHS) facility.
"We are pleased to announce the heliport is operational in time for the August long weekend," says Kerry Bales, Chief Zone Officer of AHS Central Zone. "It has been a lengthy process but we have very much appreciated the collaboration with the town and community."
The new heliport can accommodate both models of STARS helicopters: the BK 117 and the AW139. A town-owned water tower near the flight path had to be removed or painted before Transport Canada could give approval to land at the heliport. The tower was dismantled this spring; the Transport Canada inspection occurred July 26.
"A super job well done," says Rocky Mountain House Mayor Fred Nash. "It's been a pleasure working with the professionalism of Alberta Health Services for the betterment of the town of Rocky Mountain House, the county and the many visitors who come here."
Until now, all STARS helicopters were landing at the Rocky Mountain House airport, located about eight kilometres from the health centre. Ground ambulances were used to transport patients to and from the health centre and airport.
"The ability to have all sizes of medevac helicopters land right here at the Rocky Mountain House Health Centre will improve access for patients who need critical care transport," says Bales.
STARS helicopters are more than an ambulance in the air; they are sophisticated medical environments brought directly to the patient. This can mean the difference in the health outcome of a patient when time is of the essence.
On board, a full array of medications and equipment is at the disposal of the air medical crew. STARS personnel are able to administer life-saving drugs, defibrillate a patient's heart, transfuse blood, and peer inside a patient using portable ultrasound.
"Many lives have been saved because of our ability to provide transport and medical expertise to critically ill and injured patients via air ambulance," says Mike Lamacchia, Vice President of Alberta and Saskatchewan Operations at STARS.
AHS' Emergency Medical Services (EMS) team, including dispatch services, ground ambulances and fixed-wing air ambulances, work with STARS as a key partner to provide an integrated emergency medical response service. STARS physicians, nurses, paramedics and pilots work with a team of dedicated support staff and community partners to be there for Albertans and to save lives 24/7.
AHS spent $430,000 to pay for the tower demolition and the relocation of the town, county and regional fire communication antennas that were located on top of the tower.
Alberta Health Services is the provincial health authority responsible for planning and delivering health supports and services for more than four million adults and children living in Alberta. Its mission is to provide a patient-focused, quality health system that is accessible and sustainable for all Albertans.
Grant's story: Amazing Improvement with Hard Work & Support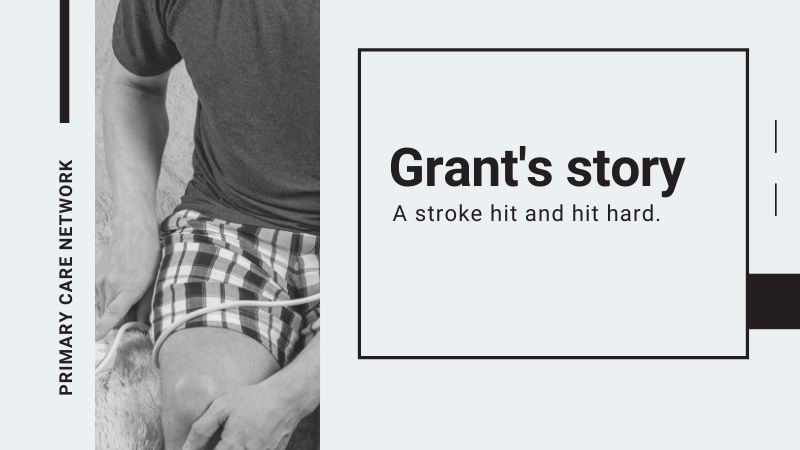 Grant was in his mid-fifties – maybe a bit overweight but with no other cardiovascular risk factors. However, a stroke hit and hit hard. His right side was very compromised, he had little use of his hands, he was unable to walk or lift his right arm. He was hospitalized in Red Deer for 4 months and then went to the Centennial Centre in Ponoka for rehab for 6 months. His doctor had told him that he would be bound to a wheelchair for the rest of his life and would never walk again or be able to recover from this stroke. This made Grant angry as he didn't want this prognosis.
Since that time, he has put a lot of work and effort into getting better. The physios and rehab team helped him make progress, but he kept asking them how he could get more training. They were able to refer him to Recreation Therapy at RDPCN. His therapist arranged to work with him at the Gary W Harris Canada Games Centre three times per week. He is doing a lot better now. He can walk with a cane and he can lift 30 pounds on the machines at the gym. He can now clap hands. He has gained strength and control, his gait has improved along with his endurance, and he has an increased range of motion and strength in his upper extremities. He can now do many more tasks of daily living such as carry groceries, cook and barbeque.
Grant states that his doctor can't believe his progress. Other people he knows have said very similar things. Working with the Rec Therapist has been very encouraging and supportive. The Rec Therapist has really helped me to stay motivated. Having a plan for myself also helps the attendants at the Gary Harris Centre to work with me to move forward. I have highly recommended this program to others I know who have had a stroke.
My work is not done but I am proud of the progress I have made and thankful for everything I can do for myself.
To learn more about the RDPCN programs, visit www.reddeerpcn.com
Click to experience 2021 Festival of Trees online!
Red Deer Festival of Trees 2021 is dedicated to providing funding for critical operating room equipment. Having access to new and replacement equipment for the OR will improve the patient experience and reduce wait times for life-saving surgeries, allowing our friends and family to remain close to home during their procedures.