Lacombe County: Fire Permit Season Begins March 1 – Have you got yours?
February 26, 2019
Fire Permit Season Begins March 1: Have you got yours?
Lacombe County reminds people that permit requests are free and easy to submit online, through the "myLacombeCounty" app and in person.
(Lacombe, Alberta, February 26, 2019) Lacombe County reminds ratepayers that fire permit season starts on March 1, 2019. In 2017, permit season was moved up a month – starting March 1 rather than April 1 – in response to changing environmental conditions, including drier spring conditions.
"This winter has not brought a lot of snow to Lacombe County and as a result, spring conditions will likely be drier. This was evident in 2018 as well, with an early fire ban put in place by the end of last April," said Drayton Bussiere, Lacombe County Fire Chief. "Residents are also encouraged to check on any controlled burns performed outside of permit season, as larger burns can smolder through the winter and reignite as it warms up. By complying with the fire permit process and by using safe burning practices, all Lacombe County residents can help us keep our County safe throughout the season."
Burning without a fire permit can result in a hefty fine.
Under Lacombe County's Fire Protection Policy, anyone found burning without a permit will be required to pay for the fire department response fees. A flat rate of $300 will be charged for responses to a fire when a person is in contravention of the Forest and Prairie Protection Act for failure to have a fire permit or any other provision of the Act and fire suppression is not required.
"It's about public safety and burning responsibly," said Bussiere. "Fire permits are free of charge and easy to obtain, yet we continue to have situations where people don't take out a permit and can be charged under the bylaw, the intent here is not to generate revenue but to ensure the safety of all Lacombe County residents and their neighbours."
The past several years have seen many producers brush lands and burn the brush during the winter months. It is very important to remember to check these piles as they can smolder for many months, and can be rekindled by wind. Combine this with dry spring conditions and the resulting fires can be disastrous.
Fires that are started by rekindled brush piles are your responsibility and you can also be charged for the fire response. Should a Fire Department respond to a fire for which a permit has not been issued, or if a permit has been issued and the permit holder contravenes any of the conditions of the permit, the property owner will be assessed costs at the following rates:
• fire truck – $500 per hour
• water truck – $300 per hour
• rapid response unit/mini pumper – $300 per hour
• equipment van – $300 per hour
• equipment other than fire apparatus – Lacombe County cost
• personnel other than fire department members – Lacombe County cost
Beginning on March 1, 2019, online fire permits can be submitted from the Lacombe County website homepage (www.lacombecounty.com), and through the "my Lacombe County" app (Apple users). People are also able to request permits in person at the Lacombe County Office, or by calling 403-782-8959.
Frequently Asked Questions
When do you require a fire permit?
The Forest and Prairie Protection Act prohibits the lighting of an outdoor fire, excluding an attended outdoor camp fire which has been set for cooking or warming purposes, between March 1 and October 31 each year, on land in a permit area, unless the person is a holder of a subsisting fire permit.
The Forest and Prairie Protection Act states that no person shall:
a)  light an outdoor fire without first taking sufficient precautions to ensure that the fire can be kept under control at all times, or
b)  light an outdoor fire when weather conditions are conducive to a fire readily escaping out of control, or
c)  fail to take reasonable steps to control a fire for the purpose of preventing it from spreading unto land otherthan his own, or
d)  deposit, discard or leave any burning matter or substance in a place where it might ignite other matter andresult in a fire.
How can you obtain a permit?
Beginning on March 1, online fire permits can be submitted from the Lacombe County website homepage (www.lacombecounty.com) and from the new "my Lacombe County" app. Permits can also be requested in person at the Lacombe County Office, or by calling 403-782-8959.
What you need to know
In Lacombe County, fire permits are required during the fire season, which starts March 1st and ends October 31st each year, but can be extended if the risk or danger of wildfire exists.
Before lighting any fire, a permit holder must take precautions to ensure that the fire is kept under control at all times. The following rules apply to all permits issued in Lacombe County:
A fire permit is valid only for the period that it is issued for.
Upon issuing a permit, the County may specify any special fire control condition that, in their discretion, isimportant to the safety of the county residents.
The fire must be set at the time and place indicated on the permit.
The number of fires set at one time and minimum equipment needed may be specified on the permit.
Anyone who sets a fire under the authority of a permit must:
o Have a the permit at the fire site
o Produce and show the permit to a County employee on request
o Keep the fire under control, and
o Extinguish the fire before expiration, or upon cancellation of the permit, or obtain a renewal.
What can you burn?
Burnable debris includes: Prohibited debris includes:
Brush and fallen trees
Used power and telephone poles that do notcontain preservatives
Wood or wood products not containingpreservatives
Solid waste from tree harvesting
Straw, stubble, grass, weeds, leaves, and treeprunings
Solid waste from post and pole operations thatdoes not contain wood preservatives
Animal manure
Pathological waste (waste from human healthcentres)
Wood or wood products containing woodpreservatives
Waste materials from construction sites
Rubber, including tires
Plastic, including baler twine
Oil
Containers that held pesticides or any otherchemicals
Plastic or rubber coated materials, includingcopper wire.
Special provisions for stubble burning
A Stubble Burning Permit is required throughout the year prior to burning the stubble or swath of any crop. A field inspection will be required prior to the issuance of a permit. Phone the Agricultural Fieldman at 782-8959 a few days in advance for inspection arrangements. Stubble Burning Permits may only be obtained at the County office from the Manager of Environmental and Protective Services or the Agricultural Fieldman
Remember to recycle
Many items that you may consider burning can be recycled: Plastics, paper, cardboard and metal materials, used oil, tires and beverage containers, along with many other items. Call the Recycle Info Line at 1-800-463-8320 for local information or visit the Lacombe Regional Waste Services Commission website (www.lrwsc.ca).
"The elephant in the room is early treatment works." Doctor testifies covid can and should be treated.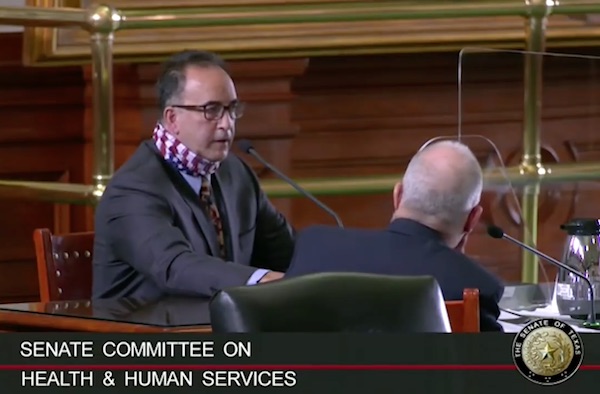 In the early months of the covid pandemic, doctors were unwilling to use what they felt, and what they were told would be ineffective, experimental drugs to treat their patients.  But Houston Doctor Richard Urso refused to send his patients away without trying to help.  Dr. Urso was an early proponent of drugs which became controversial in the media.  He was accused by three of the patients he successfully treated, of malpractice.  It took months, but eventually the Texas Medical Board dismissed the charges and stated the treatment offered by Dr. Urso was in fact, appropriate.  Urso has yet to lose a single patient to covid.
In March, Dr. Urso was invited to testify as the Texas Senate Health and Human Services Committee examined how that state's medical system approached the covid challenge.
Within two days of this testimony (March 10) the Texas Senate introduced legislation to mandate information on early treatment be provided to every positive covid-19 patient.  The key now is for doctors to act.
Click below to see another remarkable testimony from Dr. Peter McCullough.
There's another way to end the pandemic. Doctors can knock covid out with treatment
Mexico, Honduras, Guatemala deploy troops to lower migration
WASHINGTON — The Biden administration has struck an agreement with Mexico, Honduras and Guatemala to temporarily surge security forces to their borders in an effort to reduce the tide of migration to the U.S. border.
The agreement comes as the U.S. saw a record number of unaccompanied children attempting to cross the border in March, and the largest number of Border Patrol encounters overall with migrants on the southern border — just under 170,000 — since March 2001.
According to White House press secretary Jen Psaki, Mexico will maintain a deployment of about 10,000 troops, while Guatemala has surged 1,500 police and military personnel to its southern border and Honduras deployed 7,000 police and military to its border "to disperse a large contingent of migrants" there. Guatemala will also set up 12 checkpoints along the migratory route through the country.
A White House official said Guatemala and Honduras were deploying troops temporarily in response to a large caravan of migrants that was being organized at the end of March.
Psaki said "the objective is to make it more difficult to make the journey, and make crossing the borders more difficult."
She added that the agreement was the product of "a series of bilateral discussions" between U.S. officials and the governments of the Central American nations. While Vice-President Kamala Harris has been tasked with leading diplomatic efforts to tamp down on the increase in migration at the U.S. border, Psaki declined to share details on her involvement with the discussions and said only that the discussions happened at "several levels."
She noted that Roberta Jacobson, who will depart her role as the administration's southwest border co-ordinator at the end of the month, was involved in talks.
Mexico announced in March that it was deploying National Guard members and immigration agents to its southern border, and it has maintained more personnel at its southern border since Trump threatened tariffs on Mexican imports in 2019.
On Monday, Mexico's Foreign Affairs ministry said, "Mexico will maintain the existing deployment of federal forces in the its border area, with the objective of enforcing its own immigration legislation, to attend to migrants, mainly unaccompanied minors, and to combat the trafficking of people."
Honduras Foreign Affairs Minister Lisandro Rosales said Monday that Honduras maintains a multinational force at its border with Guatemala that works closely with that government on not only immigration, but also organized crime and other illegal activity. But "there was no commitment on the part of the Honduran delegation to put soldiers on the border, even though there is a clear commitment by the Honduran government to avoid this kind of migration that generates death and mourning for Honduran families," Rosales said.
But Honduras Defence Secretary Fredy Santiago Díaz Zelaya, who was part of a Honduran delegation that met with U.S. officials in Washington last week, said later that the military was studying the possibility of sending more troops to the border to assist in migration control. He said the military always works under a plan and that planning would determine how many troops would assist national police and immigration authorities at the border.
"We need to do a correct analysis of the situation, increase troops if it's necessary," Díaz Zelaya told local press. He said Honduras would do so "in response to this request that comes from the great nation to the north (the United States) to be able to help on the issue of immigration."
The Guatemalan government denied there was any signed agreement with the United States to place troops at the border to stop migrants. "The Guatemalan government has undertaken protection and security actions at the border since last year, on its own initiative, it is a constitutional mandate," said presidential spokeswoman Patricia Letona. "In the context of the pandemic, the protection of the borders has become a fundamental aim for the containment of the virus."
Guatemalan troops have been responsible for breaking up the last several attempted migrant caravans.
The increase in migrants at the border is becoming one of the major challenges confronting Biden in the early months of his first term.
Numbers grew sharply during Trump's final year in office but further accelerated under Biden, who quickly ended many of his predecessor's policies, including one that made asylum-seekers wait in Mexico for court hearings in the U.S.
Mexicans represented the largest proportion of people encountered by the U.S. Border Patrol, and nearly all were single adults. Arrivals of people from Honduras and Guatemala were second and third, respectively, and more than half of the people from those countries were families or children travelling alone.
___
Associated Press writer Elliot Spagat in San Diego, María Verza in Mexico City, Sonny Figueroa in Guatemala City and Marlon González in Tegucigalpa contributed reporting.
Alexandra Jaffe, The Associated Press