Lacombe County: Fire Permit Season Begins March 1 – Have you got yours?
February 26, 2019
Fire Permit Season Begins March 1: Have you got yours?
Lacombe County reminds people that permit requests are free and easy to submit online, through the "myLacombeCounty" app and in person.
(Lacombe, Alberta, February 26, 2019) Lacombe County reminds ratepayers that fire permit season starts on March 1, 2019. In 2017, permit season was moved up a month – starting March 1 rather than April 1 – in response to changing environmental conditions, including drier spring conditions.
"This winter has not brought a lot of snow to Lacombe County and as a result, spring conditions will likely be drier. This was evident in 2018 as well, with an early fire ban put in place by the end of last April," said Drayton Bussiere, Lacombe County Fire Chief. "Residents are also encouraged to check on any controlled burns performed outside of permit season, as larger burns can smolder through the winter and reignite as it warms up. By complying with the fire permit process and by using safe burning practices, all Lacombe County residents can help us keep our County safe throughout the season."
Burning without a fire permit can result in a hefty fine.
Under Lacombe County's Fire Protection Policy, anyone found burning without a permit will be required to pay for the fire department response fees. A flat rate of $300 will be charged for responses to a fire when a person is in contravention of the Forest and Prairie Protection Act for failure to have a fire permit or any other provision of the Act and fire suppression is not required.
"It's about public safety and burning responsibly," said Bussiere. "Fire permits are free of charge and easy to obtain, yet we continue to have situations where people don't take out a permit and can be charged under the bylaw, the intent here is not to generate revenue but to ensure the safety of all Lacombe County residents and their neighbours."
The past several years have seen many producers brush lands and burn the brush during the winter months. It is very important to remember to check these piles as they can smolder for many months, and can be rekindled by wind. Combine this with dry spring conditions and the resulting fires can be disastrous.
Fires that are started by rekindled brush piles are your responsibility and you can also be charged for the fire response. Should a Fire Department respond to a fire for which a permit has not been issued, or if a permit has been issued and the permit holder contravenes any of the conditions of the permit, the property owner will be assessed costs at the following rates:
• fire truck – $500 per hour
• water truck – $300 per hour
• rapid response unit/mini pumper – $300 per hour
• equipment van – $300 per hour
• equipment other than fire apparatus – Lacombe County cost
• personnel other than fire department members – Lacombe County cost
Beginning on March 1, 2019, online fire permits can be submitted from the Lacombe County website homepage (www.lacombecounty.com), and through the "my Lacombe County" app (Apple users). People are also able to request permits in person at the Lacombe County Office, or by calling 403-782-8959.
Frequently Asked Questions
When do you require a fire permit?
The Forest and Prairie Protection Act prohibits the lighting of an outdoor fire, excluding an attended outdoor camp fire which has been set for cooking or warming purposes, between March 1 and October 31 each year, on land in a permit area, unless the person is a holder of a subsisting fire permit.
The Forest and Prairie Protection Act states that no person shall:
a) light an outdoor fire without first taking sufficient precautions to ensure that the fire can be kept under control at all times, or
b) light an outdoor fire when weather conditions are conducive to a fire readily escaping out of control, or
c) fail to take reasonable steps to control a fire for the purpose of preventing it from spreading unto land otherthan his own, or
d) deposit, discard or leave any burning matter or substance in a place where it might ignite other matter andresult in a fire.
How can you obtain a permit?
Beginning on March 1, online fire permits can be submitted from the Lacombe County website homepage (www.lacombecounty.com) and from the new "my Lacombe County" app. Permits can also be requested in person at the Lacombe County Office, or by calling 403-782-8959.
What you need to know
In Lacombe County, fire permits are required during the fire season, which starts March 1st and ends October 31st each year, but can be extended if the risk or danger of wildfire exists.
Before lighting any fire, a permit holder must take precautions to ensure that the fire is kept under control at all times. The following rules apply to all permits issued in Lacombe County:
A fire permit is valid only for the period that it is issued for.
Upon issuing a permit, the County may specify any special fire control condition that, in their discretion, isimportant to the safety of the county residents.
The fire must be set at the time and place indicated on the permit.
The number of fires set at one time and minimum equipment needed may be specified on the permit.
Anyone who sets a fire under the authority of a permit must:
o Have a the permit at the fire site
o Produce and show the permit to a County employee on request
o Keep the fire under control, and
o Extinguish the fire before expiration, or upon cancellation of the permit, or obtain a renewal.
What can you burn?
Burnable debris includes: Prohibited debris includes:
Brush and fallen trees
Used power and telephone poles that do notcontain preservatives
Wood or wood products not containingpreservatives
Solid waste from tree harvesting
Straw, stubble, grass, weeds, leaves, and treeprunings
Solid waste from post and pole operations thatdoes not contain wood preservatives
Animal manure
Pathological waste (waste from human healthcentres)
Wood or wood products containing woodpreservatives
Waste materials from construction sites
Rubber, including tires
Plastic, including baler twine
Oil
Containers that held pesticides or any otherchemicals
Plastic or rubber coated materials, includingcopper wire.
Special provisions for stubble burning
A Stubble Burning Permit is required throughout the year prior to burning the stubble or swath of any crop. A field inspection will be required prior to the issuance of a permit. Phone the Agricultural Fieldman at 782-8959 a few days in advance for inspection arrangements. Stubble Burning Permits may only be obtained at the County office from the Manager of Environmental and Protective Services or the Agricultural Fieldman
Remember to recycle
Many items that you may consider burning can be recycled: Plastics, paper, cardboard and metal materials, used oil, tires and beverage containers, along with many other items. Call the Recycle Info Line at 1-800-463-8320 for local information or visit the Lacombe Regional Waste Services Commission website (www.lrwsc.ca).
CFL, CFL Players' Association reach another tentative agreement
By Dan Ralph
The CFL and CFL Players' Association have reached another tentative agreement.
According to a league source, the two sides hammered out a second agreement in principle Thursday, two days after CFL commissioner Randy Ambrosie unveiled the league's final offer to its players.
The source spoke on the condition of anonymity as neither the CFL nor the CFLPA have confirmed the deal.
The new agreement is pending ratification by both the CFL Players' Association membership and league's board of governors. According to two sources, the players will vote on the deal Thursday night.
Time is of the essence as the CFL exhibition schedule is slated to kick off Friday night with two games.
On Monday, the players voted against a tentative deal that the union had recommend they accept. The CFLPA is also recommending acceptance of Thursday's tentative agreement.
The Canadian ratio will remain at 21 on the roster and seven starters for this season. Teams will be able to rotate two nationalized Canadians — Americans who've spent either four years in the CFL or at least three with the same team — in 2023 for up to 49 per cent of snaps on either side of the ball.
Teams can move to three nationalized Canadians in 2024 but the two franchises that play the most Canadians at the end of the season will receive additional draft picks.
The CFL will also provide $1.25 million in a ratification pool for players.
The two sides had been at odds regarding the Canadian ratio.
Last Wednesday, the CFL and CFLPA reached a tentative seven-year agreement, ending a four-day strike by seven of the league's nine teams. At first glance, there seemed to be many positives for the players, including a revenue-sharing model the ability to reopen the pact in five years once the CFL signed a new broadcast deal and veteran players having the ability to negotiate partially guaranteed contracts.
But the agreement also called for CFL teams to increase the number of Canadian starters from seven to eight. The extra would be a nationalized Canadian.
In addition, three other nationalized Canadians could play up to 49 per cent of all snaps on either side of the ball. And the deal also didn't include a ratification bonus.
And despite a recommendation to accept from the union, the players voted against ratifying the deal.
On Tuesday, Ambrosie unveiled an amended proposal that included a $1-million ratification pool and the abolition of the three nationalized Canadians playing 49 per cent of snaps. However, it also reduced the number of Canadian starters to seven, including one nationalized Canadian.
Not only did Ambrosie say it was the CFL's final offer, but it was good until midnight ET on Thursday, given the league's exhibition schedule was slated to begin Friday night with two games. Ambrosie added if the players rejected the offer and opted to go back on strike, they'd be served notice to vacate their respective training-camp facilities.
It marked the second time Ambrosie had gone public with a final contract offer to the CFLPA. On May 14, he posted a letter to fans on the league's website detailing the league's proposal to players hours before the former CBA was set to expire.
The next day, players on seven CFL teams opted against reporting to training camp and went on strike. The Edmonton Elks and Calgary Stampeders both opened camp as schedule because they weren't in a legal strike position, as per provincial labour laws, at the time.
It marked just the second work stoppage in league history and first since 1974.
This report by The Canadian Press was first published May 24.
Police: Texas gunman was inside the school for over an hour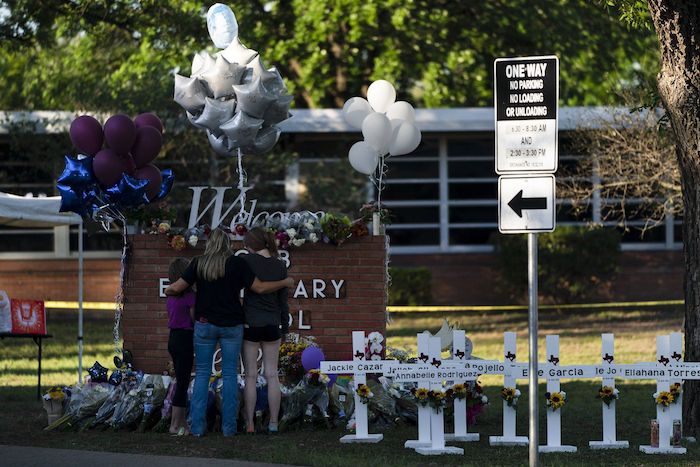 By Jake Bleiberg, Jim Vertuno And Elliot Spagat in Uvalde
Texas authorities say the gunman who massacred 21 people at an elementary school was in the building for over an hour before he was killed by law enforcement officers.
The amount of time that elapsed has stirred anger and questions among family members, who demanded to know why they did not storm the place and put a stop to the rampage more quickly.
Texas Department of Public Safety spokesperson Travis Considine said 18-year-old Salvador Ramos entered Robb Elementary School and began his rampage at 11:40 a.m. Tuesday.
A Border Patrol tactical unit began trying to get inside an hour later, and at 12:58 p.m., radio chatter noted he was dead.
THIS IS A BREAKING NEWS UPDATE. AP's earlier story follows below.
UVALDE, Texas (AP) — Law enforcement authorities faced mounting questions and criticism Thursday over how much time elapsed before they stormed a Texas elementary school classroom and put a stop to the rampage by a gunman who killed 19 children and two teachers.
Separately, after two days of unclear and contradictory accounts from police, a Texas law enforcement official said that an armed school district officer did not encounter or exchange fire with the attacker, 18-year-old Salvador Ramos, before he entered Robb Elementary in the town of Uvalde, as previously reported.
But many other details about the timing of events and the police response remained murky. The motive for the massacre — the nation's deadliest school shooting since Newtown, Connecticut, a decade ago — remained under investigation, with authorities saying Ramos had no known criminal or mental health history.
During the siege, which ended when a U.S. Border Patrol team burst in and shot the gunman to death, frustrated onlookers urged police officers to charge into the school, according to witnesses.
"Go in there! Go in there!" women shouted at the officers soon after the attack began, said Juan Carranza, 24, who watched the scene from outside a house across the street.
Carranza said the officers should have entered the school sooner: "There were more of them. There was just one of him."
Texas Department of Public Safety Director Steve McCraw said Wednesday that 40 minutes to an hour elapsed from when Ramos opened fire on the school security officer to when the tactical team shot him.
"The bottom line is law enforcement was there," McCraw said. "They did engage immediately. They did contain (Ramos) in the classroom."
But a department spokesman said Thursday that authorities were still working to clarify the timeline of the attack, uncertain whether that period of 40 minutes to an hour began when the gunman reached the school, or earlier, when he shot his grandmother at home.
"Right now we do not have an accurate or confident timeline to provide to say the gunman was in the school for this period," Lt. Christopher Olivarez told CNN.
Border Patrol Chief Raul Ortiz did not give a timeline but said repeatedly that the tactical officers from his agency who arrived at the school did not hesitate. He said they moved rapidly to enter the building, lining up in a "stack" behind an agent holding up a shield.
"What we wanted to make sure is to act quickly, act swiftly, and that's exactly what those agents did," Ortiz told Fox News.
But a law enforcement official said that once in the building, the Border Patrol agents had trouble breaching the classroom door and had to get a staff member to open the room with a key. The official spoke on condition of anonymity because he was not authorized to talk publicly about the investigation.
Olivarez said investigators were trying to establish whether the classroom was, in fact, locked or barricaded in some way.
Javier Cazares, whose fourth grade daughter, Jacklyn Cazares, was killed in the attack, said he raced to the school as the massacre unfolded. When he arrived, he saw two officers outside the school and about five others escorting students out of the building. But 15 or 20 minutes passed before the arrival of officers with shields, equipped to confront the gunman, he said.
As more parents flocked to the school, he and others pressed police to act, Cazares said. He heard about four gunshots before he and the others were ordered back to a parking lot.
"A lot of us were arguing with the police, 'You all need to go in there. You all need to do your jobs.' Their response was, 'We can't do our jobs because you guys are interfering,'" Cazares said.
Ramos crashed his truck into a ditch outside the school, grabbed his AR-15-style semi-automatic rifle and shot at two people outside a funeral home, who ran away uninjured, according to authorities and witnesses.
As for the armed school officer, he was driving nearby but was not on campus when Ramos crashed his truck, according to a law enforcement official who was not authorized to discuss the case and spoke of condition of anonymity. Investigators have concluded that school officer was not positioned between the school and Ramos, leaving him unable to confront the shooter before he entered the building, the law enforcement official said.
As Ramos entered the school, two Uvalde police officers exchanged fire with him, and were wounded, according to Olivarez. Ramos began killing his victims in a classroom.
On Wednesday night, hundreds packed the bleachers at the town's fairgrounds for a vigil. Some cried. Some closed their eyes tight, mouthing silent prayers. Parents wrapped their arms around their children as the speakers led prayers for healing.
Before attacking the school, Ramos shot and wounded his grandmother at the home they shared. Gilbert Gallegos, 82, who lives across the street and has known the family for decades, said he was puttering in his yard when he heard the shots.
Ramos ran out the front door and across the yard to a truck parked in front of the house and raced away: "He spun out, I mean fast," spraying gravel in the air, Gallegos said.
Ramos' grandmother emerged covered in blood: "She says, 'Berto, this is what he did. He shot me.'" She was hospitalized.
Gallegos said he had heard no arguments before or after the shots, and knew of no history of bullying or abuse of Ramos, whom he rarely saw.
Lorena Auguste was substitute teaching at Uvalde High School when she heard about the shooting and began frantically texting her niece, a fourth grader at Robb Elementary. Eventually she found out the girl was OK.
But that night, her niece had a question.
"Why did they do this to us?" the girl asked. "We're good kids. We didn't do anything wrong."
___
Bleiberg reported from Dallas.
___
More on the school shooting in Uvalde, Texas: https://apnews.com/hub/school-shootings