Kinsmen Dream Home Lottery Tickets Now Available – Click Here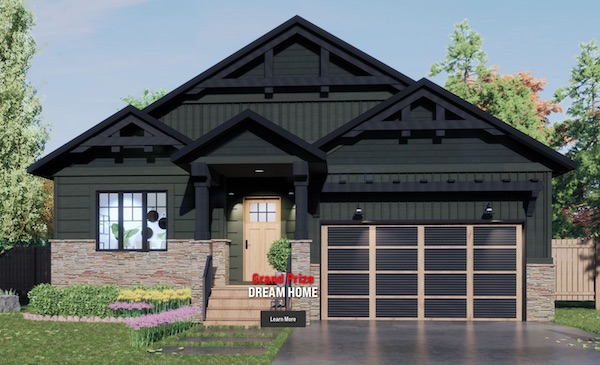 The Red Deer Kinsmen Dream Home Lottery is back for 2021
For the past 40 years, the Dream Home Lottery has been the cornerstone of the Red Deer Kinsmen's contribution to the community's greatest needs. Many of
the new playgrounds and sporting facilities you see are funded completely or partially with funds raised by the Red Deer Kinsmen. This year, you can once again help the Red Deer Kinsmen make a local impact in your community by supporting the Dream Home Lottery.
The 2021 Lottery is a little different from previous years with more prizes and chances to win. This year's lottery offers 104 prizes valued at over $864,700;
including the Grand Prize, fully landscaped show home in the new community of Timberlands. The $744,000, 2,368 sq. ft. dream home, built by True-Line
Homes features 3 bedrooms, 3 bathrooms plus den, a fully upgraded kitchen with premium appliances, Quartz Island, and walk-in pantry.
For supporters who buy their tickets early, there are TWO Early Bird cash prizes. Deadline for Early Bird #1 – $10,000 cash is 11:59pm November 11th. Deadline for Early Bird #2 – $25,000 cash is 11:59pm December 2nd.
Other prizes include vacations, home renovation packages, exercise equipment, tech, electronics, cash and much more. Tickets are $100 each, 5 for $150, 15
for $250 or our best package 50 for $350. They can be purchased online at reddeerkinsmenlottery.com or by calling 1.833.511.3863 and leaving a message. The lottery is presented by Kinsmen Club of Red Deer.
Back again is the 50/50 Cash Raffle where one lucky ticket holder will take home half of the total ticket sales. Tickets are $10 each, 10 for $25, 25 for $50
or 50 for $75.
Red Deer Kinsmen Dream Home Lottery License #575571 / 50/50 Cash Raffle License #575572
The final ticket deadline is 11:59 pm December 23, 2021. The final draws will be held January 5, 2022.
2021 Dream Home
Since 1981 the Kinsmen Club of Red Deer has run their annual Dream Home Lottery from October to December. Using local home builders and trades, this project is the club's largest fundraiser. Lives continue to change as we make that magical phone call letting the winner know they have just won a new home while the funds raised continue to support our local initiatives. In 2020, the club had to make the difficult decision to forgo the dream home portion of its lottery due to the unknown brought on by COVID, however, in 2021 we are coming back with an even bigger and better lotto!
With the ongoing support of heroes like you, we are able to support some incredible agencies that truly make our community better.
The money raised from the lottery stays within our community. Whether it's one of the many playgrounds, arenas, Discovery Canyon, Library Link or the new Family Link Centre in Parkland Mall, the Kinsmen have been able to construct numerous community structures from our fundraising efforts. However, those are only a very small part of what we are able to do.
These charities are an important part of the City of Red Deer, and it is crucial that we as a community always do what we can to support them. By being able to help provide funding for these and other groups help them make incredible changes in people's lives that would otherwise be impossible. We are so fortunate to live in a community of such caring, giving people. It is because of you that we are able to do what we do.
Prizes
EARLY BIRD PRIZES
2 Early Bird Cash prizes
• #1 – $10,000 CASH – Deadline: November 11, 2021
Draw will take place on November 23, 2021, at Stride Management Corp. (12:00 pm)
**Only tickets purchased before 11:59 pm on Nov 11, 2021, will be eligible for the Early Bird#1
• #2 – $25,000 CASH – Deadline December 2, 2021
Draw will take place on December 14, 2021, at Stride Management Corp. (12:00 pm)
**Only tickets purchased before 11:59 pm on Dec 2, 2021, will be eligible for the Early Bird#2
GRAND PRIZE DREAM HOME
The Forest by True-Line – 26 Tillier Street, community of Timberlands Red Deer, AB T4N 5E7
• Valued at $744,000!
• 2,368 sq. Ft. of developed living space, 3 Bedrooms, 3 Bathrooms plus Den, Finished basement & Landscaping
ADDITIONAL PRIZES
• 104 prizes worth over $864,700 to be won!
• Prizes include vacations, home renovations, epic experiences, exercise equipment, tech, cash,
and so much more!
THE 50/50 CASH RAFFLE
• Win half of an ever-increasing jackpot!
• Tickets are easy to buy – 1 for $10, 10 for $25, 25 for $50 or 50 for $75. Purchasers are not
required to purchase a ticket in the Red Deer Kinsmen Dream Home Lottery to purchase
tickets in the 50/50 Cash Raffle lottery.
• For a list of charities that benefit from the 50/50 Cash Raffle, please visit reddeerkinsmen.com
Red Deer Kinsmen Dream Home Lottery Licence #575571 / 50/50 Cash Lottery Licence #575572
Final Draw
• Ticket Cut-off is December 23, 2021 (11:59 pm)
• Final Draws will take place January 5, 2022 at Stride Management Corp. (11:00 am)
TICKET PRICES
1 for $100 • 5 for $150 • 15 for $250 and our best value 50 for $350
**Minimum prize value is $100**
Cause
The Red Deer Kinsmen have served the City of Red Deer since 1937 through fundraising and support of its many groups, community projects, and the people who make it an amazing place to live. This year is even more important as we were unable to run the Dream Home Lottery in 2020 due to the Covid pandemic.
Please go https://reddeerkinsmenlottery.com/cause/ for a full list of organizations the Red Deer Kinsmen have supported in the past.
Call Toll Free 1-833-511-3863
Order Online: reddeerkinsmenlottery.com

We are proud to have been associated with some truly outstanding organizations, including the:
Red Deer Food Bank
Cystic Fibrosis
Red Cross
Youth and Volunteer Centre
Central Alberta Women's Emergency Shelter
Red Deer Pond Hockey
Minor Hockey
Red Deer Public School Board Foundation – Bright Start Program
Hospice Society
Red Deer Royals
Red Deer College
Paediatric Ward
Blackfalds Field House
Penhold Multi Plex
and many more!
The Laft Hus celebrates 35 years in Red Deer
The Laft Hus is a replica of an 18th-century farmhouse in the Numedal district in Norway. It was created through the efforts of volunteers, and it officially opened to the public in 1987.
The museum contains many old artifacts and examples of Norwegian arts and crafts and a small butikk of Norwegian items and the house itself is of note due to its traditional sod roof.
The museum and gift shop are open to visitors every day (except Mondays) from June 1 through to August 31, 9:00 am to 3 pm. For the remainder of the year, the Norwegian Laft Hus is open each Wednesday when a group of ladies meet to work on Norwegian arts and crafts.
This year, the Laft Hus celebrates its 35th year in Red Deer. The annual festival will take place on June 18, 2022 and will have many activities, entertainment, Norwegian food and vendors for the visitors to enjoy. Help us celebrate!
For more information, visit their website.
Children's Fest is back in the park in 2022!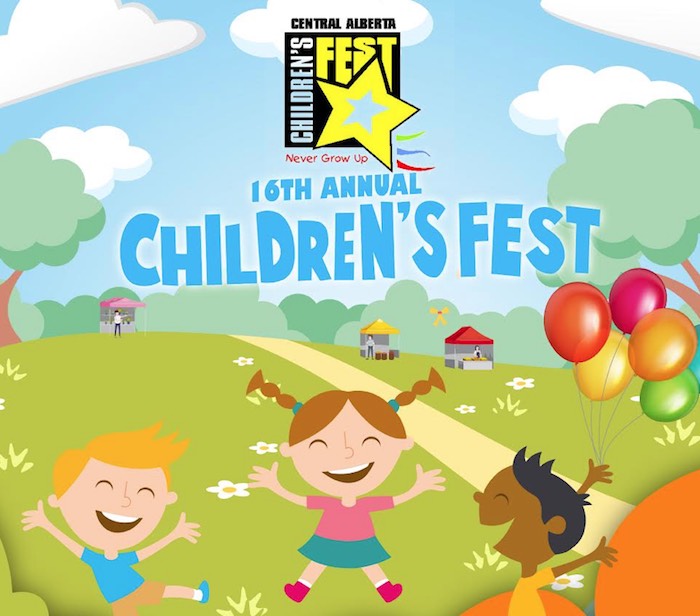 Groups and organizations come together to host the 16th Annual Central Alberta Children's Festival
Never Grow Up!
After 2 years of re-imagined festivals we are excited to be hosting the 16 th Annual Central Alberta Children's Festival back in the park. This family-friendly event is held over two days the first weekend of June. The festival is an opportunity for children and their families to get first-hand knowledge and exposure to the arts, to allow their creativity and imaginations to blossom.
June 3rd and 4th Rotary Recreation Park 4501 47A Ave, Red Deer will come to life with music, dancing, children running and laughing enjoying tons of interactive fun!
The community planning committee has been busy putting together a great two days that will enchant and engage children of all ages. With support from various community partners, the festival brings affordable, culturally diverse, and exciting entertainment through featured artists and interactive fun. We strive to allow families to actively engage in learning and playtime by fostering their imagination and creativity. From dancing, ultimate fort building, Laser Chase, Imaginate where you will learn from local artists, glitter tattoos, and performances this children's festival has it all.
Live shows include:
 Beppie a JUNO nominated recording artist and an award winning music educator based out of Edmonton,
 LANCE CARDINAL ᐊᐧᒐᐢᐠ First Nations artist, designer, and entrepreneur. Lance recently began a new role as Indigenous consultant and designer for the Edmonton Oilers, writing the new pre-game land acknowledgement video and designing the new Turtle Island Logo.
 The Joe Show – Start with a little magic. Add some breathtaking illusions. Stir in appearances from an amazing collection of animal friends with ventriloquism, Sprinkle in a healthy dose of jokes, laughter and fun, and you have the recipe for an amazing show known as the Joe Show
With our admission fee of only $7 per person, or $25 per family or anytime pass $40.00 for a family, every family can enjoy the world-class entertainment and all activities. Included with the admission, families will also have access to free
snacks and water (bring a bottle!), The Central Alberta Children's Festival welcomes kids ages 0 – 99!
For more information on the festival visit www.centralalbertachildrensfestival.ca