Kings Soccer team ads a draw and another win to unbeaten record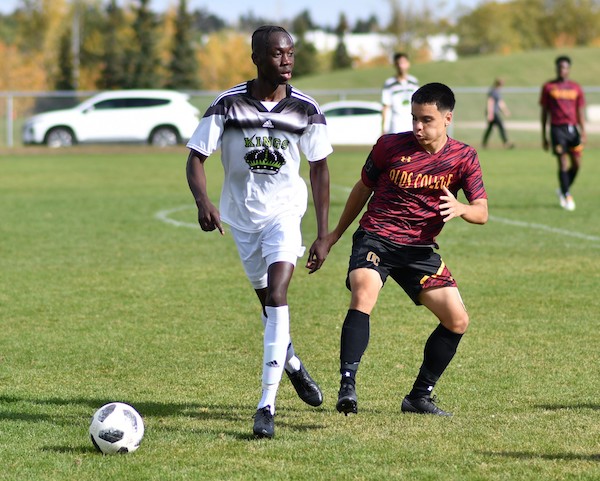 Brent Forster – RDP Athletics
Even though the Red Deer Polytechnic Kings and Olds College Broncos tied 1-1 on Saturday, the Kings felt like they didn't play up to their full potential. Twenty-four hours later, the RDP Kings made adjustments and played within their system, dominating the visiting Broncos 5-0.
"I thought we played much more of our game today. Yesterday we got into dump and chase type soccer and that's not what this team is built on," said Gerald Grobmeier, Red Deer Polytechnic Kings Soccer Head Coach. "We went back to things we practiced and things we implemented. When the Kings play within our system and play within that style of soccer, as you can see, the result is very, very good."
In the ninth minute, Red Deer's Kirk Moody gave the RDP Kings a 1-0 edge with a right foot strike to the top corner behind Broncos goalkeeper Parys Ona MacArthur. Pedro Humberto Mourao Neto, a third year forward, had the assist.
Twenty-nine minutes later, Pedro Humberto Mourao Neto used his speed up the right side and found room behind MacArthur for a two goal cushion. RDP first-year midfielder Jesus Amaris picked up the assist.
Humberto Mourao Neto (10) and Fleury de Queiroz (9)
Early in the second half, Red Deer Polytechnic added its third marker. Kirk Moody, a Bachelor of Arts Psychology student, dribbled past several Broncos defenders and forced MacArthur to make a save. The Olds College goalkeeper couldn't contain the ball and Kaidri Bornyi deposited the rebound into the net.
The Kings kept the pressure on.
In the 60th minute, Innisfail's Hayden Jacobs drove the left side of the field and found room behind MacArthur, extending the Kings lead to 4-0. Masoum Zaher had the assist.
The Broncos' best offensive opportunity came in the 75th minute when midfielder Said Khalil rattled a shot off the crossbar. Kings goalkeeper Jared St Thomas remained unbeaten on the afternoon, turning aside a total of five shots.
Shortly after, RDP's Gabriel Fleury de Queiroz converted a penalty kick, solidifying a 5-0 edge after picking the lower left corner.
Kaidri Bornyi was selected as the North Star Sports Kings Player of the Game.
"I thought Kaidri had a huge bounce back from yesterday. Today, he really controlled the middle of the park," said Grobmeier. "His passing accuracy was probably over 90 per cent. He was calm on the ball. He helped us defensively when we needed it. He was in all the right places and made all the right decisions today."
The Kings had contributions from all of the student-athletes.
"On these days when I could pick any 11 of these players for Player of the Game, you're going to get a good result," said Grobmeier. "Today, we had so many players step up. Our bench, when they subbed in, they did all of the right things. It was a good result. We did leave a lot of goals on the field, though. We had a lot of other opportunities that we didn't capitalize on."
Goalkeeper Parys Ona MacArthur was recognized as North Star Sports Broncos Player of the Game, making eight saves.
The Red Deer Polytechnic Kings (2-0-1) will play the Ambrose University Lions (0-2-1) on Friday, October 1 at 5 pm at the RDP Main Field.
The Olds College Broncos (1-2-1) and the Rattlers (0-2-1) will clash in Medicine Hat on Saturday, October 2 at 3 pm.
The RDP Queens preparing for their first championship defense in program history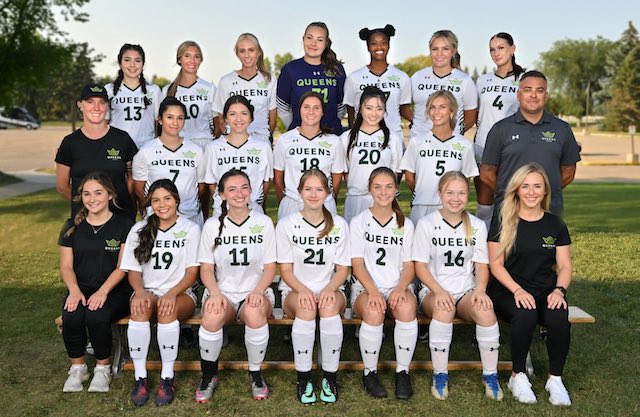 After a historic season a year ago, the Red Deer Polytechnic Queens Soccer team is ready to start their championship defense as the 2023/2024 Alberta Colleges Athletic Conference (ACAC) season kicks off this weekend.
A year ago, they started the season off with a loss against the SAIT Trojans. But they didn't know this was going to be the only loss of the ACAC season. They managed to win 11 in a row on their way to their first-ever championship banner in program history.
This incredible season also included a record-setting campaign for Sein Furuyama (Open Studies), who was last year's ACAC South Player and Rookie of the Year recipient. She broke the individual record for most goals in a season with 29 goals and helped the Queens break the record for most goals by a team in one year as well with a total of 89.
Furuyama was also named to the South Division All-Conference alongside her teammates Estel and Sofia Quinteros (Practical Nurse Diploma).
But after losing some veteran players to graduation, Head Coach Mahziar Peyrow, who was last year's ACAC South Division Coach of the Year, says the Queens will be looking a little bit different as they start their new season.
"This season is going to be tough for us as we had a lot of players graduate from the Polytechnic, so it will be a bit of a rebuilding year for us. But we will still be able to compete at the top level." They still managed to keep some players from their gold medal-winning team.
Furuyama is preparing herself for her second year in the conference as she is coming off a knee injury and wants to impress the conference yet again.
Defense Kayla Yeo (Open Studies) is coming back for her fifth and final year. Yeo alongside Sofia Quinteros will co-captain the Queens this season with last year's captain Alisha Coules graduating from the four-year Nursing program. Coules will step in as an assistant coach for the team this year.
Peyrow is very excited to have Quinteros back in the midfield as well as Yeo on the defensive line. "Sofia will remain as a key player in the defensive midfield to keep providing us with the quick transition into the attacking third. Kayla will step in the role of centre-back to strengthen our defense alongside our ever-so-powerful Kyra Remekie (Bachelor of Science in Biological Sciences)."
He added the Queens will also be returning their two strikers, Paige Kalbfleisch (Bachelor of Science in Nursing) and Grace Smith (Bachelor of Business Administration). These two student-athletes bring a high level of skill on the ball and can attack dangerously with pace.
Alongside these multiple returnees will also be a couple of key additions to the team who were recruited by last year's ACAC South Division Women's Coach of the Year this past off-season, defense Payton Erick (Business Diploma) and midfield Rilyn Clement (Pre-Health Sciences). Peyrow believes Erick will be a strong force at the back that can also get up the pitch and impact the game on the offensive side and Clement has a high soccer IQ who has great vision in the midfield.
Putting all these pieces together, the Queens head coach is quite optimistic the team can compete at the same level they did a year ago.
"Obviously, we had a great season last year and it would be amazing to reenact that this campaign. I believe the ladies have it in them to execute a great season. The energy is high as these ladies want to impress. The players all know that they need to perform well as the bar has been raised for this program."
The Queens season will start on the road this weekend as they head down to Lethbridge on Saturday to battle with the Kodiaks at 2 p.m. before traveling out to Medicine Hat to take on the Rattlers at noon on Sunday.
For more information on this historic year last year and the upcoming season visit: RDPolytechnicathletics.ca.
Cayden Nickel and Makayla Willows first ever CCRA champions from Red Deer Polytechnic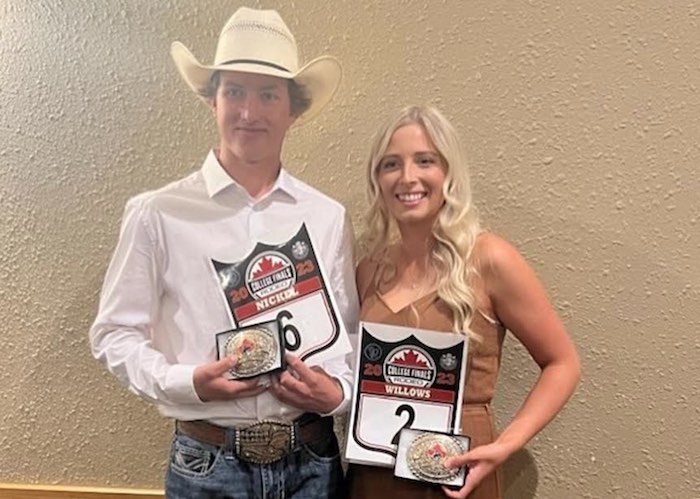 RDP Royals Rodeo team excels at Canadian Collegiate Rodeo Association finals
Makayla Willows and Cayden Nickel of the Red Deer Polytechnic (RDP) Royals Rodeo team finished as the top competitors at the Canadian Collegiate Rodeo Association (CCRA) Finals May 19-21 in Brooks.
"Makayla and Cayden had an outstanding weekend," says Trina Carroll, RDP Royals Program Lead. "They put in the work and were rewarded. I want to send a huge shoutout to all competitors and the CCRA Board of Directors, including Jamie Kuzma, who was our main contact at the CCRA."
Buck Lake's Willows earned the prestigious honour of 2023 CCRA Cowgirl of the Year by accumulating the most points among female competitors at the Silver Sage Community Corral over the weekend.
"I am thankful for the support from the RDP Royals Rodeo team, our wonderful coaches, and my family," says Willows, who is graduating with an RDP Social Work Diploma in June. "I am incredibly grateful for the opportunity to have been able to compete in the CCRA Finals. After working hard throughout the season, it was rewarding to complete my last year in College Rodeo as the Heeling Season Leader along with qualifying for the finals in Barrel Racing, Breakaway Roping and Pole Bending."
As heeler in Team Roping, Willows consistently demonstrated her expertise in roping steers by their hind feet after the header – who was Nickel – roped the front of the steer.
"For being recognized as the High Point Cowgirl of the Year alongside my Team Roping partner Cayden, we were each awarded a beautiful saddle and buckle as Cowgirl and Cowboy of the Year," adds Willows. "It is a very humbling honor and an amazing way to end my final College Rodeo experience."
Nickel, who is from Evansburg, was named the CCRA Cowboy of the Year and CCRA Tie Down Roping Champion. He just completed his first year of a Bachelor of Kinesiology and Sport Studies Degree at RDP.
"It was such an awesome experience," says Nickel about competing in the CCRA Finals. "We had a lot of fun and I can't wait for next year."
In addition to Willows and Nickel placing first overall in the CCRA, they made Red Deer Polytechnic history.
"In 10 years of competing in the CCRA Finals, this is the first time that RDP students have achieved the High Point Award in both the Cowboy and Cowgirl categories," explains Carroll. "We are so proud of Makayla and Cayden."
The next CCRA season will begin in Fall 2023.
About Red Deer Polytechnic Royals Rodeo: RDP Royals Rodeo is an elite post-secondary sports program that provides opportunities for students to compete outside of the Alberta Colleges Athletic Conference (ACAC), of which the RDP Kings and Queens are members. Since its establishment in 2013, the RDP Royals Rodeo program has grown from three student-athletes up to 40 members. The Red Deer Polytechnic Rodeo team has consistently been competitive in the CCRA, qualifying for the finals every year over the past decade. The 2022/2023 RDP Royals Rodeo team consisted of 12 dedicated student-athletes.
For more information about RDP Royals Rodeo, please visit: facebook | instagram