Junior and Senior High Students at home for 2 weeks in Red Deer and other large Alberta Cities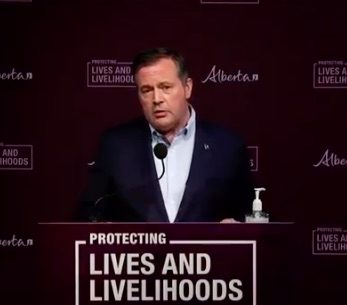 Targeted regional measures to bend the curve
New mandatory measures will address growing COVID-19 cases in hot spot communities across Alberta.
Targeted restrictions will apply to municipalities or regions where there are at least 350 cases per 100,000 people and 250 currently active cases.
New measures will apply to junior and senior high schools, and sports and fitness activities in these communities.
These targeted restrictions will remain in place for at least two weeks for any community or area that reaches this trigger. After 14 days, the enhanced measures will be lifted once the municipality falls back below the threshold.
Expanded public health measures
The following mandatory public health measures will come into effect for hot spot municipalities and regions:
Schools – Starting May 3
While schools remain a safe place and are not a main driver of community spread, in order to limit in-person interactions, all junior and senior high school students (Grades 7 and above) will shift to online learning.
K-6 students will continue in-classroom learning unless otherwise approved by Alberta Education to shift to online-learning.
Indoor fitness – effective April 30
All indoor fitness activities are prohibited. This includes:

all group physical activities, such as team sports, fitness classes and training sessions
all one-on-one lessons and training activities
all practices, training and games

Outdoor fitness activities may continue under provincewide restrictions currently in place, including individual or household one-on-one training with a trainer.
Indoor sport and recreation – effective April 30
All youth and adult indoor group physical activities, including team sports and one-on-one training sessions, are prohibited.
Outdoor sport and recreation activities may continue under provincewide restrictions currently in place:

Outdoor team sports where two-metre distancing cannot be maintained at all times (such as basketball, volleyball, soccer, football, slo-pitch and road hockey) remain prohibited.
Outdoor fitness training is allowed, as are physically distanced group fitness classes with a maximum of 10 participants.
Outdoor group physical activity with different households must be limited to 10 people or fewer and two-metre distancing must be maintained at all times.

All indoor recreation facilities must close. Outdoor recreation amenities can be open to public access unless specifically closed by public health order.
Curfew
The government will implement a curfew where case rates are significantly high, specifically case rates above 1,000 per 100,000, and if a municipality or region requests it. Details will be announced prior to any curfew being implemented.
All other current public health restrictions, including masking, physical distancing, prohibitions on social gatherings and working from home requirements remain in place provincewide.
Alberta's government is responding to the COVID-19 pandemic by protecting lives and livelihoods with precise measures to bend the curve, sustain small businesses and protect Alberta's health-care system.
Quick facts
Current communities with a case rate above 350 per 100,000 people and at least 250 active cases:

Fort McMurray
City of Red Deer
City of Grande Prairie
City of Calgary
City of Airdrie
Strathcona County
City of Lethbridge
City of Edmonton

Future updates for active case rates for municipalities and a map of those under enhanced restrictions will be available at alberta.ca.
Moving forward, targeted restrictions will be applied to any communities or regions with a case rate above 350 per 100,000 people and 250 active cases, and remain in place for at least two weeks.
If, after two weeks, the case rate falls below the threshold of 350 cases per 100,000 people, these targeted measures will be removed and only current provincewide restrictions will apply.
If a municipality goes below the threshold measure of 350 cases per 100,000 people before the two weeks are finished, the enhanced restrictions will still apply until the two-week period is over.
To prevent rural areas with small populations from being unfairly impacted, municipalities with fewer than 250 active cases will be excluded from the threshold.
Health officials will continue to closely monitor the spread of COVID-19 to assess whether additional action is needed to reduce transmission and when these restrictions are no longer required.


"We have no choice but to implement these targeted measures to slow growth and bend the curve and protect our health system over the next few weeks. These measures are layered on top of Alberta's robust public health restrictions and will buy a little more time for our vaccination program to protect more Albertans and win the race against the variants. We must respond with a firm stand against COVID-19 now so that we can enjoy a great Alberta summer."

"The highly transmissible variants of concern are a game-changer and in turn, we have to change our approach to be successful. No one person or community is to blame, but the evidence is showing that certain areas are experiencing significantly higher spread. To get cases in these municipalities under control, we must take additional action. By following these new restrictions and ramping up our vaccination program, we will be successful in winning this fight."

"I know Albertans, even those who have faithfully followed the health guidance and worked to keep not only themselves but their fellow citizens safe, are tired. But if we can muster the strength to make it through these next few weeks, we will allow our vaccination program a chance to protect more Albertans, and in end, we will get COVID-19 under control in Alberta."
Alberta Premier Jason Kenney, top health officials, to give COVID-19 update
Premier Jason Kenney and top health officials are to provide an update on COVID-19 this afternoon as Alberta faces surging hospitalizations.
Chief medical officer of health, Dr. Deena Hinshaw, Alberta Health Services CEO Dr. Verna Yiu, and Health Minister Jason Copping are expected to join Kenney.
A surging number of COVID-19 infections, driven by the Omicron variant, is putting increasing strain on the province's already overwhelmed health-care system.
There were more than 1,100 people hospitalized for the virus in Alberta Wednesday, with expectations that admissions will soon exceed record highs seen during the previous wave.
Dr. Shazma Mithani, an emergency room physician in Edmonton, says wait times are longer than she has seen in at least five years.
Mithani says she is worried, as this wave continues to surge, that people needing treatment for COVID-19 and other medical emergencies could have worse outcomes because of stretched wait times.
This report by The Canadian Press was first published Jan. 20, 2022.
The Canadian Press
Alberta police chiefs say too soon to support drug decriminalization
CALGARY — The association representing Alberta police chiefs says it's too soon to decriminalize illicit drugs.
Calgary Chief Const. Mark Neufeld, president of the Alberta Association of Chiefs of Police, says a number of things need to be in place before decriminalization can be seriously considered.
Neufeld says that would include provincial regulations on drug consumption around minors, public consumption and the operation of vehicles.
He says some aspects of decriminalization are already in place in Alberta, where individuals are typically only charged with personal possession within the context of a public safety concern or other criminal conduct.
Neufeld says decriminalization alone wouldn't reduce addiction or overdose rates.
He says there needs to be a connection between law enforcement and public health so that people who need help can get.
This report by The Canadian Press was first published Jan. 20, 2022.
The Canadian Press