Junior and Senior High Students at home for 2 weeks in Red Deer and other large Alberta Cities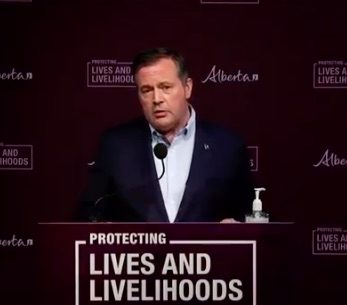 Targeted regional measures to bend the curve
New mandatory measures will address growing COVID-19 cases in hot spot communities across Alberta.
Targeted restrictions will apply to municipalities or regions where there are at least 350 cases per 100,000 people and 250 currently active cases.
New measures will apply to junior and senior high schools, and sports and fitness activities in these communities.
These targeted restrictions will remain in place for at least two weeks for any community or area that reaches this trigger. After 14 days, the enhanced measures will be lifted once the municipality falls back below the threshold.
Expanded public health measures
The following mandatory public health measures will come into effect for hot spot municipalities and regions:
Schools – Starting May 3
While schools remain a safe place and are not a main driver of community spread, in order to limit in-person interactions, all junior and senior high school students (Grades 7 and above) will shift to online learning.
K-6 students will continue in-classroom learning unless otherwise approved by Alberta Education to shift to online-learning.
Indoor fitness – effective April 30
All indoor fitness activities are prohibited. This includes:

all group physical activities, such as team sports, fitness classes and training sessions
all one-on-one lessons and training activities
all practices, training and games

Outdoor fitness activities may continue under provincewide restrictions currently in place, including individual or household one-on-one training with a trainer.
Indoor sport and recreation – effective April 30
All youth and adult indoor group physical activities, including team sports and one-on-one training sessions, are prohibited.
Outdoor sport and recreation activities may continue under provincewide restrictions currently in place:

Outdoor team sports where two-metre distancing cannot be maintained at all times (such as basketball, volleyball, soccer, football, slo-pitch and road hockey) remain prohibited.
Outdoor fitness training is allowed, as are physically distanced group fitness classes with a maximum of 10 participants.
Outdoor group physical activity with different households must be limited to 10 people or fewer and two-metre distancing must be maintained at all times.

All indoor recreation facilities must close. Outdoor recreation amenities can be open to public access unless specifically closed by public health order.
Curfew
The government will implement a curfew where case rates are significantly high, specifically case rates above 1,000 per 100,000, and if a municipality or region requests it. Details will be announced prior to any curfew being implemented.
All other current public health restrictions, including masking, physical distancing, prohibitions on social gatherings and working from home requirements remain in place provincewide.
Alberta's government is responding to the COVID-19 pandemic by protecting lives and livelihoods with precise measures to bend the curve, sustain small businesses and protect Alberta's health-care system.
Quick facts
Current communities with a case rate above 350 per 100,000 people and at least 250 active cases:

Fort McMurray
City of Red Deer
City of Grande Prairie
City of Calgary
City of Airdrie
Strathcona County
City of Lethbridge
City of Edmonton

Future updates for active case rates for municipalities and a map of those under enhanced restrictions will be available at alberta.ca.
Moving forward, targeted restrictions will be applied to any communities or regions with a case rate above 350 per 100,000 people and 250 active cases, and remain in place for at least two weeks.
If, after two weeks, the case rate falls below the threshold of 350 cases per 100,000 people, these targeted measures will be removed and only current provincewide restrictions will apply.
If a municipality goes below the threshold measure of 350 cases per 100,000 people before the two weeks are finished, the enhanced restrictions will still apply until the two-week period is over.
To prevent rural areas with small populations from being unfairly impacted, municipalities with fewer than 250 active cases will be excluded from the threshold.
Health officials will continue to closely monitor the spread of COVID-19 to assess whether additional action is needed to reduce transmission and when these restrictions are no longer required.


"We have no choice but to implement these targeted measures to slow growth and bend the curve and protect our health system over the next few weeks. These measures are layered on top of Alberta's robust public health restrictions and will buy a little more time for our vaccination program to protect more Albertans and win the race against the variants. We must respond with a firm stand against COVID-19 now so that we can enjoy a great Alberta summer."

"The highly transmissible variants of concern are a game-changer and in turn, we have to change our approach to be successful. No one person or community is to blame, but the evidence is showing that certain areas are experiencing significantly higher spread. To get cases in these municipalities under control, we must take additional action. By following these new restrictions and ramping up our vaccination program, we will be successful in winning this fight."

"I know Albertans, even those who have faithfully followed the health guidance and worked to keep not only themselves but their fellow citizens safe, are tired. But if we can muster the strength to make it through these next few weeks, we will allow our vaccination program a chance to protect more Albertans, and in end, we will get COVID-19 under control in Alberta."
UFA announces Farm & Ranch Supply story in Gasoline Alley along with historic $28 million patronage membership dividend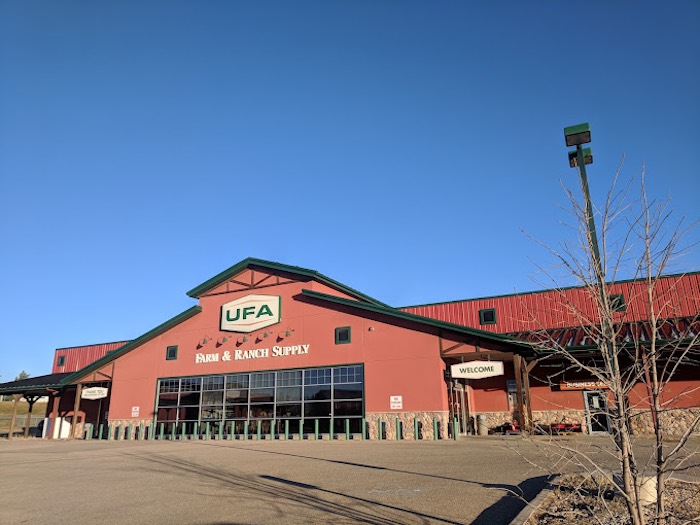 UFA Announces $28 Million Patronage Dividend
UFA shared big news today announcing a historic patronage dividend of $28 million back to its membership and fully opening two new locations in Saskatchewan!
UFA has consistently delivered patronage to its members, this marks the sixth consecutive year of increased patronage and a 56 per cent increase over last year.
One of the primary benefits to being a co-operative member is patronage, and this year's patronage dividend is truly significant. We have expanded our patronage program to reward our membership by paying on more categories of purchases. More products our members use daily on their farm, ranch, or for their business now earn them patronage rewards. We are proud to grow and deliver patronage consistently. At UFA, members can count on their co-operative and on patronage.
Scott Bolton, President and CEO, UFA
With a minimum $5,000 purchased in 2022, Patronage will be paid on Clear and Dyed Dieselex® Gold (6 cents per litre), Clear and Dyed Diesel (5 cents per litre), Clear and Dyed Gasoline (1 cent per litre), and 3 per cent on most other purchases, excluding Micro Beef, crop nutrition (i.e. bulk fertilizer and micro-nutrients) and leased purchases.
We believe good business is rooted in investing in good relationships and consistently rewarding our membership with a growing patronage dividend demonstrates our commitment. We take great pride in our patronage program. As owners of UFA, our success is truly our members' reward.
Kevin Hoppins, Board Chair, UFA.
UFA had a very strong fiscal year. In addition to the $28 million patronage dividend, it reported $2.4 billion in financial revenues and $157 million in earnings before interest, taxes, depreciation, and amortization (EBITDA).
The co-operative continues to invest in core businesses. Along with a multi-phased Saskatchewan expansion, it increased its Dieselex Gold® offering with the premium product available at its new locations. UFA also unveiled plans for a new Red Deer Farm & Ranch Supply store location to be built in Gasoline Alley. It demonstrated its commitment to its customers launching UFA MarketPLACE, expanding its product selection and featuring products not otherwise available in its Farm & Ranch Supply stores. Most importantly, health and safety remained a key priority. UFA first received its COR Certification in 2007 and since 2013, has been consistently at or above a 95 per cent score, with an impressive final score of 96 per cent in the 2022 COR Audit.
In addition to the $28 million patronage announcement, UFA shared that it officially opened its doors in Weyburn and Yorkton. These sites are part of the expansion of UFA's petroleum business into key markets in central and eastern Saskatchewan.
We believe in the value of giving our members and customers choice. People living in or nearby these communities now have another option of where to spend their hard-earned dollars. Expanding our network is part of a concerted strategy to grow from an Alberta-focused fuel and agribusiness co-operative to a western-Canadian leader.
Scott Bolton, President and CEO, UFA
Meet the Weyburn and Yorkton Petroleum Agents
UFA is leveraging its agent operating model at its new locations. The agents are excited to serve their local communities and provide the excellent service that UFA is known for. Jason and Laura Lee Petersen will be operating Weyburn and Mark Lukash is the Yorkton agent.
The combination of a robust supply chain, one of the largest Cardlock networks in Western Canada, and strong agent partners is essential to the success of UFA's petroleum business.
Features of the new UFA petroleum locations:
Gasoline and Clear and Dyed Diesel

DEF

at the pump and UFA, Shell and Chevron branded lubricant products

High-speed pumps and wide lanes

State-of-the-art warehouse and office

Dieselex® Gold

. UFA is pleased to offer its exclusive diesel offering to Saskatchewan. This top-tier premium product is engineered to enhance fuel efficiency, reduce maintenance, and increase power.
UFA is the exclusive distributor of Dieselex® Gold
UFA also announced Dunmore and Saskatoon as the next locations in UFA's expansion strategy
The new Dunmore, Alberta petroleum location will complement UFA's solid operating presence in the region and will eventually replace UFA's existing petroleum site in the southwest end of Medicine Hat.
Saskatoon services a large portion of west and central Saskatchewan and has accessibility from Highway 16 for travelers along the corridor, including from Lloydminster. The new site will be able to service local industrial and agricultural businesses conveniently.
The 114-year-old member-owned co-operative will continue to grow to service major agribusiness, oil and gas and industrial centres throughout Western Canada. Dunmore, Alberta, and Saskatoon, Saskatchewan, locations will complement UFA's existing petroleum locations in Alberta and Saskatchewan.
UFA is committed to investing in our network and bringing our unique product selection to new locations throughout Western Canada. The regions around Dunmore, Alberta, and Weyburn, Yorkton and Saskatoon, Saskatchewan, and the other markets selected for additional locations are key marketsin Western Canada's agribusiness and industrial economy. The expansion project will provide significant investment throughout Western Canada and UFA looks forward to serving the local communities where the new petroleum sites will be located. Along with looking at new investment opportunities, we believe it is essential to give back to rural communities we serve, ensuring they thrive well into the future.
Don Smith, Vice President, Petroleum and Innovation, UFA.
Weyburn UFA Petroleum Agency
Founded in 1909, UFA Co-operative Limited is an Alberta-based agricultural co-operative with more than 120,000 member-owners. UFA's network comprises 113 bulk fuel and Cardlock Petroleum locations, 34 Farm & Ranch Supply stores and a support office located in Calgary, AB. Independent Petroleum Agents and over 1,000 UFA employees provide products, services and agricultural solutions to farmers, ranchers, members and commercial customers in Alberta, British Columbia and Saskatchewan.
With new $6,000 grant and $4,000 tax credit, Province making adoption far more affordable for Alberta families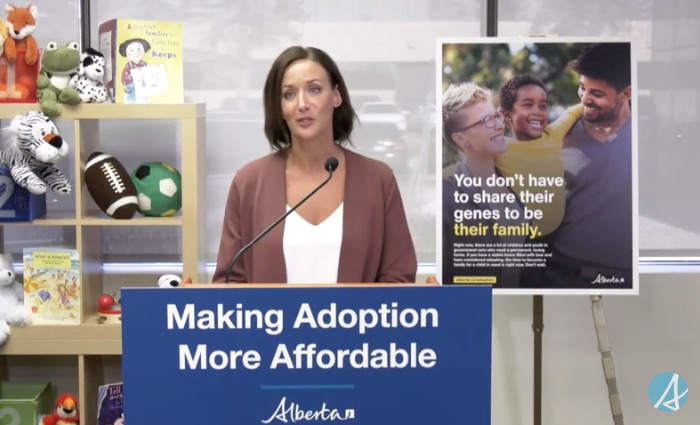 Making adoption more affordable
Alberta's government is increasing subsidies, tax breaks and benefits so that more children can find their forever homes.
Budget 2023 includes $4 million per year in new funding over the next three years to make adoption more affordable. These new initiatives follow up on the commitment by Premier Danielle Smith to make adoption less arduous for Alberta families.
If the Financial Statutes Amendment Act, 2023 passes, the new $4-million package to make adoption more affordable for Albertans will cover the cost of dental, vision and other supplemental health benefits for children adopted in Alberta – regardless of whether they were adopted from the government system or through a private, licensed agency in the province. Alberta will become the first and only province to do this.
This funding support, which would take effect this fall, will help remove medical cost barriers to adoption, especially for children with specialized medical needs.
"We are following through on our commitment to make adoption more affordable for Albertans who are starting or growing their families. If a child can find a loving and stable home sooner – that's good news for everyone, and most importantly, for the child. That is why we want to help reduce adoption expenses, so that more children can find their forever families."
In addition to covering the costs of supplementary health benefits, the provincial adoption expenses tax credit amount would be increased by almost $4,000, to $18,210 from $14,365, to help cover the costs of adoption, matching the federal tax credit. This can be claimed by families adopting locally or internationally, and will be retroactive to Jan 1. The increased credit will be available to Albertans when they file their 2023 taxes in spring 2024.
"Adoption shouldn't create a financial burden for parents starting or growing their families. These new measures will make it easier for a child who needs a home to become part of a family."
About 5,000 adopted children in Alberta who have already found their forever family and future adopted children will be eligible for these benefits.
If the legislation passes, the cost of private adoption through licensed adoption agencies in Alberta will be subsidized by $6,000 for families that earn less than $180,000. The subsidy would help reduce the cost of adoption by 40 to 50 per cent.
"We are very pleased to see these additional supports for adoptive families through licensed adoption agencies. These new supports mean there is one less barrier for couples experiencing fertility loss and hoping to form a family through adoption. It also means less financial stress for families looking to adopt a child with medical or complex needs."
"I think it's fantastic for adoptive families and children to be supported this way. This initiative shows government is behind families and wants to help children in government care find permanent loving homes."
"As an adoptive parent myself, I know first-hand the expenses and red tape and long processes that prospective parents face when considering adoption. These new supports mean more Albertans can welcome a child into their home, and together, they can build their forever family."
Budget 2023 secures Alberta's future by transforming the health-care system to meet people's needs, supporting Albertans with the high cost of living, keeping our communities safe and driving the economy with more jobs, quality education and continued diversification.
Quick facts
The number of approved adoptive families for children in government care has dropped by more than half – the lowest number of adoptive families in decades.

Typically, there are about 100 approved families at any given time but there are only about 30 now.
Currently, 27 children and youth are waiting to be matched with a loving, permanent home. Most of these children are over the age of seven, have special needs or are part of a sibling group.

The government covers the costs associated with adopting a child in government care but fees to adopt a child internationally can range between $10,000 and $40,000, while fees through an agency can range between $11,000 and $15,000.
Children's Services launched an adoption recruitment campaign in early March focused on adopting children in government care.