Amazing opportunity today only! Oilers 50/50 in support of Central Alberta Child Advocacy Centre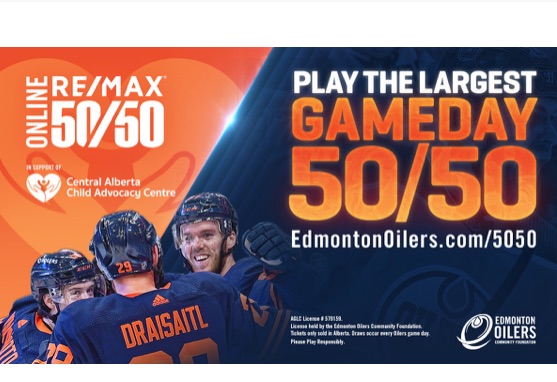 Oilers Game Day 50/50 in support of the CACAC!
Thank you to the Edmonton Oilers and Edmonton Oilers Community Foundation organizations for involving us in this incredible opportunity to share our story. This platform will help create more awareness across the country regarding the issue of child abuse and the need for Child Advocacy Centres.
Select from the following for your chance to WIN!
Regular: Five dollars ($5.00) for one (1) ticket (D)
Discount 1: Ten dollars ($10.00) for ten (10) tickets (C)
Discount 2: Twenty dollars ($20.00) for sixty (60) tickets (B)
Discount 3: Fifty dollars ($50.00) for two hundred (200) tickets (A)
AGLC Raffle License #570159
Tickets available for purchase starting at
9AM Saturday, May 1st
Ticket Deadline: Saturday, May 1st @ 11PM
Thanks again to everyone involved!
Your support will create the foundation for lasting impacts in the lives of children and youth that have been abused in Alberta.
Your support makes a difference!
RCMP say competitor in Ironman is dead after volunteers pulled him from the water
CALGARY — RCMP say a competitor in an Ironman triathlon west of Calgary has died.
Police say they received a complaint of a drowning at Harmony Lake in Rocky View County on Sunday morning.
They say a 47-year-old Ontario man was located by Ironman race volunteers in the water.
The volunteers pulled him out, began CPR, and called EMS, but police say he died at the scene.
RCMP say they have contacted the medical examiner who will be assisting in determining a cause.
They say the man's family has been notified.
This report by The Canadian Press was first published Aug. 1, 2021.
The Canadian Press
FC Edmonton roll to 3-1 win over No. 1 Valour FC in CPL action
EDMONTON — FC Edmonton struck early and refused to relent Saturday as it rolled to a 3-1 victory over Valour FC in Canadian Premier League action.
Easton Ongaro put Edmonton (3-4-2) up 1-0 just 13 minutes in.
Tobias Warschewski added a goal for the home side in the 55th minute and eight minutes later, Amer Didic scored to give Edmonton the 3-0 lead.
Andy Baquero Ruiz clawed back a goal for Valour (6-3-0) in the 88th minute.
Edmonton outshot Valour 12-9, with six of its shots on target. Valour had three shots on goal.
Despite the result, Valour continues to sit atop the league with 17 points, one ahead of Pacific FC.
This report by The Canadian Press was first published July 31, 2021.
The Canadian Press