Join CAPRA downtown Red Deer on Oct 17th to shine a light on hunger.
In the month of September the Red Deer Food Bank helped 1055 adults, 629 children, and 331 families.
Over 850,000 people in Canada use a food bank each month. More than one-third of those are children. One in eight families struggle daily to put food on the table. Two out of every five Northern households are food insecure.
On October 17th, the International Day for the Eradication of Poverty, volunteers across Canada are taking to the streets to participate in the fourth annual "ChewOnThis!" campaign. The campaign is organized by Dignity for All, an initiative co-led by Canada Without Poverty (CWP) and Citizens for Public Justice (CPJ), both registered charities. It is being locally organized by the Central Alberta Poverty Reduction Alliance (CAPRA).
"ChewOnThis!" events are being held by over 50 groups in more than 30 cities across the country – from Vancouver to St. John's to Yellowknife – including Parliament Hill and in Toronto's downtown core. Volunteers will be collectively handing out 22,000 brown paper bags containing a snack and information prompting people to consider the realities of poverty and food insecurity. They will also be calling for the voices of those with lived experience of poverty to be included in the forthcoming national anti-poverty plan and for the plan to be rooted in human rights.
In Red Deer, a group of people will be meeting downtown at the Ross Street Patio, on 50th St. between 49th Ave. and Little Gaetz at noon, until 1pm, to hand out healthy snacks and bring awareness to hunger in Central Alberta.
"Food is one of the first variables to come out of the budget when times are tough," says Harrison Blizzard, CAPRA Food Security Action Committee Chair. "Most of us don't realize how many people here in Central Alberta, individuals, children, and families, are going hungry.
Central Alberta Poverty Reduction Alliance, or CAPRA, is a group of people and organizations who work collaboratively to find local solutions and make a real difference on poverty. We have over 45 members and hundreds of community supporters advocating for social change that will improve opportunities for people experiencing poverty.
We work at the strategic level, taking a big-picture, long-term approach to have a collective, permanent impact on poverty.
Our job is to:
Educate the community about poverty related issues
Advocate to systems to reduce barriers that keep people trapped in cycles of poverty
Spark local action on poverty
$10 ticket for a shot at up to $10,000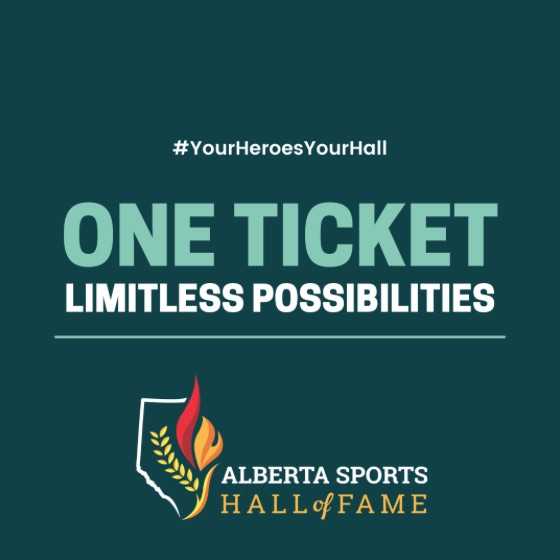 Your Hall. Needs Heroes.
We're enhancing the Alberta Sports Hall of Fame experience, one ticket at a time.
It's time for us to replace our "vintage" ski machine with something a little more modern. But changing an interactive doesn't come cheap.
Be Our Hero – get your tickets today for a potential shot at $10,000.
AGLC Raffle #573630
Out with the old …
Pixels might be cool again, but our ski machine has seen better days. We've kept it going, but it's past its prime.
In with the new.
The super-sized version of our old classic, Super Alpine Racer is as close as you can get to the real thing.
Support Smiles Thru Lindsey when you order out this month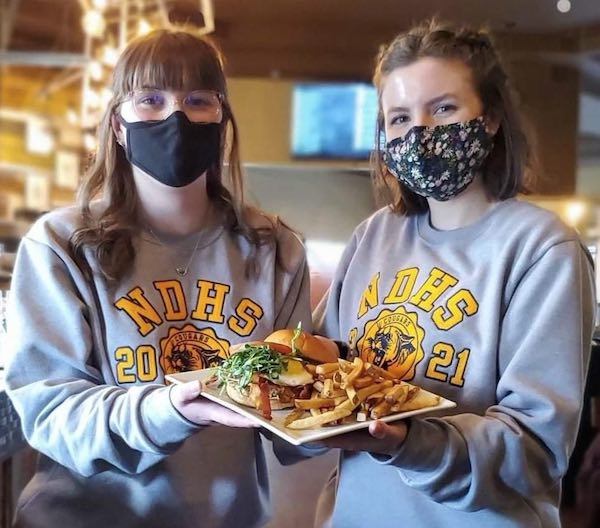 Article submitted by Red Deer Catholic Regional Schools
Throughout the month of May, purchase a "Big Smile" burger from Cilantro and Chive and $2 will be donated to the Smiles Thru Lindsey Foundation as part of École Secondaire Notre Dame High School's grad service project. This year's goal is to raise $40,000.
Lily Forsyth and Allyne Simonot, Grade 12 students at École Secondaire Notre Dame High School, worked in collaboration with the chef at Cilantro and Chive to design the "Big Smile" burger. The burger was designed featuring some of Lindsey's favourite ingredients and is a great way to raise money for an amazing cause. The "Big Smile" features marinated chicken breast, bacon, a sunny fried egg, arugula, tomato, balsamic glaze and a lime avocado aioli on a brioche bun and is served with hand-cut fries.
"The Class of 2021 agreed that in light of COVID-19 mental health should be a priority now more than ever. Lindsey More was, like us, a Notre Dame graduate. After she tragically took her life in 2015, her family began Smiles Thru Lindsey. She was a regular happy girl, nothing seemingly wrong. She was involved in the school community through sports and the grad service project of 2011. We knew that our school community would connect to her and her story as easily as it has," said Allyne Simonot, student at École Secondaire Notre Dame High School.
"This cause is actually very personal for me, it is another way for me to support my friends who are struggling, a way to communicate to every person who is willing to listen that they are not alone. That everyone is feeling or has felt a toll on their mental health and that there are resources and people out there to help," said Lily Forsyth, student at École Secondaire Notre Dame High School.
"In a year of such uncertainty, I am so proud of how our students have found such unique ways to fundraise and create awareness for mental health. Through their dedication and creativity, they have been able to partner with some amazing local businesses allowing the entire community the opportunity to be part of our quest to end the stigma surrounding mental health," said Principal, Rose McQuay at École Secondaire Notre Dame High School.
"We get to meet the wonderful people who work tirelessly behind the scenes in deserving organizations while enjoying delicious burgers created and inspired by amazing people in our community. In just over four years we have been able to give back over $80,000 to local charities and organizations in our own backyard. Thank you to École Secondaire Notre Dame High School for being a part of our Burger of the Month and having some fun with us, while raising awareness for Smiles Thru Lindsey," said Rieley Kay, owner of Cilantro and Chive restaurant.
Red Deer Catholic Regional Schools serves over 10,360 students in 20 schools in Red Deer, Blackfalds, Sylvan Lake, Rocky Mountain House, Innisfail, and Olds, as well as an at-home learning program. It also supports the learning of over 1095 students in a Traditional Home Education Program. The Division is committed to serving children and parents with a complete offering of learning opportunities delivered within the context of Catholic teachings and within the means of the Division.