Jo(e) Youth Creative. First-of-its-kind social media learning space for kids AND adults.
Written by Joe Whitbread
Despite a pandemic & economic uncertainty, (and even health issues) Jo Phillips and I are pretty proud to have successfully opened a whole new business, alongside what we've already accomplished at Joe Social Media Inc. and even created Summer jobs while we're at it.
Have you heard of Jo(e) Youth Creative yet? You will.
Every adult knows or has some amazing, creative kids, that love to perform, create, draw, dance, produce, direct or play. These kids are using their devices, cameras and social channels to share cool content, to watch creators around the world, to learn and to communicate positively with their friends.
Kids are generating remarkable online channels and content but most adults keep them at arms length, based on fear or lack of knowledge. This is leaving good kids, who see obvious digital opportunities and fun, right in front of them, without permission to explore or achieve. These misconceived notions from parents, of what kids are actually doing online, is creating untrust and misunderstandings, because the internet and almost all media you see, tells us kids are doing terrible things online.
Joe Youth Creative is a first-of-its-kind, safe mentorship and learning space for kids! But it's also for you!
Adults, seniors and kids have got to get on the same page when it comes to digital learning.
We're running Summer camps and clubs in TikTok, YouTube, Instagram and many other unique social media opportunities for kids. (Space is very limited, due to Covid restrictions & we practice ALL health and safety guidelines).
We also have social media training and learning for adults and seniors.
Jo(e) isn't about adding more screen time for your family, it's about mentoring safe use, developing confident kids, fostering creativity, empowering youngsters to openly talk about the digital things they love at home, and even creating entrepreneurship opportunities, on amazing platforms, that have never been exposed or explored before, due to the negativity that surrounds every breath about social media in our world.
Jo and I have done our research, by touring in schools and speaking with 10's of thousands of kids, parents, teachers, educators and experts.
We're trusted, across the province, in our field.
We know there are plenty of good kids, doing great things online and we are desperately trying to support them, in what they're doing, instead of banning and forbidding them from places adults admittedly know little about.
Please like our pages and check out our clubs, camps and courses. I'm wide open to any and all of your questions.
Investigation of attempted home invasion at Innisfail leads to six arrests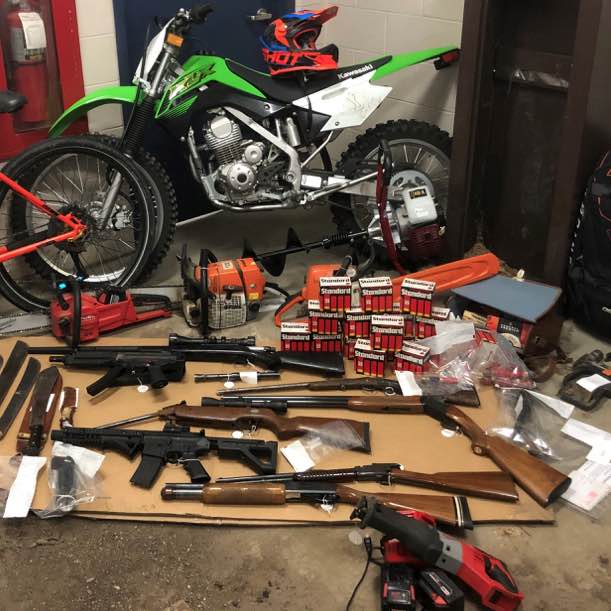 From Innisfail RCMP
Innisfail RCMP work with multi partners to seize stolen property and charge six suspects
A report of an attempted home invasion on Feb. 18 led to the arrest of six property crime suspects and the recovery of a substantial amount of stolen property by Innisfail RCMP.
The Innisfail RCMP responded in the evening of Feb. 18 to the attempted home invasion near downtown Innisfail.  Two males were reported as trying to break into the home while in possession of weapons.
The two suspect males were identified by the RCMP. On Feb. 19 Innisfail RCMP with the assistance of the Central Alberta District Crime Reduction Unit and RCMP Air Services attended a property on the C+E Trail in Red Deer County, north of Penhold, to arrest the suspects.  One was arrested without incident and the second fled in a Ford F350, with two other occupants, recently stolen out of Saskatchewan. A pursuit ensued, and efforts were made to deploy tire deflation devices, but they were not successful.
The F350 travelled throughout the central Alberta area to a location near Pigeon Lake, where three occupants abandoned the F350 and were picked up by a second Ford dually pickup truck. The dually was under observation as it travelled back into Red Deer where all 5 occupants were eventually arrested at two different locations in the city with the assistance of the Red Deer City RCMP, Innisfail Integrated Traffic Unit and the RCMP Police Dog Services.
On Feb. 20, Innisfail RCMP with the assistance of RCMP Calgary Auto Theft and Blackfalds GIS executed a search warrant at the C+E Trail property. The RCMP seized items related to many property crime investigations throughout Central Alberta including: stolen firearms, ammunition, a stolen dirt bike, stolen tools, break-in tools and other weapons. The dually was examined by the Calgary Auto Theft Unit and found to be a cloned (different VIN) vehicle that was stolen 3 years ago from a ranch near Strathmore.
The following persons all from the Red Deer area have been charged as follows:
Gary Auvigne (45) is facing over 20 criminal code charges, including break and enter, use a firearm while committing an offence, utter threats, possession of a stolen firearm and breach of a release document (x6).
Thomas Larkin (41) is facing 17 charges including break and enter, possession of a stolen vehicle, possession of break in tools, flight from police and dangerous driving. He is also charged with breaching a release document (x7).
Katherine Young (29) and Thomas Foshay (36) are both charged with possession of a stolen vehicle and possession of break-in tools.
Adam Bogusky (36) is facing seven criminal charges including possession of break in tools, fraudulent concealment, possession of a weapon for a dangerous purpose, dangerous operation of a vehicle and flight from police.
Kameryne Boyd (21) is charged with possession of break in tools, fraudulent concealment and possession of a weapon for a dangerous purpose.
Auvigne and Larkin were held in custody pending Judicial Interim Release hearings scheduled for Feb. 26, 2021 in Red Deer Provincial Court. Young and Foshay  participated in Judicial Interim Release hearings and were released by a Justice of the Peace for future court dates. Bogusky and Boyd were released by police for first appearance court dates on April 6, 2021 in Red Deer Provincial Court.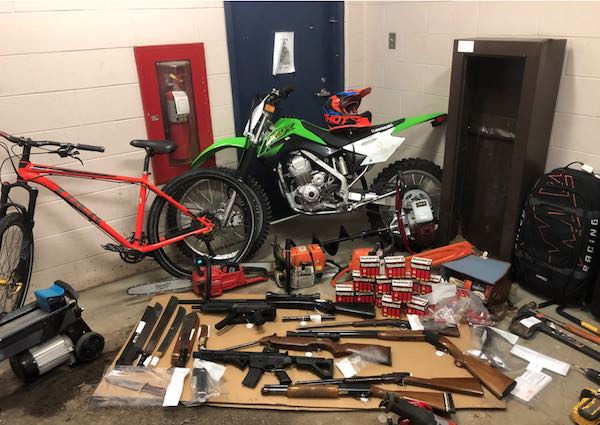 How the Railroads Shaped Red Deer
Rivers, creeks and streams have shaped the land for eons, slowly carving away earth to reveal the terrain we know today. Much of the same can be said for the impact and influence that railways had in shaping the size and shape and even the very location of what is now the City of Red Deer. 
Prior to the construction of the Calgary and Edmonton railway, which started heading north from Calgary in 1890, what we now recognize as the bustling city of Red Deer was unbroken and forested land. The nearest significant settlement was the crossing for the C&E Trail of the Red Deer River, very close to where the historic Fort Normandeau replica stands today. 
Navigating how to handle crossing the Red Deer River would be a significant challenge for construction of the railway route. Initially, the route was planned to take the tried-and-true path that had served animals, first nations people and fur traders for centuries, past the Red Deer River settlement. Yet just as the mighty river powerfully shaped the contours and dimensions of the land, the future site of Red Deer would be singlehandedly determined by Reverend Leonard Gaetz.
Rev. Gaetz offered James Ross, President of the Calgary and Edmonton Railway company,  land from his personal farmlands for the river crossing and the townsite for Red Deer.  Ross accepted and history was forever shaped by the decision, as what is now home to more than 100,000 people grew steadily outward starting at the C&E Railway train station. 
The rails finally reached the Red Deer area in November of 1890 and trains soon began running south to Calgary. By 1891, the Calgary and Edmonton railway was completed north to Strathcona. Alberta gained one of its most vital transportation corridors and the province would thrive from this ribbon of steel rails.
Over time, the C&E railyards grew and expanded to accommodate the demand for moving more and more commodities like grain, coal, lumber and business and household items along with passengers. Those passengers were the pioneer settlers who would make Red Deer the commercial hub that it remains to this day.
For nearly 100 years, the downtown was intimately connected with the railway in the form of hotels built to welcome travelers, grain elevators, warehouses, factories and the facilities required to service the locomotives and equipment that operated the trains. Tracks and spurs dominated the downtown area, especially after the advent of the Alberta Central Railway and the arrival of the Canadian Northern Western Railway (later absorbed into Canadian National railways).
By the 1980s, the ever-present tracks and downtown railyard were seen as an industrial blight in the heart of the city that the railway created so funding was sought and plans were made to relocate the now Canadian Pacific rails from their historical home to a new modern yard northwest of the city. 
This was actually the second relocation of tracks from downtown as the Canadian National railway tracks were removed in 1960 which permitted the development along 47th Avenue south of the Red Deer River.
This massive project opened up the Riverlands district downtown to new developments which included condominiums, grocery stores, restaurants and professional buildings. Taylor Drive was built following the old rail line corridor and removal of the tracks in Lower Fairview meant residents wouldn't hear the rumble of trains in their community anymore. 
Just as the waters gradually shaped the places we know now, the railways definitely forged Red Deer into the vibrant economic hub of central Alberta that it remains today. 
We hope you enjoyed this story about our local history.  Click here to read more history stories on Todayville.
Visit the City of Red Deer Archives to browse through the written, photographic and audio history of Red Deer. Read about the city and surrounding community and learn about the people who make Red Deer special.