Jo(e) Youth Creative. First-of-its-kind social media learning space for kids AND adults.
Written by Joe Whitbread
Despite a pandemic & economic uncertainty, (and even health issues) Jo Phillips and I are pretty proud to have successfully opened a whole new business, alongside what we've already accomplished at Joe Social Media Inc. and even created Summer jobs while we're at it.
Have you heard of Jo(e) Youth Creative yet? You will.
Every adult knows or has some amazing, creative kids, that love to perform, create, draw, dance, produce, direct or play. These kids are using their devices, cameras and social channels to share cool content, to watch creators around the world, to learn and to communicate positively with their friends.
Kids are generating remarkable online channels and content but most adults keep them at arms length, based on fear or lack of knowledge. This is leaving good kids, who see obvious digital opportunities and fun, right in front of them, without permission to explore or achieve. These misconceived notions from parents, of what kids are actually doing online, is creating untrust and misunderstandings, because the internet and almost all media you see, tells us kids are doing terrible things online.
Joe Youth Creative is a first-of-its-kind, safe mentorship and learning space for kids! But it's also for you!
Adults, seniors and kids have got to get on the same page when it comes to digital learning.
We're running Summer camps and clubs in TikTok, YouTube, Instagram and many other unique social media opportunities for kids. (Space is very limited, due to Covid restrictions & we practice ALL health and safety guidelines).
We also have social media training and learning for adults and seniors.
Jo(e) isn't about adding more screen time for your family, it's about mentoring safe use, developing confident kids, fostering creativity, empowering youngsters to openly talk about the digital things they love at home, and even creating entrepreneurship opportunities, on amazing platforms, that have never been exposed or explored before, due to the negativity that surrounds every breath about social media in our world.
Jo and I have done our research, by touring in schools and speaking with 10's of thousands of kids, parents, teachers, educators and experts.
We're trusted, across the province, in our field.
We know there are plenty of good kids, doing great things online and we are desperately trying to support them, in what they're doing, instead of banning and forbidding them from places adults admittedly know little about.
Please like our pages and check out our clubs, camps and courses. I'm wide open to any and all of your questions.
Three Hills RCMP nab suspect who set fire to a field in escape attempt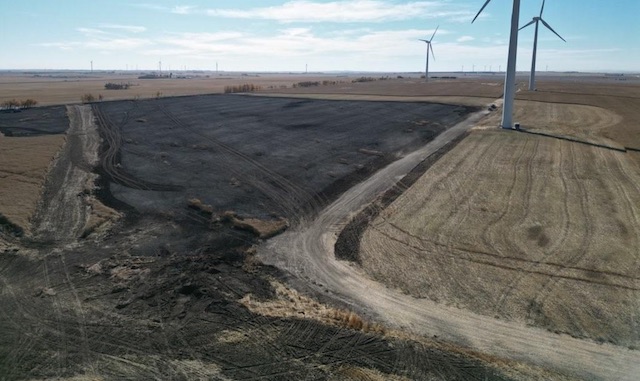 Three Hills RCMP apprehend property crime offender after lighting fire on rural property
On Oct. 8, 2023, at approximately 4:15 p.m., Three Hills RCMP responded to a break and enter in progress while the home owner was home and hiding inside. Members arrived at the residence and observed suspects fleeing the area in a vehicle. Three Hills RCMP located the vehicle and one male suspect after he lit a fire to a farm field to try and evade police. The male was arrested shortly after and identified by police. Police confirmed the vehicle was stolen and officers located break and enter tools and stolen property inside the vehicle.
Joseph Vincent (30), a resident of Sylvan Lake, Alta., has been charged with:
Arson – Damage to Property
Break and Enter Residence
Possession of Break-in Instruments
Possession of property obtained by crime under $5000
Provincial Trespass
Following a Judicial Interim Release Hearing, Vincent was remanded into custody to appear in Alberta Court of Justice in Drumheller on Oct. 13, 2023.
Three Hills RCMP Detachment Commander Sgt. Jamie Day stated "I am proud of the responding members from the Three Hills Detachment. A lot of work went into catching this offender and I am, thankful that no one was hurt during the incident. This demonstrates the importance, effectiveness and dedication from our members. Three Hills RCMP remains fully committed in building safer communities by working in partnership with our community as well as through investigative and enforcement efforts to achieve this goal. An instrumental tool that aided the investigation, was camera footage provided by the victims linking the individual to multiple incidents. I would like to thank Southern Alberta District Crime Analyst for his assistance providing intel that was critical to the investigation."
28 year old Blackfalds woman arrested after drug trafficking investigation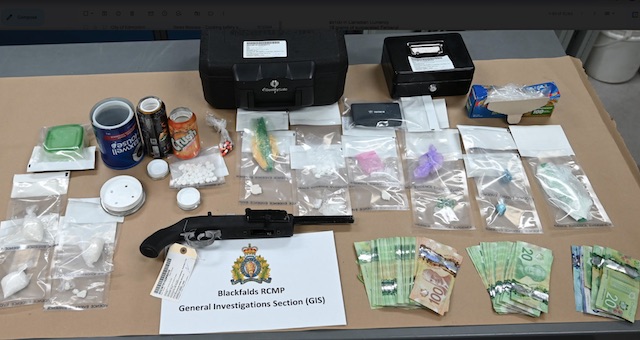 News release from Blackfalds RCMP
Blackfalds RCMP lay charges after drug trafficking investigation
In the summer of 2023, Blackfalds RCMP began an investigation into drug trafficking in the Blackfalds area. As a result of the investigation, on Sept. 5th, 2023, RCMP observed the suspect who appeared to be selling drugs from a Toyota Camry. RCMP initiated a traffic stop and arrested the suspect. RCMP seized:
86.8 grams of suspected Methamphetamine
5.6 grams of suspected Cocaine
93 Percocet pills
A loaded prohibited/Restricted firearm
$5100 in Canadian Currency
16 grams of suspeceted Fentanyl
Other pills that are not yet known.
Evidence obtained in the search of the vehicle led officers to continue the investigation. On Sept. 6, 2023, RCMP executed a search warrant at a hotel in Red Deer. As a result of the search of the hotel room, RCMP seized:
28.3 grams of suspected methamphetamine
8 grams of suspected Cocaine
12.6 grams of suspected Fentanyl
RCMP have arrested and charged Blackfalds resident, Reanne Brodersen (28), with:
Possession for the Purpose of Trafficking (x4)
Possession of the Proceeds of Crime
Weapons offences (x4)
Failure to Comply with Weapons Prohibition Order (x2)
Fail to Comply with Release Order (x2)
Bordersen has been taken before a justice of the peace and remanded with her next appearance date set for Oct. 19, 2023, at the Alberta Court of Justice in Red Deer.