Jesse Roads' "Sweet Alberta" cruises past 20,000 streams. Thousands of new fans discovering Red Deer rocker
No one wants this COVID-19 pandemic to be our new normal and no one wants to get back to playing in front of packed crowds dancing and sweating on each other more than talented musical artists like Jesse Roads. Months into this pandemic lifestyle a lot of artists have turned to other streams of income. As for Jesse, he's got other kinds of streams on his mind. Now that he's not constantly on the road, Roads is using a lot of that traveling time to take a whole new look at his musical future. Six months in, he's managed to make new headway in radio and online, releasing new songs and streaming more than ever before.
His latest tune is called "Sweet Alberta" and sweet it it. Co-written by Red Deer's Scott Wiber (who also plays base on this track) and a fellow musician from London, England, this new single was released two weeks ago. (Friday, August 7).
Check out this tune and you'll see why this should be the song that takes you out of the summer of 2020!
"No Love" is a Jesse Roads classic. Also this is one of my favourite songs.. period. I'm not talking about some of the really super talented people I know and think so very highly of. I mean everyone.. The Beatles.. Springsteen.. I mean I really love this song.
This "COVID" concert was recorded live at The VAT this spring. This was the first live concert performed on stage in Alberta since stages were locked down following the COVID-19 outbreak.
(Click ahead to the 41 minute mark for the start of the music)
Michael Gambon, actor who played Prof. Dumbledore in 6 'Harry Potter' movies, dies at age 82
Members of the cast of the Harry Potter films, from left, Tom Felton, Michael Gambon, Rupert Grint, and Daniel Radcliffe during grand opening ceremonies of the Wizarding World of Harry Potter at Universal Orlando theme park in Orlando, Florida, Friday, June 18, 2010. Actor Michael Gambon, who played Dumbledore in the later Harry Potter films, has died at age 82, his publicist says. (AP Photo/John Raoux, File)
LONDON (AP) — Veteran actor Michael Gambon, who was known to many for his portrayal of Hogwarts headmaster Albus Dumbledore in six of the eight "Harry Potter" films, has died, his publicist said Thursday. He was 82.
A statement by his family, issued by his publicist, said he died following "a bout of pneumonia."
"We are devastated to announce the loss of Sir Michael Gambon. Beloved husband and father, Michael died peacefully in hospital with his wife Anne and son Fergus at his bedside," his family said.
No matter what role he took on in a career that lasted more than five decades, Gambon was always instantly recognizable by the deep and drawling tones of his voice. He was cast as the much-loved Dumbledore after the death of his predecessor, Richard Harris, in 2002.
He once acknowledged not having read any of J. K. Rowling's best-selling books, arguing that it was safer to follow the script rather than be too influenced by the books. That didn't prevent him from embodying the spirit of Professor Dumbledore, the powerful wizard who fought against evil to protect his students.
Although the Potter role raised Gambon's international profile and introduced him to a new generation of fans, he had long been recognized as one of Britain's leading actors. His work spanned TV, theater and radio, and he starred in dozens of films from "Gosford Park" to "The King's Speech" and the animated family movie "Paddington."
Gambon was knighted for services to drama in 1998.
Born in Ireland on Oct. 19, 1940, Gambon was raised in London and originally trained as an engineer, following in the footsteps of his father. He made his theater debut in a production of "Othello" in Dublin.
In 1963 he got his first big break with a minor role in "Hamlet," the National Theatre Company's opening production, under the directorship of the legendary Laurence Olivier.
Gambon soon became a distinguished stage actor and received critical acclaim for his leading performance in "Life of Galileo" directed by John Dexter. He was frequently nominated for awards and won the Laurence Olivier award 3 times and the Critics' Circle Theatre Awards twice.
A multi-talented actor, Gambon was also the recipient of four coveted British Academy of Film and Television Arts awards for his television work.
He became a household name in Britain after his lead role in the 1986 BBC series "The Singing Detective," written by Dennis Potter and considered a classic of British television drama. Gambon won the BAFTA for best actor for the role.
Gambon was versatile as an actor but once told the BBC of his preference for playing "villainous characters." He played gangster Eddie Temple in the British crime thriller "Layer Cake" — a review of the film by the New York Times referred to Gambon as "reliably excellent" — and a Satanic crime boss in Peter Greenaway's "The Cook, The Thief, His Wife and Her Lover."
He also had a part as King George V in the 2010 drama film "The King's Speech." In 2015 he returned to the works of J.K. Rowling, taking a leading role in the TV adaptation of her book "The Casual Vacancy."
Gambon retired from the stage in 2015 after struggling to remember his lines in front of an audience due to his advancing age. He once told the Sunday Times Magazine: "It's a horrible thing to admit, but I can't do it. It breaks my heart."
The actor was always protective when it came to his private life. He married Anne Miller and they had one son, Fergus. He later had two sons with set designer Philippa Hart.
The Associated Press
First Fridays Gallery Openings for Red Deer September 1, 2023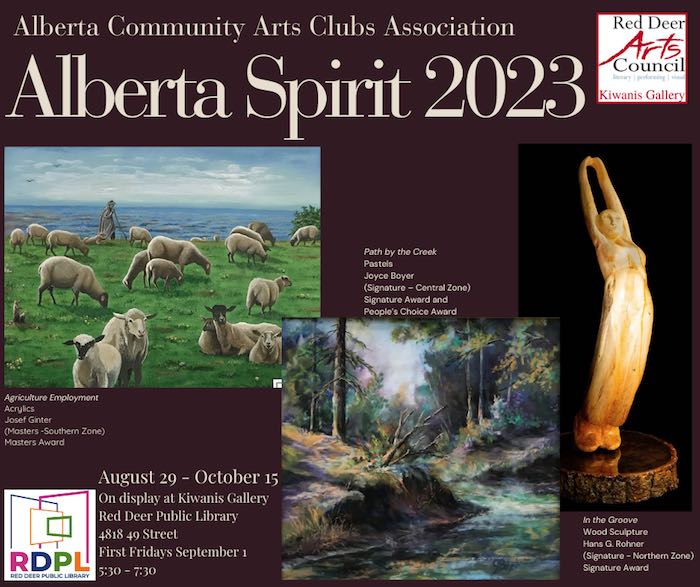 Title: Alberta Spirit Show
Kiwanis Gallery, 4818 49 Street, in Red Deer Public Library
Media: Various
Exhibition Dates: August 29 – October 15, 2023
#FirstFridaysRedDeer opening reception September 1 from 5:30 – 7:30pm with several of the Artists in attendance.
Exhibition Description: The Alberta Community Art Clubs Association's Spirit Show follows the province-wide Zone shows each year. The Alberta Spirit Show this year is made up of the best of the works from the
Northern, Central and Southern Zone shows to produce the Alberta Wide Exhibition. Truly, the best of the best is an understatement!
Hours: Mon – Thurs: 9 am – 8 pm, Fri: 9 am – 5 pm, Sat & Sun: 10 am – 3 pm
Title: Here, There, and Everywhere
Artists: William Armstrong, Judy Brownlee, Marianne Harris, Lynn LeCorre, Lucy McKavanagh, Kristina Miko, Nicole Murray, Jan Raymond, Betty Schnell, Hazel Sheehan, Carmen
Therriault, Theresa Towers Rickard, and Eelkje VanderMeulen-Smart
The Red Deer Arts Council Community Gallery, 6–4919 49 Street
Media: Various
Exhibition Dates: August 31 – October 3, 2023
#FirstFridaysRedDeer reception September 1, 2023 from 5pm – 7pm.
Description: For our Alberta Culture Days group exhibition, artists were asked to submit works that considered the importance of place, and their responses included culturally meaningful places, places of solace, places we
live. Come see how these artists interpreted the places they love, here, there, and everywhere in both imagery and poetry. Presented in collaboration with Central Alberta Retired Teachers' Association.
Regular (Summer) Gallery Hours: Monday to Friday 10am – 4pm
Title: The Oracles of Time
Artists: Eleanor P. Boyden
The Viewpoint Gallery, 5205 48 Avenue
Media: Acrylic Abstract Paintings
Dates: August 4 – September 22, 2023
#FirstFridaysRedDeer – the Gallery is open 8am – 8pm.
Artist's Statement: This new body of work, developed during an extended period of isolation, poses the question – How might we reconsider our experience of time, both singularly and as a community, from the past, through the present, and speculatively into the future?
As a collection, these abstract paintings engage with the viewer to collectively shift our understanding of how time is segmented, layered, and communicated. The work operates both as a meditation on many difficult aspects of isolation I experienced during the Covid pandemic, specifically how my relationship with time was altered, as well as reflecting a desire to shift from a sense of the endlessness and recognize the gift of time to explore a new painting process and deepen the themes presented in this series. I am truly excited about this body of work. I feel that The Oracles of Time series provides an opportunity to reconsider perceptions of the past, through our present experiences, and to look into the future with speculative wonderment. I believe that this project can reach a large and diverse audience and will challenge people's notions of how we experience time.
About the Gallery: The Viewpoint Gallery showcases original works of art by individual artists and collectives, and curated exhibitions. The gallery is in the lobby of the City of Red Deer Culture Services facility. Visit our Viewpoint Gallery page for more information.
Hours of operation: Monday to Friday: 8:00am – 4:30pm
Title: The Beauty of Our Natural World
Artist: Sharon Wright
Marjorie Wood Gallery, Kerry Wood Nature Centre, 6300 45 Avenue, Red Deer, AB
Media: Paintings
Dates: September 1 – October 16, 2023
#FirstFridays Opening Reception September 1 from 4 – 6pm in the Marjorie Wood Gallery with the artist in attendance.
Description: Come enjoy Sharon's vibrant, impressionistic oil paintings of people, animals, and places.
Submitted Artwork by Sharon Wright
Title: Lines and Shadows
Artists: Carol Lynn Gilchrist and Guest Margriet Hogue
Riverlands Studio and Gallery, 5123 48 Street, Red Deer
Media: Mixed Media
Dates of Exhibition: September 1 -27, 2023
Opening Reception: September 1 from 5:30 – 8:30 pm
http://Facebook.com/RiverlandsStudioandGallery
http://Instagram.com/@clgilchrist_artist
http://Instagram.com/@margriethogue
http://Facebook.com/MargrietHogue
Website: www.margriethogue.com
Title: September Sunflowers
Artists: Marlene Kallstrom-Barritt, Betty Schnell, Elizabeth Schapansky, Wendy Meeres, Amanda Frost, Audrey Rits, and many more!
Curiosity Art & Framing, 5002 48 Street, Red Deer
Media: Various
Dates: September 1 – 30, 2023
Description: September Sunflowers is an exhibition this month that has the theme of Sunflowers and floral fall. Stop by our new gallery at the corner of Little Gaetz and 48th Street.
Continuing Exhibitions
Title: Drawings by Martin Dahl
Artists: Martin Dahl
The Corridor Community Gallery, 4501 47A Ave inside the Recreation Centre
Media: Ink, Pencil, Coloured Pencil Drawings
Dates: August 4 – October 3, 2023
Description: Martin is a self-taught Red Deer artist who enjoys drawing old barns and buildings with abandoned and decaying cars and trucks in the foreground, or partially sunken and beached boats or ships. The drawings are mainly inspired by Martin's own photos taken in Alberta, Saskatchewan, and British Columbia or from those sent to him by family and friends.
About the Gallery: The Corridor Community Gallery is hosted by the City of Red Deer Community Development. This space, adjacent to our clay studio spaces, provides a public venue for local artists and allows us to share in the talents of fellow community members.
Visit https://www.reddeer.ca/corridor for more information.
Hours of operation: Monday to Friday 5:30 am – 10pm, Saturday 8am – 10pm, Sunday 11am – 8pm, Stats 12pm – 5pm
For information on visual arts classes and programs offered by the City of Red Deer or to enquire about showing your artwork in the Corridor Community Gallery, please contact: The City of Red Deer, Community Development | 403-406-8820 | [email protected]
Title: Body Language: Reawakening Cultural Tattooing of the Northwest
Red Deer Museum + Art Gallery (MAG) 4525 47A Avenue
Friday, September 1 from 5 – 8pm
Drop in to see the current exhibition Body Language: Reawakening Cultural Tattooing of the Northwest as part of #FirstFridaysRedDeer.
NEW: The MAG is now open Wednesdays and Fridays until 8pm on a permanent basis.
Velvet Olive Lounge, 4928C 50 Street, Red Deer (or enter via Capitol Pkg Store on Ross Street Patio)
Artribute Art School, 212 – 4836 50 Street, in the Old Courthouse. Treaty 6 & 7
Solorzano Spa Cafe & Wine Bar, 4631 50 Street, Red Deer, AB
First Fridays Red Deer is the monthly event where downtown art galleries hold exhibit openings and special events.
Creativity Understood.