Jack Daines can take a lot of credit for building rodeo in Canada
On the heels of the City of Red Deer's bid for the 2018 Canadian Finals Rodeo, it seems fitting to feature one of rodeo's greatest builders, Innisfail's Jack Daines. We invite you to watch the video produced for Jack's induction into the Alberta Sports Hall of Fame and Museum in 2009. For years we have heard Jack's voice all over the radio promoting the Innisfail Auction Mart and the sport of Rodeo.
Jack Daines' love for rodeo events began at an early age when he competed in boys steer riding. He won the Canadian Novice Saddle Bronc title in 1956 and 1957. He began his announcing career during the same rodeos that he was competing in. Since then, Jack has announced at the Canadian Finals Rodeo, the Calgary Stampede, and at rodeos in British Columbia, Alberta, Saskatchewan, Manitoba, Ontario and the United States.
Jack Daines lives and breathes rodeo and he has made outstanding contributions to the sport for more than 50 years. In 1961, Jack was at the top of his bronc riding career when he built the Daines Ranch Rodeo grounds with the help of his teenage brothers. Each year, rain or shine, there is always a rodeo at the Daines Ranch. He introduced the children's mutton busting event at their rodeo and the event has now become a part of rodeos all around the world.
Jack also started the Innisfail Professional Rodeo and the Innisfail Bucking Horse Sale. He was instrumental in developing the Alberta Professional Rodeo circuit and secured sponsorships and awards for Alberta cowboys. Jack continues to spend endless hours on behalf of rodeo as an advisor, promoter, announcer and producer.
Jack was named the 1990 Committee Man of the Year by the Canadian Professional Rodeo Association and was awarded the Alberta Centennial Medal in 2005. He was honoured as one of the 125 Greatest Citizens of Alberta by the Calgary Herald in 2008. Jack was inducted into in the Canadian Pro Rodeo Hall of Fame in 2000 and his son Duane followed in 2004. Father and son are together again, as Jack joins Duane as an honoured member in the Alberta Sports Hall of Fame.
Since Induction:
Jack Daines announced his retirement in June 2014 from planning and organizing the annual Innisfail Professional Rodeo. The event has been held for close to 6 decades!
Awards & Honours
1990 – Committee Man of the Year by the Canadian Professional Rodeo Association
2000 – Canadian Pro Rodeo Hall of Fame
2005 – Alberta Centennial Medal
2008 – 125 Greatest Citizens of Alberta by the Calgary Herald.
If you enjoyed this story, be sure to check out the stories of some other inductees:
Kyle Shewfelt- A look back on Canada's most successful gymnast
How Betty Carveth Dunn became a part of baseball history. She was in the original League of Her Own.
Jamie Sale and David Pelletier's rise to the top of figure skating royalty and won the hearts of millions in the 1992 Winter Olympics in Salt Lake.
Lawrence Lemieux: Danger and Sportsmanship on the High Seas.
The Alberta Sports Hall of Fame and Museum provides a family friendly interactive experience. Be surprised at what you will discover inside. Have fun, laugh, play together and discover famous Alberta sports celebrities. Plan your birthday party, special events or corporate reception in a unique environment.
The Halftime Report – News from the Alberta Sports Hall of Fame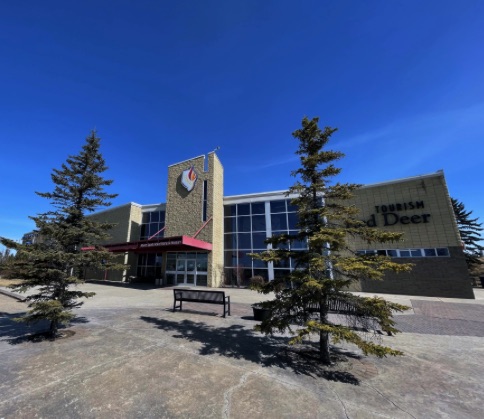 Diane Jones Konihowski Inducted to Canada's Sports Hall of Fame & receives the Order of Sport Award
On October 3rd, Diane Jones Konihowski was awarded the Order of Sport Award and was Inducted into Canada's Sports Hall of Fame Class of 2020-2021. Diane has been inducted into the Alberta Sports Hall of Fame since 2002 as a Multisport Builder. She was appointed to the Order of Canada in 1978, YWCA "Woman of Distinction" Sport & Recreation Award in 1988, "Great Canadian" Award in 1993, and she was inducted into the Canadian Olympic Sports Hall of Fame in 1995. Congratulations Diane on this well deserved recognition on all you have done for sport in Canada.
The Guys from the Oh, Deer Podcast recap their experience at the Alberta Sports Hall of Fame
This newsletter is sponsored by the Innisfail Eagles.
2020 Virtual Induction Ceremony
More information still to come.
Honoured Member Deryk Snelling has Passed
We are saddened to hear of the passing of legendary Swim Coach Deryk Snelling.
Deryk Snelling's coaching abilities helped place fifty-seven swimmers on Olympic teams with twenty-one of them earning Olympic medals. Alberta Sports Hall of Fame Honoured Members Tom Ponting, Mark Tewksbury, Cheryl Gibson, and Susan Sloan, were all coached by him when competing internationally. Deryk's swimmers won ten World Championship medals, thirty-eight Pan American medals, sixty-five Commonwealth medals, and twenty-seven Pan Pacific medals. They set seven World Records and won sixty-nine Canadian National Team Championship titles. Deryk was Head Coach of the Canadian Olympic Team four times, the Commonwealth Games Teams five times, and one World Championship Team.
1997 Swimming Builder, Calgary
Provincial Sport Organization: Alberta Equestrian Federation
Our mission: is to assist in creating a positive environment for the enjoyment of equines. Through leadership and a proactive approach we promote, facilitate, and coordinate equestrian-related activities in Alberta.
The Alberta Equestrian Federation strives to maximize a participant/athlete's potential and involvement in our sport. We are athlete centered, coach driven and administrated, sport science and sponsor supported. By tailoring an athlete's/participant's sports development program to enables them to reach their full potential, increase lifelong participation in Equestrian and other physical activities while improving health and well-being.
Honoured Member in Focus: Margaret & Ron Southern
Margaret and Ron Southern had a dream to develop and operate a world-class equestrian facility. In 1976, their dream became a reality as Spruce Meadows hosted its first tournament. Over the years, Spruce Meadows has developed into one of the finest show jumping venues in the world. Spruce Meadows is the locale for four coveted world-class tournaments annually, including "The Masters" — that offers the largest purse of any show jumping event. Margaret and Ron have prided themselves in showcasing equestrian competitions, and their outstanding efforts have proven positive, as they have attracted competitors from all over the world.
Their daughter Nancy Southern is being Inducted this year along with Ian Allison for the Bell Memorial Award!
Artifact of the month!
Equestrian sports can be divided into 3 main categories: Eventing, Jumping and Dressage.
Eventing is often considered the supreme test of total horsemanship and was originally intended to test military officers for any challenges they could come across on or off duty. Jumping or show jumping features a technical course with a series of obstacles that vary in height and width, including jumps over water and stone walls, parallel rails, and triple bars. Referred to as horse ballet, dressage has been used for over 2000 years starting as a way the Greeks prepared their horses for war.
All nomination packages for the 20201 intake year must be submitted prior to October 31st, 2021 to be considered for the 2021 selection year.
Give Back Today!​
The Alberta Sports Hall of Fame needs your support to continue the ongoing preservation of Alberta's sports history and the development of museum exhibits. We are grateful and appreciative of the generosity of our supporters and friends.
Olympic focus at the Alberta Sports Hall of Fame – The Halftime Report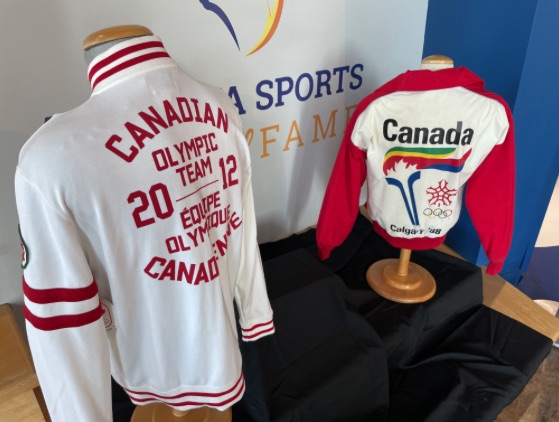 News from the Alberta Sports Hall of Fame
Team Canada
Red and white are not only the colours associated with our nations flag but are also represented in the Olympic apparel worn by Team Canada, often accented with black to make the maple leaf shapes as vibrant as possible.
These looks are also reinterpreted for spectator apparel sold through retailers like Hudsons Bay.
Do you have a favourite Team Canada outfit?
This newsletter is sponsored by the Innisfail Eagles.
Honoured Member in Focus: Kyle Shewfelt
Kyle Shewfelt began his gymnastic career in 1988, at the age of six.
At the 2004 Olympic Games in Athens, Greece, Kyle made history when he won Canada's first Olympic gymnastics medal – a gold on the floor exercise. He also placed fourth on the vault.
Kyle's international career began in 1996. That year, he placed first on floor and third on vault in Austria, and placed first on vault and second on floor in Hungary.
In 1999 and 2000, Kyle made his mark in the World Cup circuit. At the 2003 World Artistic Gymnastic Championships, Kyle captured two bronze medals – on floor and vault.
Kyle's autobiography, Make it Happen: My Story of Gymnastics. the Olympics, and the Positive Power of Sport was released in April and is available through www.kyleshewfelt.com as well as through Chapters/Indigo.
Welcome back, Alberta Olympians!
Congratulations to Alberta Olympians Claudia Holzner, Halle Pratt, Marco Arop, Sage Watson, Josephine Wu, Haley Daniels, Allison Beveridge, Kelsey Mitchell, Caeli McKay, Kasia Gruchalla-Wesierski, Nicole Hare, Jessica Sevick, Keyara Wardley, Lynda Kiejko, Stephanie Labbé, Yuri Kisil, Finlay Knox, Cole Pratt, Rebecca Smith, Blair Bann, Jay Blankenau, Lucas Van Berkel, Graham Vigrass, Kyra Christmas, Kelly McKee, Kindred Paul, and Danielle Lappage for competing on the Olympic stage in Tokyo.
Congratulations also to Honoured Members Kyle Shewfelt, who was an analyst for CBC's coverage of Olympic gymnastics, and Blythe Hartley, who was an analyst during the diving events.
We are incredibly proud of all you accomplished. Welcome home.
Provincial Sport Organization: Alberta Gymnastics Federation
The Alberta Gymnastics Federation values the growth and development of gymnastics and the opportunity to encourage and support the clubs, gymnasts, coaches, and judges who bring gymnastics to life. Gymnastics is a sport for everyone. It provides an opportunity to challenge oneself physically and enables one to explore various forms of movement in fun creative ways. We also strive to inspire gymnasts, coaches, and judges to meet their own potential through athlete and leadership development courses.

Tickets now available for Alberta Sports Hall of Fame Induction Banquet
Join us on Friday, October 22nd, 2021 when we induct the next group of provincial sports legends to the Alberta Sports Hall of Fame.
The Banquet, which had been postponed from its original date in May 2020, will now take place that evening at the Red Deer College (RDC) Arts Centre.
The timetable for the event is as follows:
5:30 – 6:30 pm: Cocktail Reception
5:30 – 6:30 pm: Silent Auction and Raffles
6:45 – 8:30 pm: Awards and Presentations
8:30 – 8:45 pm: Closing Remarks
8:45 – 9:30 pm: Dessert/Nightcap in RDC Arts Centre Lobby
The Class of 2020 includes athletes Deidra Dionne, Chris Phillips, Kelly Sutherland, and Michael Robertson; builders Jan Ullmark, Terry Morris, Ken Babey, and Derek Douglas; Bell Memorial Award winners Nancy Southern and Ian Allison; Achievement Award winner John Currie; Pioneer Award winner Stan Wakelyn; and Legacy Award winner Dennis Kadatz.
Tickets are $50 for Alberta Sports Hall of Fame Honoured Members and their guests, or $75 for general admission.
For tickets, email [email protected], call (403) 341-8614, or visit https://www.albertasportshall.ca/2020-induction-banquet to download the ticket order form.
Join us (and the Innisfail Eagles) on the links!
The Annual Alberta Sports Hall of Fame Golf Tournament is set to tee off off on Tuesday, September 14 at the Innisfail Golf Course. This season, we will be partnering with the Innisfail Eagles Hockey Team.
We are still looking for golfers, sponsors, and volunteers.
Don't miss out on the opportunity to support the preservation of Alberta sports by playing at one of the province's crown jewels.
Call (403) 341-8614 or email [email protected]ca for more information.
Join the Alberta Sports Hall of Fame on Saturday, September 18th, for a showcase of family fun, sport, and culture in celebration of Alberta Culture Days.

The event will include appearances by the Red Deer Aboriginal Dance Troupe, Association Canadienne Francaise de l'Alberta Régionale de Red Deer, Alberta Sports Hall of Fame Honoured Member and Olympic gold medalist Kyle Shewfelt, the Hungry Beast Food Truck and much more.

Events get underway at 10 am and wrap up at 4 pm.
Leave a legacy​
The Alberta Sports Hall of Fame needs your support to continue the ongoing preservation of Alberta's sports history and the development of museum exhibits. We are grateful and appreciative of the generosity of our supporters and friends. We would be happy to assist you in choosing how your personal legacy will be fulfilled and the many options available. Here is some information on donating shares to ASHFM and the benefits to you as a donor.