Ivan Daines to be inducted into Alberta Country Music Hall of Fame
From the ACMA
Introducing the 2019 ACMA™ Hall of Fame Inductee
Industry Builder Ivan Daines
We are pleased to acknowledge the work of one of our key industry builders of Alberta country music history, Ivan Daines. Help us celebrate the contributions and career of Ivan and his Alberta Country Music Hall of Fame induction Ceremony at the 2019 ACMA™ Awards on January 26, 2020 ~ Presented by Stingray Music.
"Ivan Daines will be the 2019 inductee for the Association of Country Music in Alberta (ACMA) Hall of Fame at the ACMA Awards show on January 26, 2020. Ivan has made many contributions to the western way of life, to rodeo and to country music. He is a cowboy, an artist and a promotor. By far his biggest contribution to country music has been with his Daines Country Pick-nic. For 42 years he has given artists a platform to showcase their talent. Headliners like Russell DeCarle, Bobby Bare, Dan Seals, George Fox, Michelle Wright, Johner Brothers, Patricia Conroy, Duane Steele, Gord Bamford and many more have played his stage, but he has always had space for young up and coming Alberta artists since the beginning. Congratulations and thank you Ivan for your decades of support".
~ Bill Hanson, ACMA President
To purchase your tickets for the 2019 ACMA Awards click here:
For information and media enquires please contact

[email protected]

.
Thank you to our ACMA Awards™sponsors: Stingray Music, Big Valley Jamboree, Calgary Stampede, Cook Country Saloon, Craig Senyk Initiatives, Dog Rump Creek Music, H Factor Productions, IFR Workwear, IMAC Management, Kiwi Productions, Livestar Entertainment Canada, Porch Swing Entertainment, Ranchman's Cookhouse and Dancehall, Radford Family Trust (Reg & Lyn Radford), Red 19 Entertainment, Sirroma Entertainment, The Co-operators, and The Track on 2.
Police looking for these 3 suspects after Super 8 Motel in Innisfail robbed early Monday morning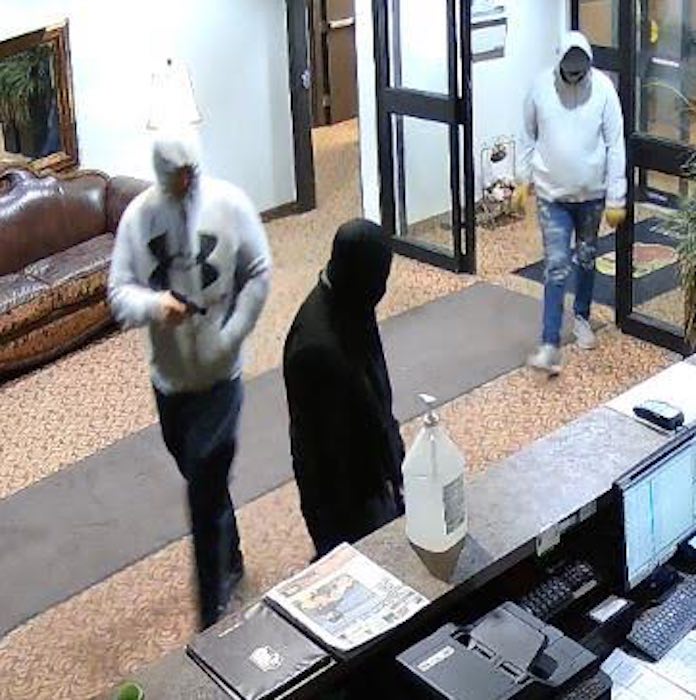 Innisfail RCMP investigate robbery
Innisfail Ala. – On May 29, 2023, at approximately 4:10 a.m., the Super 8 motel in Innisfail was the victim of an armed robbery. Three male suspects entered the hotel, two of which had firearms. Money was demanded from the manager. All three left the motel in a vehicle which is described as:
Chevrolet Dura Max truck
Sliver
Lifted
The suspects are described as:
Suspect #1: Caucasian male, tall and muscular. Wearing jeans and a grey Under Armour hoody. He was carrying a pistol.
Suspect #2: Caucasian male, short. Wearing all black. He was carrying a sawed off shotgun
Suspect #3: Caucasian male tall with a chubby belly. He was wearing a grey hoody, jeans and a black ball hat.
If you have information about this incident, please call the Innisfail RCMP at 403-227-3341 or call your local police. If you want to remain anonymous, you can contact Crime Stoppers by phone at 1-800-222-8477 (TIPS), by internet atwww.tipsubmit.com, or by SMS (check your local Crime Stoppers www.crimestoppers.ab.ca for instructions).
'Tragic accident' blamed for recent death of giraffe at Calgary Zoo
The Wilder Institute/Calgary Zoo says a "tragic accident" led to the recent death of an adult Masai giraffe. A statement from the zoo says the female giraffe named Emara died May 19 after tangling one of her horns on a cable surrounding her enclosure. THE CANADIAN PRESS/HO-Wilder Institute/Calgary Zoo-Sergei Belskey
Calgary
The Calgary Zoo says a "tragic accident" led to the recent death of one of its adult Masai giraffes.
A statement from the zoo says a female giraffe named Emara died May 19 after tangling one of her horns in a cable surrounding her enclosure.
The statement says a necropsy revealed Emara fell against the enclosure fence and died almost instantly of a broken neck.
Emara, who had just turned 12, came to Calgary from the San Diego Zoo in 2016.
The statement says she was a treasured member at the zoo and was known for her cautious yet curious personality and gentle nature.
The zoo says it is checking fencing within its African Savannah Yard enclosure to see if changes are needed to better protect the other giraffes and animals that share the space.
Doug Whiteside, interim associate director of animal care and welfare at the zoo, said Emara was in her prime and was in excellent health when she died.
"Major life changes such as this not only affect our people but can affect our animal residents as well," Whiteside said in the statement Monday.
He said the zoo's remaining giraffes, Nabo and Moshi, are doing well.
Grief counsellors are being made available to Emara's caregivers and other zoo staff.
This report by The Canadian Press was first published May 29, 2023.