Is Downtown Red Deer Safe?
Hey everyone,
Do you feel safe in downtown Red Deer?
The other evening I was having a very serious conversation with my wife about her plan to jog from our house to the downtown Rec Centre. She wanted to leave at 7am and head down the Ross St Hill. This time of year the sun comes up around 7:30am. So the plan was for her to make most of the journey in the dark.
Imagine the route that you would take. What would it be like? Would you be able to see? Of course you could, because there are plenty of street lights. Would there be a lot of traffic? Probably, since that is the time of day everyone heads to work. Would you see street people? There's a good chance; the shelters make everyone head out early in the morning and the streets are where the people must go.
During the course of our conversation we talked about all sorts of these variables, from what side of Ross St is "safer" to which road has better lighting 48th Ave or 47th Ave.
If you ask an expert on Crime Prevention Through Environmental Design (CPTED) they may inform you about the Broken Window Theory. Where there's a "broken window" that goes unrepaired there will be more crime because our behaviour is influenced by visual cues in our environment that tell us what behaviours are acceptable and what aren't. Well, in this regard I'd say that Red Deer does pretty well. Our streets are in good repair, litter gets cleaned up well and there aren't too many boarded up old shacks in our downtown.
I hear the issue of downtown safety come up a lot and for all the challenges we still have, I want to say that things are improving, but it is really hard to measure. Did the Little Gaetz revitalization make that area better for business? Yes. Do all the new back alley murals improve the perception of safety? Absolutely. Do continued efforts from the Downtown Business Association to attract cultural events keep things in a positive direction? Definitely.
For all the positive momentum we have in downtown Red Deer, it's not all on the up and up. The closure of the day shelter effectively displaced a large group of people who now have even fewer options for daytime activity, showers, storage, laundry etc. It is better for everyone in our community when we take care of the most vulnerable people. We can not lose sight of our resolve to end homelessness and must continue to find innovative ways to put action into ideology.
I am thrilled that Hudsons, near the Ross St Patio, is thriving! Our downtown is benefiting from having more nightlife. I hope this trend continues and that our downtown becomes a destination; a place to arrive to not just drive through. The transition from a "9-5 downtown" which empties out every evening to a "24-7 downtown" which has exciting nightlife and positive energy no matter what the hour, is happening.
On a similar tone, the Riverlands redevelopment is gearing up and in the near future we will see the influx of many new residents into our downtown. I am pleased that the plan to sprawl our city outwards is being balanced by the foresight to grow our city inwards and upwards.
We Red Deerians have a lot to be grateful for. Our community is prosperous, vibrant and, dare I say, safe(er). FYI, my wife ended up driving to the Rec Centre; mostly because it was a cold September morning and not because she was afraid for her life. Now if only optimism was worth its weight in gold.
Cheers,
Would you go for a pre-sunrise, downtown Red Deer jog?
Do you think the downtown is getting safer?
GraceLife Pastor James Coates remains in custody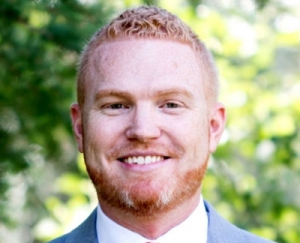 Feb. 17, 2021 
Parkland RCMP – GraceLife Church Update 2
Parkland County, Alta. – James Coates remains in custody following charges, a bail hearing in front of a justice, and a court appearance in front of a judge this morning.
On Sunday, Feb. 14, 2021 the RCMP, with AHS, attended the GraceLife Church to assess compliance in relation to conditions issued to the Pastor on Feb. 7. Observations were made that James Coates was not complying with his Undertaking release conditions, and the church was not in compliance with the Public Health Order.
On Feb. 16, James Coates turned himself in to the Parkland Detachment. He was charged in contravention of the Public Health Act (x2), and charged for failing to comply with a condition of his Undertaking, under the Criminal Code. Following a bail hearing before a Justice of the Peace, Coates was to be released on conditions. He remained in custody overnight after refusing to agree to those conditions.
This morning in Stony Plain Provincial Court he continued to refuse to agree with those conditions and a Judge's Order was issued compelling him to attend court on Wednesday, Feb. 24, 2021.
"We've been consistent in our approach of escalated levels of enforcement with Pastor Coates, and we were hopeful to resolve this issue in a different manner" said Inspector Mike Lokken.  "The Pastor's actions, and the subsequent effects those actions could have on the health and safety of citizens, dictated our response in this situation."
Read more on Todayville.
Major fundraising drive by Bower Place to benefit the Child Advocacy Centre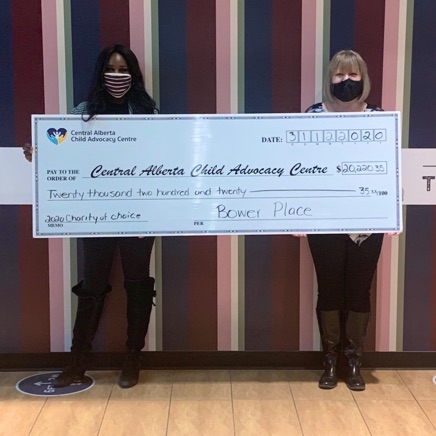 Article submitted by the Central Alberta Child Advocacy Centre
Bower Place Presents Central Alberta Child Advocacy Centre with Donation
The CACAC graciously accepts the 2020 Charity of Choice donation from Bower Place – receiving over $20,000!
The Central Alberta Child Advocacy Centre was thrilled when Bower Place announced they would be the Charity of Choice for 2020, but the year would look much different than years past. For over 6 years Bower Place has been supporting their community by naming a local charity annually and putting on multiple fundraisers, including: pancake breakfasts, exclusive shopping nights and gift-wrapping. 2020 presented many challenging obstacles to all, but the team at Bower Place took it in stride and began to construct new and innovative ways to fundraise for their chosen charity.
"The ability to "give back" to the community is not only our mission, but QuadReal's: "We take seriously our responsibility to make a meaningful contribution in the communities we work and live."  So, we are thrilled that we were able to provide the Central Alberta Child Advocacy Centre with an outlet to garner funds, especially during such an uncertain and tumultuous year. Also, a special thank you to Jen and all the volunteers who helped make our event and programming initiatives successful!" Adwoa Obrenu-Yamoah, Bower Place Manager, Marketing
To fundraise this year Bower Place created a special space for the CACAC: the "Inside Story: Pop-Up". This space not only allowed the CACAC to have fundraising items but allowed them to share their story to all who visited – generating significant awareness in the community of Central Alberta around the issue of child abuse – an invaluable opportunity. Bower Place also partnered with local shops to create two "kits" for sale and held a successful virtual "Girls Night In" craft/fashion event correlated to the sold-out boxes. This was also the first year Bower Place had gone without gift-wrapping, but the team used this as another challenge to create something new, selling "Bower Elves" in the pop-up with 100% of the proceeds donated to the CACAC.
"The entire team at the mall was very supportive and engaged with helping us to highlight the need for our Centre. While they faced many challenges themselves, the focus on helping us remained strong. This organization is rooted in community and plays such a valuable role in our city." Jennifer O'Shea, CACAC Community Events Coordinator
The CACAC would like to extend a huge thank you to the entire Bower Place team: Adwoa, Sonya, Maia, Ryan & the rest of the team! The ability to work through the ever-changing ways of 2020/2021 is inspiring, and the donation of $20,220 to the Centre truly will have a lasting impact. The CACAC would also like to thank all the volunteers who put in countless hours to help make this year a success – their tremendous commitment to the organization is going to create great change here in our community; the CACAC thanks you for your time, advocacy, and support.