Indigenous Clean Energy (ICE) promotes collaborative frameworks for renewable energy, energy efficiency, advanced energy systems and green energy infrastructure
Indigenous communities across the country have a growing capacity to deliver energy projects that deliver clean, affordable and reliable power to their communities, and into the grid, thus generating jobs and revenue.
Indigenous Clean Energy (ICE) is the national platform for Indigenous communities to promote collaborative frameworks for renewable energy, energy efficiency, advanced energy systems and green energy infrastructure. ICE has cross-Canada relationships amongst Indigenous communities, along with a demonstrated track record of accomplishment in capacity-building, project/organizational collaboration, and clean energy cooperation.
Initiatives, such as the Indigenous Energy Across Canada Compendium demonstrates how the relationships have evolved in the last decade between industry, and the Indigenous People in Canada.
Indigenous communities are already major participants and owners of clean energy projects and businesses comprised of 184 medium-large scale projects in hydro, wind, solar, or biomass, and over 2,300 small renewable energy projects. Projects owned, or co-owned, by Indigenous communities, or with a defined financial benefit agreement represent a total of 18% of Canada's electricity generating capacity, which is approximately one of sixth of the electrons consumed in Canada.
While the energy sector is broad and shifting towards more innovation in energy transition, there is still much to do in terms of sharing opportunities and building capacity for Indigenous communities. Capacity building programs include the award winning 20/20 Catalysts Program, which has an alumni of 82 Catalysts and has empowered First Nation, Inuit and Métis communities to drive forward clean energy projects and initiatives in their communities. Working collaboratively with the guidance of Indigenous leaders and clean energy practitioners from across the country, catalysts gain the skills and tools needed to maximize the social and economic benefits communities gain through clean energy initiatives. A result of ongoing dialogue with communities the need to act on housing and community energy efficiency to make energy more affordable, improve health conditions, and establish new and ongoing jobs. ICE has responded to this by creating a new program Bringing it Home. (BiH) The premise of BiH is that 'Healthy Energy Living' in Indigenous communities can be unlocked through synergy between clean energy and sustainable investment to ensure that homes: a) last longer, b) are more durable and healthier, and c) are cheaper to operate over the short and longer term.
Platforms such as the icenet.work allow the growing community of Indigenous clean energy leaders, to further collaborate with clean energy industry and governments on clean energy projects, access to financial capital for clean energy infrastructure, and share project and business experiences internationally.
Indigenous inclusion in Canada's growing clean energy, and clean growth economy is a force for change, and partnering with First Nations, Inuit and Métis is the way forward.
By Terri Lynn Morrison, Director of Strategic Partnerships and Communications, Indigenous Clean Energy
Thanks to Todayville for helping us bring our members' stories of collaboration and innovation to the public.
Click to read a foreward from JP Gladu, Chief Development and Relations Officer, Steel River Group; Former President and CEO, Canadian Council for Aboriginal Business.
Hydro-Québec takes partnerships, environmental measures and sharing of wealth to new levels
Alberta production Pipe Nation seeking to tap musical talent for soundtrack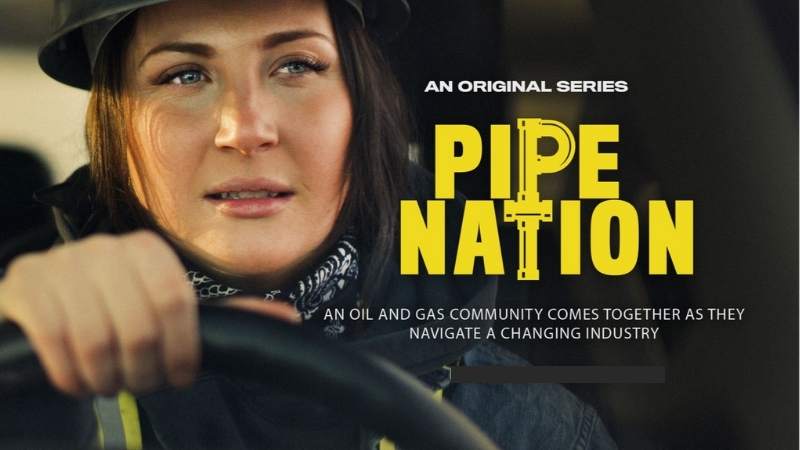 Here are the details.
January 13, 2021
Edmonton-AB, CANADA-​One of the largest independently funded tv-series in Canada, Pipe Nation, is seeking talented musicians to round out its soundtrack as the pilot episode nears completion.
The director, Raoul Bhatt, and executive producer, Dan Svedberg, are seeking submissions from Canadian and American artists to collaborate on the show's soundtrack.
The dramatic series is told through the experiences of a single mother working in the male-dominated, oil and energy industry. The pilot was filmed in August and September of 2020 in the picturesque mountains of Canada and the Edmonton area. 18 scenes and 180 takes were captured in Sundre, Alberta, which was transformed into the fictitious town of Hardwell. A great deal of effort has been put into this pilot including a $300,000 built for the show pipeline, a medical helicopter, and a long list of heavy equipment worth $180 million.
The scenes are now in editing, where the crucial process of pairing beautiful scenes with dramatic music is underway. Several genres of music including, rock, blues, country, electronic dance music, and classical will be used in the series. The show's soundtrack will be released on Apple Music, Amazon, Spotify and Google Play Music in the coming months. Director, Raoul Bhatt and his team have been in post-production for the last three months​. ​The pilot tv-series is expected to be complete by February 2021.
Musicians, labels, bands looking to collaborate or submit their work, please contact Executive Producer & Sound Designer, Daniel Svedberg, and Director, [email protected]
Read more on Todayville.
TC Energy invites bids for Keystone pipeline space as plans advance for Keystone XL
CALGARY — The Calgary company building the Keystone XL pipeline is inviting oil shippers to bid for capacity expected to be made available when it opens in about two years despite a vow by the incoming U.S. president to halt the project.
TC Energy spokesman Terry Cunha says about 80,000 barrels a day of capacity on the existing base Keystone export pipeline system is expected to be freed up when barrels are moved to the expansion pipeline after it is completed.
He says those moves are written into contracts the company has with its oil shipping customers, adding he couldn't say how many shippers plan to switch volumes to the new pipeline.
The launch of the "open season" to seek binding commitments is being made despite a campaign promise made last spring by incoming U.S. president Joe Biden to rip up Keystone XL's vital presidential permit. He's expected to take office on Jan. 20.
TC Energy has forged ahead with construction, however, since announcing its decision to proceed last March after the Alberta government agreed to invest about US$1.1 billion (C$1.5 billion) as equity and guarantee a US$4.2-billion project loan.
In November, Bevin Wirzba, president of liquids pipelines for TC Energy, said the project's creation of union jobs and support by Indigenous investors would help convince Biden that Keystone XL fits into his "Build Back Better" agenda.
"We're very confident in our project and we're continuing to proceed with our planned activities to be in service in 2023," said Cunha.
"This open season is just really a reflection of today's market and trying to sign up those contracts as some of our capacity shifts to Keystone XL."
Keystone XL is designed to add 830,000 bpd of oil export capacity from Alberta to Nebraska and is fully contracted. The existing Keystone system has capacity to move about 590,000 bpd from Alberta to refining markets in the U.S. Midwest and Gulf Coast.
This report by The Canadian Press was first published Jan. 6, 2021.
Companies in this story: (TSX:TRP)
The Canadian Press