In his own words: Alberta's Justice Minister repulses federal firearm confiscation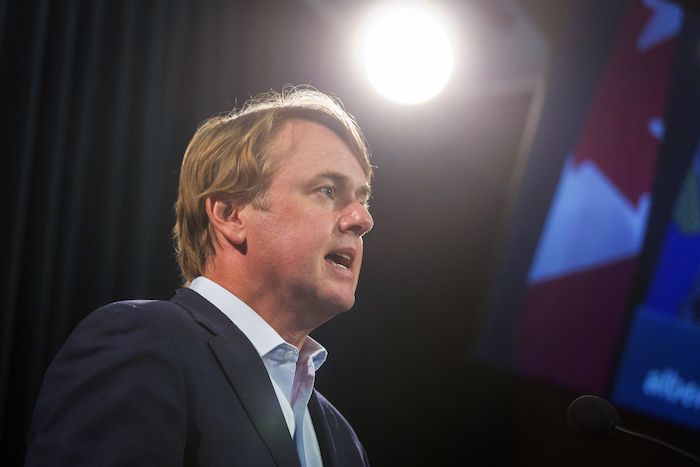 OP/ED submitted to Todayville by Alberta Justice Minister Shandro
Challenging the federal firearms ban
Last month, the federal minister responsible for the RCMP wrote to me to request that Alberta provide resources starting this fall to begin confiscating an estimated 30,000 legally acquired firearms from Albertans. We have rejected their request and will not offer any resources.
The firearms that they are seeking to confiscate were part of a list of over 1500 models that were banned by the federal Liberals in 2020. An amnesty is currently in effect until October 2023, after which time they will be prohibited to possess.
The list of banned models were all previously non-restricted and restricted firearms, including hunting rifles and shotguns as well as historical artifacts almost a hundred years old. Why ban these firearms? A committee of federal bureaucrats decided that these firearms look scary – which is why they describe them as "assault-style." In reality, we know these firearms, no matter how they may be styled, are in no way materially different from more familiar looking rifles and shotguns.
To challenge this ban, Alberta will apply to intervene in six ongoing lawsuits challenging the constitutionality of the prohibition.
I have also been advised that the Commanding Officer of K Division does not support using provincial police resources to administer the federal government's confiscation program. Despite this, we have been told that the Federal Liberals intend to conscript provincial RCMP officers into acting as confiscation agents.
Alberta taxpayers pay over $750 million per-year for the RCMP and we will not tolerate taking officers off the streets in order to confiscate the property of law-abiding firearms owners.
To take action, I have used the authorities that we have as a province to identify the confiscation program as an activity that is not appropriate for the RCMP to be used for. Should the federal government proceed with their plan, I will launch a formal dispute under the Provincial Police Service Agreement.
However, because the RCMP is a federal entity, we believe that the Federal Liberals will again interfere in police operations – just as they did when they politicized the mass shooting in Nova Scotia in order to bolster their case for the same pending firearms ban – and order that the RCMP act as confiscation agents.
If this happens, we will consider all options at our disposal to protect Albertans and the property rights that they are entitled to.
Tyler Shandro
Minister of Justice and Solicitor General
Police looking for these 3 suspects after Super 8 Motel in Innisfail robbed early Monday morning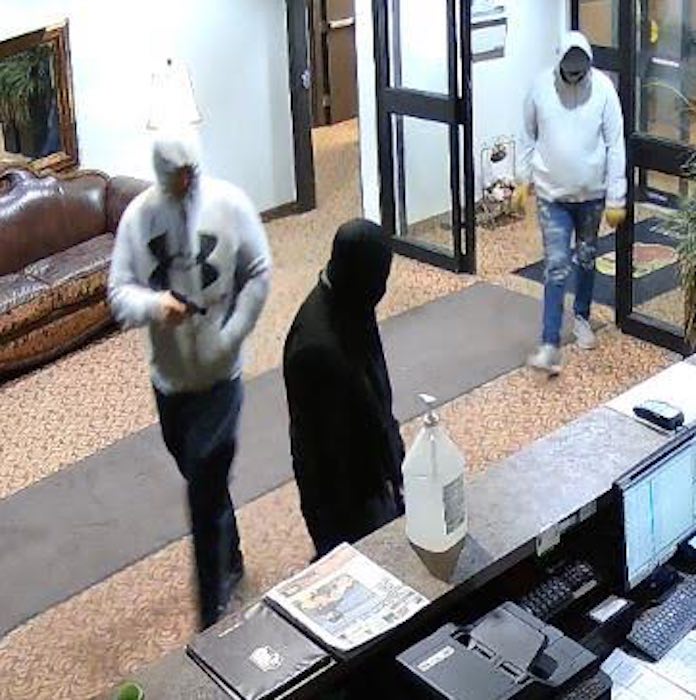 Innisfail RCMP investigate robbery
Innisfail Ala. – On May 29, 2023, at approximately 4:10 a.m., the Super 8 motel in Innisfail was the victim of an armed robbery. Three male suspects entered the hotel, two of which had firearms. Money was demanded from the manager. All three left the motel in a vehicle which is described as:
Chevrolet Dura Max truck
Sliver
Lifted
The suspects are described as:
Suspect #1: Caucasian male, tall and muscular. Wearing jeans and a grey Under Armour hoody. He was carrying a pistol.
Suspect #2: Caucasian male, short. Wearing all black. He was carrying a sawed off shotgun
Suspect #3: Caucasian male tall with a chubby belly. He was wearing a grey hoody, jeans and a black ball hat.
If you have information about this incident, please call the Innisfail RCMP at 403-227-3341 or call your local police. If you want to remain anonymous, you can contact Crime Stoppers by phone at 1-800-222-8477 (TIPS), by internet atwww.tipsubmit.com, or by SMS (check your local Crime Stoppers www.crimestoppers.ab.ca for instructions).
'Tragic accident' blamed for recent death of giraffe at Calgary Zoo
The Wilder Institute/Calgary Zoo says a "tragic accident" led to the recent death of an adult Masai giraffe. A statement from the zoo says the female giraffe named Emara died May 19 after tangling one of her horns on a cable surrounding her enclosure. THE CANADIAN PRESS/HO-Wilder Institute/Calgary Zoo-Sergei Belskey
Calgary
The Calgary Zoo says a "tragic accident" led to the recent death of one of its adult Masai giraffes.
A statement from the zoo says a female giraffe named Emara died May 19 after tangling one of her horns in a cable surrounding her enclosure.
The statement says a necropsy revealed Emara fell against the enclosure fence and died almost instantly of a broken neck.
Emara, who had just turned 12, came to Calgary from the San Diego Zoo in 2016.
The statement says she was a treasured member at the zoo and was known for her cautious yet curious personality and gentle nature.
The zoo says it is checking fencing within its African Savannah Yard enclosure to see if changes are needed to better protect the other giraffes and animals that share the space.
Doug Whiteside, interim associate director of animal care and welfare at the zoo, said Emara was in her prime and was in excellent health when she died.
"Major life changes such as this not only affect our people but can affect our animal residents as well," Whiteside said in the statement Monday.
He said the zoo's remaining giraffes, Nabo and Moshi, are doing well.
Grief counsellors are being made available to Emara's caregivers and other zoo staff.
This report by The Canadian Press was first published May 29, 2023.