Blackfalds Town Council approves Arena and Library Expansion – Video and photo galleries included
From the Town of Blackfalds
The Town of Blackfalds is moving forward with the Arena and Library Expansion
The Town of Blackfalds is excited to announce that the Arena and Library Expansion project will be proceeding and shovels will be in the ground in June of 2020 with a completion date targeted for Spring of 2021.
At their May 26 regular meeting, Council voted 4 to 3 to approve the final and guaranteed maximum price of the $24.6M capital budget which includes $18 M for the arena (which includes a $1 M contribution by the Junior A team) and $6.6 M for the Library.
Over the last year, the Town participated in various engagement opportunities including public open houses and meetings with stakeholders, school boards, and other organizations. The consultations prompted changes and additions to be incorporated into the design to improve the functionality of the facility which also resulted in increased costs.
Town of Blackfalds Mayor Richard Poole is proud of the work that Administration and its contractors ACI Architects, Eagle Builders and Delnor Construction undertook in the last 2 months to review those areas where costs could be reduced to come up with a target value design, "I support this project for a number of reasons," asserts Mayor Poole. "First of all, this will be an excellent value for our community when it is built. It will be second to none and I believe it will be a project our community will be proud of, and, as Councillor Taylor stated, it will 'enhance business opportunities within our community.' The Abbey Centre continues to receive praise and compliments from community members throughout Alberta and I am confident Blackfalds will duplicate that success with this facility."
Mayor Poole added, "I am also excited about the opportunities that the AJHL will bring to the community. The new Library is going to be one of the largest in central Alberta and, for a community under 20,000, this will be an attraction that we will not only be extremely proud of, but given the provisions of the facility, will allow for progressive programming even in a post-COVID era. In addition, by awarding the construction contract to Eagle Builders, we are providing jobs for many central Alberta families. I am thrilled to be working with such great partners like Eagle Builders, Delnor and ACI with whom we have had a great relationship in the past."
The guaranteed maximum price ensures that the Town will not pay any more than the $24.6M and therefore, if the cost of the project does go up, the risk will be to Delnor and Eagle Builders, and not the municipality. CAO Thompson echoed some of Council's words, "We want to provide a high quality facility to our community similar to our past successful projects, and not have to cut corners."
A gallery of final design concepts can be viewed on the Multi-Plex Arena web page at blackfalds.com/tourism-recreation/multi-plex-ice-arena.
A small ground breaking ceremony will take place on Friday June 19 and will celebrated by invitation only to ensure physical and social distancing.
If any organizations are interested in sponsorship, please see the sponsorship brochure at http://blackfalds.com/tourism-recreation/multi-plex-ice-arena.
Train Derailment south of Lacombe: 1 rail car leaked liquid asphalt
News Release from Blackfalds RCMP
Blackfalds RCMP advise of train derailment – Update
Blackfalds, Alta. – On July 2, 2021, at 8:15 p.m., Blackfalds RCMP received a 911 call of a train derailment along Highway 2A in Lacombe County.
Initial reports suggested a number of oil cars were leaking oil and possibly on fire. A nearby residence was evacuated as a precaution, and multiple emergency crews responded.
Emergency crews were able to determine that 23 train cars had derailed, four of which were carrying Tar Oil (liquid asphalt). Upon further inspection, only one of the cars was found to have a leak while the remaining were intact. No fires had started.
No injuries were reported and those evacuated were able to return home.
CP Rail and Lacombe County Emergency Management remain on scene and Highway 2A is expected to be blocked to traffic for several more hours while crews investigate and cleanup.
CP Rail Police has taken over this investigation.
$100,000 to the winning community – Come on Red Deer – we can do this!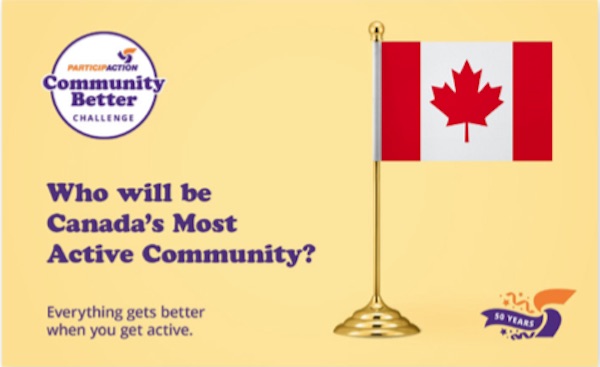 The Red Deer Wellness Network is excited to announce that Red Deer will be participating in the ParticipACTION Community Better Challenge from June 1st – June 30th, as we strive to be named Canada's Most Active Community.
The ParticipACTION Community Better Challenge is helping strengthen communities through physical activity and sport because everything gets better when you get active. ParticipACTION is awarding $100,000 to the community who rallies the most participants and accumulates the most active minutes during the challenge. There is also a new this year, Provincial Prize. Participants can also win individual prizes through the ParticipACTION app when activity minutes are logged.
We are encouraging all residents aged 17 and older to download the app and track their activity to support our Community Better challenge! You can also track it on the website. 
It's as easy as 1, 2, 3!
1. Download the new ParticipACTION app
2. Track and contribute to total active minutes from June 1st to June 30th.
3. Invite your friends to do the same! You can also create a team on the app to encourage one another along the way and win team prizes.
Schools, Sport Organizations, Workplaces and Gyms are encouraged to track their activities as a group on the ParticipACTION website. Families can track for their whole family on the website and groups can track for large group participation.
Steps to log as a group:
Step 1:  Go to www.participaction.com/challenge
or scan this QR Code.
Step 2: Sign up as a group organization or as a family with a name and e-mail
Step 3: Start tracking activity minutes from June 1-June 30th. You may enter daily or all at once.  Example: School Name, 500 students, 60 minutes of activity/day, 10 days
Step 4: Deadline to enter all minutes is July 1st at midnight
The Red Deer Wellness Network is an umbrella organization for a variety of non profit groups in the city that have a focus on wellness, active living and healthy nutrition.