Blackfalds Town Council approves Arena and Library Expansion – Video and photo galleries included
From the Town of Blackfalds
The Town of Blackfalds is moving forward with the Arena and Library Expansion
The Town of Blackfalds is excited to announce that the Arena and Library Expansion project will be proceeding and shovels will be in the ground in June of 2020 with a completion date targeted for Spring of 2021.
At their May 26 regular meeting, Council voted 4 to 3 to approve the final and guaranteed maximum price of the $24.6M capital budget which includes $18 M for the arena (which includes a $1 M contribution by the Junior A team) and $6.6 M for the Library.
Over the last year, the Town participated in various engagement opportunities including public open houses and meetings with stakeholders, school boards, and other organizations. The consultations prompted changes and additions to be incorporated into the design to improve the functionality of the facility which also resulted in increased costs.
Town of Blackfalds Mayor Richard Poole is proud of the work that Administration and its contractors ACI Architects, Eagle Builders and Delnor Construction undertook in the last 2 months to review those areas where costs could be reduced to come up with a target value design, "I support this project for a number of reasons," asserts Mayor Poole. "First of all, this will be an excellent value for our community when it is built. It will be second to none and I believe it will be a project our community will be proud of, and, as Councillor Taylor stated, it will 'enhance business opportunities within our community.' The Abbey Centre continues to receive praise and compliments from community members throughout Alberta and I am confident Blackfalds will duplicate that success with this facility."
Mayor Poole added, "I am also excited about the opportunities that the AJHL will bring to the community. The new Library is going to be one of the largest in central Alberta and, for a community under 20,000, this will be an attraction that we will not only be extremely proud of, but given the provisions of the facility, will allow for progressive programming even in a post-COVID era. In addition, by awarding the construction contract to Eagle Builders, we are providing jobs for many central Alberta families. I am thrilled to be working with such great partners like Eagle Builders, Delnor and ACI with whom we have had a great relationship in the past."
The guaranteed maximum price ensures that the Town will not pay any more than the $24.6M and therefore, if the cost of the project does go up, the risk will be to Delnor and Eagle Builders, and not the municipality. CAO Thompson echoed some of Council's words, "We want to provide a high quality facility to our community similar to our past successful projects, and not have to cut corners."
A gallery of final design concepts can be viewed on the Multi-Plex Arena web page at blackfalds.com/tourism-recreation/multi-plex-ice-arena.
A small ground breaking ceremony will take place on Friday June 19 and will celebrated by invitation only to ensure physical and social distancing.
If any organizations are interested in sponsorship, please see the sponsorship brochure at http://blackfalds.com/tourism-recreation/multi-plex-ice-arena.
28 year old Blackfalds woman arrested after drug trafficking investigation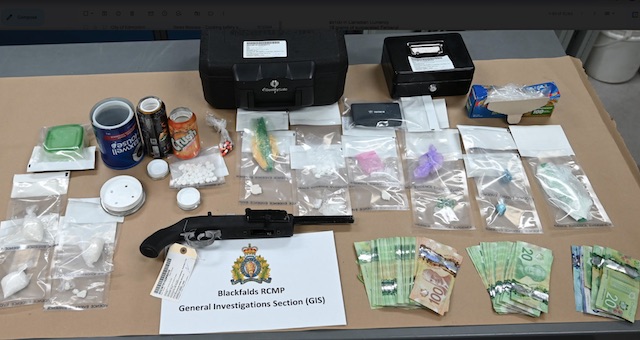 News release from Blackfalds RCMP
Blackfalds RCMP lay charges after drug trafficking investigation
In the summer of 2023, Blackfalds RCMP began an investigation into drug trafficking in the Blackfalds area. As a result of the investigation, on Sept. 5th, 2023, RCMP observed the suspect who appeared to be selling drugs from a Toyota Camry. RCMP initiated a traffic stop and arrested the suspect. RCMP seized:
86.8 grams of suspected Methamphetamine
5.6 grams of suspected Cocaine
93 Percocet pills
A loaded prohibited/Restricted firearm
$5100 in Canadian Currency
16 grams of suspeceted Fentanyl
Other pills that are not yet known.
Evidence obtained in the search of the vehicle led officers to continue the investigation. On Sept. 6, 2023, RCMP executed a search warrant at a hotel in Red Deer. As a result of the search of the hotel room, RCMP seized:
28.3 grams of suspected methamphetamine
8 grams of suspected Cocaine
12.6 grams of suspected Fentanyl
RCMP have arrested and charged Blackfalds resident, Reanne Brodersen (28), with:
Possession for the Purpose of Trafficking (x4)
Possession of the Proceeds of Crime
Weapons offences (x4)
Failure to Comply with Weapons Prohibition Order (x2)
Fail to Comply with Release Order (x2)
Bordersen has been taken before a justice of the peace and remanded with her next appearance date set for Oct. 19, 2023, at the Alberta Court of Justice in Red Deer.
Blackfalds Community Plaza To Be Named Border Paving Plaza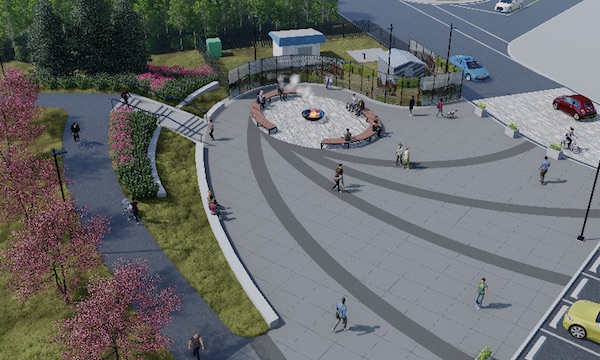 News Release from the Town of Blackfalds
The Town of Blackfalds is proud to announce that the community plaza set to open in the fall of 2022 will be officially named the Border Paving Plaza! Council formally approved the naming sponsorship at the March 22 Regular Council meeting.
The Border Paving Plaza will be a four-season gathering place that will provide residents and visitors with an aesthetically pleasing open area in which they can participate in markets, festivals, performances, and other community events. The Plaza will be east of the Eagle Builders Centre and south of the existing parking lot.
"Over the past number of years, outdoor gatherings and events have been steadily growing in participation and popularity in Blackfalds, so it's very exciting that we are moving forward with the Border Paving Plaza project that will serve to be a focal point for many of these exciting events," shared Mayor Jamie Hoover. "Along with completing the Eagle Builder Centre and the road realignment, this outdoor plaza will quickly become a central point of pride in our always improving community."
The 24,000 square foot space will feature a decorative stained concrete deck, stairs and ramps, landscape features, and a natural gas fire pit.
Border Paving Plaza's budget is $668,000, of which 75 per cent was approved through the Canada Community Revitalization Fund. The remaining funds will be alleviated from sponsorships, including Border Paving Ltd, DB Bobcat Services, STEP Energy, Stantec, and ATCO gas.
Amanda Stasiuk, Border Paving's Community Outreach Coordinator, said that the company is looking forward to the development and the continued partnership with the Town.
"Once again, we are very excited to be a part of Blackfalds' commitment to public gatherings and community-minded development. Donations like this are part of our long-standing commitment to the communities we are part of."
Construction of the Border Paving Plaza will begin this spring, in conjunction with the Gregg Street Realignment project.