"I'm not scared of Covid-19." The viral post from a Canadian Infectious Disease Specialist
Facebook Post from Dr. Abdu Sharkawy has been shared over 1.3 million times!
I'm a doctor and an Infectious Diseases Specialist. I've been at this for more than 20 years seeing sick patients on a daily basis. I have worked in inner city hospitals and in the poorest slums of Africa. HIV-AIDS, Hepatitis, TB, SARS, Measles, Shingles, Whooping cough, Diphtheria…there is little I haven't been exposed to in my profession. And with notable exception of SARS, very little has left me feeling vulnerable, overwhelmed or downright scared.
I am not scared of Covid-19. I am concerned about the implications of a novel infectious agent that has spread the world over and continues to find new footholds in different soil. I am rightly concerned for the welfare of those who are elderly, in frail health or disenfranchised who stand to suffer mostly, and disproportionately, at the hands of this new scourge. But I am not scared of Covid-19.
What I am scared about is the loss of reason and wave of fear that has induced the masses of society into a spellbinding spiral of panic, stockpiling obscene quantities of anything that could fill a bomb shelter adequately in a post-apocalyptic world. I am scared of the N95 masks that are stolen from hospitals and urgent care clinics where they are actually needed for front line healthcare providers and instead are being donned in airports, malls, and coffee lounges, perpetuating even more fear and suspicion of others. I am scared that our hospitals will be overwhelmed with anyone who thinks they " probably don't have it but may as well get checked out no matter what because you just never know…" and those with heart failure, emphysema, pneumonia and strokes will pay the price for overfilled ER waiting rooms with only so many doctors and nurses to assess.
I am scared that travel restrictions will become so far reaching that weddings will be canceled, graduations missed and family reunions will not materialize. And well, even that big party called the Olympic Games…that could be kyboshed too. Can you even
imagine?
I'm scared those same epidemic fears will limit trade, harm partnerships in multiple sectors, business and otherwise and ultimately culminate in a global recession.
But mostly, I'm scared about what message we are telling our kids when faced with a threat. Instead of reason, rationality, openmindedness and altruism, we are telling them to panic, be fearful, suspicious, reactionary and self-interested.
Covid-19 is nowhere near over. It will be coming to a city, a hospital, a friend, even a family member near you at some point. Expect it. Stop waiting to be surprised further. The fact is the virus itself will not likely do much harm when it arrives. But our own behaviors and "fight for yourself above all else" attitude could prove disastrous.
I implore you all. Temper fear with reason, panic with patience and uncertainty with education. We have an opportunity to learn a great deal about health hygiene and limiting the spread of innumerable transmissible diseases in our society. Let's meet this challenge together in the best spirit of compassion for others, patience, and above all, an unfailing effort to seek truth, facts and knowledge as opposed to conjecture, speculation and catastrophizing.
Facts not fear. Clean hands. Open hearts.
Our children will thank us for it.
Red Deer South Conservative MLA is a one man opposition party within government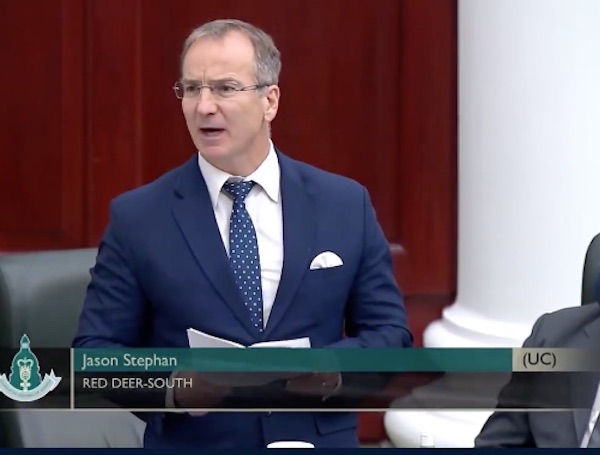 Jason Stephan may be treading on thin ice with his government as the backbench MLA stood in the Legislature this week t0 challenge his own government.. again. Backbench government MLA's tend to disappear for long periods of time waiting for a shot to get into cabinet and make decisions that affect the province. These MLA's spend time on committees trying to influence the cabinet decision makers and ultimately the Premier. Stephan is having none of that. The Red Deer South MLA has repeatedly taken his own government to task when he doesn't agree with the actions they're taking.
The latest example took place in the Legislature Thursday when Jason Stephan rose to challenge Health Minister Jason Copping on Section 1 of the Charter which says "limits to fundamental freedoms must be justified." In this extraordinary exchange Health Minister Jason Copping repeated government talking points while Stephan demanded answers on whether the province has subjected any of the public health restrictions to due diligence to ensure they meet requirements set out in the Charter of Rights.
In this amazing exchange between members of the same government, MLA Stephan challenged Minister Copping on due diligence, restrictions against children, and restrictions against people who test negative or have protective antibodies due to the fact they've already survived covid.
Province wants everyone in Alberta to get a third shot
Expanding COVID-19 booster to all Albertans 18-plus
Expanded availability of third doses of COVID-19 vaccine will help Albertans increase their protection against COVID-19.
Starting Dec. 2, all Albertans aged 60 and older can book appointments for a booster dose of mRNA vaccine six months after receiving their second dose. First appointments will be available beginning Dec. 6.
All other Albertans aged 18-plus will be notified when the next age group is able to book appointments. Additional age groups will be announced as quickly as possible.
"I am pleased that we can offer booster doses to more Albertans. Millions of Albertans have rolled up their sleeves to have their best protection against COVID-19. While two doses continues to provide strong protection against severe outcomes, we will continue to push the federal government for supply to ensure all Albertans can receive their third doses to continue limiting COVID-19 infection and transmission."
"With the winter season increasing transmission risks, and more Albertans approaching the six-month milestone since receiving their second dose, the evidence supports expanding booster doses to add an additional layer of protection. Vaccines continue to be our best protection against COVID-19, and I continue to encourage Albertans to book their first, second and third doses as soon as they are eligible."
Current evidence indicates that vaccine effectiveness against COVID-19 infection appears to wane over time. While individual protection against severe outcomes remains strong after two doses for most people, there are still many in our communities who are completely unprotected, and third doses will help boost population protection and limit the spread of COVID-19.
Expansion of booster dose eligibility was informed by the advice of the Alberta Advisory Committee on Immunization.
Booking for booster doses
Effective Dec. 2, eligible individuals can book appointments for third doses online with participating pharmacies by using the Alberta vaccine booking system. Albertans can also call 811, participating pharmacies or participating physicians' offices. The first appointments will be available starting Dec. 6.
Booster eligibility is based on birth date. Albertans who are 59 turning 60, and First Nation, Métis or Inuit individuals who are 17 turning 18, are asked to not book appointments before their birthday.
Albertans who were previously eligible for third doses continue to be able to book their appointments.
Albertans eligible for additional doses
Albertans eligible for additional doses now include:
Eligible at least six months after receiving their second dose:
Albertans aged 60-plus
First Nations, Métis and Inuit people aged 18-plus
Health-care workers providing direct patient care and who received their second dose less than eight weeks after their first dose
Individuals who received two doses of AstraZeneca or one dose of Janssen vaccine
Eligible at least five months after receiving their second dose:
Seniors living in congregate care
Eligible at least eight weeks after receiving their second dose:
Individuals with eligible immunocompromising conditions
Quick facts
To date, 378,507 Albertans have received a third dose of COVID-19 vaccine.
84.1 per cent of eligible Albertans 12 years of age and older have received two doses of COVID-19 vaccine while 88.8 per cent have received at least one dose.