Band cancelling tour dates in Red Deer and two other communities after supporting protests in BC
Small Town Artillery is springing into the national spotlight, but not for it's "horn-powered riff wagon riding" sound. Back in mid February the band offered a contest on it's Facebook page, giving away 50 tickets for an upcoming show to "Indigenous Land Defenders & Allies". That post caught the attention of people in communities the band had booked on it's upcoming national tour. This has lead to a huge online backlash against the band by people concerned the band opposes the oil and gas industry and by extension people who work in these industries. So far three dates have been cancelled including their show at The Vat in Red Deer.
In the ensuing days the band has responded to the backlash with a couple of well written and passionate posts attempting to further explain their stance. The posts from the group's Facebook page respond to their first cancelled show in Kindersley, Saskatchewan. The second is in response to two more cancelations including Cold Lake and Red Deer. Here they are:
Posted March 4:
Tom here. I'd like to take a moment to address something.
This band has been an advocate for the move towards renewable energy & continues to try our best to put First Nations rights in front of our audiences. We have written songs about our discontent surrounding these issues. However, we hold no malice towards those working in the Energy sector, or their families – there is nothing more universal than providing for the ones you love, and supporting your family and community. These are the values we hold closest. The feeling of being good at something, using your skills to support yourself & those dear to you – that is something I understand deeply. If there were a movement against touring bands, the thing I have lashed my hopes & dreams & identity to, I would feel attacked no doubt.
We were booked to perform at the Norman Ritchie Community Centre in Kindersley, Saskatchewan as part of our upcoming tour. After seeing some of our videos, the NRCC reached out to me with concerns about our stance on the oil & gas industry, feeling it would harm attendance. They asked if we could keep the politics out of the show, and focus on the music. I was happy to oblige this. A few weeks ago, we decided to go ahead.
In the last 48 hours, we have received messages from some folks, expressing their discontent with the band & our message. I believe they feel that their very livelihood is under fire by some of the messages our band has. This snowballed into a groundswell of resistance to our show, and targeted the community group bringing us in as well. It got to the point where there were threats to cut off the gas to the building during our show, and "run us out of town". The Mayor of Kindersley stepped in and advised the venue to cancel the show. After discussing with the NRCC at length, we all decided it was in everyone's best interests to do just that. So we will no longer be playing in Kindersley on April 9th.
Our intention with our music is not to personally attack hard-working Canadians. It is to keep the conversation moving forward with an open mind. We burn fossil fuel, we participate in capitalism, we have great privilege to be able to do what we do.
Our aim is to work toward what we believe to be a better earth in the future, though it will take time. Our goal with this post is not to back down from these views, but to let you know that we tour with open hearts and it is only through conversation that we can make steps in this direction. I cannot claim to know the whole story, and my hope with this tour is to get to speak with & play for people with many different points of view & ways of life.
We are disappointed that we won't be coming to Kindersley to play this time around, and that we are letting down the fans in Kindersley who responded so positively. We'd also like to credit the NRCC for being diplomatic and reasonable in all of their dealings with us, and know this doesn't reflect the whole town.
We come with open arms, and we come to play.
Thank you
Tom & BAND.
Posted March 7:
Hello! We are posting to address the national media attention our band has garnered over the past few days. Due to the online actions of a few individuals, controversy over our national tour has led to 3 shows being cancelled: Kindersley (SK), Cold Lake and Red Deer (AB). It stems from differing opinions surrounding the move toward more renewable energy sources and our views on the matter, which have been skewed to say that we are against people who work in the oil and gas industry. We are not. As we've repeatedly stated, our band is about music & community first, though we do not shy away from conversations about such topics, especially with those of differing opinions. We are not on tour with a political agenda, we write songs about issues we care about.
The majority of the backlash stems from our decision to support the protests in BC. We did this because they were focused on Indigenous land rights, and challenging the system to take a different approach toward reconciliation.
In the last week, we have learned so much about people who work in the oil & gas industry and how they also feel threatened by the changes we are all struggling to understand. I called Rod Perkins, the Mayor of Kindersley, and we had a good talk. He opened my eyes to the challenges people in his jurisdiction are facing, and it brought home the point that there are so many nuances to every story, this one included.
We have spent our career listening to & trying to amplify voices that need it. We believe this is the duty of an artist, to recognize and address social issues. Art is a commentary on the world around you at any given time, with the information you have at hand. We will continue to hold our heads high and do our best to navigate this – music is meant to unite, not divide.
Respectfully,
Tom
STA
Red Deer Arts Council's fifth Open Studio Tour takes public behind closed doors in this two-day event!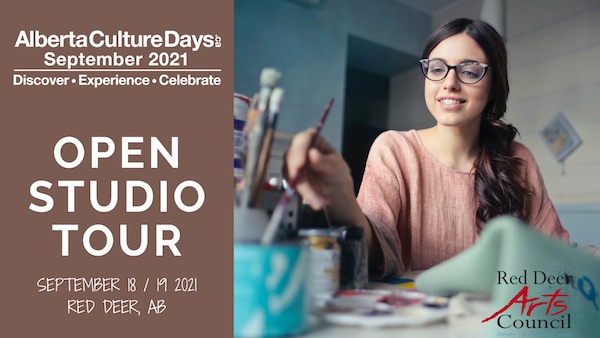 The Red Deer Arts Council is thrilled to announce its fifth Open Studio Tour, taking place September 18th and 19th, 2021! This is a self-guided tour of artist studio spaces and free to the public.
Seven visual artists in five studios bring you this amazing experience. They will open the doors to their private art studios from 10:00 am to 4:00 pm and welcome the public to see the process of creating fine art as each artist demonstrates their process. Fascinating techniques and works of some of Red Deer and area's most recognized artists will be on display for visitors.
This self-guided tour is free of charge. The artists will demonstrate the processes they use, and happily take questions about their media, style, technique, or anything related to art. Artists love to answer questions about their art!
Please Note: some artists are open both days, others open either Saturday or Sunday only. Please check each listing to see which artists are participating on that date or any additional hours they may host.
Download the complete list of artists and addresses HERE.
OPEN STUDIO TOUR LIST OF ARTISTS 2021
Saturday, September 18th Only – 10am to 4pm
Margaret R. Hall
Happy Yak Felt and Maggie's Millinery
48 Good Crescent, Red Deer, AB
[email protected]
403-346-8289
Margaret Hall is a fibre artist and enjoys fabricating whimsical functional items. Working mostly with wool, she enjoys exploring the sculptural properties of wool and combining hand felting and traditional millinery techniques to make unique hats.
Demo: Margaret will demonstrate the difference between blocking a hat with a hand felted hood and an industrially produced felt hood.
*****
Saturday, September 18th and Sunday, September 19th – 10 am to 4 pm
*Please note additional hour changes for individual artists
Susan Delaney
4611 – 48 Street, Red Deer, AB
403-341-9488
www.instagram.com/susandelaneyartist
Susan Delaney is currently making intriguing mixed media portraits and abstract compositions featuring photo image transfer, painting, drawing, collage, and embedded objects. Susan is also well known for her vibrant, expressive landscape paintings.
DEMO: Susan will be demonstrating image transfer and painting, including both deliberate and intuitive artistic decision-making.
*****
View Across the Vallery, Oil, 2021, Carol Lynn Gilchrist
Carol Lynn Gilchrist, ASA
Riverlands Artist Studio/Gallery IS
5123 – 48 Street (Alexander Way), Red Deer, AB
[email protected], 403-596-8890
www.clgilchrist.com
Carol Lynn celebrates the landscape in a range of media and styles. Her work in watercolour, acrylic, and oil are inspired by nature; skies and water worlds that are filled with light, colour and movement that are part real and part imagined. She has just opened her own studio and welcomes everyone to drop in and say hello!
DEMO: Carol Lynn will be working on a WIP (that's art speak for a 'work in progress') and will share her thoughts on composition and offer some plein air painting tips.
Guest Artist at Riverlands
Roberta Murray, ASA
Riverlands Artist Studio/Gallery IS
[email protected], 587-457-1201
www.robertamurray.ca
Roberta Murray is a full-time visual storyteller working in paint, pencil, and pixels. Roberta's work reflects her passions, dreams, and desires regardless of the medium she works in. Birds, wildlife, flora, and the land are all explored in her work. She tries to represent ordinary scenes in a poetic, expressive way to capture a fleeting mood or impression, not to mirror what is easily seen. "I don't paint the landscape. I paint the spirit disguised as a landscape."
*****
Country Sunshine-Watercolour, Marianne Harris
Marianne Harris
Paintwerx Studios
95 Piper Drive, Red Deer, AB
[email protected], 403-350-8106
Additional Hours: Friday 5 pm to 8 pm
Marianne creates 2D artwork in water-based media. Her work is prolific and varied in its subject, style, and size, from photographic realism to more semi-abstract pieces, often inspired from her photography. Her work is available at the A+ Gallery, and is also currently showing until October 11 in the Kiwanis Gallery at the Red Deer Library.
DEMO: Watercolour miniature landscapes demonstrating basic techniques.
Guest Artist at Paintwerx Studios
Winter Returns Again, Amanda Frost
Amanda Frost
Amanda Frost Artwork
95 Piper Drive, Red Deer, AB
[email protected], 403-596-6372
Additional Hours: Friday 5 pm to 8 pm
Amanda's artwork is bold and beautiful, from landscapes, to animals, or a combination of the two. Photographs are often used for reference, but colours from nature's palette are often improvised and enhanced. Her work can be seen at the A+ Gallery in downtown Red Deer.
Marlene Kallstrom-Barritt
Kallstrom Studio
5750 – 41 Street Crescent (West Park), Red Deer, AB
www.kallstromstudio.com, 403-307-3620
www.facebook.com/kallstromstudio
***Shortened Hours for Sunday, 1 pm to 4 pm
Marlene explores several water-based art mediums to create mixed media art that combines abstraction and realism. In other words, she plays with an alarmingly growing amount of art supplies to make paintings of familiar subjects done differently. Lately, she's been waxing watercolours and working on a new series.
DEMO: explaining waxed watercolours (and showing off latest art supply purchase)
The downloadable list of artists is available HERE.
The Red Deer Arts Council is a publicly funded, non-profit organization with a mandate to support all art forms and raise the profile of the arts in the community.
Meet Internationally Acclaimed Central Alberta Artist David More Saturday at Red Deer Museum + Art Gallery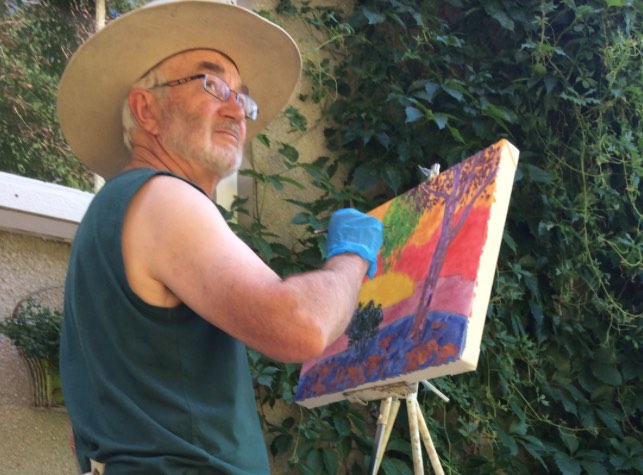 An exploration of the garden through a lifetime of artwork by noted western Canadian painter David More.
Book launch with artist on Saturday, September 11, 2021, from 2:00-4:00 PM, at the Red Deer Museum + Art Gallery (MAG) – public and media welcome.
As Red Deer's cultural scene grows and matures, it is important to build a record of those who have made the path, inspired us, and used their creative talent to expand our perception of the world around us.
Greatest Garden: The Paintings of David More is a celebration of Benalto landscape painter David More's engagement with the garden as a multifaceted subject. Featuring over fifty original artworks, this book encompasses a career spent in conversation with gardens in their many and varied forms. With lively brushwork, a keen sense of colour, and an aptitude for expressive drawing and varied composition, More has found the garden in expected and unexpected places.
David More will be onsite for the book launch at the Red Deer Museum + Art Gallery (MAG) on Saturday, September 11, 2021, from 2-4pm.
Come meet the artist and pick up your signed copy of this beautiful collection of artworks for the member's price of $30 (September 11 only; regular price is $40). This book is published by University of Calgary Press.
Words from Executive Director, Lorna Johnson:
"The Board and Staff of the MAG are so proud of this publication. It was a delight to work with Dave, Mary-Beth and the University of Calgary Press to realize our vision for a publication that would reflect Dave's work and celebrate his generous gift of works to the MAG. It is an important milestone in documenting the art history of Central Alberta."
Words from David More
"Being the subject of a book is truly a privilege during one's lifetime. Greatest Garden: The Paintings of David More allows for the vision my wife Yvette and I share to reach a much wider world. Just as importantly, this book brings the Red Deer Museum + Art Gallery to the international stage, where it deserves to be. Lorna Johnson and her amazing team have raised the profile of the Red Deer MAG to unimagined heights during her tenure. Working with delightful author Mary-Beth Laviolette and the distinguished University of Calgary Press over the last year has given us a most memorable journey."
David More and his wife Yvette Brideau, donated 200 of his paintings and drawings to the Red Deer Museum + Art Gallery in 2019. In that same year, to recognize Dave's generous gift, the MAG hosted a retrospective exhibition of his work that was curated and organized by independent curator Mary-Beth Laviolette. As an extension of her research, and in celebration of Dave's artistic achievements, Mary-Beth also wrote Greatest Garden. Published by the University of Calgary Press, Greatest Garden beautifully examines the multiple subjects that have captured Dave's attention and imagination over the years, and reflects the evolution of his artistic practice.
About David More
David More is one of western Canada's exceptional painters. Based in the rural hamlet of Benalto, near Red Deer Alberta, he is part of a generation of landscape artists who emerged in the 1970s to make beauty out of the ordinary and challenge the expected with bold acts of creation.
Throughout his career, More has returned to the garden as a deeply functional yet ritualistic space of human endeavour. The garden is a place of shelter and sanctuary, of colour and fragrance, of order and wilderness. The garden is a private space, carefully tended and planted, observed en plein air or through the living-room window. The garden is a public space, a park where people gather to let their natures blossom. The garden is the world, the nature that sustains and surrounds us, the environment we all live within, and all have a responsibility to cultivate and tend.
About the Author
Mary-Beth Laviolette is an independent curator and writer with a visual art practice spanning forty years. She is the author of An Alberta Art Chronicle and A Delicate Art: Artists, Wildflowers, and Native Plants of the West. She has curated exhibitions for the Art Gallery of Alberta, Calgary's Glenbow Museum, the Whyte Museum, and more. Mary-Beth is the recipient of many awards, including the Alberta Centennial Medal and Artist in the Spotlight.