Identical twins from Red Deer make their NHL debut together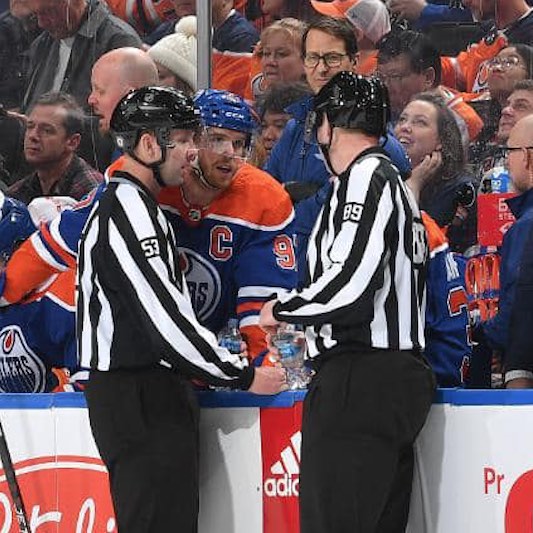 Thanks to their passion for hockey, identical twin brothers Cody and Chad Huseby have been able to spent a lot of time together. The brothers played hockey and baseball growing up in Rocky Mountain House. As teenagers they turned their passion into spending money, lacing up their skates as on-ice officials.
When the Husebys moved to Red Deer to go to college, they took their skates and their whistles with them. They reffed, and took courses, and the assignments came. Eventually both started professional careers in Red Deer. Cody is a teacher with Red Deer Catholic Regional Schools, and Chad is a banker with Servus Credit Union. They both married and have families. They both continued to ref hockey games. For the last 13 years they've been skating in the Western Hockey League and are regulars at Red Deer Rebels games.
Like anyone who laces up the skates, the Husebys have always thought of turning pro. Earlier this season they got their first taste, getting called up to the AHL to officiate some of the home games for the Calgary Wranglers. It looked like one day if they kept at it, they might get a shot at the NHL.
Then all of a sudden, in the matter of a few surprising hours, it happened. In this interview Cody explains how the last day of school before the Christmas break turned into a day he and Chad will never forget.
The Husebys don't just ref hockey, they help coach their kids too. Friends from Chad's team in Red Deer just happened to be at the game in Red Deer. Andrew Russell shared this video profile he took at Rogers Place last Friday night.
Family and friends gathered in various spots from Rocky Mountain House to Red Deer to watch the game Friday. Some tuned in to see the Oilers and were surprised. Others, on the southern side of the Alberta divide, tuned in specifically to see linemen. This feature was captured and shared by Gavin Heintz.
Cody and Chad thoroughly enjoyed their NHL debut and are looking forward to the "next" call up.
Share a special night with Great Big Sea's Sean McCann this Saturday for the Child Advocacy Centre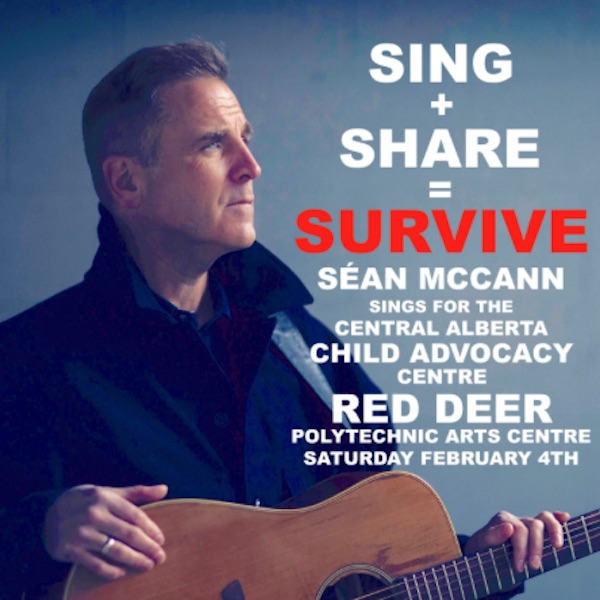 Tickets selling fast for Séan McCann – Sing, Share, Survive
In support of the CACAC
Séan McCann from Great Big Sea will be performing in support of the Central Alberta Child Advocacy Centre this Saturday, February 4th!

Tickets are selling fast! In this powerful live music and storytelling event, you'll learn the meaning of resiliency. Séan will be joined by special guest Sheldon Kennedy for this special performance!
Tickets are $50 each through Red Deer Polytechnic ticket office.
About Séan McCann –
A survivor of sexual abuse as a teenager, Séan has spent the last ten years touring North America as a musical keynote speaker, singing and sharing his story with theatre audiences, front line workers, teachers, students, patients, inmates, veterans, and anyone who has struggled with their mental health. Séan believes that music is medicine and a song is never more powerful than when it is sung with a friend.
As part of this event, the CACAC is benefiting from an
online silent art auction, operated by JRADCLIFFE Auctioneering.

These artworks were created and curated by Kathryn Fellowsand donated to this auction in her memory by her daughter Sharon Moffat.

Watch on social media for a link to this auction, which opens on February 4th.
We're building a path forward for victims of child abuse, neglect, and sexual exploitation. The Centre of Excellence will house many partners in one building, including teams from Alberta Health Services, RCMP, and the Central Alberta Sexual Assault Support Centre.

We've created a strategic partnership with Red Deer Polytechnic to build this innovative centre right here in the heart of Central Alberta on RDP land.
Consider becoming a monthly donor today!
Your monthly contribution will help us #BuildtheFuture of healing, advocacy, and prevention. Click the button below, and select "recurring" to set up your monthly contribution to the Centre of Excellence.

Help us build the future…so every child can have a bright one.
Notre Dame Fine Arts Department invites you to see Roald Dahl's Matilda, the Musical!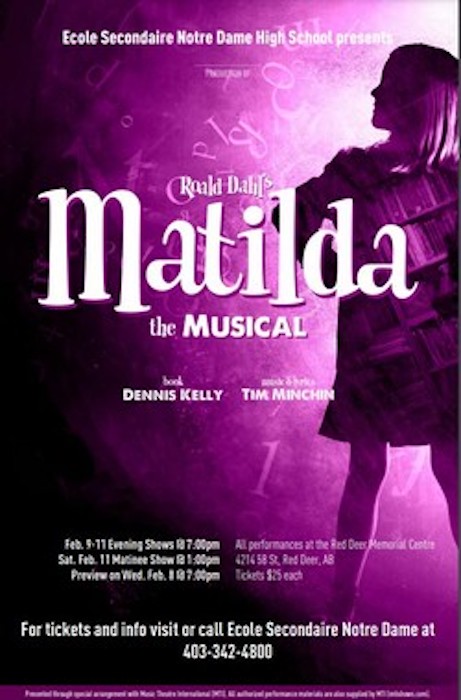 From Red Deer Catholic Regional Schools
Roald Dahl's Matilda, the Musical!
Co-Directed by Jennifer Cocolicchio and Stephanie Layden starring Addy Penney, Jordana Woroniuk, Coryn Tardif, David Jones, and Mikayla Beever.
Please join the Notre Dame Fine Arts students for their interpretation of Matilda.
Inspired by the twisted genius of Roald Dahl, the Tony Award-winning Roald Dahl's Matilda The Musical, from the Royal Shakespeare Company, revels in the anarchy of childhood, the power of imagination and the inspiring story of a girl who dreams of a better life. Book by Dennis Kelly and original songs by Tim Minchin.
Matilda is a little girl with astonishing wit, intelligence and psychokinetic powers. She's unloved by her cruel parents but impresses her schoolteacher, the highly loveable Miss Honey. Over the course of her first term at school, Matilda and Miss Honey have a profound effect on each other's lives, as Miss Honey begins not only to recognize but also appreciate Matilda's extraordinary personality. Matilda's school life isn't completely smooth sailing, however – the school's mean headmistress, Miss Trunchbull, hates children and just loves thinking up new punishments for those who don't abide by her rules. But Matilda has courage and cleverness in equal amounts, and could be the school pupils' saving grace!
Packed with high-energy dance numbers, catchy songs and quick wit, Matilda is a joyous girl power romp. Children and adults alike will be thrilled and delighted by the story of the special little girl with an extraordinary imagination.
The shows take place at Red Deer's Memorial Centre on February 9, 10, & 11 at 7:00pm. There is also a Matinee on February 11 at 1:00pm.
TICKETS ARE $25.00
TICKETS AVAILABLE in advance at Notre Dame's front office, online at https://www.notredamehigh.ca/programs/fine-arts or on the date at the theatre door.
SPECIAL PREVIEW NIGHT on February 8 at 7:00pm – Free for all press representatives and pay what you can for the general public.