How Trudeau Media Skewed The Battle Of Bouncy Castle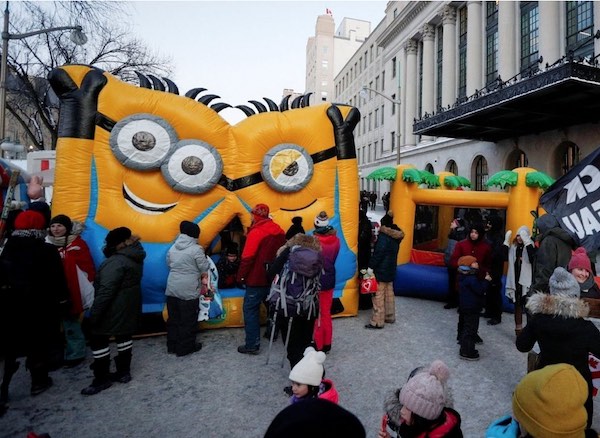 "From a positive and unifying approach, a decision was made to wedge, to divide and to stigmatize. I fear that this politicization of the pandemic risks undermining the public's trust in our public health institutions. This is not a risk we ought to be taking lightly."— Liberal MP Joel Lightbound
It's perhaps fitting that Toronto Star publisher John Honderich passed away during the Battle of Bouncy Castle. The paper he and his family fashioned defined Canadian progressivism in the modern age. "With ink running through his veins and a bow tie 'round his collar, John Honderich was one of the titans of Canadian journalism" went the obit.
Give him props. He and his family defined the message in the post-war era, tilting Canada left. Enamoured by American liberal deities such as the Kennedys and Clintons— and welcoming to tens of thousands of Viet Nam deserters and draft dodgers— they (and CBC) created the Eugene McGovern state that Americans rejected in the 1970s.
Canadians now love feeling superior to Americans with their messy, tumultuous politics (even as Canadians took their free defence). Cheering on even the most embarrassing Democrats gave them a sense of identity versus their noisy neighbour. Canada's worship of the American left drove right-wing competition out of business (Sun TV) or pushed others (The National Post and G&M) hard to the left. To say nothing of what they did to Conservative leaders Erin O'Toole, Doug Ford and Jason Kenney who defied the Star's agenda.
Their slanting of the Convoy drama is a perfect example of Canada's aversion to right-wing thought. The media, writes Jen Gerson, "is presenting a version of reality that is wildly at odds with the protesters' own self conception. It's also not in line with people who have attended protests in other cities, and have reported to me that the vibe of these things is in fact mostly positive and welcoming. This further erodes trust in media, pushing a faction of the public further into information bubbles and away from mainstream reporting."
Thus the Globe & Mail, formerly the paper of record for business in Canada, is now the conscience of Avenue Road and Lawrence. In a florid editorial it vilified the mostly peaceful protesters destroying the NIMBY dreams of their Ottawa subscribers. "The Ottawa occupation is the October Crisis revisited. Justin Trudeau must be bold".
Forget that the 1971 FLQ crisis involved two kidnappings, a murder, escape to Cuba, threats of insurrection and people stoning Trudeau's father. To the Globe that's just the same as Bouncy Castles, hot chocolate and some yahoos honking their truck horns in the Glebe and Sandy Hill. Besides there's a narrative to maintain.
Ottawa's mayor Jim Watson has seen to that. In one cringing example he linked the protesters to thugs trying to set a fire in an Ottawa condo building. Even when corrected by Ottawa police he has not apologized. Anything to protect the PM's wobbly authority.
On his behalf Family Compact Media want you to hit the protesters. Hit them hard. Drive them off the streets. Get the law to take their fuel and hotel rooms. Because we can't let these… things.. make light of us with their impertinence and flannel shirts! This is seasoned with overheated university professors writing tripe about "a dangerous fringe element terrorizing our capital" and not be laughed off the faculty.
While the Mop & Pail gaslights a Costa Gavras political thriller in the PM's refusal to meet unkempt middle-class truckers, it memory-holes Trudeau taking a PMO meeting with Joshua Boyle— under investigation by the police on multiple criminal charges.
Or that while he calls tax-paying protesters merchants of "antisemitism, Islamophobia, anti-Black racism, homophobia, and transphobia" he bestowed $10.5 M big ones on a convicted ISIS terrorist when he came back to Canada. Which is more than unvaccinated Canadians are entitled to.
As Sun writer Lorrie Goldstein asked on Twitter, "As I understand it in Canada, there's a 'right' and a 'far right', but there's only a 'left' and not a 'far left'. Why is that?"
It's why a prime minister who hides from protesters is now pushing for more restrictive rules on social media content (read: censorship). Having bought off the floundering legacy media he means to move his control to the internet next. All the better to push climate change and gender dysphoria as top agenda items— even as Canadians' heating bills double, their gas pushes toward $2/ litre and inflation erodes their life savings.
No, the enemy of the state is the Convoy. But as @jengerson points the majority of the participants are not politically sophisticated. "The Freedom Convoy is not setting up a tyrannical blockade by their own lights, but rather an extended street protest-ey party, complete with DJs, bouncy castles, BBQ pits and saunas. They've organized camps for themselves, cleared the roads of snow and, by their own reports, ejected racist elements."
This clashes with the PM's fever dreams. Liberal MP Lightbound says this dismissal of average citizens has been divisive. "I've heard from a lot of people wondering why just a year ago, we were all united, in this together. And now that we have one of the most vaccinated population in the world, we've never been so divided."
Should we be surprised by left-wing victim media love? You probably have noticed that it's Black History Month in Canada and the U.S. Our one-note media uses it to build a narrative about whites' oppression of blacks. None of the Jimmy Olsens ever dare to ask the radicals, why it is that almost every murdered black person in Canada is killed by another black person?
Their bias on behalf of Trudeau is inescapable. In a testament to how liberal media have created a no-go zone for social-conservative issues, consider that a whopping 77 percent of Canadians are unaware there is no law governing abortion in the country.
But the Convoy's persistence has threatened that security. The weakening of Omicron is running out Trudeau's strategy. As the WSJ writes, "The lesson for the Covid-19 police is that when you've lost even Canadians, arguably the most law-abiding people on the planet, you've lost the political plot."
For now it remains to be seen how far Trudeau will go to smash the Bouncy Castle people that he and his purchased press have demonized. Or whether the Liberals finally get off their power trip and move on from vaccine shaming.
Bruce Dowbiggin @dowbboy is the editor of Not The Public Broadcaster (http://www.notthepublicbroadcaster.com). The best-selling author was nominated for the BBN Business Book award of 2020 for Personal Account with Tony Comper. A two-time winner of the Gemini Award as Canada's top television sports broadcaster, he's also a regular contributor to Sirius XM Canada Talks Ch. 167. His new book with his son Evan Inexact Science: The Six Most Compelling Draft Years In NHL History is now available on http://brucedowbigginbooks.ca/book-personalaccount.aspx
Woe Is Me: The Unshakeable Pessimism Of The Progressive Mind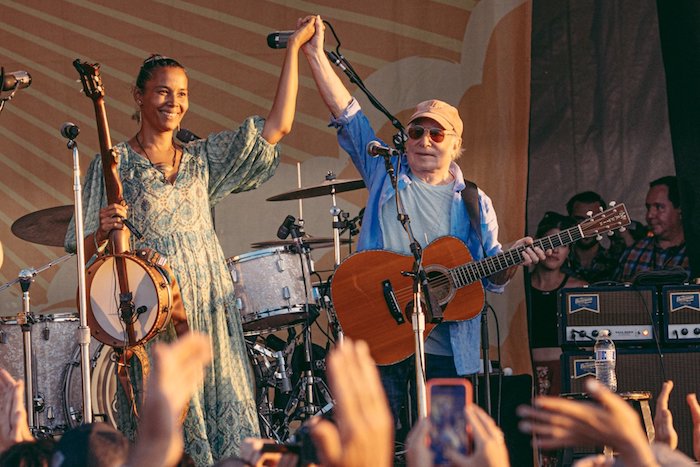 The recent Grammy Tribute to Paul Simon features a haunting performance of An American Tune by the songwriter along with singer/ banjo player Rhiannon Giddens. The pessimistic lyrics clearly resonated with a Hollywood audience that looked like a Democratic Party fundraiser.
"I don't know a soul who's not been battered
I don't have a friend who feels at ease
I don't know a dream that's not been shattered
Oh, but it's all right, it's all right
For we've lived so well so long
Still, when I think of the road we're traveling on
I can't help it, I wonder what's gone wrong."
Even as it was laying off dozens of staffers, the L.A. Times rushed to canonize the song's performance. While Simon's world-weary tone echoes the current zeitgeist in Canada and the West, it's notable that the song was released in 1973. The world Simon described was a far cry from today's apocalyptic 1984 when men purportedly can have babies, forest fires are caused by CO2 and the climate is reported to collapse within five years.
The world Simon described in An American Tune was post-Viet Nam, post 1960s rebellion and during Watergate. To him it must have seemed catastrophic to an American liberal culture he knew when the album Rhyming' Simon was released in 1973. To those of us today, seen in retrospect, the "dreams shattered" are almost nostalgic.
But the real tell in the song's lyrics is that world-weary ennui has long been the fallback position of the American/Canadian Left. When you hear the apocalyptic Malthusian tones from its current junta— Al Gore, AOC, Greta Thunberg, the Hollywood mafia, Blackrock— demanding that society surrender so many of its norms to satisfy their virtue, you are seeing a precedent dating back to the 70s and earlier.
Put simply, the secularists of the Left, lacking spiritual inspiration, have always found it hard to embrace the exuberance, the positivity of the "American Tune" that Simon hints at in the song.
"For we come on the ship they call the Mayflower
We come on the ship that sailed the moon
We come in the age's most uncertain hour
And sing an American tune."
When the song was written, the fashionable people of the Left were in the process of excoriating Ronald Reagan's "shining city on the hill" vision of America. There was a sense of threat from Reagan's embrace of capitalism and sentimental patriotism. They saw Reagan's talk of strategic defence systems and waving the flag as an impediment to their Jimmy Carter love.
In the End Of The Innocence, Don Henley lamented the "Tired old man that we elected king". He described Reagan turning "plowshares into swords". Simply Red mocked Nancy Reagan with, "Did the earth move for you, Nancy?" Bruce Springsteen's bitter 1984 opus "Born In The USA", a sad ode to Viet Nam indifference, summed up the alienation during the Reagan age.
"Born down in a dead man's town
The first kick I took was when I hit the ground
You end up like a dog that's been beat too much
'Til you spend half your life just coverin' up."
Many others, like Simon and Springsteen, would see something lost and nothing gained despite Reagan ending the nuclear threat of the Cold War. In short, this is what the Left does about everything that frightens them. Don the sack cloth and look for people to blame. Or, in Reagan's case, try to assassinate him.
Saturday Night Live consistently mocked Reagan as the doddering old man that Joe Biden has morphed into. But the 70s radicals hadn't captured the culture industry as they have today, when they can shove their bizarre values down the throats of a bewildered population. And their hour passed.
The Born In The USA children were thick on the floor in the Grammy Show, clearly supporting the fashionable agenda of this day. Grey-haired, stooped, botoxed, Invisaligned teeth— they knew all the plaintive words to Simon's songs played that night by Stevie Wonder, Garth Brooks, Sting and so many others. (They were a generation that also knew the lyric and the meaning of, "Something is happening here, and you don't know what it is, do you Mr. Jones?" )
Now, 50 years later, they have the whip hand. They should be no need for lamentations after railroading an elected GOP president from office through nefarious operations with the FBI, CIA and DOJ. They have installed a Pride Month where there is a single Remembrance Day or Veterans Day. They have cowed the corporate world into making the interests of five percent of the population into the overarching narratives of the day.
And yet they still see themselves as put-upon and under threat of right-wing extremism. The spectre of The Handmaid's Tale spooks young women of extreme privilege. The trans movement makes progessives see themselves— or their kids— in the wrong body. They live in fear of cow farts and gas stoves. The fading American dream is now just the hook to a popular Paul Simon song.
"But it's all right, it's all right, all right,
You can't be forever blessed
Still, tomorrow's going to be another working day
And I'm trying to get some rest
The baleful blubbering is exhausting. It's cynical. It's predictable. Remember that next time your friendly media shill tells you that the current forest fire is a symptom of climate change. We've been here before. Many times.
Sign up today for Not The Public Broadcaster newsletters. Hot takes/ cool slants on sports and current affairs. Have the latest columns delivered to your mail box. Tell your friends to join, too. Always provocative, always independent. https://share.hsforms.com/16edbhhC3TTKg6jAaRyP7rActsj5
Bruce Dowbiggin @dowbboy is the editor of Not The Public Broadcaster A two-time winner of the Gemini Award as Canada's top television sports broadcaster, he's a regular contributor to Sirius XM Canada Talks Ch. 167. Inexact Science: The Six Most Compelling Draft Years In NHL History, his new book with his son Evan, was voted the seventh-best professional hockey book of all time by bookauthority.org . His 2004 book Money Players was voted sixth best on the same list, and is available via http://brucedowbigginbooks.ca/book-personalaccount.aspx
Your Trash, My Treasure: Playing The GM Shuffle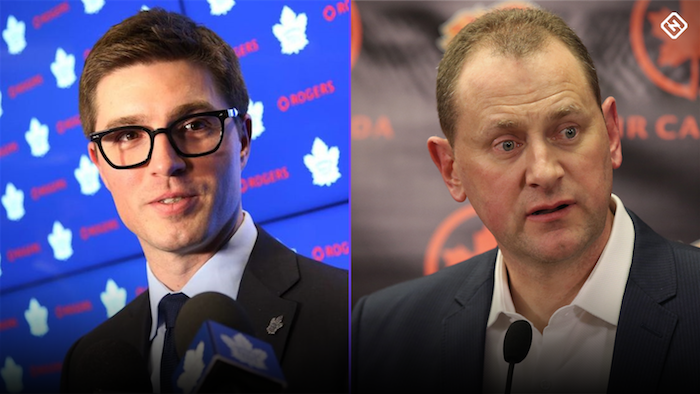 "One man's treasure is another man's trash/ One man's landing is another man's crash"—Guy Clark
At the end of a season that saw his Calgary Flames fall from Pacific Division champions in 2022 to out of the playoffs in 2023, general manager Brad Treliving went to ownership of the club. Tired of seeing each Darryl Sutter ignore the products of Calgary's development system in favour of aging veterans, Treliving wanted a fundamental change of direction for 2023-24. Get younger.
The problem for Treliving is that he had no contract past 2023 while Sutter had two years left at $4M per year on the extension Flames ownership had given him for the 2021-22 performance fuelled by Matthew Tkachuk and Johnny Gaudreau. For the parsimonious Flames the answer was obvious about the coach who'd once led the teams to the Stanley Cup Final in 2004. Sutter and his contract won out.
While the choice of retaining Sutter might have satisfied ownership, it was a non-starter for Treliving, a number of core players on the roster and the fan base— who were bitterly watching Tkachuk lead Florida to the 2023 Final. Treliving was gone from the team he'd run for nine seasons and five playoff appearances. With the implicit defection of some key players, ownership then had president Don Maloney fire Sutter.
Was Treliving the best GM in the league? Maybe not, but his work in turning the departure of Tkachuk into real assets (ones Sutter seemed to waste) was indicative of skill. In the end the Flames had made a choice that cost them both their options. Now they're left with former hero Craig Conroy making his maiden appearance as an NHL GM. And possibly their AHL coach being promoted. Did we say the Flames are cheap?
Meanwhile in Toronto, wunderkind GM Kyle Dubas had gone from youngest genius in the NHL to shopworn object of scorn to Toronto's roiling fan base. After seeing his heralded teams win just one playoff series (2023) since 2017, Dubas became the scapegoat for frustrations that go back to 1967. Loaded with costly, flashy stars such as Auston Matthews, William Nylander and Mitch Marner, Toronto seemed to have peaked.
So after some aborted contract talks, Maple Leafs ownership and president Brendan Shanahan said buh-bye Dubas. A hiring committee went in search of a new GM to handle the thorny contract issues Toronto faces under the current CBA. (Namely, would Matthews sign an extension this summer or would he do a Gaudreau and bet on himself in a contract year.)
Meanwhile, the 40-year-old Dubas said he was going to take some time off to consider his options. As holidays go it was a short one. No sooner had the Leafs decided that Calgary's trash was their treasure, inking Treliving as their new GM, Dubas' rumination ended with his being named as GM in Pittsburgh on a seven-year deal. What? Next thing you're going to tell us is that Mike Babcock is coming back after his paid holiday from the Leafs (where Dubas and Shanahan had fired him).
You guessed it. The two-time Stanley Cup winning coach— the winningest coach in Red Wings history— once thought too mean by all the young dudes in the T-Dot was named head coach in Columbus, where he'll try to motivate Gaudreau— who once found Sutter too abrasive. Go figure.
Fans hoping that new GMs and coaches making bold moves will bring sunny days in 2023-24 will be sorely disappointed as the crunch from Gary Bettman's vaunted Escrow System will mean a meagre $1M bump in the salary cap for next season. Because of money lost by owners during the Covid Bubble seasons, players are working off an estimated $1.1B debt they owe owners under the terms of the glorious salary-cap capitulation by shutting down the 2004-05 season.
Of course, part of that loss in revenues can be attributed to Bettman's Folly, aka the Arizona Coyotes, who've been a drag on the NHL's revenue streams even as other clubs make out like bandits. (See: small-market Ottawa Senators estimated to be going for a billion dollars.) In addition there is probably as much as $70M in "dead" money from ill-fated contracts stuck in the works. BTW, not one player in the socialist republic of Bettman made a max salary in 2022-23 under this scheme accepted by players who cratered in 2004 and fired Bob Goodenow.
With an estimated $6M bump in the cap on July 1, 2024, there will be a lot of kicking the can down the road this summer should Treliving and the Leafs pony up the max salary to keep Matthews. They might also be able to tread water on a few other costly contracts if they trade Matthews south to a U.S. destination.
As we've written lately , trying to keep American stars in cold Canadian cities where they're in a fish bowl 24/7 is becoming an issue. Many will look at Tkachuk appearing as a guest on the NBA Playoffs broadcast as indicative of what can happen if they move to a tax-free state like Texas, Tennessee, Nevada, Florida and yes, Arizona.
So the GM faces may be new in Calgary, Toronto and Pittsburgh, but the problems are same old/ same old in Gary Bettman Land. Cap gymnastics, TV cord-cutting, market disparities and the collapse off international play, among many. Expect a replay of the GM shuffle this time next year.
Sign up today for Not The Public Broadcaster newsletters. Hot takes/ cool slants on sports and current affairs. Have the latest columns delivered to your mail box. Tell your friends to join, too. Always provocative, always independent. https://share.hsforms.com/16edbhhC3TTKg6jAaRyP7rActsj5
Bruce Dowbiggin @dowbboy is the editor of Not The Public Broadcaster A two-time winner of the Gemini Award as Canada's top television sports broadcaster, he's a regular contributor to Sirius XM Canada Talks Ch. 167. Inexact Science: The Six Most Compelling Draft Years In NHL History, his new book with his son Evan, was voted the seventh-best professional hockey book of all time by bookauthority.org . His 2004 book Money Players was voted sixth best on the same list, and is available via http://brucedowbigginbooks.ca/book-personalaccount.aspx