How Omicron seems to be turning Covid-19 into a cold. A simple scientific explanation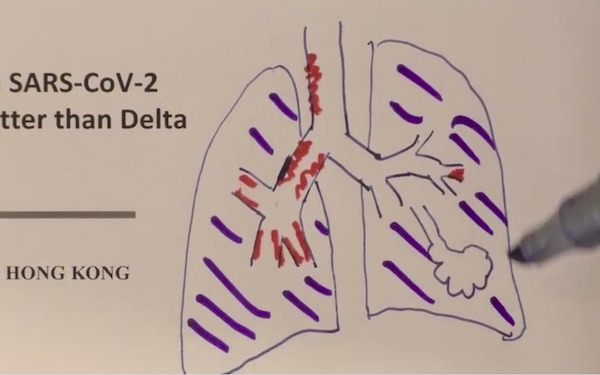 The drawing by medical researcher John Campbell may be crude, but it's effective. Campbell has a knack for describing complex medical issues. He uses this drawing to show how scientists studying Omicron have discovered viral replication is reduced in the lung tissue compared to previous covid variants, but increased in the bronchi. In other words, it's much easier to catch the Omicron Covid virus and pass it on to someone else. Unfortunately that means Omicron is going to sweep through our population extremely quickly. The good news is it also means those catching this variant aren't getting nearly as sick as people who suffered the worst effects of previous variants.
The research Campbell is describing comes from the University of Hong Kong and is undergoing peer review.
Here's his simple but scientific explanation for why we're all soon going to be exposed to the Omicron variant, and why that shouldn't necessarily be a cause for alarm.
Throughout the covid pandemic John Campbell has been sharing his explanations on a daily basis. The video below shows how covid symptoms in South Africa where Omicron has been raging for a month have changed from those of a respiratory illness, to symptoms of a common cold. Fortunately that is also happening in the early days of the Omicron spread in the United Kingdom.
From Cafe Owner to Political Activist at the heart of the Alberta Prosperity Project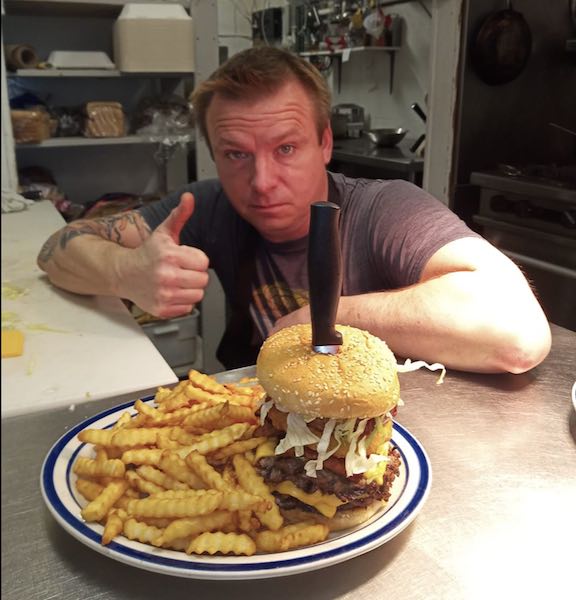 The COVID pandemic has turned Central Alberta Cafe Owner Chris Scott into nothing short of a lightning rod.
Many business owners grumbled and suffered through a couple years of mayhem due to wave after wave of COVID and the various restrictions affecting day to day operations. Where most business owners zigged, Scott, as they say… zagged.
Chances are you know something about his story as he's been in the news and seemingly on a never ending speaking tour ever since this all started.
You likely won't be surprised to know Chis Scott is still operating his cafe, still facing court charges, and heavily involved in trying to influence Alberta politicians.
No matter what side of this discussion you fall on, no matter what you think of the business owners, doctors, and religious leaders who stood in defiance of covid restrictions, this conversation will help you understand where those who have emerged as leaders of those who stood up to the health restrictions are putting their attention in the summer of 2022.
If you're interesting in learning more about the Alberta Prosperity Project.
If you're interested in WS Full Steam Ahead
CDC Quietly Ends Differentiation on Covid Vaccination Status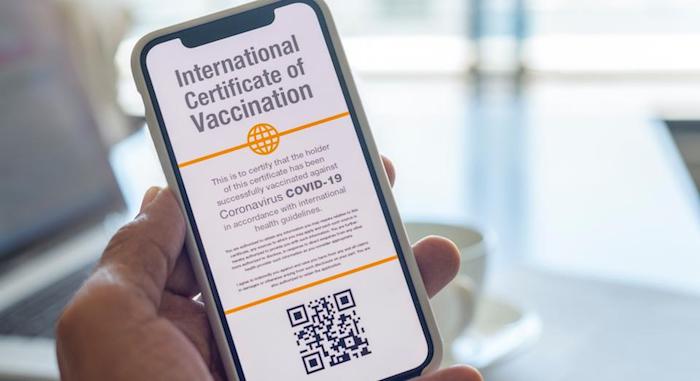 Thursday, the US Centers for Disease Control and Prevention (CDC) quietly ended its policy of differentiating within COVID-19 prevention guidance between those who have received Covid vaccines and those who have not.
CDC's COVID-19 prevention recommendations no longer differentiate based on a person's vaccination status because breakthrough infections occur, though they are generally mild, and persons who have had COVID-19 but are not vaccinated have some degree of protection against severe illness from their previous infection.
As explained by the CDC's Greta Massetti, lead author of the new guidance:
Both prior infection and vaccination confer some protection against severe illness, and so it really makes the most sense to not differentiate with our guidance or our recommendations based on vaccination status at this time.
Someone might want to tell the millions of workers who lost their jobs, the millions of students who received injections out of anticipation for school mandates, and the millions of law-abiding citizens who have been, and often continue to be, excluded from everyday life activities and basic medical care due to their unwillingness to show proof that they received an mRNA shot they neither wanted nor needed, a differentiation that the CDC now admits does not make sense. All cool, I'm sure.