History on the Block-Brother Can You Spare $400 million?
History on the Auction Block…DC Comics 1934 to 2014
As a young comic book collector, I often dreamed of finding a comic book horde.
Not a small pile of books with a few 1940s and 50s books in it, but a real stash, one that movies are written about. A collection of books that as you look through the pile you see Action #1, #2, Detective Comics #27 and Worlds Finest #1, the Flash #1, and Wonder Woman #1. That is the kind of treasure I, along with every collector in North America, wanted to find.
I had an aunt once who did have those books, and she clearly remembered saving them until her parents threw them away. She did say she would have given them to me as I was her favorite nephew….
This week, amidst the Covid 19 panic, pandemonium pandemic, the impossible is about to happen.
Ian Levine, an internationally known comic book and music ephemera collector, is auctioning off EVERY DC Comic book published from 1934 to 2014! The total number of books exceeds 40,000! Now, all of these books are the best possible, they are the most rare, most sought after, most significant of all comics. And ONE person, institution or archive will become caretaker to history.
Many professionals, collecto
rs and fans have spoken of the magnitude of this Sotheby Auction with awe.
Paul Levitz, in his Facebook post, spoke of assisting Levine with his quest:
"So a story of a quiet day at DC…I think it was over the holiday break, before the company closed for those days. Happened on an ad in one of the comics trades, probably Comic Buyers' Guide, from a guy who was trying to assemble an absolutely complete DC collection. He was down to hunting some pretty obscure stuff, odd issues of romance and war titles, and many of our 'custom comics,' the giveaways we'd produce for companies to promote their products (or for good causes like keeping kids from being blown up by landmines). There were quite a few of the listed customs that were basically valueless but hard-to-find things we had large stacks of to use as samples, so I spent a few minutes in the library and my files pulling a bunch together. Sent them to him with a note that said, "Buy 40,000, get 12 free." The collector was Ian Levine, and he kindly let Taschen use the collection for the photos for 75 YEARS OF DC. He's now auctioning off the whole collection at Sotheby's. Hope it goes to someone who'll love it, or an institution with a giant endowment and great taste."
With the pound of the gavel, some billionaire (likely) will become protector of the collection of the century.
To steal and paraphrase a line from Marvel and Stan Lee, with such a great collecton comes great responsibility .May it be used wisely.
Click for a link to the amazing catalogue for the collection follows:
Curtain set to open on Lindsay Thurber production, Head Over Heels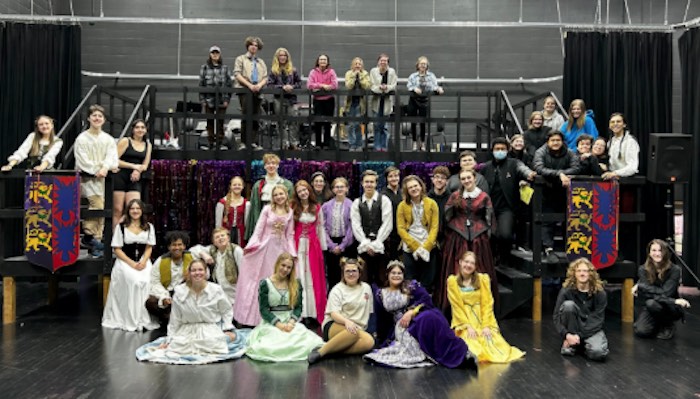 Get ready to laugh, party, witness exciting fight choreography, and groove to the music of The Go-Gos in Lindsay Thurber Comprehensive High School's production of Head Over Heels The Musical, High School Edition. Performances run March 17 – 25 in Studio A at the school.
A mash-up of posh and punk, Head Over Heels is an Elizabethan romp about a royal family that must prevent an oracle's prophecy of doom. In order to save their beloved kingdom of Arcadia, the family embarks on a madcap journey wrought with mistaken identities, prophetic riddles, scandal and self-discovery. Set to the exuberant beats of the 80s pop music of The Go-Gos, Head Over Heels is a heartfelt show where love is celebrated and the beat is divine!
About 50 students from Grades 9-12 are involved in the production. This includes three classes of Musical Theatre, Technical Theatre and Pit Band, who make up the show's actors, production crew, and pit band musicians.
"Head Over Heels is a show that is relatively new," said Tara Koett, Director. "I suspect that not a lot of the audience is familiar with it as it premiered on Broadway in 2018. It is a Renaissance comedy and the dialogue is written in verse. In tandem with this Renaissance comedy, it's also a jukebox musical of the music of The Go-Gos. It's very, very fun and it's a sweet and clever script that captures the modern sensibilities of what a lot of us go through on our journeys to find love."
Koett said one of her favourite aspects of the show is that while with many jukebox musicals, the songs can feel shoehorned in, in Head Over Heels, the songs are placed in the production in a way that feels organic. "For people who don't know The Go-Gos, like many of our high school students before beginning this course, it truly feels like those songs and those lyrics belong in the story or are from the characters themselves, so I think it's really well done for a jukebox musical."
Koett added she encourages students, family and friends as well as the general community to take in the production and see the exceptional skills of the high school students involved.
"This show is so much fun. It's such a beautiful celebration of all different types of love. It has such catchy, high energy music, relatable characters and representation, themes relevant to 2023, and it's a mishmash of posh and punk that is different from what a lot of people associate with musical theatre," she said. "It's a great opportunity for people to be back in live theatre again and to laugh together, maybe even cry together, to take in a beautiful story told with some really incredible music."
To purchase tickets, click here.
List of 2023 Oscar winners
Michelle Yeoh, left, reacts in the audience with excitement as she accepts the award for best performance by an actress in a leading role for "Everything Everywhere All at Once" at the Oscars on Sunday, March 12, 2023, at the Dolby Theatre in Los Angeles. Jamie Lee Curtis, from right, and Ke Huy Quan are seen in the audience. (AP Photo/Chris Pizzello)
By Jake Coyle in Los Angeles
LOS ANGELES (AP) — Oscar winners announced Sunday:
Best picture: "Everything Everywhere All at Once"
Best actress: Michelle Yeoh, "Everything Everywhere All at Once"
Best actor: Brendan Fraser, "The Whale"
Best supporting actor: Ke Huy Quan, "Everything Everywhere All at Once"
Best supporting actress: Jamie Lee Curtis, "Everything Everywhere All at Once"
Original song: "Naatu Naatu" from "RRR"
Film editing: "Everything Everywhere All at Once"
Best director: Daniel Kwan and Daniel Scheinert, "Everything Everywhere All at Once"
Best animated feature: "Guillermo del Toro's Pinocchio"
International feature film: "All Quiet on the Western Front" (Germany)
Documentary feature: "Navalny"
Live action short: "An Irish Goodbye"
Cinematography: James Friend, "All Quiet on the Western Front"
Makeup and hairstyling: "The Whale"
Costume design: "Black Panther: Wakanda Forever"
Documentary short: "The Elephant Whisperers"
Animated short: "The Boy, the Mole, the Fox and the Horse"
Production design: "All Quiet on the Western Front"
Music (original score): Volker Bertelmann, "All Quiet on the Western Front"
Visual Effects: "Avatar: The Way of Water"
Original screenplay: "Everything Everywhere All at Once"
Adapted screenplay: "Women Talking"
Sound: "Top Gun: Maverick"
___
For more on this year's Oscars, visit: https://apnews.com/hub/academy-awards