Hippopotomonstrosesquippedaliophobia is the fear of long words
by Jock Mackenzie
Hippopotomonstrosesquippedaliophobia is the fear of long words. It's number 26 on an Internet list of the world's greatest fears. At Number 13 is Glossophobia, the fear of public speaking. The top five on this particular list are fear of: spiders, snakes, heights, open and/or crowded spaces and, a surprise to this canine fan, dogs.
Most of us can avoid the worst fears, but it's almost impossible to avoid communicating with others. One answer: Toastmasters International. 
Toastmasters, a non-profit educational organization, has been in the communication business since 1924. Red Deer's Sunrise Toastmasters (Tuesday mornings at 7:00 a.m.) was founded in 1986. Kitowin Toastmasters (1st and 3rd Wednesdays at 7:30 p.m. and a dinner meeting on the fourth Thursday) began even earlier – 1974. The need for communication and leadership has seen more Central Alberta clubs form; there are clubs in Innisfail, Sylvan Lake and Stettler. 
Who attends? Adults over eighteen. Most Toastmasters are trying to improve their ability to speak, to get their ideas out in a logical, understandable fashion. Some first come because they have an upcoming event where a speech is required:  business presentation, class, wedding, or funeral. Others attend because they know that speaking is not their strong point and have decided to do something about it. 
How long do they stay? It's an interesting mix. Some men and women stay only as long as it takes them to improve to the point where they feel more comfortable with their communication skills. Others stay a medium term; some are "lifers." Once in a Toastmaster club, it's soon evident that the mutual fear of public speaking creates a bond. Toastmasters are amazingly supportive of fellow members – and a strong relationship is created. Personal experience has shown there is no better place to find encouragement, empathy and assistance. 
What happens at a meeting? Everybody has a chance to speak! An overview of a typical meeting includes two speeches from a manual of 10 general topics (an Icebreaker about yourself, getting to the point, vocal variety, research, etc.), evaluations of the speeches, a toast, a joke, table topics (members are given a topic – no time to prepare – and a two-minute time to speak), reports from the meeting's grammarian (who notes ums, ahs and grammatical errors), the timer (who uses a green, amber and red light to keep speakers on time) and the general evaluator (who gives an overall assessment the meeting). There's even a short coffee and treat break.  
Is Toastmasters for you? It is for over 350,000 people in 141 countries around the world. Is a degree of structure important? Two manuals, Competent Communicator and Competent Leader, provide a path through a carefully time-tested series of speeches and leadership opportunities. The basic structure is provided but there's ample room for making all of the interactions specific and personal. Gradually being unveiled across the Toastmasters world is a new program called Pathways that promises an even more member-centred approach. 
Guests are always welcome.  Click on the individual links to get more information.
Kitowan Toastmaster, Sunrise Rotary Club, Innisfail, Sylvan Lake and Stettler.
Grant's story: Amazing Improvement with Hard Work & Support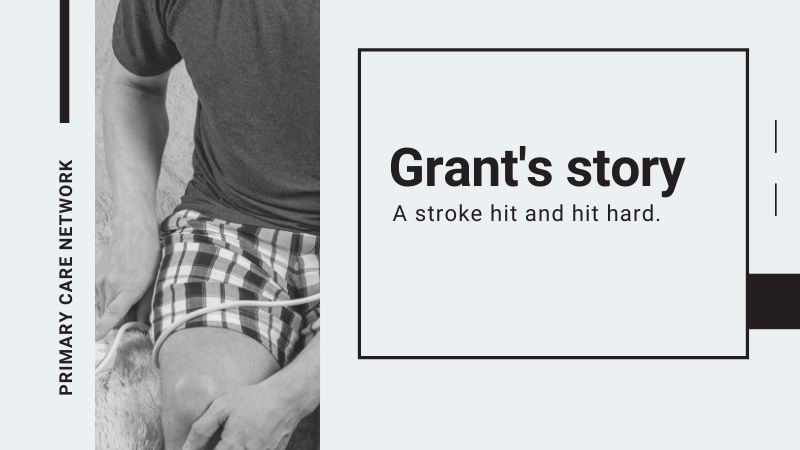 Grant was in his mid-fifties – maybe a bit overweight but with no other cardiovascular risk factors. However, a stroke hit and hit hard. His right side was very compromised, he had little use of his hands, he was unable to walk or lift his right arm. He was hospitalized in Red Deer for 4 months and then went to the Centennial Centre in Ponoka for rehab for 6 months. His doctor had told him that he would be bound to a wheelchair for the rest of his life and would never walk again or be able to recover from this stroke. This made Grant angry as he didn't want this prognosis.
Since that time, he has put a lot of work and effort into getting better. The physios and rehab team helped him make progress, but he kept asking them how he could get more training. They were able to refer him to Recreation Therapy at RDPCN. His therapist arranged to work with him at the Gary W Harris Canada Games Centre three times per week. He is doing a lot better now. He can walk with a cane and he can lift 30 pounds on the machines at the gym. He can now clap hands. He has gained strength and control, his gait has improved along with his endurance, and he has an increased range of motion and strength in his upper extremities. He can now do many more tasks of daily living such as carry groceries, cook and barbeque.
Grant states that his doctor can't believe his progress. Other people he knows have said very similar things. Working with the Rec Therapist has been very encouraging and supportive. The Rec Therapist has really helped me to stay motivated. Having a plan for myself also helps the attendants at the Gary Harris Centre to work with me to move forward. I have highly recommended this program to others I know who have had a stroke.
My work is not done but I am proud of the progress I have made and thankful for everything I can do for myself.
To learn more about the RDPCN programs, visit www.reddeerpcn.com
Keep cool with the firefighters this Thursday!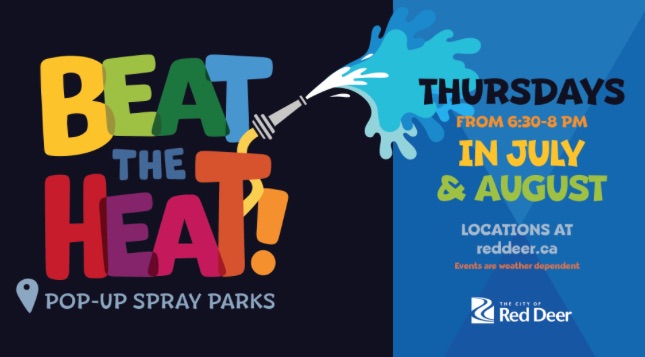 Pop-up Spray Parks
Members of Red Deer Emergency Services, RCMP and Municipal Enforcement blasted the hoses to keep you cool Thursdays in July and August.
Pop-up spray parks are popping up across Red Deer this summer. Beat the heat with Red Deer Emergency Services, Municipal Policing Services and RCMP in a neighbourhood near you.
Participants are reminded to not attend if they are feeling unwell or are currently required to quarantine.
Thursdays from 6:30 – 8 p.m.
| Date | Location | Address |
| --- | --- | --- |
| | | |
| July 22 | Highland Green Community Centre | 65 Halladay Avenue |
| July 29 | Deer Park Community Association | 181 Dowler Street |
| August 5 | To Be Confirmed | —– |
| August 12 | Riverside Meadows Community Centre | 6021 57 Avenue |
| August 19 | Joseph Welsh Elementary School | 4401 37 Avenue |
*Events are weather dependent.