Hippopotomonstrosesquippedaliophobia is the fear of long words
by Jock Mackenzie
Hippopotomonstrosesquippedaliophobia is the fear of long words. It's number 26 on an Internet list of the world's greatest fears. At Number 13 is Glossophobia, the fear of public speaking. The top five on this particular list are fear of: spiders, snakes, heights, open and/or crowded spaces and, a surprise to this canine fan, dogs.
Most of us can avoid the worst fears, but it's almost impossible to avoid communicating with others. One answer: Toastmasters International.
Toastmasters, a non-profit educational organization, has been in the communication business since 1924. Red Deer's Sunrise Toastmasters (Tuesday mornings at 7:00 a.m.) was founded in 1986. Kitowin Toastmasters (1st and 3rd Wednesdays at 7:30 p.m. and a dinner meeting on the fourth Thursday) began even earlier – 1974. The need for communication and leadership has seen more Central Alberta clubs form; there are clubs in Innisfail, Sylvan Lake and Stettler.
Who attends? Adults over eighteen. Most Toastmasters are trying to improve their ability to speak, to get their ideas out in a logical, understandable fashion. Some first come because they have an upcoming event where a speech is required: business presentation, class, wedding, or funeral. Others attend because they know that speaking is not their strong point and have decided to do something about it.
How long do they stay? It's an interesting mix. Some men and women stay only as long as it takes them to improve to the point where they feel more comfortable with their communication skills. Others stay a medium term; some are "lifers." Once in a Toastmaster club, it's soon evident that the mutual fear of public speaking creates a bond. Toastmasters are amazingly supportive of fellow members – and a strong relationship is created. Personal experience has shown there is no better place to find encouragement, empathy and assistance.
What happens at a meeting? Everybody has a chance to speak! An overview of a typical meeting includes two speeches from a manual of 10 general topics (an Icebreaker about yourself, getting to the point, vocal variety, research, etc.), evaluations of the speeches, a toast, a joke, table topics (members are given a topic – no time to prepare – and a two-minute time to speak), reports from the meeting's grammarian (who notes ums, ahs and grammatical errors), the timer (who uses a green, amber and red light to keep speakers on time) and the general evaluator (who gives an overall assessment the meeting). There's even a short coffee and treat break.
Is Toastmasters for you? It is for over 350,000 people in 141 countries around the world. Is a degree of structure important? Two manuals, Competent Communicator and Competent Leader, provide a path through a carefully time-tested series of speeches and leadership opportunities. The basic structure is provided but there's ample room for making all of the interactions specific and personal. Gradually being unveiled across the Toastmasters world is a new program called Pathways that promises an even more member-centred approach.
Guests are always welcome. Click on the individual links to get more information.
Kitowan Toastmaster, Sunrise Rotary Club, Innisfail, Sylvan Lake and Stettler.
Gateway Christian students experience life changing trip to Dominican
Students from Gateway Christian School recently returned from a life changing trip to the Dominican Republic as part of their Intercultural Studies program.
Gateway's 2023 Co-Impact Team, which included 13 students, two staff and an additional chaperone, spent 10 days on the ground over Spring Break connecting with other students and families to help to build a basketball court and physical education area at the Pena de Horeb school via Edudeo Ministries. Pena de Horeb is primarily a Haitian school, serving the students and families amidst a very poor Haitian neighbourhood. In the months leading up to the trip, Gateway students raised funds to help assist with the build. Gateway also spent a significant amount of time building relationships with and learning from students and staff at their partner school, El Colegio Cristiano Reformado Los Guandules.
"Service is an important part of the culture at Gateway, and this experience was the culmination of that. The Co-Impact Team fundraised not only for their trip, but also for funds to go towards the school we worked on in the Dominican Republic," said Geannette Lehman, Principal at Gateway Christian School. "The trip was part of their Intercultural Students class, which they receive credit for. We met weekly at 7:15 a.m. to complete aspects of the Intercultural Studies course, bond as a team, and prepare craft lessons and activities to teach students at the school in the Dominican. It was not only a great experience in the Dominican, but in preparing for the trip as a team as well."Alexa Huska, Gabe Gillies, and Kate Stober were three students who were part of the Co-Impact Team.
"It was really neat to connect with my fellow Grade 12 students," said Alexa. "We've gone to school together since we were kids, so to have an experience like this together was really special. We were able to connect on a deeper level."
Gabe added it was humbling to see how grateful those in the Dominican Republic were, even for the smallest things. "They have little compared to us, and they are just so happy," he said. "They are grateful for the things they have and they don't stress about the small stuff."
Kate agreed. "They have so much joy, and nothing mattered other than just being with one another," she said.
Ultimately, it was a great experience for all involved.
"The kids were greatly impacted by seeing the world through another lens. Our lens is so different from those around the world," said Geannette, adding she is proud of her students. "They gave up their Spring Break, immersed themselves in another culture, and represented Gateway and Red Deer Public so well."
To read Gateway's Co-Impact Team's blog of their experiences, click here.
Run/Hike for Red Deer Hospice Takes Place This Sunday at Bower Ponds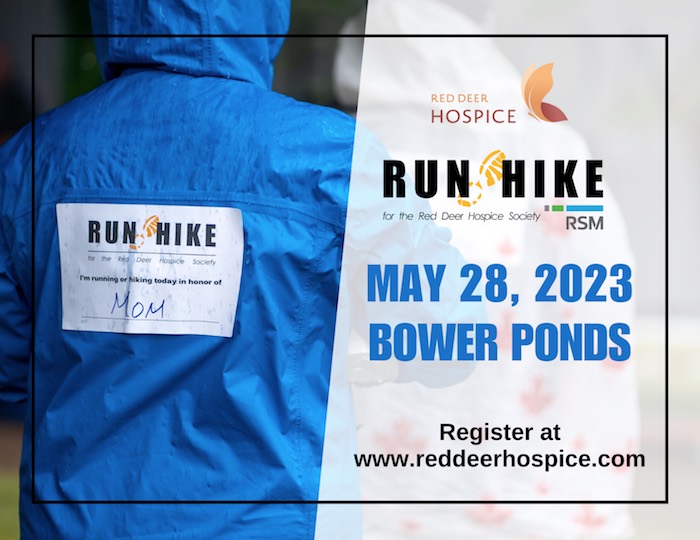 News release from Red Deer Hospice
Red Deer Hospice's 16th Annual Run/Hike event, presented by RSM Red Deer, will take place at Bower Ponds this Sunday.
Registration will open at 9:00am and those wishing to run, walk or stroll the 1km, 3kms or 5 kms will start at 10:00am. A light breakfast and hot, post-race lunch, provided by Mr. Mikes, will be available to participants and live entertainment will be provided by the band Fun House in the amphitheater.
"This will be a day to remember and reflect, while taking in the natural beauty of the trails in and around Bower Ponds," said Jerri Taylor, Executive Director of Red Deer Hospice. "As our main fundraiser for the year, our goal is to raise $38,000." Proceeds and donations will go towards Red Deer Hospice's mission of supporting a peaceful and compassionate end-of-life journey.
Online registration on the Red Deer Hospice website will close at 3:00pm on Friday, May 26, 2023. Those interested in participating in this year's Run/Hike event who have not registered can do so in person on Sunday morning at Bower Ponds.
For more information, visit www.reddeerhospice.com.