Fatal Rollover Near Rocky, RCMP Arrests & Live Entertainment!
3:58 pm – There's a freestyle competitions in Blackfalds tonight (Fri, Jul 14)! It runs from 7 – 10 pm at All Wheels Park. Read More.
For more local news, click here!
3:48 pm – Taylor Drive in Red Deer is scheduled to be closed to traffic from 19 St. to south of Highway 2 on the evenings of July 14 – July 17. The closures will be in effect each night, weather permitting. Read More.
3:25 pm – Alberta Anglers are being requested to voluntarily restrict angling activities to early mornings because of significantly low river flows and higher-than-normal water temperatures so fish experience less stress. Read More.
3:18 pm – The north Red Deer RCMP detachment located at 6592 58 Avenue will be closed to the public for a few hours the morning of Monday, July 17 while final renovation items are completed on the front counter customer service area.
For more local news, click here!
3:12 pm – Red Deer RCMP continue to locate and arrest people in stolen vehicles, in the midst of break and enters, and those wanted on outstanding warrants or breaching court-imposed conditions, thanks to reports from the public and the RCMP's continued focus on targeted patrols in crime hot spots and checks to ensure people are complying with their court-imposed conditions. Details Here.
3:01 pm – Out and about this weekend? Make sure you know where the road closures are in Red Deer so you don't get delayed! Details Here.
2:55 pm – A 57 year old woman is dead after a single vehicle rollover southeast of Rocky Mountain House on Thursday morning. Read More.
For more local news, click here!
10:02 am – From live theatre to art activities and a Roundup Run, find out what's happening in Red Deer this weekend! Read More.
9:48 am – Enjoy live Shakespearean performances at the "Bard On Bower" at Bower Ponds tonight (Fri, Jul 14) and tomorrow night (Sat, Jul 15) 7:00-9:30 pm. Details Here.
9:39 am – Enjoy a drink or some snacks while Swing Dancing at "Cool Beans" from 7 – 9 pm tonight! Details Here.
For more local news, click here!
9:31 am – Start your weekend off on the right note by taking in some live tunes at the Alexander Way Parklet from 11:30-1:00 pm in downtown Red Deer today! Read More.
9:22 am – A Canadian Gospel Music Celebration continues at Red Deer's Westerner Park today (Fri, Jul 14) and tomorrow (Sat, Jul 15)! Read More.
9:07 am – If you plan to enjoy some time outside today, be sure to apply the sunscreen and keep yourself hydrated. Especially if you're going to be in the Three Hills – Drumheller region. That and other areas of southern Alberta are under a Heat Warning today. Details Here.
Everything old is new again after election returns virtually identical Parliament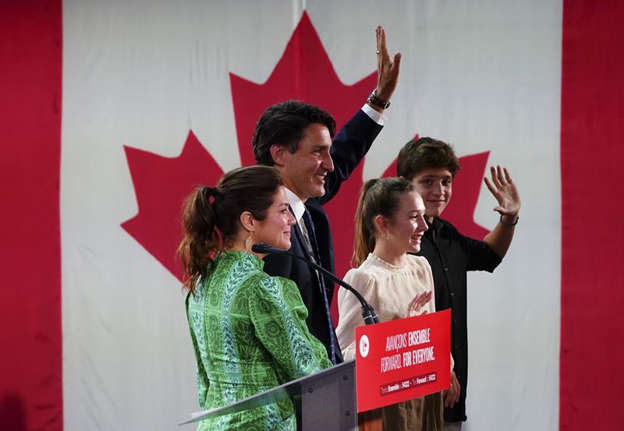 OTTAWA — Prime Minister Justin Trudeau will be returning to Ottawa without the majority government mandate Liberals had hoped for when he called the early election last month.
Early Tuesday, the Liberals were hovering between 155 and 157 seats. The former is the number they had when Trudeau called the election in August, and the latter is what they won in 2019.
The Conservatives were teetering on 121 or 122 seats, after winning 121 less than two years ago.
They will remain the official Opposition, with leader Erin O'Toole promising the "changed" party he leads will speak for all Canadians from all walks of life.
The Bloc Québécois and NDP will bring up the rear, each individually potentially holding the balance of power in the minority House of Commons, both also within a few seats of their 2019 tallies.
With more people voting by mail than ever before, the final result in some ridings might not be known for days.
Elections Canada will start counting more than 780,000 mailed-in ballots Tuesday, and it expects most to be finished by Wednesday, but officials did warn some ridings could take up to four days for final counts.
Some extremely close races in Vancouver Granville, Edmonton Centre, and Davenport in Toronto were still going back and forth between parties as votes were counted well into the night.
Trudeau attempted a conciliatory tone in his acceptance speech, promising Canadians that he knows all they want is to finally get back to normal after the pandemic. He says the government they elected will do just that.
O'Toole said that in his concession phone call, he warned Trudeau off calling another early election to make a grab for a majority government.
"I told him if he thinks he can threaten Canadians with another election in 18 months the Conservative party will be ready," O'Toole said at his election night event in Oshawa, Ont.
NDP Leader Jagmeet Singh, who two years ago was chided for dancing and celebrating at an election night party despite losing 20 seats, delivered a very short, more subdued speech from Vancouver, even though this time his party did make some gains.
Most election parties were smaller and quieter than usual, with pandemic restrictions keeping crowd sizes to a minimum.
The People's Party of Canada more than doubled its share of the popular vote and might have played spoiler to the Conservatives in some ridings by drawing away right-of-centre voters, but failed to elect a single MP.
The Green Party's pre-election turmoil left it with less than half the vote share it achieved in 2019, following a campaign where Leader Annamie Paul finished fourth in her own riding, and was asked not to visit many others by her own candidates.
No leaders stepped down Monday, but the future is murky for many, including Trudeau, who failed to secure a majority mandate after triggering the early election.
O'Toole was clearly sending the message in his speech he has no intention of stepping down.
This report by The Canadian Press was first published Sept. 21, 2021.
Mia Rabson, The Canadian Press
Liberals win most seats but not enough seats for a majority government
OTTAWA — The Canadian Press is projecting the Liberals have won enough seats to stay in power with a minority government but have fallen short of winning a majority.
Prime Minister Justin Trudeau will need the support of at least one other party to maintain a minority government.
As of late Monday night, The Canadian Press projected that the Liberals were leading in 156 ridings, the Conservatives in 123, the Bloc Québécois in 29, the NDP in 28 and the Greens in two.
The Liberals enjoyed a healthy lead as poll results trickled in across the country.
The party's share of the vote in the two most populous provinces, Ontario and Quebec, was well ahead of what polls heading into the election had forecast.
The Grits were hanging onto their commanding position in Atlantic Canada, where the Conservatives made modest gains.
The NDP lost its lone Atlantic seat, St. John's East, to the Liberals. It had been held by New Democrat Jack Harris, who did not seek re-election.
Trudeau cabinet ministers Seamus O'Regan, Dominic LeBlanc and Lawrence MacAulay cruised to victory.
But Bernadette Jordan, who served as fisheries minister, lost to her Conservative rival in Nova Scotia's South Shore-St. Margarets, evidently hurt by the lobster fishery dispute between Indigenous and non-Indigenous fishers in the region.
In Fredericton, N.B., Jenica Atwin, the former Green MP who defected to the Liberals last spring, was in a tight, see-saw battle with the Conservatives.
Green support largely collapsed throughout the region.
Heading into Monday night, polls suggested a dead heat across Canada between the Liberals and Conservatives — neither of them within reach of the 170 seats needed to form a majority government.
Trudeau pulled the plug on his minority Liberal government on Aug. 15, a little less than two years after Canadians first reduced the Liberals to a minority.
He argued that Canada was at a pivotal moment in history and Canadians deserved a chance to decide how they wanted to finish the fight against COVID-19 and build back the shattered economy.
But the timing of his election call, coming as a fourth wave of the novel coronavirus was beginning to sweep the country, quickly sapped the good will Trudeau had built among Canadians for his government's handling of the pandemic over the previous 18 months.
And it gave rival leaders an opening to attack Trudeau's character, describing him as a selfish egoist who can't be trusted to put the interests of Canadians ahead of his personal ambition to secure a majority.
At dissolution, the Liberals had 155 seats, the Conservatives 119, the Bloc Québécois 32, the NDP 24 and the Greens two. There were also five independents and one vacancy.
While another minority seemed likely, it was a toss-up heading into Monday night whether it would be a Liberal or Conservative minority.
Which of the two front-runners ultimately forms government doesn't necessarily depend on who wins the greatest share of the popular vote or even who wins the most seats.
Rather, it depends on which party can muster enough support from one or more smaller parties to survive crucial confidence votes in the House of Commons.
Canadians may well have to wait until Wednesday to learn which party will form the government.
There are almost one million mail-in ballots that election officials won't start counting until Tuesday. Elections Canada has said it expects to finish the mail-in count in most ridings by Wednesday, but some may take another day or two.
According to Elections Canada, almost 6.8 million people voted early, most of them at advance polls over a week ago, and the rest through special ballots cast by mail or at Elections Canada offices.
Canada has more than 30 million eligible voters.
Elections Canada had previously warned that the pandemic could lead to longer waits for voters compared to past elections. Public health protocols involve keeping people at a distance and collecting extra information for contact tracing purposes, which could take extra time.
The polling stations themselves were also likely to be farther away, as many schools and landlords opted out of hosting crowds of voters during the fourth wave of the pandemic.
Elections Canada encouraged voters to wear masks but only required them in places where they were mandated by provincial rules. Proof-of-vaccination regulations do not apply at polling stations in any province where they currently exist.
George Walker cast his ballot in Toronto Monday afternoon. He described the experience as "smooth," and he called the safety precautions taken at the polling station "wise."
"But it took longer than it has in the past, mainly because of COVID," Walker said, adding he didn't mind the extra 15-minute wait.
Shannon Fernandez said voting on election day was "super easy," "stress free" and "very straightforward."
"I felt like it was very well-organized," Fernandez added. "No complaints at all."
This report by The Canadian Press was first published Sept. 20, 2021.
The Canadian Press