Heat Warnings, Fire Advisories & Child Pornography Charges
2:44 pm – After nearly two years of collaboration, public consultation and review, the Lacombe Intermunicipal Development Plan (IDP) has been adopted by both councils. Read More.
For more local news, click here!
2:37 pm – Red Deer RCMP have one woman in custody and have recovered a stolen truck after an armed robbery at a convenience store shortly after 9 am this morning. Read More.
1:21 pm – Two Red Deer men are among 16 that were arrested between April 5th and June 1st of this year, facing a total of 56 child pornography related charges. Read More.
12:44 pm – Because of the hot, dry conditions, Lacombe County has issued a Fire Advisory. This means the County is asking that only necessary burning take place and that all conditions of valid burn permits are strictly adhered to. Campfires and burning barrels are currently allowed but may be restricted if conditions worsen. Read More.
For more local news, click here!
11:43 am – Westerner Park has been granted $245,000 as part of the Canada 150 Community Infrastructure Program and the organizaiton is in the process of completing the upgrades to the Heating, Ventilation, and Air Conditioning (HVAC) system in the Stockmens Pavilion.
11:15 am – This year's city wide spring cleanup program, Green Deer, was a success with volunteers from businesses, community associations, schools, clubs, churches, families and individuals coming together to clean up garbage in our city. Read More.
11:09 am – Whether you drive, walk, cycle or take transit, we all travel in Red Deer, and on Monday City Council will debate a plan that sets the stage for the future of how citizens move in Red Deer. Read More.
For more local news, click here!
10:59 am – Ponoka RCMP are asking for the public's help in locating a missing 25 year old man. Ryan Roman was last seen on July 4, 2017, at about 4:45 pm in the area of the Centennial Centre in Ponoka. He's described as 5'8″ tall, 160 lbs, brown hair with shaved head, brown eyes and last seen wearing shorts and a black t-shirt. Read More.
10:34 am – The buzz is building around the Gary W. Harris Canada Games Centre/Centre des Jeux du Canada Gary W. Harris at RDC. Find out the latest update on how construction is going at the impressive new facility!
10:25 am – Red Deer is one of four communities in the province where Law Enforcement officials arrested 16 men for alleged child pornography offences. Read More.
For more local news, click here!
10:07 am – It's time to ride the Midway in Sylvan Lake! The Midway is in town from July 6th – 9th! Read More.
9:45 am – The Blackfalds Community Market is on today from 4 – 7 pm in the parking lot of the Multi-Plex. Read More.
9:20 am – Red Deer County is encouraging it's residents to get to know each other through the Great Neighbours program. Read More.
For more local news, click here!
8:52 am – A Fire Advisory has now been issued for the Town of Rimbey and Ponoka County. Read More.
8:26 am – Red Deer RCMP continue to look for 15 year old Terrylle Rain, who was last seen in Red Deer on May 20th. Mounties say they would like to verify his well-being. Please contact Red Deer RCMP if you have information about his whereabouts.
8:12 am – Hot tunes and hot weather are planned for the Ross Street Patio today. Check it out from 11:30 – 1:00 pm. Read More.
For more local news, click here!
8:04 am – The Reining Alberta Summer Classic gets underway at Red Deer's Westerner Park today. The event runs from July 6th – 9th inclusive. Read More.
7:49 am – Fire Advisories have been issued for many parts of Alberta's west country, including the Town of Rocky Mountain House, the Rocky Mountain House Forest Area, Clearwater County, the Village of Caroline and the Summer Village of Burnstick Lake. Details Here.
7:38 am – Environment Canada meteorologists have issued a Heat Warning for the Red Deer, Innisfail, Ponoka and Stettler areas today. Other regions to the south and east are affected as well. Details Here.
Canadian sprinter Andre De Grasse wins bronze in men's 100 metres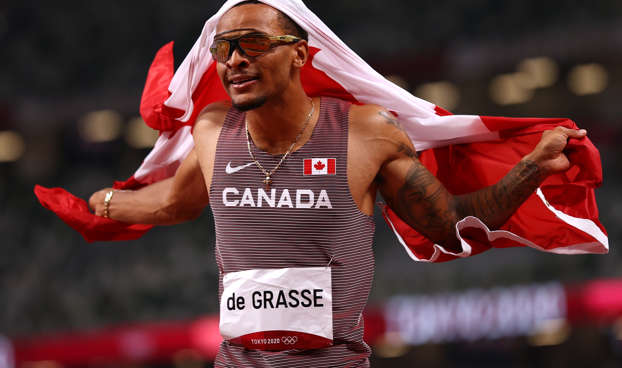 TOKYO — Canada's Andre De Grasse has claimed the bronze medal in the men's 100 metres for the second straight Olympics.
The 26-year-old from Markham, Ont., overcame a rough start and raced to third in a personal-best time of 9.89 seconds.
Italy's Lamont Jacobs took the gold in 9.80 seconds, followed by American Fred Kerley in 9.84 seconds. All three medallists ran personal bests.
It's Canada's first track and field medal at the Tokyo Olympics. It's also the latest piece of hardware in the event for De Grasse, who won bronze in the 100 in both the 2016 Olympics and 2019 world championships.
Two hours earlier, De Grasse ran 9.98 to finish second in his semifinal and seventh overall.
De Grasse is the first Canadian male to climb the medal podium in Tokyo. Led by swimming superstar Penny Oleksiak, women had captured all of Canada's 13 previous medals.
De Grasse will have a day off before he's back on the track for the 200 heats and semifinal on Tuesday. He captured silver in the 200 at both the 2016 Olympics and 2019 world championships.
There was no clear-cut favourite in the men's 100 this year with the retirement of Usain Bolt. The Jamaican superstar and world record-holder (9.58) captured gold and silver in the 100 and 200 in the Beijing, London and Rio, and what the media dubbed his "bromance" with fellow Puma athlete De Grasse was an entertaining storyline in Rio.
American Christian Coleman, the reigning world 100-metre champion and the sprinter considered De Grasse's biggest challenge in Tokyo, is serving a doping suspension through May of next year.
This report by The Canadian Press was first published Aug. 1, 2021.
The Canadian Press
Penny Oleksiak makes history as Canada swims to bronze in medley relay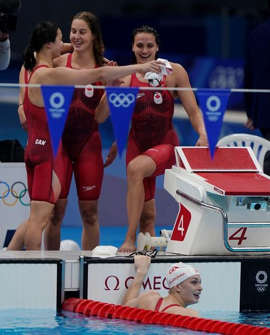 Masse, 25, earned a pair of silver in backstroke. Oleksiak also claimed bronze in the 200-metre freestyle.
The women's swim team amassed six medals in Tokyo to equal its Rio count of five years ago.
Taylor Ruck of Kelowna, B.C., Pickrem, Mac Neil and Toronto's Kayla Sanchez posted the fastest qualification time in Friday's heats to give Canada a middle lane Sunday.
The medley relay medal was Canada's first since 1988 and fourth in the 61-year Olympic history of race. Canadian women were bronze medallists in 1976, 1984 and '88.
Oleksiak won 100-freestyle gold, 100-butterfly silver and anchored Canada to a pair of freestyle relay bronze medals at age 16 in Rio.
Heats, semifinals, finals and relays added up to 10 races over nine days for Oleksiak in Tokyo, where she added a pair of relay medals and the 200 free bronze to her total.
Oleskiak, Mac Neil and Masse claimed their third medals at the Tokyo Aquatic Centre.
This report by The Canadian Press was first published July 31, 2021.
The Canadian Press